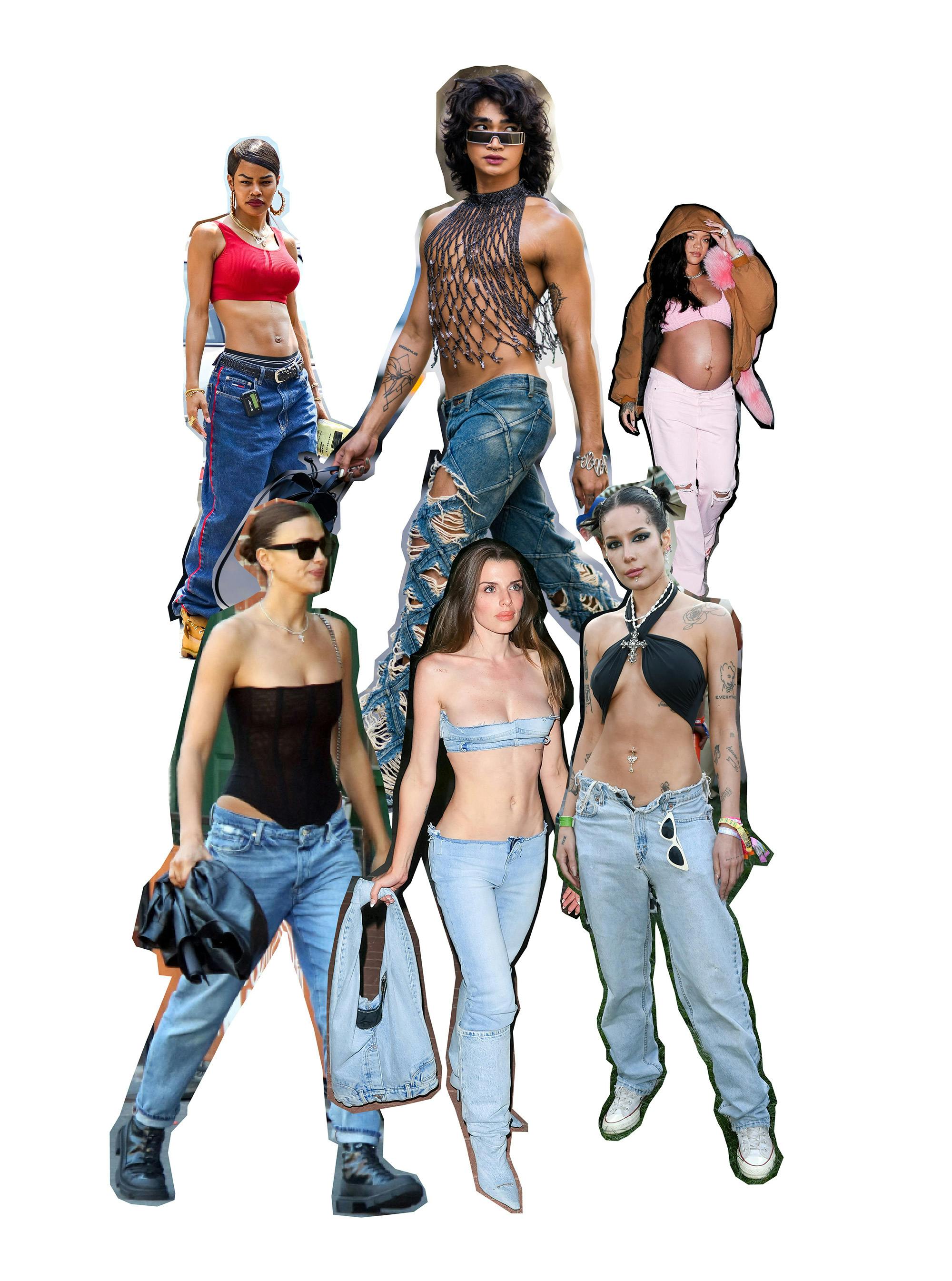 In the words of the prophet T-Pain: "Next thing you know, shawty got low." Somehow, the most polarizing trend of the late '90s and early 2000s has come back with a vengeance, and now, low-rise jeans are more popular than ever.
The style was first introduced by pop stars such as Britney Spears, Jennifer Lopez, and Beyoncé, which meant that the masses instantly picked it up. The lower your jeans sat, the cooler you became, and every music video exposed more belly than the last.
When the trend began to fade, it felt as if the world let out a sigh of relief. At last, we could sit down without worrying about exposing our butt cracks. However, we didn't get to rest for long, because when the term "Y2K" began surfacing on the Internet in the 2020s, it was only a matter of time before we would see low-rise trousers make their inevitable return.
Julia Fox, Halsey, Irina Shayk — the list of celebs newly embracing the trend is long and only continues to grow. In this story we take a look at the low-rise trend, how it was worn then versus now, and where we go from here. Let's get low.
THEN
Rihanna
Rihanna may just be the blueprint. Low-rise jeans paired with exposed underwear is now forever a recipe for success.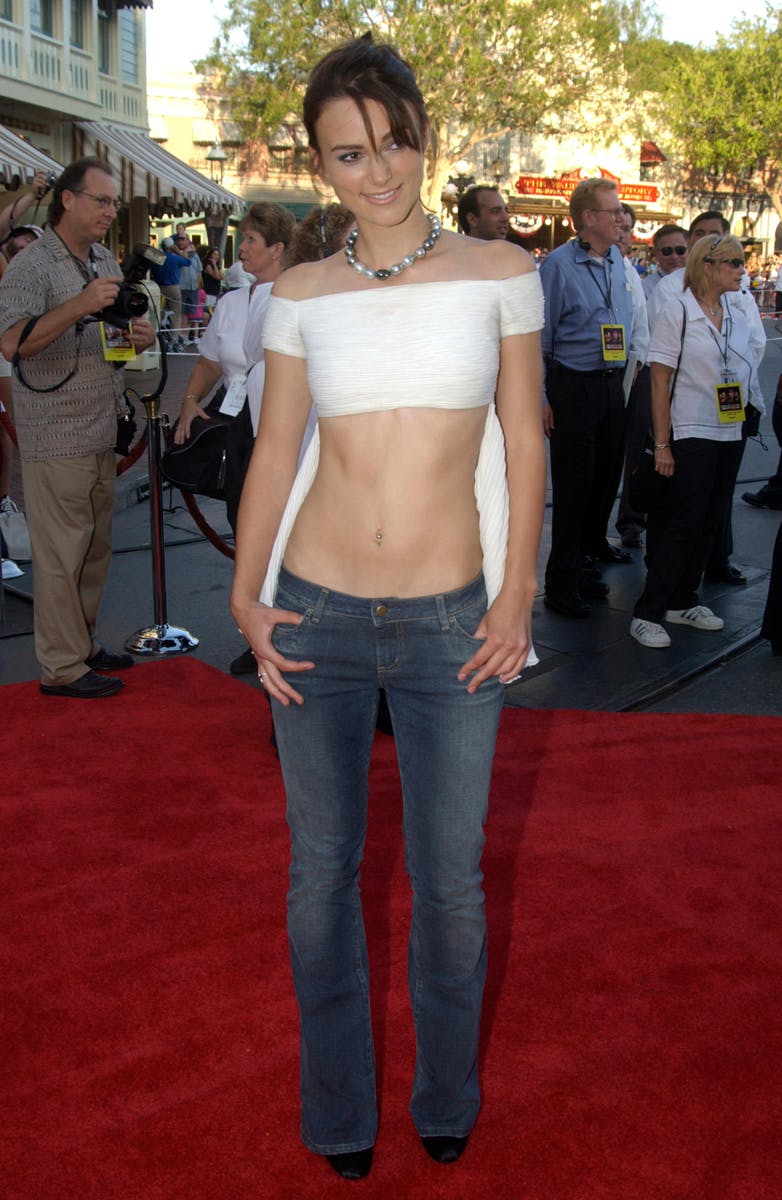 Keira Knightley
Nothing screams the early 2000s as much as low-rise jeans on the red carpet, perfectly paired with an off-the-shoulder crop top. Can we please get more of these looks on the red carpet this coming year?
Xtina
With low-rise jeans comes the perfect opportunity to accessorize. Enter, the belly chain. It might even be the star of Christina Aguilera's outfit, despite competing with patchwork jeans, a baker boy cap in denim, and a tiny lace top.
Destiny's Child
Good things come in threes, and low-rise jeans are no exception. Destiny's Child was a style inspiration for many a preteen back in the early 2000s, and pairing the trendy trousers with blinged-out belts truly raised the bar. The best part? These belts have now made their own comeback.
Paris Hilton
No Y2K trend would be complete without Paris Hilton, and these gravity-defying low-rise jeans prove why. There's no doubt that this very image is currently circulating all over Pinterest, an iconic addition to everyone's mood boards.
Lil' Kim
Just when you thought low-rise pants couldn't get more extreme, Lil' Kim changed the game. Wearing jeans so low they required a belt to cover up a potential disaster in the front, paired with a tiny top that leaves little to the imagination, Lil' Kim became synonymous with the noughties trend. Where would we be now if it wasn't for her?
NOW
Teyana Taylor
This look could easily have been snapped 20 years ago, which is what makes it so incredibly good. It doesn't get much better than Teyana Taylor wearing low-rise Tommy Hilfiger jeans and a pair of Timberland boots in 2022.
Bretman Rock
There's no denying that low-rise jeans aren't the most inclusive item of clothing, but as they've made their return, plenty of guys have been jumping on the bandwagon. YouTube star Bretman Rock is one of many, and he certainly won't be the last.
Rihanna
Not only are low-rise jeans back, but they're also baby bump-approved by Rihanna. Her maternity wardrobe was truly the gift that kept on giving, featuring plenty of low-rise trousers that inspired mothers-to-be worldwide.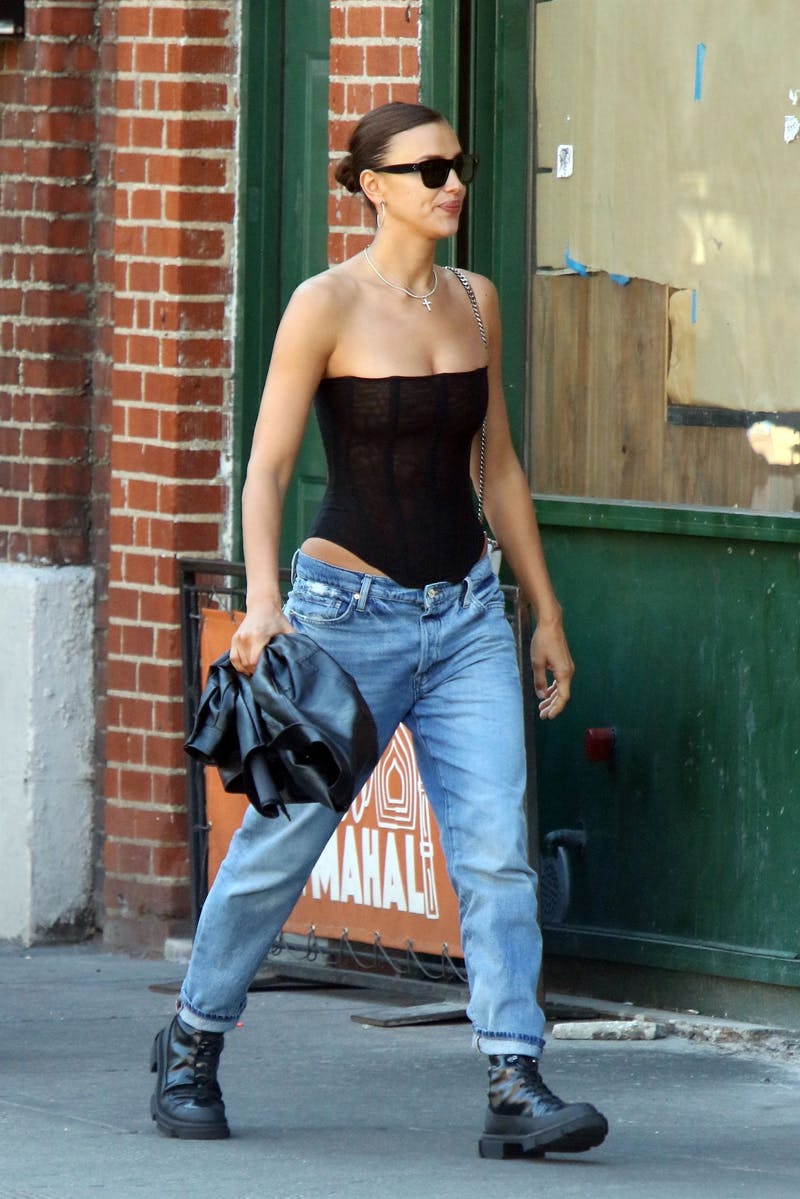 Irina Shayk
Baggy low-rise jeans are a model-off-duty wardrobe staple, and Irina Shayk makes them look more casual than ever.
Julia Fox
Julia Fox's DIY low-waist jeans are nothing short of iconic. When we thought they couldn't get any lower, she cut the waistband off entirely, turned it into a top, and made sure to post a tutorial on Instagram — for anyone else looking to risk it all.
Halsey
What better way to make your low-rise jeans even lower? Leave them undone, and finish off the look with a sparkly belly piercing, according to Halsey.