HARDCOVER is a  digital content series exploring the people, places and things that define and continue to shape the Highsnobiety universe. In this chapter of Brands You Know But Don't Know Much About, Gregk Foley takes a comprehensive look at Japanese streetwear stalwart NEIGHBORHOOD.
It's often hard to think that many of the biggest names and practices in streetwear, like NEIGHBORHOOD, were for a long time virtually unknown in the West. These days scarcely a week goes by without the announcement of a new collaboration, special edition sneaker or homeware oddity from brands as far flung as San Francisco, Singapore or Seoul. But for nearly two decades, non-stateside streetwear was basically a well-kept secret for those in the know, and the idea of two competing brands working together on a co-branded product the way Japanese brands do on a regular basis was unthinkable.
This mode of creation and storytelling has been the water we're swimming in for so long, we scarcely think of it as something that ever originated somewhere, but it did, in Tokyo, with brands like NEIGHBORHOOD and its founder, Shinsuke Takizawa.
If you've ever spent an hour or two on a streetwear subreddit or Facebook group, you've probably heard of "Ura-Harajuku." Referring to a small district of backstreets and lesser-traveled roads in Shibuya, Tokyo where many of the biggest names in Japanese streetwear first set up shop, Ura-Harajuku has become shorthand for a handful of Japanese streetwear brands who helped to create the now world-famous Tokyo streetwear aesthetic, pioneered by brands like UNDERCOVER, WTAPS, NEIGHBORHOOD, Wacko Maria, BAPE, Hysteric Glamour, Fragment Design…the list goes on. You get the idea.
It's difficult to summarize precisely what Ura-Harajuku is and what makes it so special. Every designer, every brand, every coveted piece has its own particular story and position in the history that makes it special. But what unites all these brands and designers at the fundamental level is a combination of cultural referencing, compelling storytelling, an eye for quality at every stage of production, and a consistent thread that runs through each season. And few other brands demonstrate the power of that formula better than NEIGHBORHOOD.
NEIGHBORHOOD Founder Shinsuke Takizawa's Early Days
Shinsuke Takizawa first visited Harajuku in the early 1980s, a formative time for Tokyo's street scene. At the time, the area was going through a rapid period of cultural experimentation and evolution, with figures like Hiroshi Fujiwara transplanting their experiences of London's punk and teddy-boy culture as well as New York's hip-hop and B-Boy scenes into their home country. The influence of Western subcultures and creative practices upon Tokyo's own youth tribes has been well-documented, and is worth underscoring when considering the uniquely Americana-drenched aesthetic of brands that would emerge from Ura-Harajuku toward the end of the '80s and into the '90s.
It was this chaotic cultural milieu that eventually inspired Takizawa, a close associate of Tokyo's seminal Major Force record label, to create his own streetwear brand, NEIGHBORHOOD, in 1994. Following in the footsteps of labels that had laid the ground before him such as Fujiwara's GOODENOUGH and Nobuhiko Kitamura's Hysteric Glamour, Takizawa drew from his own personal passions of punk rock and motorcycle culture for his label.
The prevailing ethos during this time among all of the Ura-Harajuku designers and creators was one of mutual support, collaboration and cross-pollination of ideas; it's one of the main reasons you'll never read a profile of one designer without at least one or two other familiar names being mentioned; it was Takizawa who hooked Tetsu Nishiyama of WTAPS up with the Macintosh computer with which he made his first ever WTAPS and Forty Percents Against Rights graphics, for example.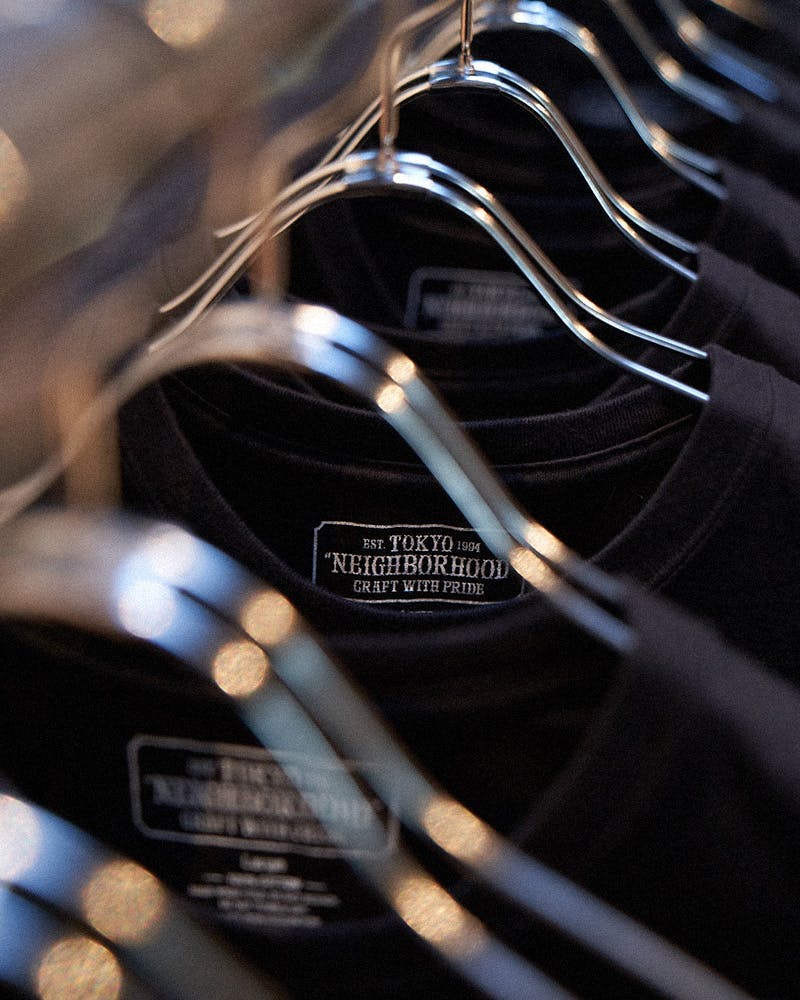 The Origins of Collaboration, References & Quality
It was this symbiosis which engendered the culture of collaboration that has since become a mainstay of streetwear and, increasingly, mainstream fashion. The Ura-Hara crew pooled their skills, resources and perspectives and created together, doing what they had always done and simply transferring that to the sales rack. If you've ever studied the history of all these brands and struggled to discern precisely where one brand ends and the other begins, that's sort of the point. It's not uncommon to hear brands wax lyrical about "building upon our relationship" and "shared visions" when discussing their collaborations these days. Back then, it genuinely was that.
When you zoom out and survey the Ura-Harajuku landscape at its inception, it's easy to see rhymes and resonances between the various labels and designers. Each of was a single puzzle piece in a much larger image, unique in their singular identity, but coherent to a broader cultural moment. In Takizawa's case, NEIGHBORHOOD took elements of American military, biker and rock & roll culture, sharpened the aesthetics, and created a blacked-out, skull-adorned streetwear brand that would go on to become one of the first brands you think of when you hear the words "Japanese streetwear."
Like most of the labels at that time, NEIGHBORHOOD remained relatively unknown outside of Japan save for the coveted expertise of the occasional visitor and streetwear obsessive making their pilgrimage to Japan, but the symbiotic relationship between East and West that came to define streetwear-proper was present even in the early days.
The early success of Supreme, for example, is often attributed to Japanese fashion fans stumbling upon the store while on vacation and falling in love with the brand's brash, unapologetic skater aesthetic; similarly, brands like NEIGHBORHOOD owed their early small but meaningful status outside of Japan to a handful of travelers who'd bring magazines like COOL Trans back from their travels and share them among their friends. Along with a handful of other brands like UNDERCOVER, BAPE, WTAPS and GOODENOUGH, NEIGHBORHOOD became established as one of the vanguard pioneer streetwear labels coming out of Japan, distinguished from their Western counterparts by their superior quality, craftsmanship and attention to detail.
NEIGHBORHOOD Goes From Hometown Hero to Global Success
Though it's hard to imagine now, the Ura-Harajuku area wasn't the always the bustling retail hotspot that it is today; one of the reasons so many of the Ura-Hara crowd gravitated towards it in the early '90s was precisely because the rents were cheap and it was out of the way. On a retail front, it was only Jun Takahashi and Nigo's NOWHERE store that served as a proper shop front for the burgeoning streetwear scene. All the way into the late 2000s, NEIGHBORHOOD didn't really have any flagship stores per se, instead running a series of HOODS retail outlets that stocked other brands like WTAPS and Rats, as well as selling out of Tokyo's plethora of department stores and boutiques.
It's this which makes much of the recent success of brands like NEIGHBORHOOD so fascinating; over the brand's quarter-century history, NEIGHBORHOOD has become an undeniable behemoth of the Japanese streetwear scene, comparable to American brands like J. Crew, but there never seemed to be any great plan for world domination. Like many of his contemporaries, Takizawa appears to have cultivated an ethos with his brand that is powered more by genuine passion and creative curiosity than dollars and cents. Business in Japan has been steady for over 20 years; expansion into international markets has just been a nice added bonus, not an imperative.
Nonetheless, since the turn of the millennium there have been a handful of mainstream collaborative partnerships, sneaker releases and crossover events that helped place NEIGHBORHOOD on the map in Western markets. In the early 2000s, during what was arguably the first time sneaker manufacturers began to specifically target sneakerheads (as opposed to the convenient cultural phenomena of the Air Jordan era), adidas Originals made a big effort to ingratiate itself with the just-emerging Japanese streetwear market. Spearheaded by Gary Aspden and Kazuki Kuraishi, the Three Stripes helmed a handful of limited edition releases with their 2004 collaborative Superstar remaining one of the most coveted sneaker releases of the era. The shoe's blacked-out aesthetic, contrast white details and subtle skull-and-crossbone graphics are about as trademark NEIGHBORHOOD as you can get, but back then marked a huge departure for adidas.
Likewise, the mid-2000s was arguably the apex of streetwear's true glory days, where the scene was large enough to fuel a slew of exciting and unexpected releases, but small enough to remain a well-kept secret beneath the bustle of the Soulja Boy BAPE hysteria. 2007 saw NEIGHBORHOOD collaborate with Supreme for the first time, helping to solidify the brand's status as a heavyweight in premium streetwear, where it has remained ever since.
Like many of the biggest Japanese streetwear labels such as UNDERCOVER, WTAPS, visvim and Wacko Maria, talking about NEIGHBORHOOD's output in season-by-season terms sometimes seems to miss the mark.
NEIGHBORHOOD Explores Themes, Not Seasons
Whereas Western fashion is so often characterized by the need to reinvent the wheel twice a year, creating something new and unexpected with every spring/summer and fall/winter collection, many Japanese fashion brands appear to operate more in terms of movements or eras, exploring different cultural references and points of inspiration, experimenting with different graphic touches and design methods, before moving on before any one technique gets stale or overused.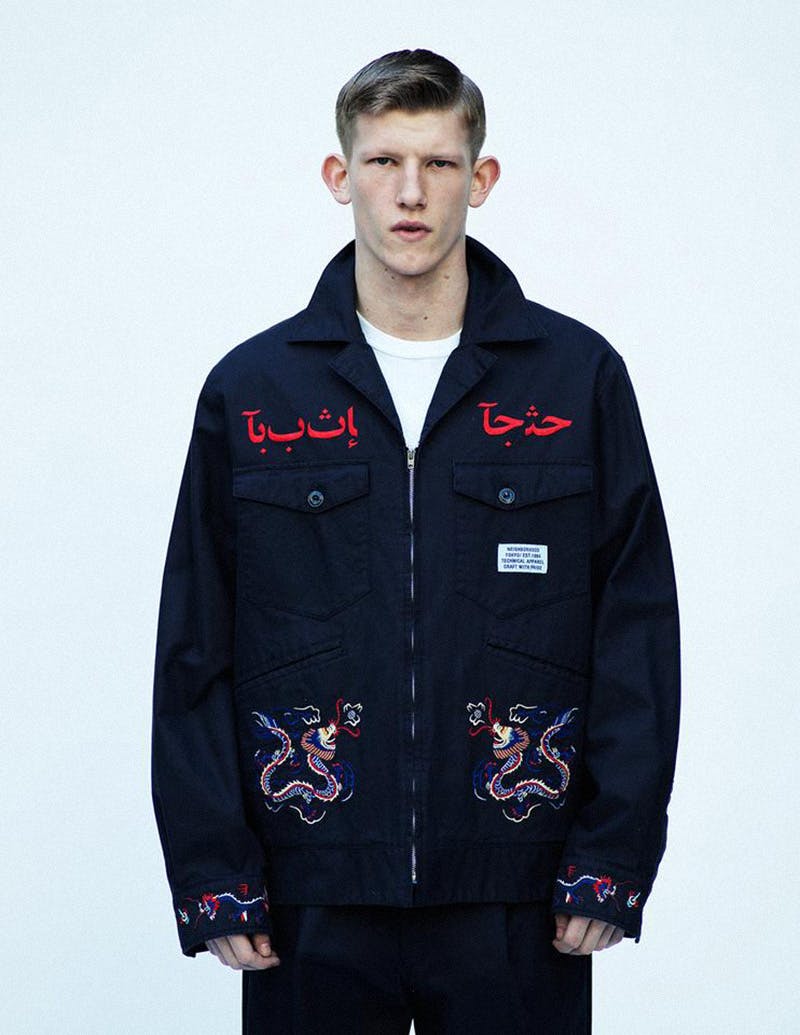 This has certainly been the case with NEIGHBORHOOD, which has deviated from its biker and rocker core over the years without ever completely losing itself. While in the early 2000s the brand was firmly in its motorcycle culture wheelhouse, by the early 2010s collections saw the brand exploring particular cultural moments like the 1969 Altamont Music Festival or Hunter S. Thompson's Fear and Loathing in Las Vegas.
Rather than treating style categories such as "military" as strict parameters, NEIGHBORHOOD has used the cultural landscape in which those categories are situated to enable exploration with purpose. In that context, a Hawaiian shirt can evoke the psychedelic hysteria of Apocalypse Now; ripped and trashed denim could be from the wardrobe of a Tokyo biker gang member or Travis Bickle; and the ever-morphing concept of Americana creates a line from cowboys and the frontier spirit, to East Coast preps, Detroit motor culture, the Nashville wonder years, and beyond.
NEIGHBORHOOD Cracks the Streetwear Code
This is probably a good place to end, since it gets to the heart of what it is that NEIGHBORHOOD does so well. There's an age-old discussion that's raged on and on in streetwear circles about the relationship Japanese artists, designers, creatives and consumers have with American culture. To unpack the extensive histories and particularities regarding the history of Japan's relationship with the United States and the West more broadly, both good and bad, deserves more space and greater care than an article such as this could hope to provide, but the symbiosis between Japanese and American streetwear designers and consumers certainly frustrates many of the contemporary discourses around appropriation, for better or worse.
At the very least, what can be said is that what NEIGHBORHOOD and Shinsuke Takizawa have done is take the fundamental building blocks of Americana – those fragments and figments of our collective memory, many of which were only ever absorbed by cultural osmosis and casual encounters through film, music and cultural ephemera – and to reimagine and remake them in a way that feels more real than the real itself. NEIGHBORHOOD is a brand rooted in biker culture, rock and roll, punks, rebels, dirtbags and outsiders, but that might not even necessarily be because that's what the brand actually is. It's because it captures the platonic ideal of what those things should be. It's the cultural imagination of the subcultural sublime, crafted with pride.