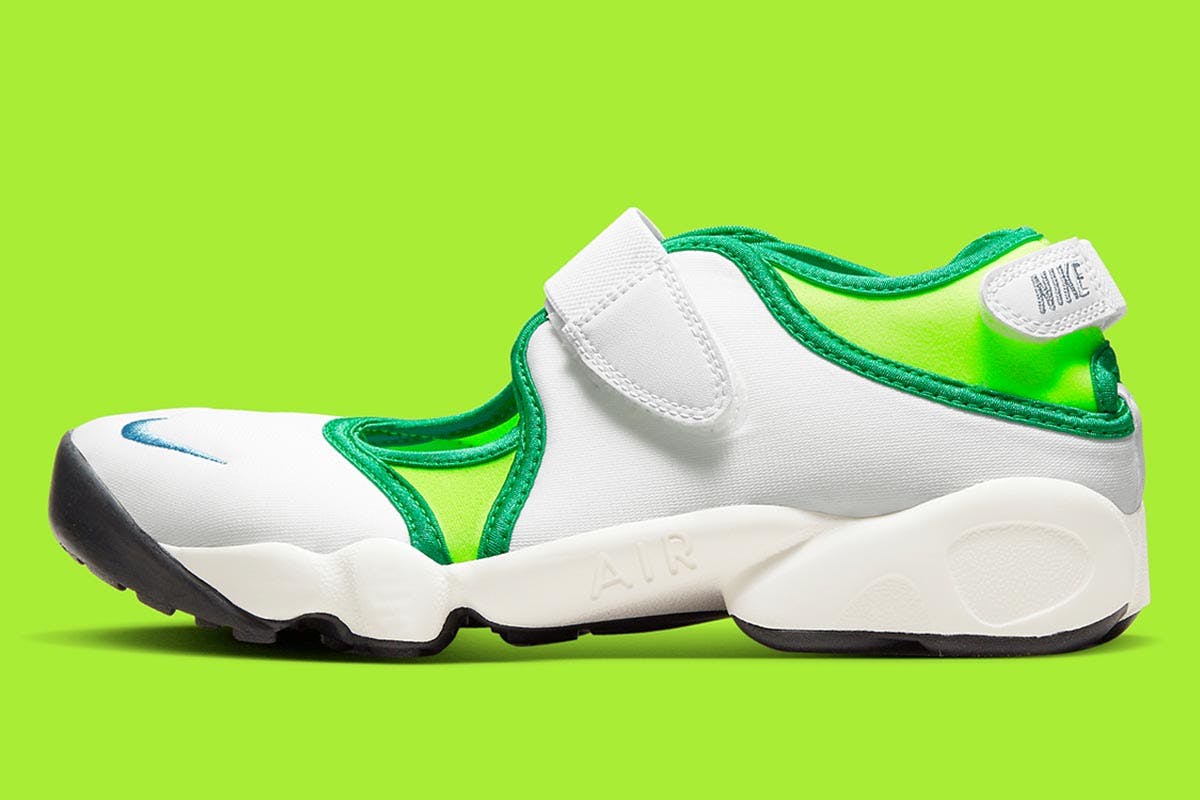 This article was originally published May 23, 2022 and updated on July 22, 2022.
Nostalgia is a beautiful thing, especially where our favorite sneakers are concerned. We love nothing more than seeing a silhouette return from the depths of obscurity, and few are quite as exciting as Nike's revival of the cult classic Air Rift.
A lot of sneakers on the market are marmite (that's to say, you either love them or hate them, for those unfamiliar with the spread) with no distinct middle ground. Straight away, there are a handful of styles that come to mind – sacai's Nike Vaporwaffles, YEEZY Foam Runners, Crocs, and the list goes on. Any such list would be incomplete without mentioning the Air Rift.
If you've somehow managed to navigate life without being acquainted with the Air Rift, the late 90s sneaker is arguably one of Nike's greatest of all time summer silhouettes. Thanks largely to its split-toe, open-footed design, and strap fastening, the sneaker became a staple of British summers amongst sneakerheads.
My family was crazy for Rifts, with my brothers and I all sharing a rotation of several colorways, with my personal favorite being a black perforated leather pair with a turquoise Swoosh. Of course, there were plenty of people that thought the split toe was painful to look at and took real offense to the Rift, finding the non-split iterations far easier on the eye.
As we moved through the 2010s, Rifts slowly faded into obscurity, with the odd release here and there, but much like when they first released in 1996, a lack of marketing meant few people truly cared for them.
Fast forward to 2022, and finally, our prayers have been answered – the Air Rift is returning to the market.
Our first official look at the returning cult classic showcases a white upper contrasted with touches of light and dark neon green atop a black outsole, presenting a perfectly executed seasonal palette that is a flawless representation of what originally made us fall in love with the silhouette.
For fans in Indonesia, pairs have just landed online at Nike (alongside additional colorways) – when new Rifts will touch down across the UK, EU, and US still remains a mystery. Fingers crossed we'll get our chance before summer comes to a close.