Five little dots: a logo so simple yet intended to signify so much.
At the time, most people didn't think twice about them and few these days remember them, but the dots represented a major new undertaking for Nike: the Alpha Project. By the end of the '90s, the five-dot logo started popping up on Swoosh sneakers, including the Air Zoom Citizen runner, the Air Zoom GP basketball shoe, and the Air Zoom Beyond tennis model.
Nike launched Alpha Project on New Year's Day 1999, and the philosophy was simple: identify and solve product performance problems for (and with) the athlete. Michael Morrow was Alpha Project global creative director and remembers the vision well.
"It was meant to be a long-term initiative to focus on the most relevant innovations in product per category," Morrow says. "This would not necessarily mean the most expensive product, but the most exciting product from an innovative and commercial opportunity [standpoint]. We were looking for new 'juice' in the brand in each category, and these needed to be products that were attainable from a price-point perspective because we were putting a lot of marketing dollars behind Alpha."
Those marking dollars included a series of manic ads directed by Michael Bay of Bad Boys and Armageddon fame and starring Seattle Supersonics' Gary Payton and comic actor Harland Williams.
Nike Olympics creative director Ken Black was brought in at the project's inception with the task of creating the perfect logo. "We were told that we needed a logo to indicate Nike's best-in-class performance products — for only those that were truly elevated," Black says. "This meant an additional logo on the most innovative and beautiful products we have ever made. We asked the obvious question: Won't another logo on this product actually degrade it?"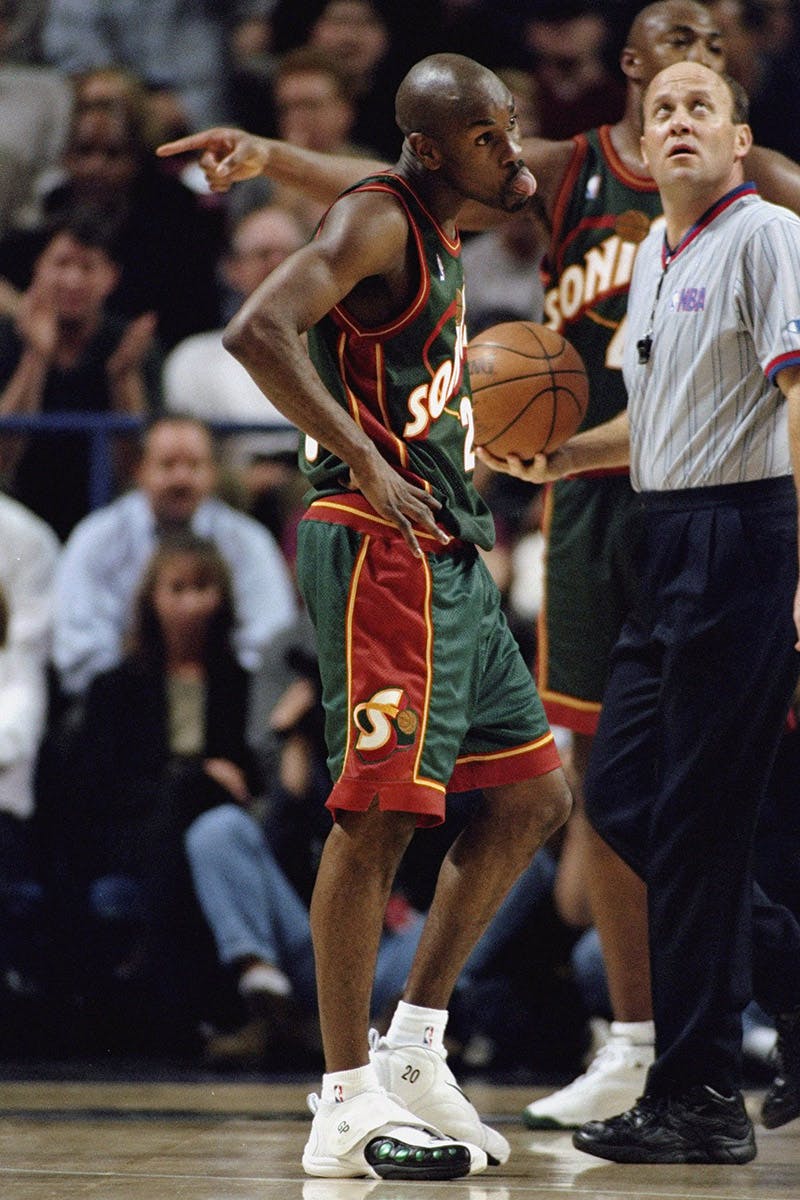 The goal for the design team was to create a logo to complement Nike's Swoosh logo rather than detract from it. "'Alpha' provided a context for us," says Black. "Five letters indicating five steps we take to ideate, create, test, and prove these products — starting with the first one, alpha, which is always talking to athletes. This provided a narrative to guide more development and conversations connected to these products. It also gave us the simple direction for our primary mark, which was simply five dots."
A minimalist approach was used on early storyboards and in presentations of this new identity and way of thinking about innovation and storytelling. "We began thinking of this as less of a logo and more of an indicator or a signal," says Black. "Something that for those in the know would stand out, but in the context of beautiful product design could also almost disappear."
At the design team's first presentation to senior management, they showed hand-drawn black and white documents and images of highways with their dashed and reflective center lines, the lights that line an airport runway at night, words in braille, and so on.
"My job was to create the visual DNA for the Alpha brand identity, which included the use of the five silver dots in a row logo, the guidelines for how that should be integrated into each product, into our retail stores, media, and marketing materials, and the overall touch and feel of Alpha," says Morrow. One of Morrow's trickiest tasks was convincing people across different sports categories to buy into one aligned visual theme and identity.
The first Alpha Project sneakers came out at the start of 1999. Nike Running's Air Zoom Citizen was inspired by legendary US sprinter Michael Johnson's track spikes and featured visible Zoom Air cushioning in both the heel and forefoot. Nike Tennis' Air Zoom Beyond for Andre Agassi featured visible Zoom Air and a Dri-FIT lining. Nike Basketball's Air Zoom GP, meanwhile, featured a ratcheted fastening system that looked like it belonged on a snowboarding boot rather than a basketball shoe.
The next couple of years threw up more memorable Alpha Project models across categories, including 1999 basketball shoe the Air Flightposite and 2000's Air Kukini, Shox BB4, and Air Presto. Designed by Tobie Hatfield, brother of Tinker, and surviving long beyond the Alpha Project, the Air Presto ditched traditional sneaker sizing, coming in sizes 3XS to 3XL, and was dubbed the "T-shirt for your foot" on release. Along with the sneakers came clothing, sunglasses, and other gear.
Plenty of Alpha Project models have seen retro releases over the years, but many remain in the vault. Twenty years since launch, it's safe to say that some Alpha Project designs were a bit out-there concept-wise. But they were fun, creative takes that pushed the boundaries of style and functionality. Maybe it's time to revisit a few more of those models.
To stay updated on everything happening in the sneaker world, follow @Highsnobietysneakers on Instagram, check our sneaker release date calendar, and subscribe to our sneaker chatbot on Facebook to receive lightning quick updates to your inbox.
For a deeper dive into Nike, watch the video below.