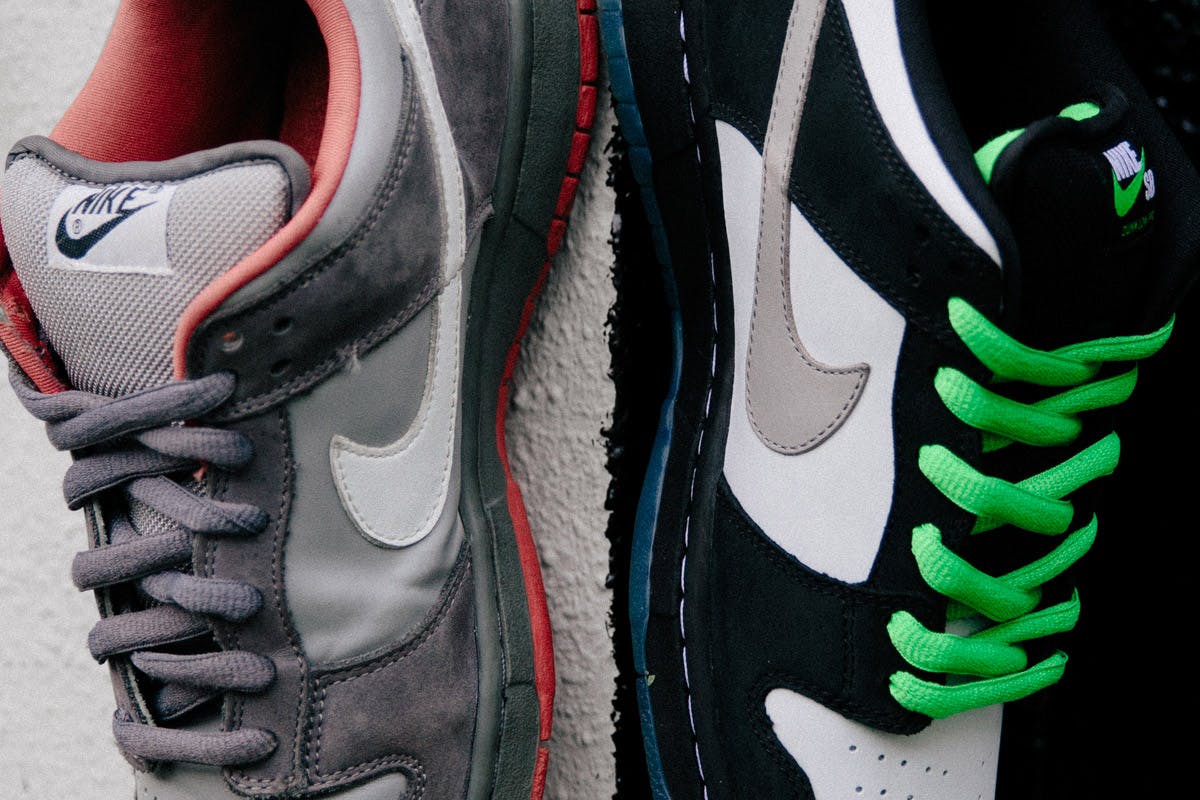 Life is one big cycle filled with smaller cycles. People grow old, seasons change — and the same principle applies to the sneaker industry. Specific models or styles enjoy a certain level of hype, which eventually peaks before the sneaker fades back into obscurity. If you've been around long enough, you'll have seen this unwritten rule in effect many times, indiscriminate of the brand, model, or style of the sneaker. It just happens. A lot of that is tied to changing consumer trends, though brands also play a large part in the life cycle of a shoe.
Sometimes, as is the case with the Nike Dunk (and most other iconic silhouettes), the model will enjoy subsequent waves of success. But just as taxes and death are the only guarantees in (human) life, the hype being over eventually is a guarantee in the life cycle of a sneaker. So it comes as no surprise that the Nike Dunk hype is at its tipping point and that 2021 could well be the year the Dunk dies (again).
As Highsnobiety's year-end sneaker report showed (using StockX data), resell prices for newly-released Nike Dunks have fallen somewhat. In January 2020, the average resell price was just over $200. In the summer, it was closer to $800, but has since fallen to around $400, double what it was before. While there is still a tidy profit to be made, and the price premium suggests Dunks are still very much sought-after, it's clear that the peak of the hype is behind us.
Older releases have also seen their prices stagnate on StockX, which suggests that iconic Dunks will retain most of their value but will not continue to rise meteorically as they have over the past 18 to 24 months. Dunk 'heads are also apparently finding it hard to flip older Dunks on platforms other than StockX, as there are fewer people willing to spend several thousand dollars on a Dunk Low than there perhaps were a year ago.
The main suspect in the Dunk's inevitable death? Nike, though that shouldn't come as a shock to anyone with an affinity for limited-edition sneakers.
Over the past two years, the Swoosh has carefully plotted the Dunk's pop culture rise. Co-signs by Travis Scott, Virgil Abloh, and Kylie Jenner put several million eyeballs on the silhouette, while highly-limited releases with the two aforementioned industry insiders, as well as a host of SB retailers worldwide, ensured that almost every sneakerhead wanted to get their hands on a pair. Whether that was for the exorbitant price premiums, status symbol, or because they truly liked Dunks didn't really matter, as the Dunk hype continued to build steam.
That was just part one of Nike's multi-step plan. In this case, timing is of the utmost importance, as Nike will look to use the Dunk's momentum to cash in. Move too soon, and Nike could be leaving money on the table. Move too slow, and hype will have moved on from the Dunk already.
Part two is likely to follow in 2021, when the market is expected to be flooded with general release colorways and accounts that weren't previously allocated limited-release Dunks are able to stock their shelves with the model.
We've seen early indications that this will be the case, with an almost overwhelming amount of colorways being leaked — some of which have already been confirmed — and the silhouette launching on NikeiD this week. Both are moves that democratize the Dunk and bring it to the masses in a way the collaborations and limited runs from 2019 and 2020 didn't.
It's not a new strategy — Nike has done this with other silhouettes, such as the Air Jordan 1. And remember adidas' run with the Ultraboost and NMD_R1? It's the circle of life.
The reception on social media has generally been positive. Those that like the Dunk or weren't able to get their hands on it previously will still buy the sneaker. Some releases will certainly sit in stores and go on sale eventually, but Nike won't care about that. It will take a while for the Dunk to fully lose its appeal and by then Nike will have cashed in, big time. It's cool that the Dunk will finally be available for everyone in 2021, but it was also a move that many expected.