Be it with waffle soles, air pouches, or knitted uppers, Nike is an expert at making athletes — and in Nike's books "if you have a body, you are an athlete" — move faster. Its latest groundbreaking innovation came as a result of the Breaking2 initiative, an ambitious project to break the two-hour marathon barrier, and in just over a year the technology has evolved and pervaded culture at a spectacular rate. We are, of course, talking about ZoomX and the Zoom series.
ZoomX is currently Nike's lightest foam midsole delivering 85% energy return, however, not every shoe under the Zoom umbrella features this technology — right now it's used in three silhouettes: the Zoom Vaporfly Elite, Zoom Vaporfly 4%, and the Zoom Pegasus Turbo. Instead, other sneakers within the family share similar design elements such as the aerodynamic heel, full-length carbon fiber plate, or stacked forefoot.
Collaborations with OFF-WHITE's Virgil Abloh plus its influence on the much-hyped street-ready React Element 87 also mean the Zoom series is informing the way we dress as much as it's impacting the way we run. With so many defining moments already in its short history, we've put together a comprehensive timeline documenting the evolution of Nike's Zoom series.
March 7, 2017: Nike Zoom Vaporfly Elite
After announcing Breaking2 in December 2016, Nike revealed the shoe that would help Eliud Kipchoge, Zersenay Tadese, and Lelisa Desisa in their attempt. With the Zoom Vaporfly Elite, Nike made its intentions clear in regard to radically transforming the future of athletics and helping athletes reach previously unachievable heights. It also symbolized a shift from "less is more" to "more is more", increasing the amount of cushioning and energy return with the ZoomX midsole, carbon fiber plate, and 21mm forefoot stack height.
April 18, 2017: Nike Zoom Vaporfly 4%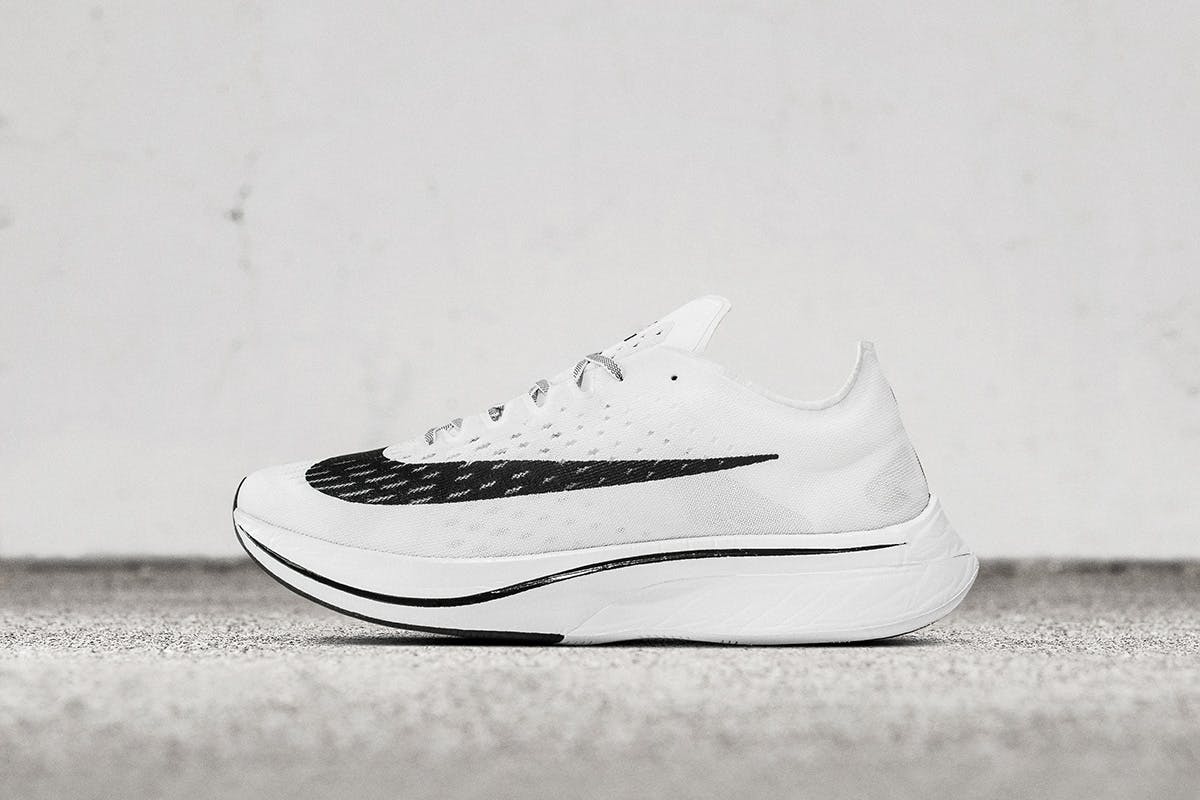 The next racer to be gifted the ZoomX midsole and full-length carbon plate was the Zoom Vaporfly 4%, officially revealed at the Boston Marathon where Nike athletes Geoffrey Kirui, Galen Rupp, and Suguru Osako took first, second and third in the men's elite field, while Edna Kiplagat earned first and Jordan Hasay third in the women's race all wearing versions of the shoe. Development of the Vaporfly 4% system started in June 2013, and prototypes were given to select athletes before the 2016 Summer Olympics in Rio.
May 6, 2017: Eliud Kipchoge runs the fastest marathon in history
Despite coming just 25 seconds short of breaking the two-hour barrier, Eliud Kipchoge made athletic history by slashing the official world record time by more than two and a half minutes. The legacy of Nike's Zoom technology was secured in the process but, more importantly, Breaking2 had resulted in a huge human triumph summed up beautifully by Kipchoge following the race: "the goal actually was to break the two-hour barrier. I didn't manage to do that, but the world now is just 25 seconds away."
May 24, 2017: NikeLab Zoom Fly SP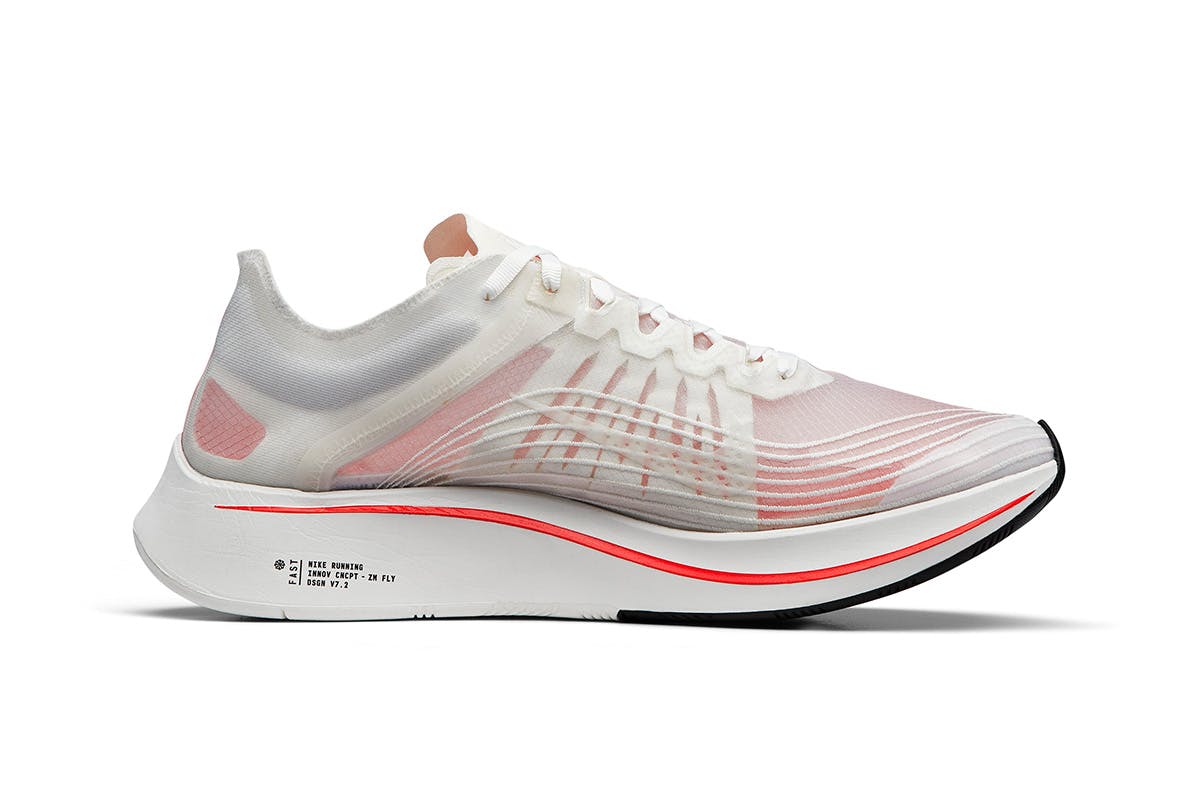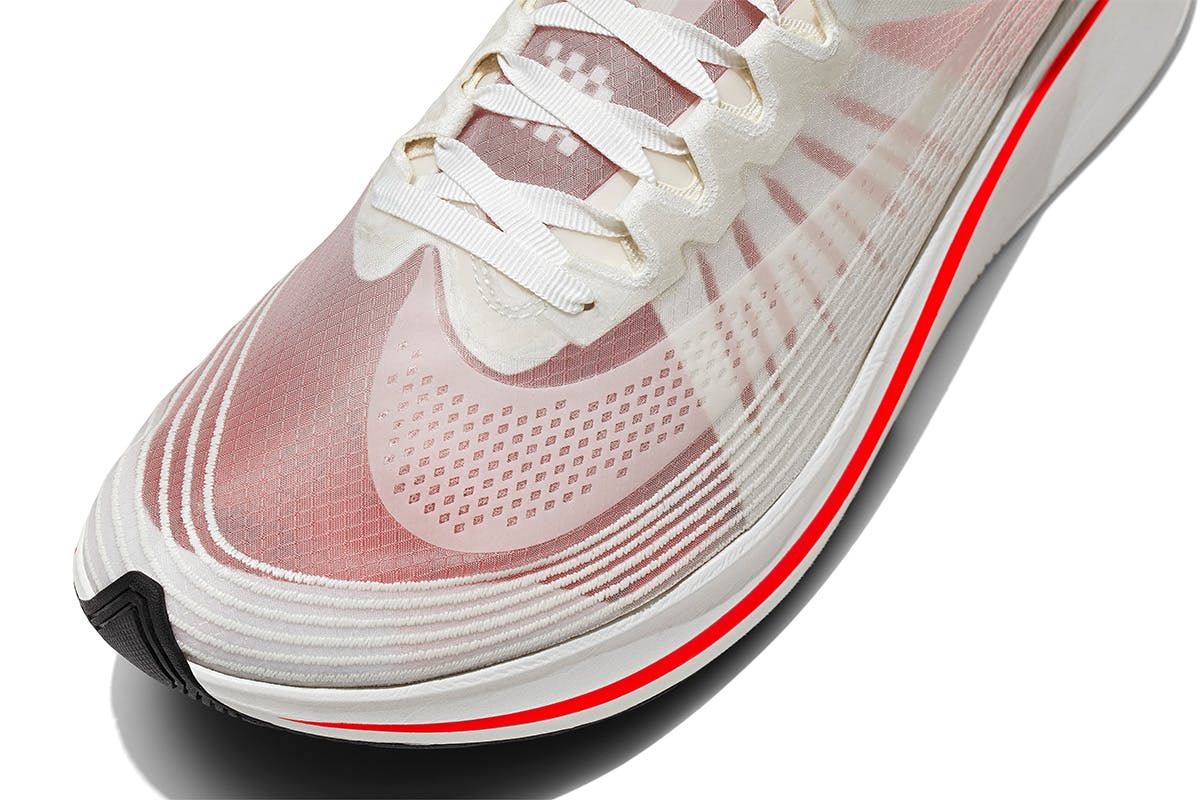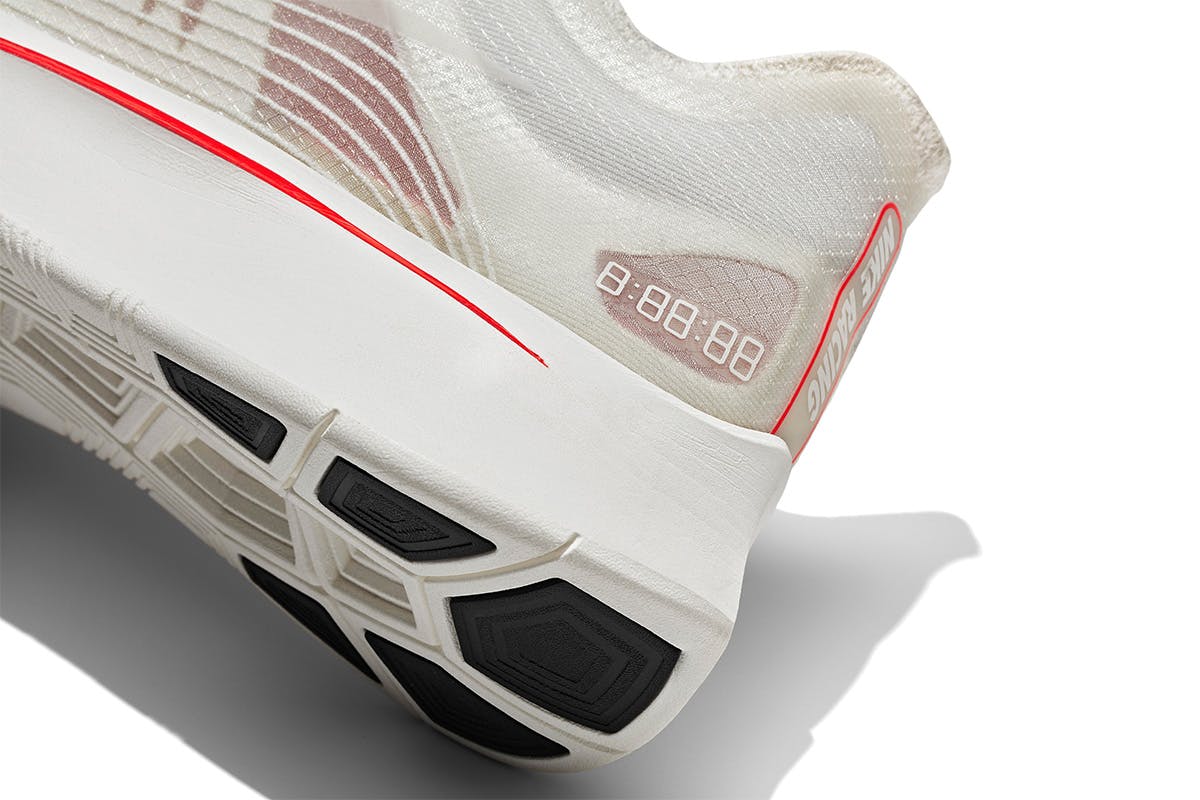 To celebrate the Breaking2 achievements, the Swoosh revealed the NikeLab Zoom Fly SP reflecting the early prototype phase of the Breaking2 footwear. Various features and symbols on the design indicated how the shoe developed including text on the inner left side of the tongue referring to the prototype design's specifications and text on the inner right side of the tongue with space for the wearer to fill in their trial number, location, and time of their own fastest run. The sockliner featured original designer sketches and running-inspired graphics including a Swoosh pinwheel icon, speed track icon, finish checker icon, and digital clock graphic appeared on the silhouette.
June 8, 2017: Nike Zoom Fly & Air Zoom Pegasus 34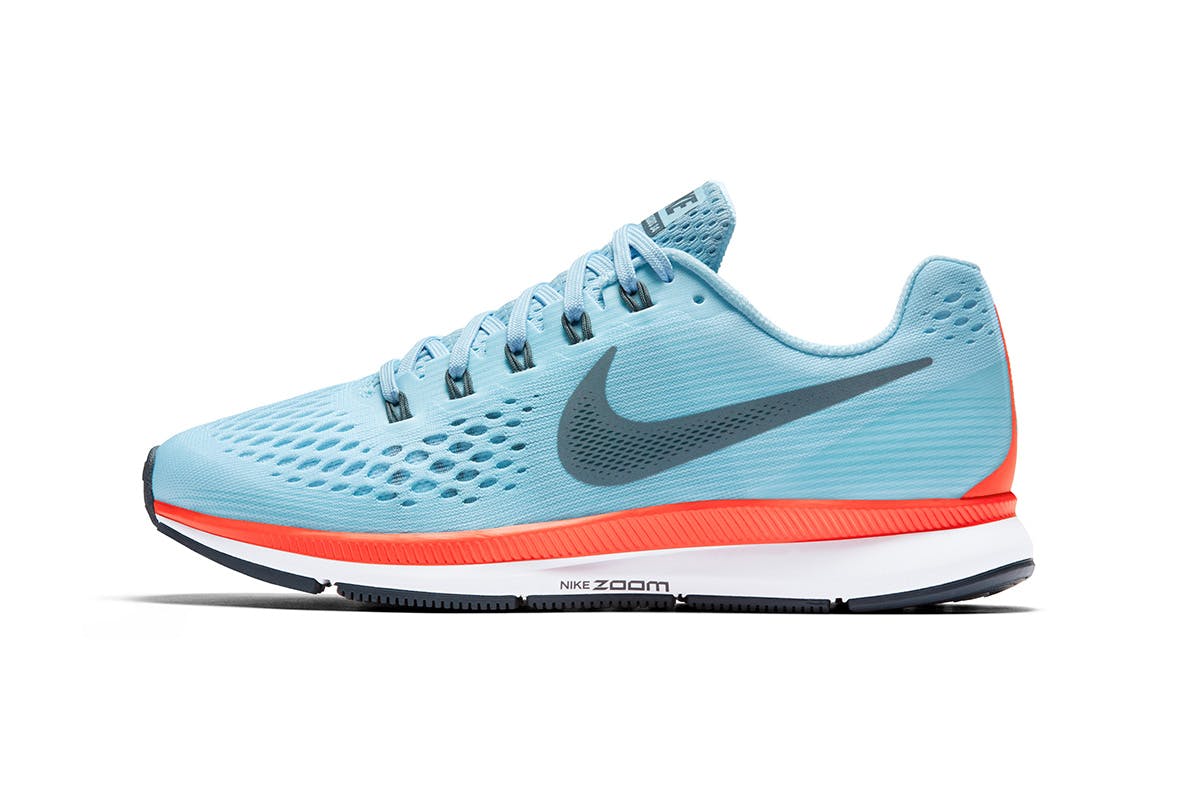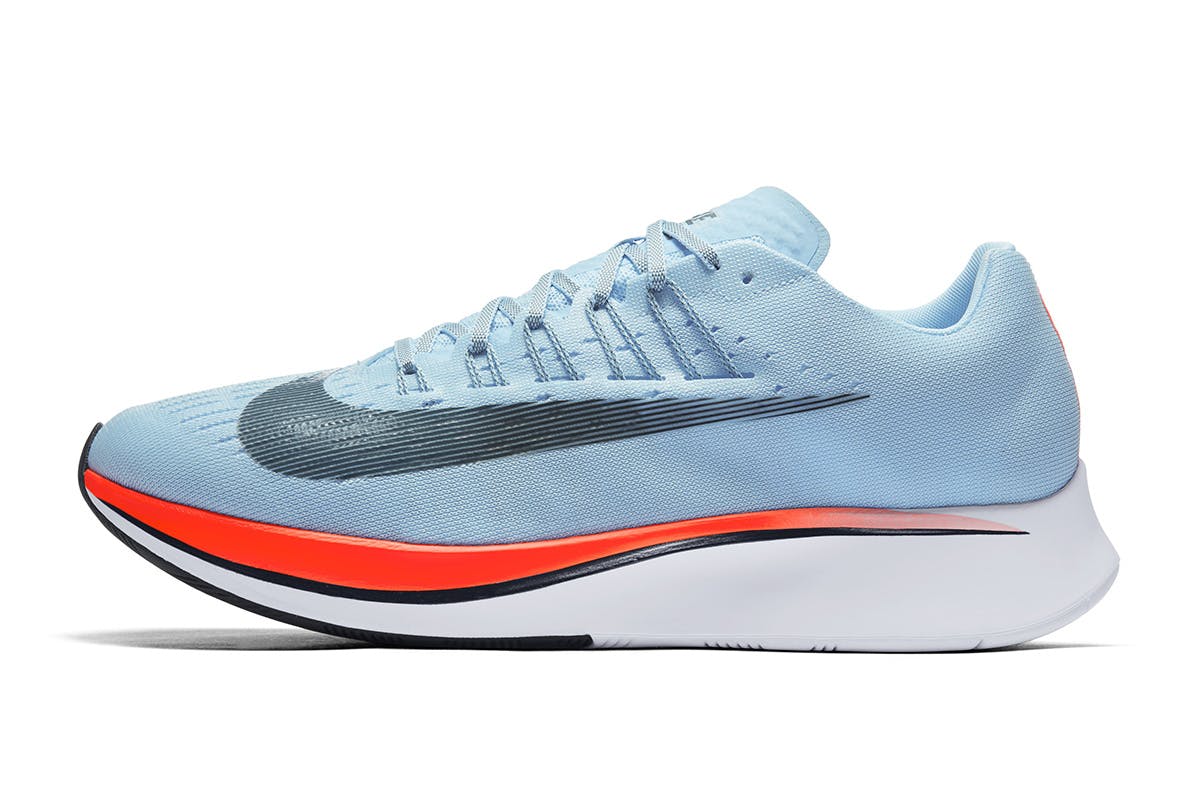 Nike added to the Zoom family two new silhouettes, the Zoom Fly and Air Zoom Pegasus 34. Instead of ZoomX, the Flywire-reinforced Zoom Fly featured a propulsive carbon-infused nylon plate inside the lightweight and resilient Lunarlon foam midsole while the Air Zoom Pegasus 34 used Cushlon foam over Zoom Air units. According to Nike, the former was "fast enough for race day, yet durable enough for training" and the latter "a secure, light, and quick everyday trainer".
September 28, 2017: Nike Zoom Fly SP "Chicago"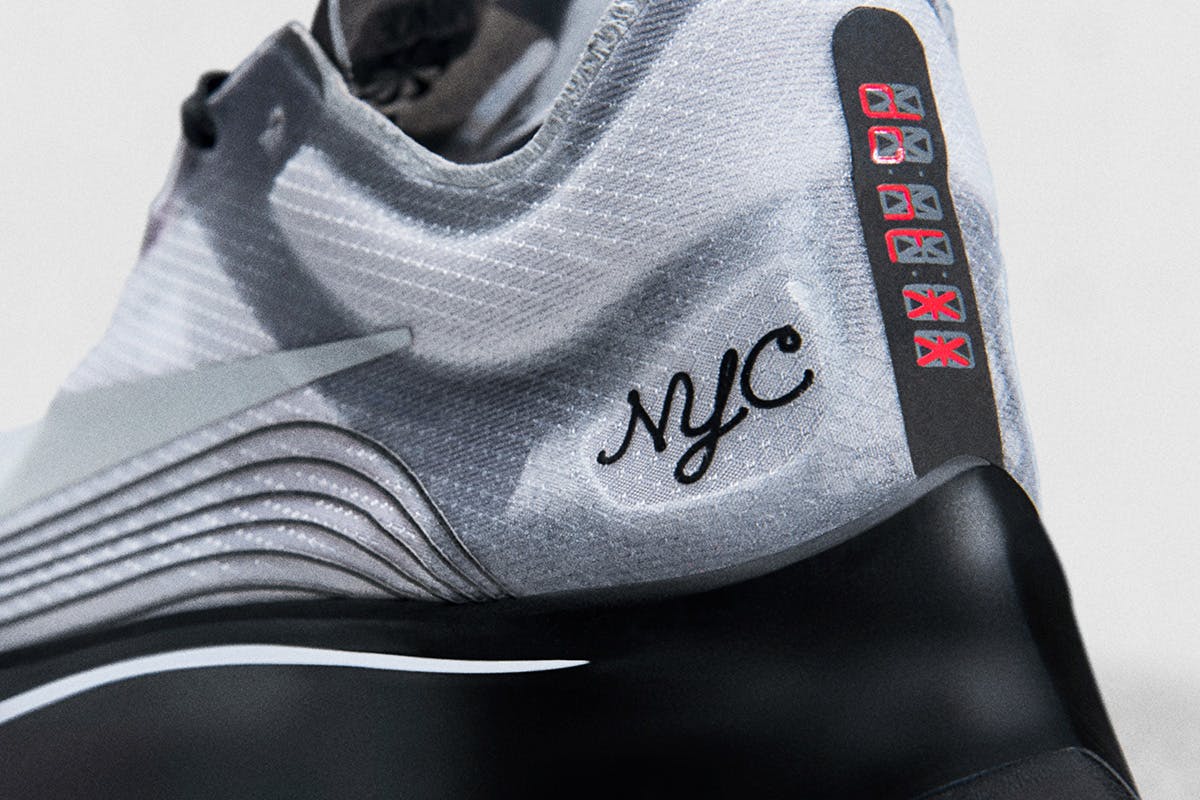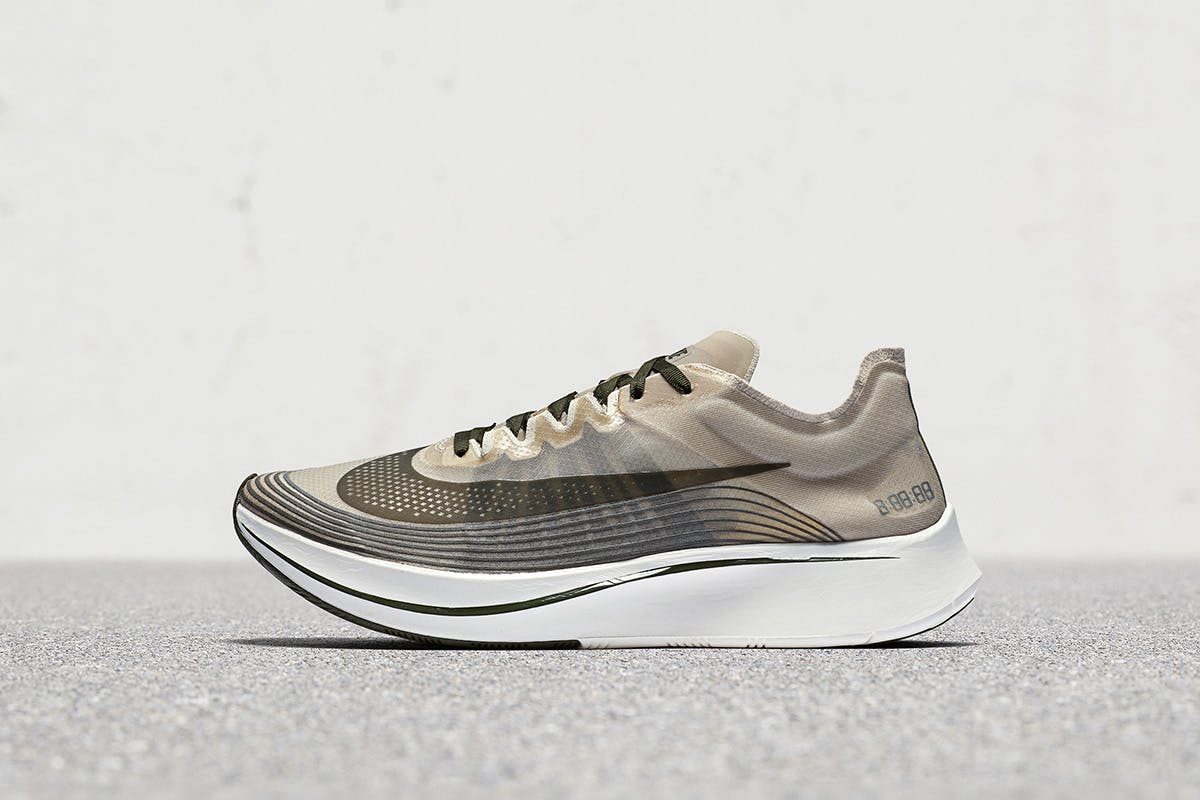 Nike paid homage to Chi-Town and later New York City, Shanghai, Tokyo, Boston, and London with all-new Zoom Fly SP colorways. Highsnobiety's Editorial Director Jian DeLeon included the "Chicago" iteration on his 10 favourite sneakers of 2017 list explaining, "it's a shoe that inspires you to move faster just by looking at it, and when it's on foot, you actually feel more aerodynamic. As much as a placebo effect that might be, I can't deny this shoe made me want to start running again."
November 2, 2017: Nike x OFF-WHITE Zoom Vaporfly SP
The Nike x OFF-WHITE Zoom Vaporfly SP was one of ten sneakers released as part of Virgil Abloh's "The Ten" collection in collaboration with Nike. Speaking on the silhouettes selected, Abloh explained, "It's larger than design culture. These 10 shoes have broken barriers in performance and style. To me, they are on the same level as a sculpture of David or the Mona. You can debate it all you want, but they mean something. And that's what's important." While clearly speaking about all ten sneakers, this statement rings undeniably true in regard to the Zoom Vaporfly SP. If it wasn't already, the Zoom series was now a style icon as well as an athletic icon.
November 17, 2017: Study supports Nike Zoom Vaporfly 4% claims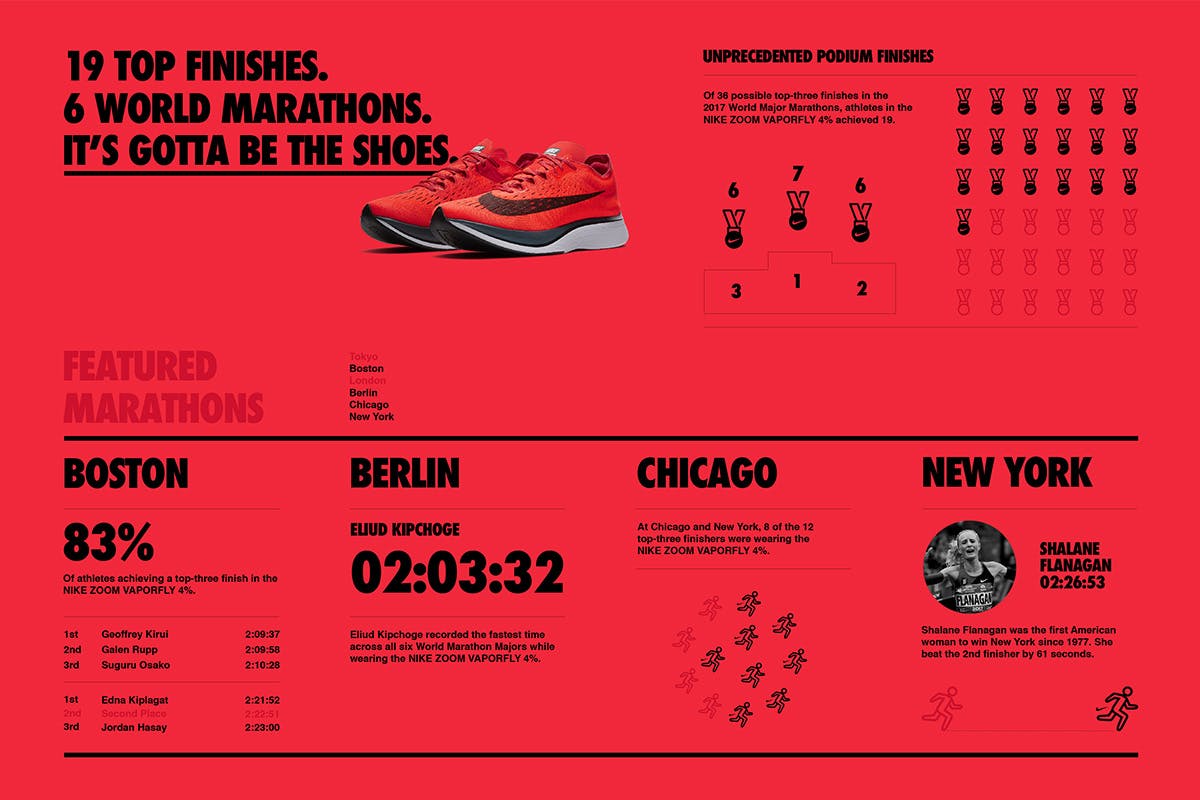 An external study published in Sports Medicine concludes "The prototype shoes [Nike Zoom Vaporfly 4%] lowered the energetic cost of running by 4% on average. We predict that with these shoes, top athletes could run substantially faster and achieve the first sub-2-hour marathon."
April 17, 2018: Nike Zoom VaporFly Elite Flyprint How do you upgrade the Zoom Vaporfly Elite? You make it 11g lighter with a new 3D-printed upper, that's how. Developed once again with Eliud Kipchoge and released just before the London Marathon (which Kipchoge would win), Nike's signature ZoomX midsole and new 3D-printed upper combine to take athletic performance to the next level.
June 1, 2018: Nike x OFF-WHITE Zoom Fly Mercurial Flyknit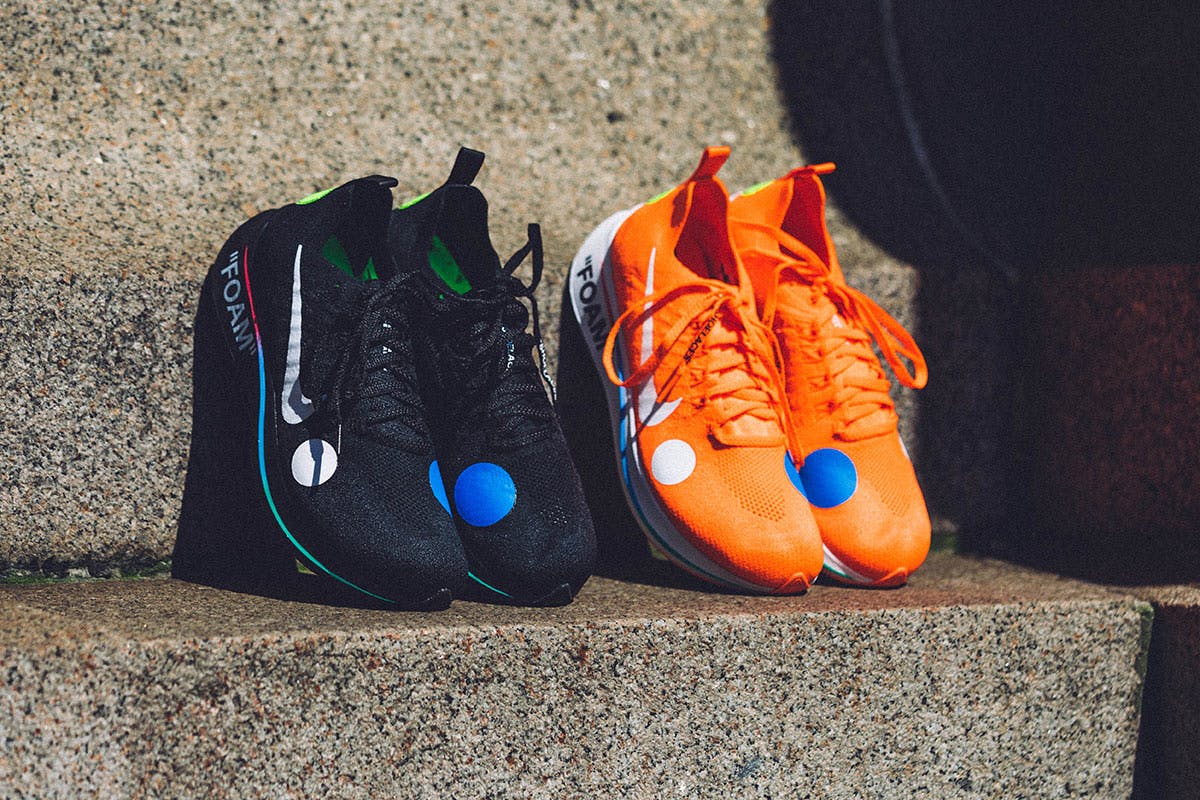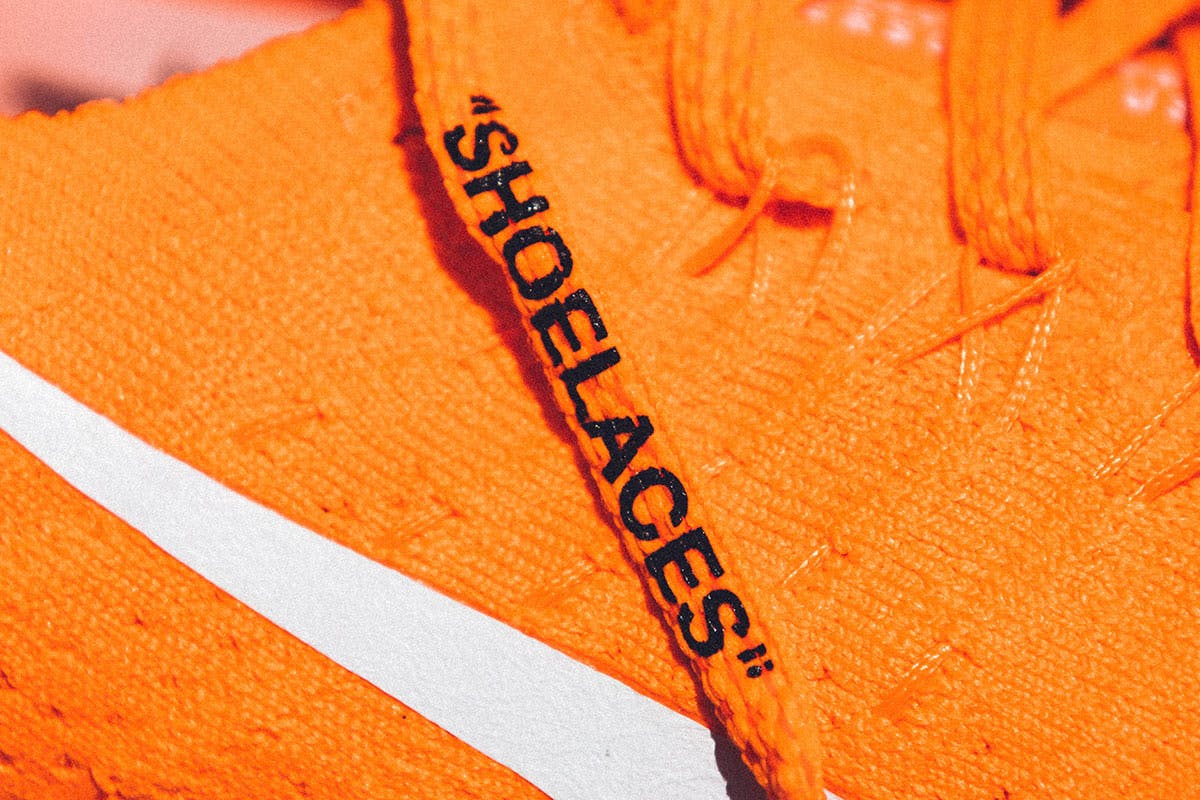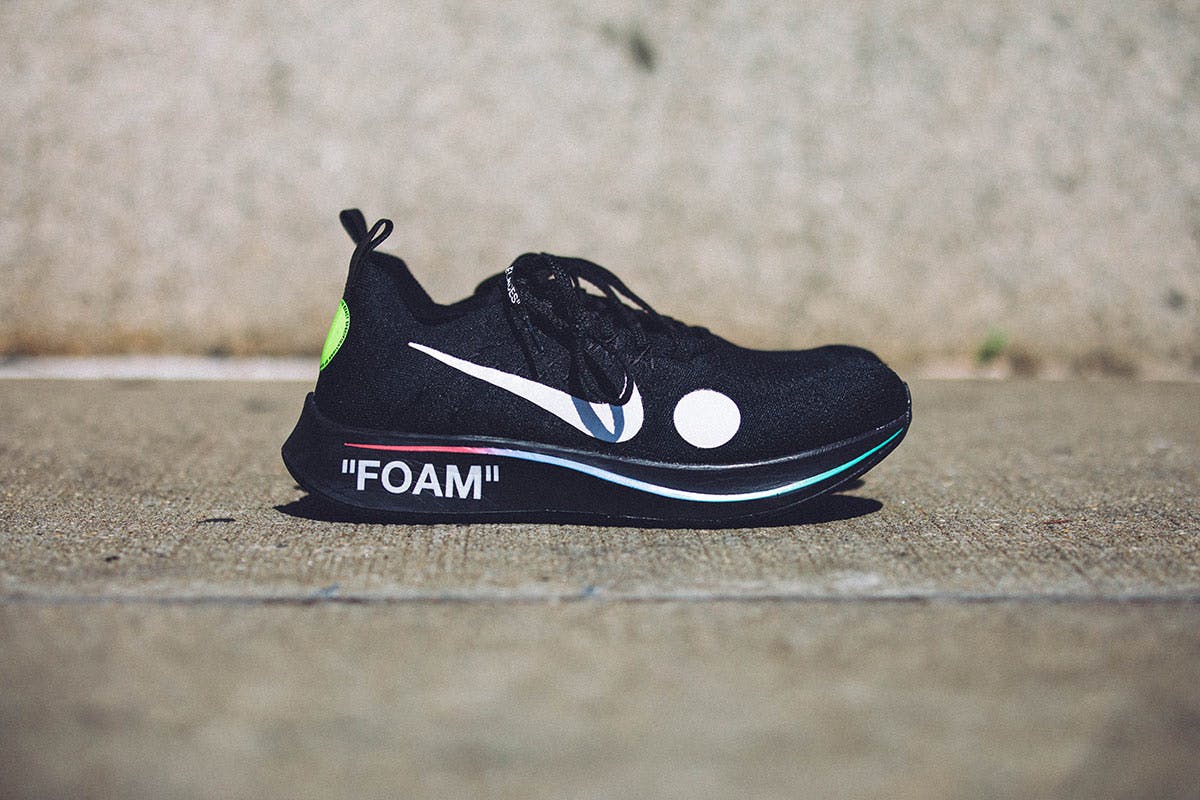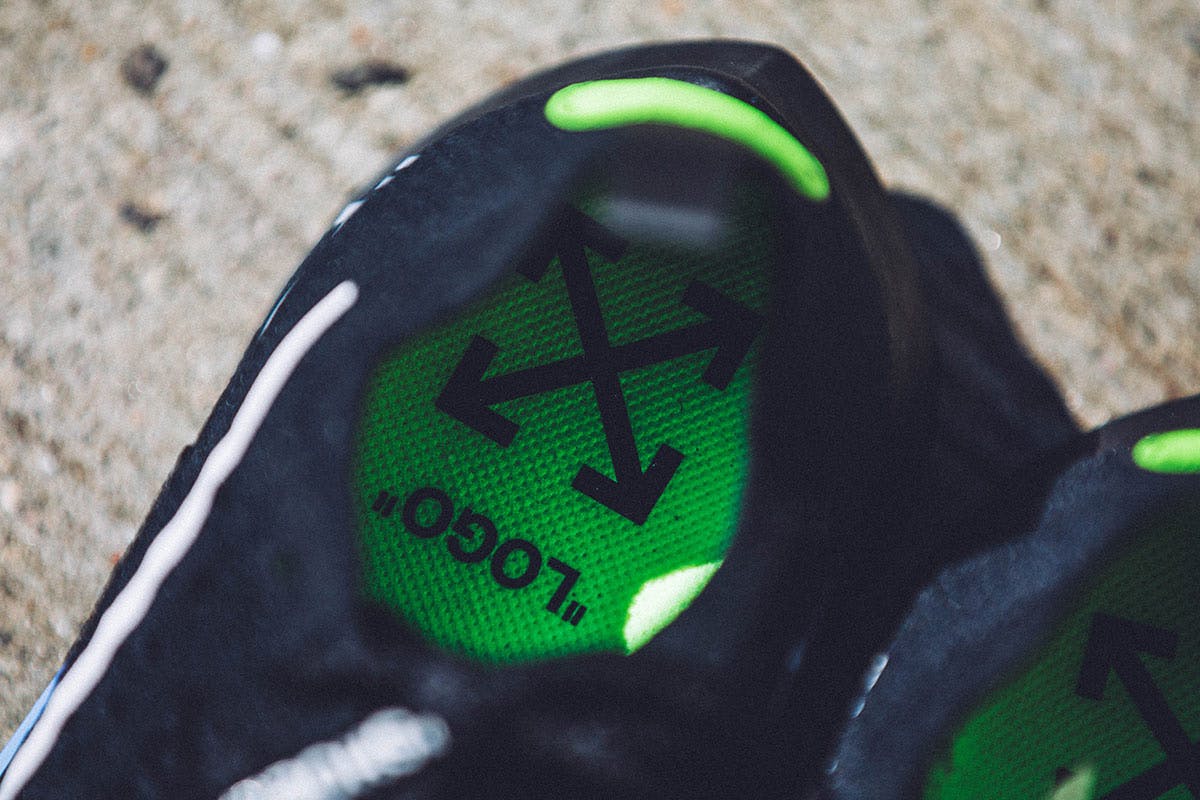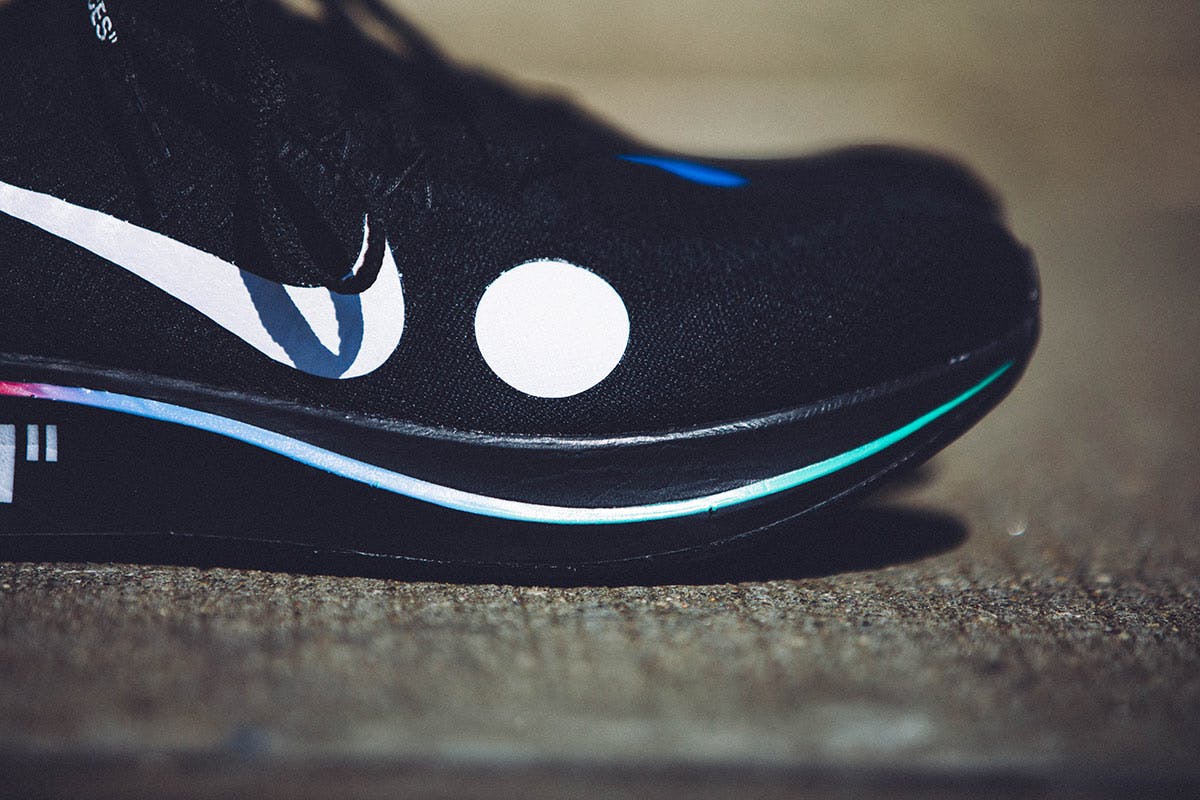 To celebrate the 2018 World Cup, Nike and Virgil Abloh dropped the Zoom Fly Mercurial Flyknit in black and orange colorways featuring a Flyknit constructed upper, two polka dots (one white, one blue) signifying a soccer player's optimal strike zones, and "FOAM" text emblazoned on the Lunarlon foam midsole. Once again, the Zoom series showed its street-ready potential as well as its performance potential.
July 11, 2018: Nike Zoom Pegasus Turbo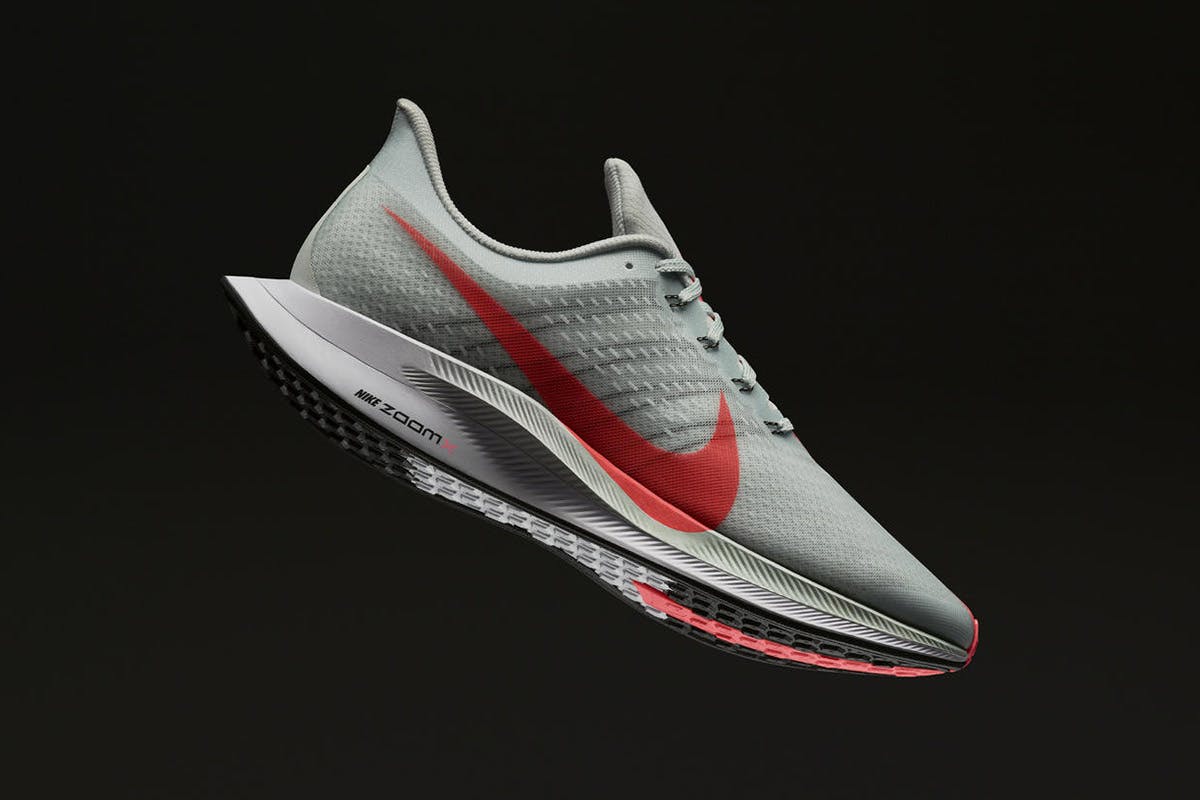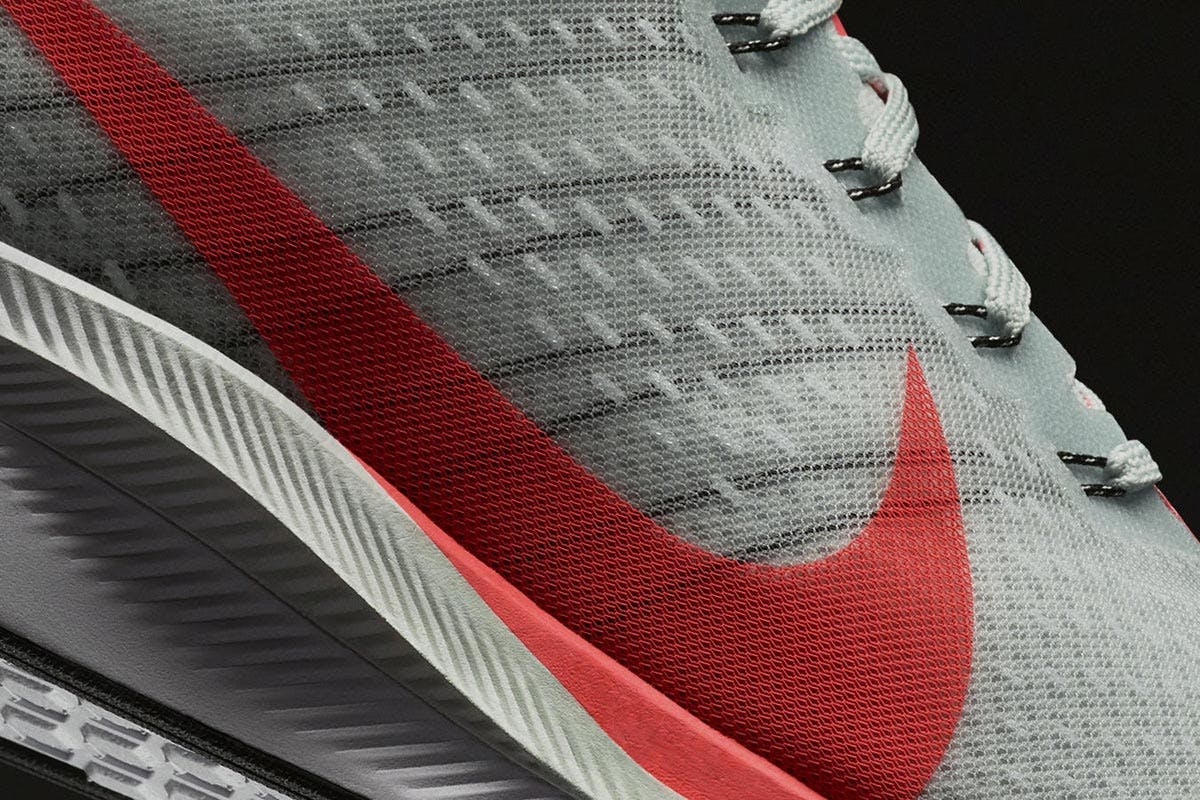 Nike introduced the Pegasus — its all-time best-selling running shoe — in 1983 and after 35 years of evolution, it received its latest upgrade in the form of the Zoom Pegasus Turbo back in July. Inspired by the dominant Vaporfly Elite and 4%, this shoe utilizes the ZoomX foam midsole minus the carbon-fiber plate. While the plate's propulsion is ideal for race day, feedback from elite runners like Kipchoge suggest it's not necessarily needed for everyday use so the Zoom Pegasus Turbo has the kick of ZoomX without the added snap.
August 23, 2018: Nike Zoom Fly Flyknit & Vaporfly 4% Flyknit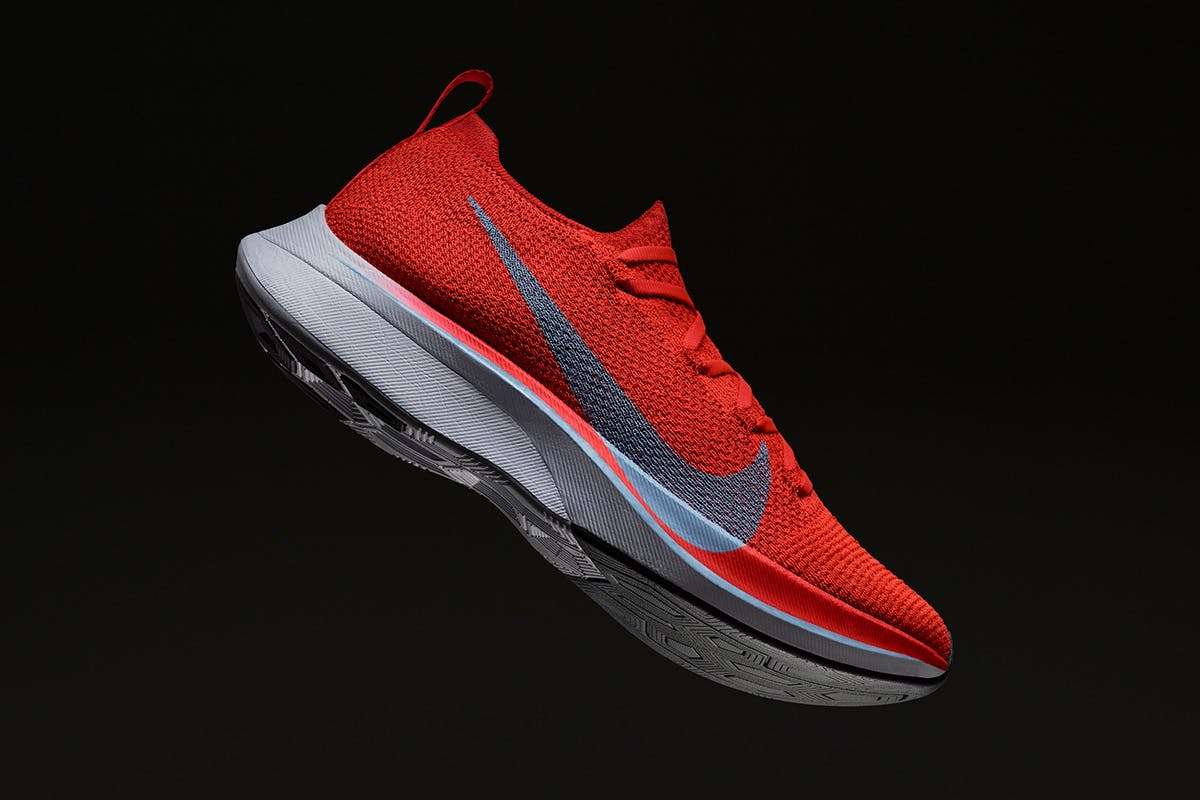 Finally (for now), Nike dropped the Zoom Fly Flyknit on September 13 in Europe and North America combining React Foam with a Flyknit upper and the full-length carbon-fiber plate. If that wasn't enough, the yet-to-be globally released Vaporfly 4% Flyknit gives the Zoom Vaporfly 4% the Flyknit upgrade for an even lighter and more breathable upper.