While the clothing at New York Fashion Week proved surprisingly wearable, beauty was another ballgame. Fanciful, experimental makeup took over the runway, adding a healthy dose of eccentricity to the pomp and circumstance that accompanies fashion shows.
Bolstering Sable Yong's assertion that beauty is going beyond the bounds of looking conventionally attractive, a phenomenon best exemplified by Julia Fox's sooty eye makeup and Doja Cat's crystal-encrusted face, designers and makeup artists dreamt up catwalk beauty coups, from bedazzled animal prosthetics to latex-dipped fingers.
As we reflect on everything that went down at NYFW Fall/Winter 2023, we're rounding up our favorite beauty looks from the runway.
Goth glamor at Rodarte
Rodarte's return to the runway was made even better by makeup artist James Kaliardos, who transformed models into the protagonists of a "goth fairytale." Done up in Siouxsie and the Banshees-inspired eye makeup, dark lipstick, and matte, powdered skin, Rodarte's heroines were part Maleficent, part rock 'n' roll.
Animal attraction at Collina Strada
Collina Strada creative director Hillary Taymour collaborated with makeup master Isamaya Ffrench to dream up a series of surreal prosthetics that transformed models into dogs, dolphins, and other members of the animal kingdom. Ffrench's totally transformative looks spread across social media like wildfire, serving as a masterclass on the power of special effects makeup.
Bows and balletcore at Sandy Liang
At Sandy Liang, hair stylist Evanie Frausto created the beauty equivalent of balletcore: long, sleek hair dotted with tiny silk bows, also applied to models' belly buttons.
Liquid latex at Eckhaus Latta
While John Gries, AKA Greg from The White Lotus, made his catwalk debut at Eckhaus Latta, you may have missed the show's several beauty statements: watercolored faces, liquid latex gloves, latex-dipped fingertips, and latex-covered nipples to match.
Teary eyes at Head of State
Head of State was in its feels for FW23. Makeup artist Kento Utsubo painted models with fake tears and unkempt black eye-shadow, a look that immediately recalled our ode to emotional beauty.
Pearl punk at Who Decides War
Makeup artist Sil Bruinsma described the vibe at Who Decides War as "Victorian punk": washed-out complexions, stained lips, smokey eyes, and faux beauty marks transformed models into eerie dolls. Accentuating Bruinsma's darkly romantic work, hair stylist Rutger created soft finger waves accented with strands of pearls.
Wind machine hair at Luar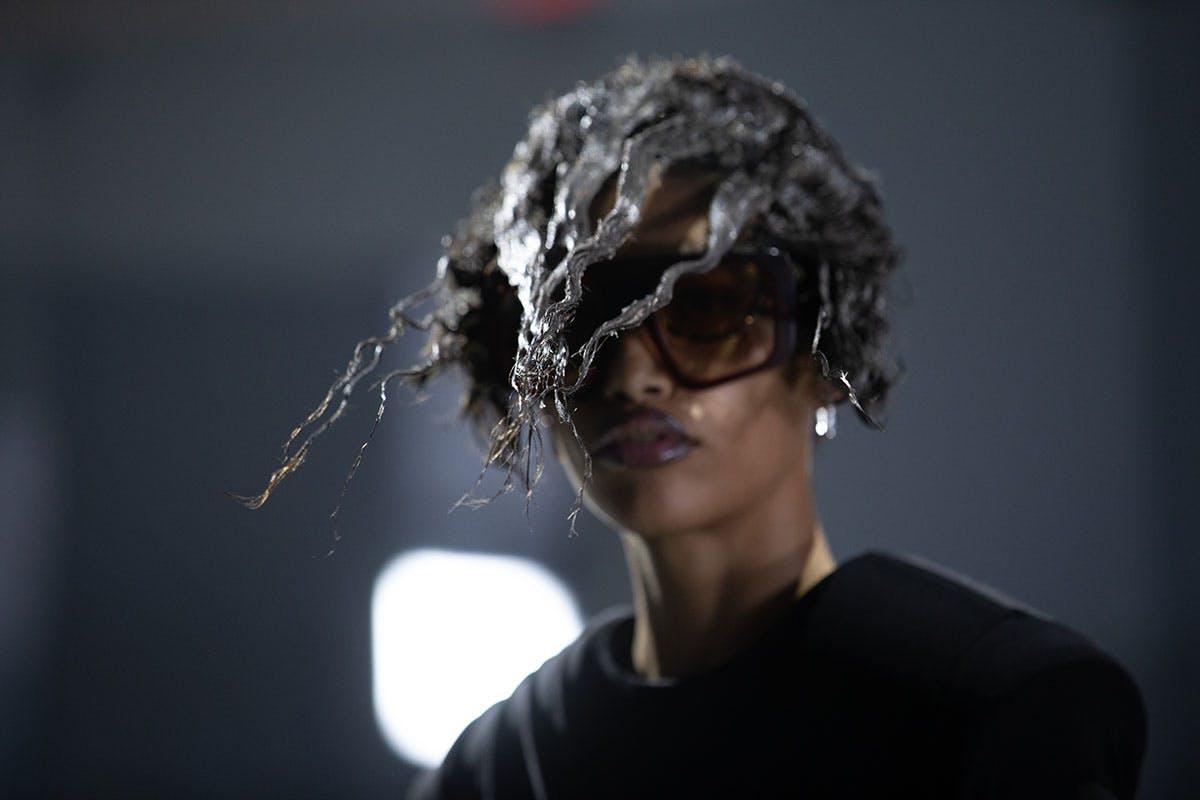 Talk about blown away — at Luar, Evanie Frausto styled models' hair to jet forward from the head, as if a gust of wind hit them from behind.