For some, 1998 was The Last Dance. For Oakley, it was a brand new beginning.
That year, the extreme sports outfitter known for its high-flying eyewear (famously seen on Michael Jordan himself) launched the first in a new line of products. His Airness got one; few others did. And now, more than two decades after the "mad science" era that birthed them, a small group of archive Instagrammers have given them a second life.
This is the story of Oakely's watch line: a ticking Time Bomb that took on Rolex before fading into obscurity, only to be revived as something not even an optics maker could see coming.
Oakley Origins
If you have an Internet connection and a '90s itch, you've probably seen an Oakley watch. Undulating, alien, and completely idiosyncratic, watches like the Time Bomb have found a second life as talismans: self-evident distillations of the Y2K quirk. Like Matrix-trenches and the song "Tubthumping," a catalog photo of an Oakley watch summons a specific image of Clinton-era aesthetic excess.
"Oakley is Y2K-Gorp-fusion-technology: titanium watches and metallurgically designed eyewear, built to outlast, and, possibly, for space travel," explains @unownedspaces, an Instagram archivist famous for in-depth posts on nature and outdoors gear.
While Oakley's sunglasses may have been more popular, the brand's decade-defining design language is intensified in the watches. To this potency is owed their vision. And behind their vision is one Jim Jannard.
Named after his dog Oakley Anne, Jannard founded Oakley originally as a distributor of motorcycle parts. In 1975, Oakley unveiled its first original product: a motocross racing grip made of a high-traction rubber Jannard called "Unobtainium." The grips' performance (and Jannard's sales hustle) made the Oakley brand a favorite of racers. But Jannard had bigger plans.
"One of Jim's mantras was: 'define problems, find solutions, wrap them in art,'" explains Brian Takumi, an Oakley VP and the brand's Product Creative Catalyst. Takumi joined the company in 1997 and was highly involved in the watch line. "It was a continued drive to make sculpture and reimagine what things could be."
In 1980, Oakley unveiled the O Goggle, its first optical product. With a wide field of view and distinctive branded strap, Oakley's goggles were, quite literally, designed for high visibility. The O Goggles found a following, leading Jannard to design Oakley ski goggles in 1983. One year later, the brand released its first-ever sunglasses — and its last-ever grips. Oakley's Eyeshades sunnies would catapult the brand beyond motocross, famously bridging into cycling on the face of Greg LeMond, the first non-European to win the Tour de France.
Oakley was an eyewear company now. And with the Eyeshades, the future was easy to see.
Over the next decade, Oakley rolled out a series of innovations that would define not just the brand, but the field of performance eyewear. In 1987, Oakley unveiled the Blade, a new style of frame that let athletes customize their protection using a system of interchangeable lenses. In 1988, the brand's famous anti-glare lens coating, Iridium, saw the light of day. 1990 brought the swooping, high-performance M Frame. 1994, the spindly, circular Eye Jacket. And, in 1996, Oakley unveiled the sunglass craze of the late '90s with the Romeo, an ultralight, Jordan-approved performance frame made from a material the brand secretively deemed "X-Metal."
"These items represented the new design language that Oakley was channeling at the time, moving away from the square looks of the '80s to a more compressed, oval shape and wrap-around frames that created a faster and sporty look," comments @samutaro, an Instagram archivist known for deep-dive research. "You only have to look to the throwback Michael Jordan ads wearing Eye Jackets to get an idea for the futuristic vision that the brand was creating in the '90s."
Oakleys weren't just cool — they were everywhere. The Bulls rocked Oakleys. Blade rocked Oakleys. Mark McGwire and Jose Canseco? Both on Team O. In 1996, the Wall Street Journal reported that Oakley had a 15 percent share of the worldwide sunglasses market. But next to the brand's place in culture, even that felt small.
The brand's distinct design language, rebellious attitude, and larger-than-life endorsers gave Oakley a presence that felt far bigger than sunglasses. Through splashy marketing campaigns, Oakley sold the idea of an Oakley lifestyle. Perhaps it was time for the brand to reflect that.
"By the late '90s, the brand had grown past its action sports roots," comments Takumi. "People were wearing Oakley for other things, so for Jim, the brand grew into a design-driven brand more broadly. He wanted to make sure he could deliver Oakley fans a head-to-toe experience."
Starting in 1997, Oakley began a slow-but-steady expansion. The brand — trading on the New York Stock Exchange since 1995 — had been hammered by a shrinking premium eyewear market. By the time Trinidadian sprinter Ato Boldon rocked the iconic OVERTHETOP sunglasses at the 2000 Olympic Games, Oakley had unveiled outerwear, a shoe line, and its first prescription frames.
More importantly for our story: they also introduced watches.
"What the fuck is this thing?"
In 1998, Oakley unveiled its first non-sunglass accessory: the explosively-named, explosively-designed Time Bomb.
"Time Bomb was incredibly disruptive in the watch industry," says Takumi. "It's a very conservative design space, and they were like, 'What the fuck is this thing?'"
The Time Bomb was a line in the sand. Retailing for $1500 — equivalent to entry-level Breitlings of the day — Oakley's biomorphic, titanium-encased jump into the watch world seems as much an expression of their brand as a middle finger to others.
"When we did the watch launch, the original invite said 'Time Bomb Inside,'" laughs Takumi. "The US Postal Service got involved and scuttled the whole thing."
From the spinal column bracelet to the horseshoe crab bezel, the entire package appears like an HR Giger rendering of a Cartier Ballon Bleu. It was an Oakley take on luxury, priced like the old world's take on luxury, and listed right alongside them in Tourneau, then America's preeminent luxury watch retailer. It was also unabashedly commercial.
A box insert on the original Time Bomb brags about the technology behind its movement: "Cradled in a sculptural metal casing, the Oakley Inertial Generator converts human motion into electrical current."
What the brand called an "Inertial Generator," the Seiko watch corporation called movement #5M42. In the middle of the Time Bomb's sculptural titanium case was a Seiko quartz movement — the kind found in $40 clamshells on department store shelves. As bold as the aesthetics were, the Time Bomb was, at its core, a merchandising play, the kind that in so many ways defined the late '90s that it's now come to represent.
"By the end of the '90s, if you didn't have a watch line, you were a complete loser," laughs Joe Thompson, a veteran watch journalist now serving as HODINKEE's executive editor. "You didn't even need to be a fashion brand. Zippo, Range Rover, and Caterpillar all made watches."
But Oakley's luxury pricing and outrageous design distinguished it from other quartz "fashion watches." With the Time Bomb, Oakley had performed the watch equivalent of valet parking a slammed Supra. Oakley fans loved it. The watch market? Not so much.
Despite the high-impact release — and the co-sign of then-Oakley board member Michael Jordan, who rocked a golden "#23" Time Bomb purportedly worth $25,000 — the watch fizzled.
"I didn't really see any of them in the wild around launch," admits Takumi. "It was $1500, which at the time was equivalent to a Breitling, maybe a Rolex. Oakley was in action sports shops, then all of a sudden pro athletes had them. The Time Bomb is probably getting more traction now than when it first came out."
Moving forward, the Oakley watch line — whether explicitly-planned or not — would split into two directions. One would prioritize the brand's neo-futuristic aesthetics and gladiatorial stance towards the watch industry.
"Colin [Baden, former Oakley CEO] approached watch faces like a graphic design exercise instead of an industrial design exercise, like how they were typically done," says Takumi. "I actually worked in graphics but ended up doing almost every watch face after Time Bomb."
Designs like the Torpedo, Bullet, and Jury would carry the torch, creating Oakley watches in their purest Platonic form. These were the sorts of watches given to college football players as gifts for making it to prestigious bowl games. The others would serve a more practical aim. Says Takumi: "As things went on, it was this constant push and pull between disruption and more commercial designs. Torpedo and Bullet were like — woah. Then there were things like Detonator, GMT, and Saddleback that found a balance."
This side of the watch line saw Oakley's design language meld onto more conservative watch industry archetypes: the squared-off Tank, the three-dial chronometer. Details like overbuilt bracelets and aggressive color schemes made them Oakley. Familiar styles and more accessible price points made them broadly attractive. These were the sorts of watches sold in action sports shops, perhaps next to posters of the others.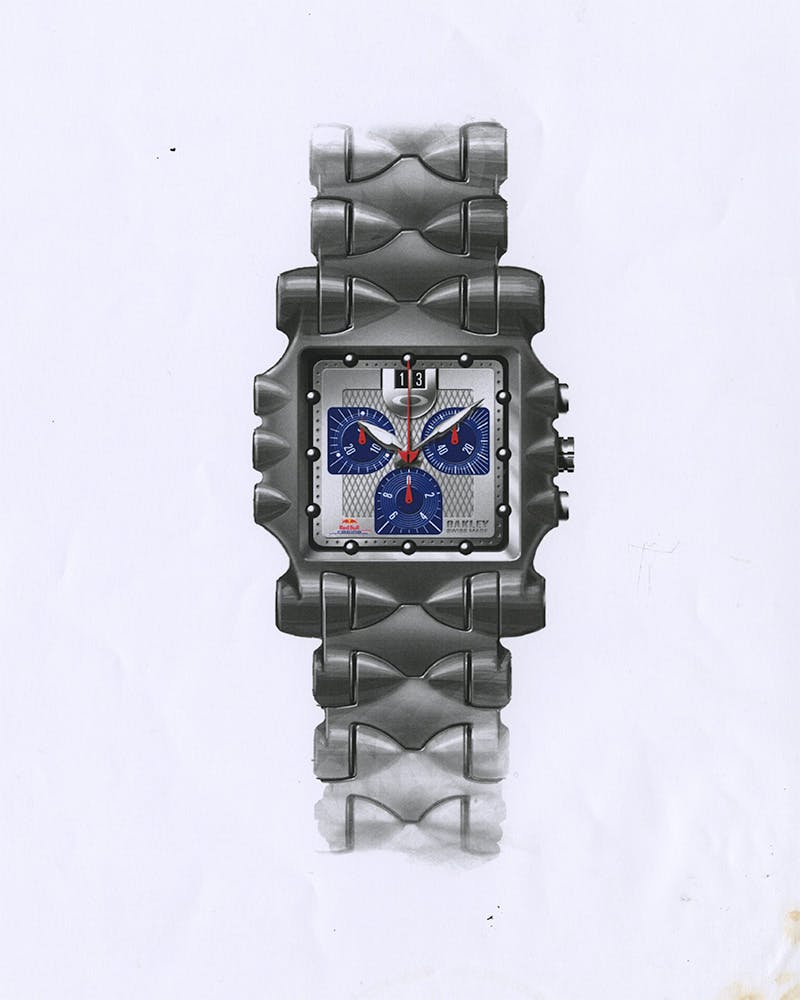 "We got really good within watches of making sure we had a pyramid: the brand statement piece, and then the commercial drivers," comments Takumi.
An Oakley Watch catalog lists 10 styles. Seven fall into this more-commercial category, but the first style in the book? A $2700 "Elite Time Bomb II," now packing a Swiss-made movement.
The Clock Strikes Midnight
Oakley watches ran successfully up and through the brand's 2007 acquisition by eyewear giant Luxottica. In 2011, the brand released a $8,995 watch called "Full Metal Jacket" (no relation to the movie) that, in a typically-Oakley so-bonkers-its-cool fashion, could convert to a pocket watch via an include chain. 2012 saw a partnership with longtime ambassador Lance Armstrong on a special LIVESTRONG edition Time Bomb II. In the background, the more accessible styles continued to reach fans.
By all accounts, the watch line was ticking along just fine. But just three years later, the time of Oakley watches had come to an end.
"It was a question of: how much do we want to invest to keep this program going?" explains Takumi. "At the same time, if we're a sports brand, should we be making $2000 watches, or sport watches? In the end, the program got cut."
Between 1998 and 2015, Oakley's watch project had created a vault of beloved designs. While amateur horologists poo-poo'd their cost and quality, the sheer ambition behind shapes like Time Bomb, Torpedo, and Bullet moved the timepiece conversation in a way that the typically conservative watch industry would have never done itself.
It's this distinctiveness that's led to their second act.
All in Due Time
After disappearing in 2015, Oakley watches roared back to life earlier this year when photos of a sample BAPE x Oakley Time Bomb were posted by the archive Instagram @organiclab.zip.
"Tim Cadiente [a veteran photographer and Oakley's connection to the world outside sports] knew Nigo, and in 1999/2000, he said 'Hey, I know this little brand called BAPE,'" Takumi recounts. "He got two watches made as a proof of concept and wanted to do something more with them. It was a different world — people didn't really know what a collab was, so it didn't go anywhere from there. There's just those two prototypes out there."
The intrigue of a little-known BAPE collab caught eyeballs. But it was the shape — the oh-so-'90s low-fidelity smoothness, a watch in the tradition of the PlayStation 1 and Bugatti EB110 — that really held attention.
Since that original post, Oakley watches have reverberated across moodboard Instagram. Every so often, a new photo of a yet-unseen Oakley model will appear on an outdoors archive's feed. This photo is digested, internalized, reshared, the comments filled with "RETRO THIS!!!" Then, days later, a new photo of a yet-unseen Oakley model will appear somewhere else. The cycle repeats.
"Oakley represents a layer of an archaeological dig into '90s and 2000s performance wear," comments @unownedspaces. "After delving through already established relics, like crumbling ACG soles and bubbling first-gen Arc'teryx Gore-Tex, Oakley takes us beneath, to alien crypts."
Whether reposters are drawn more to the novelty of a new corner of the Oakley universe or to the watches themselves remains an open question. What can't be argued is that, through pure enthusiasm, a mildly-successful Oakley extension is being rediscovered in real-time and embraced as it is.
The general interest in '90s aesthetics that draws audiences to curators like @hidden.ny has certainly buoyed the brand. "I think the whole wave of '90s and '00s nostalgia is really driving the renewed interest in Oakley," adds @samutaro. And yet, it's this specific corner of the decade — this specific brand, these specific expressions of it — that's finding new resonance today.
Perhaps it's because, unlike so much of fashion today, vintage Oakley feels genuinely unafraid.
There is excitement in designs like Time Bomb. There is novelty, antagonism, assuredness, and yeah, a healthy dose of weird, too. But above all else, there's excitement. Intention, but excitement. When was the last time something you saw made you feel that way?
Sprinkle in the Oakley fever around April's The Last Dance documentary, and it's hard not to see the recent fascination around the brand's watches (and shoes) as expressions of a deeper craving.
"Why is Time Bomb relevant 20 years later? It's because it was so different," concludes Takumi. "People discover these things and go, 'Wow, look at what Oakley was doing.'"
"If you covered up the logo, would you know it was Oakley? When you look at X-Metal, and Shoe One, and Time Bomb, there's just no question."
A lot of brands made iconic products during the '90s. A lot of those same brands put their logo on watches. And yet, it's Oakley's that stand the test of time.