As the curtains drop on another Men's Fashion Week, it's time to take a look back at what all went down and then prepare for a little R&R.
Oh, right, there are more Fall/Winter 2022 shows in February. Well, we'll get there when we get there.
Milan and Paris were packed with high-profile moments, from Virgil Abloh's final Louis Vuitton runway to NIGO's KENZO debut, anchored by the usual solid showings from Highsnobiety favorites like AURALEE, LOEWE, and Hermès.
From Rick Owens' lightbulb hats to A-COLD-WALL* artful outerwear, there were plenty of standout statement pieces but a big shout-out to some of the major collaborations.
I immediately thought of UNDERCOVER x 'Psycho,' and Junya Watanabe x Jamiroquai, though can't say I'm especially thankful for getting "Virtual Insanity" stuck in my head yet again.
But there were also some specific products that stuck in my craw even after the shows wrapped, which I'm shining a light on partially just to make sure that I get a jumpstart on my Fall/Winter 2022 wishlist.
Y/Project director Glenn Martens is the second designer, following sacai's Chitose Abe, to partner with legendary designer Jean Paul Gaultier for a series of collaborative semi-couture.
The resulting team-up is basically perfect, as Gaultier's body fixation converged with Martens' refusal to merely flatter the human form. Signature sailor shirts were blown up into sweaters and "nude" body prints were affixed to ultra-tight tees and Y/Project's signature warped blazers in a convincing meeting of the minds.
Bianca Saunders' Warped Staples
It's always worth returning to Bianca Saunders' collections for an additional look. Her work demands multiple viewings not just 'cuz the LVMH Prize-nominated designer's still on the come-up but because Saunders' output is so intricately-crafted that a surface-level purview misses the granular details.
For instance: the British creative's FW22 collection is rife with familiar silhouettes tweaked by unexpected closures that obscure their facades, crossing over as if to create deep pleats that warp their shapes. Not to mention the mind-bending geometric prints, which transform a nifty pullover shirt into wearable art.
Miuccia Prada & Raf Simons' Boilersuits
Jeff Goldblum stole the show at Prada's FW22 presentation in Milan but the collection's sharp, fuzz-tinged tailoring and giant bomber jackets are hardly lacking.
Actually, one of my favorite elements from the collection were the sumptuous boilersuits, cut slouchy and almost entirely stripped of their workwear influence thanks to the demure shirt collar and occasional pattern. I especially love how their generous shape highlights the fabrics that inform them, putting Prada's signature nylon and lush leather on full display.
Jil Sander's Powerful Chisel-Toed Boots
This isn't a footwear round-up (we've got that covered elsewhere) but I had to drop a mention of the hefty slip-ons showcased at Jil Sander FW22.
I was never one for square toes and we've all seen a million snub-nosed shoes so to witness the weight of a proper pointy foot — given full emphasis by tucked-in trousers.
There's so much worth mentioning about Virgil Abloh's last LV show — The music! The jewelry! — but I'd be remiss to not celebrate the exquisite bags.
Classic Keepalls and Trunks got reimagined in a major way, some now sporting boombox capabilities, others resplendent in floral print, and yet more fixed with rock climbing grips in the shape of the Louis Vuitton's monogram.
Perhaps the best piece, however, is the paint can-shaped shoulder bag, offered in multiple hues as if to reflect Abloh's boundless creativity.
NIGO's KENZO Kimono Blazers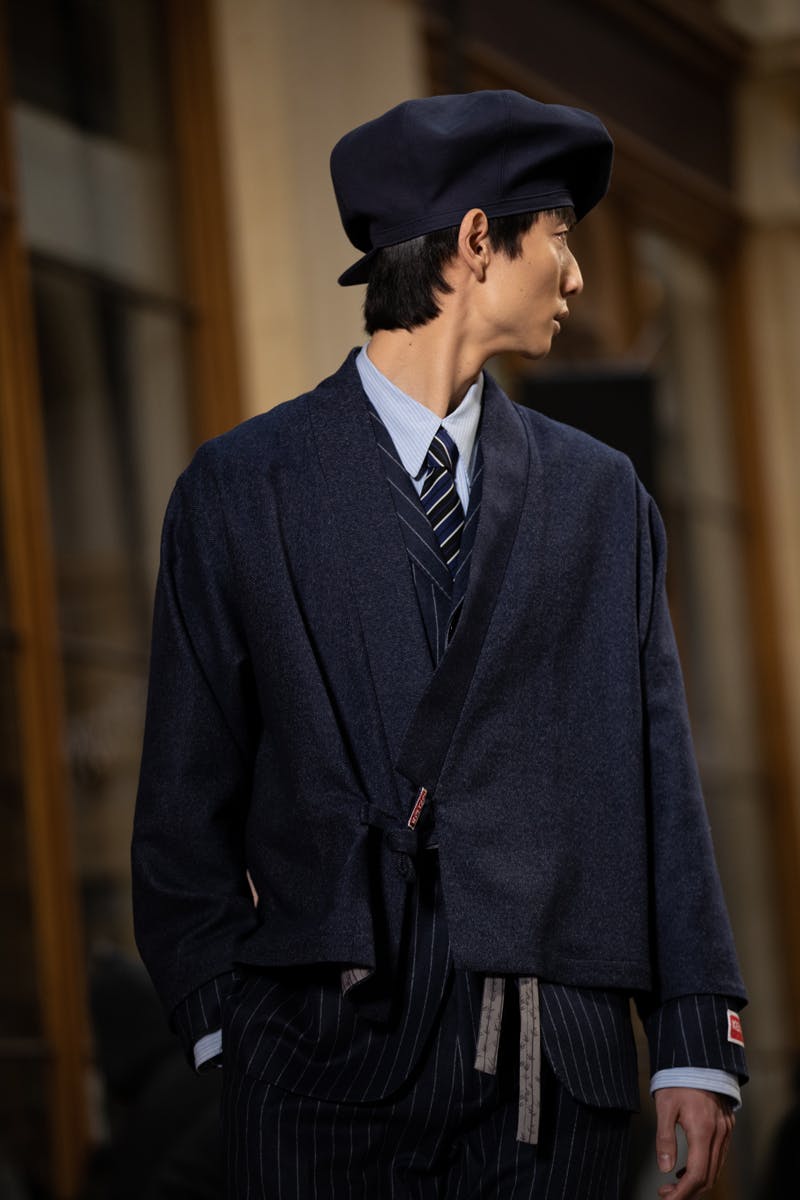 NIGO's debut Fall/Winter 2022 KENZO collection brought out all the celebs, including OG pal Pharrell, but the real attraction was the new look of the age-old fashion house.
From lush floral set-ups to the retro Western shirts styled with creased slacks, it was a very NIGO affair. Perhaps the most intriguing bits were the kimono-closure blazers, an East-meets-West affair that previously explored in NIGO and Virgil Abloh's LV² collection.
But it's most interesting here in NIGO's KENZO offering because it represents his backwards-looking design approach, where the Human Made founder repurposes elements of classic menswear with personal flair much like Kenzo Takada himself did way back when.
These may not be the objective "best" bits in KENZO's FW22 collection but these layering pieces speak to NIGO's far-reaching design ethos, his ability to pull together disparate influences into a cohesive affair and how that'll shape his time at the LVMH-owned house.