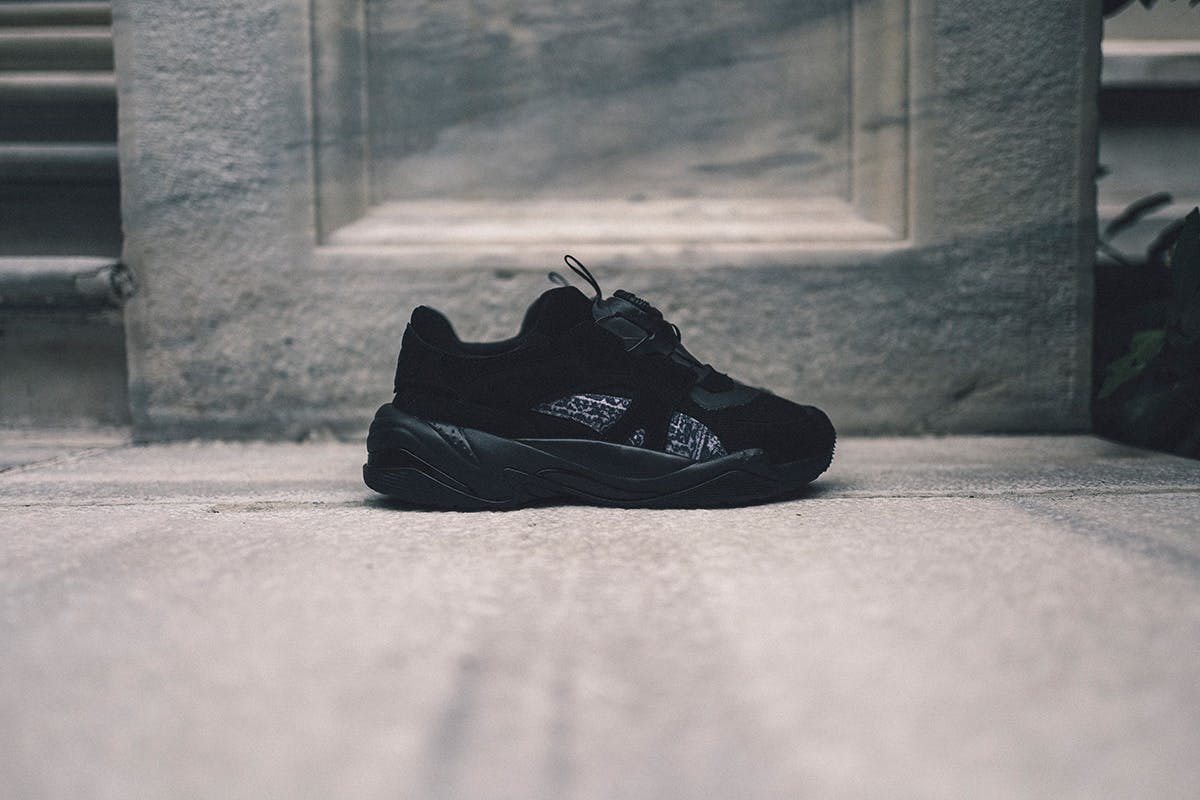 Growing up as a Turkish kid in Germany and Switzerland, all Bunyamin Aydin ever wanted to do was wear cool sneakers and make dope clothes. So when PUMA reached out to the founder and creative director of Les Benjamins, Aydin couldn't say no.
Blending PUMA's DNA with Aydin's passion for creativity and travel, the PUMA Thunder Disc x Les Benjamins was born. To promote the collection and showcase Turkey's cultural renaissance, Aydin tapped into the talents of photographer Timothy "13th Witness" to take a trip to Turkey and document the journey along the way. The collection is also doubles as a preview of a wider collection that will drop in Spring '19, which includes innovative, futuristic-style RS-0s, Thunder Discs, parkas, hoodies, track pants, and more.
Discussing this "Journey of Discovery" series and how this collab came to be, Aydin and Tim came by the Highsnobiety office to chat about how it all began.
How did you two first link up?
Bunyamin Aydin (BA): We met in Paris through a friend and we vibed.
Timothy McGurr (TM ): Is that really the first time we met?
BM: Yeah, at the showroom during Fashion Week in Paris. You came to the showroom and we became friends. We just vibed–sometimes you just get a good energy and we felt like we knew each other. It didn't feel pushed… it was very natural.
Let's talk about Turkey and how it influenced the collection.
BM: Tim had never been to Turkey before and lots of people are curious about it, because it's such an old cosmopolitan city. Three empires. So vibrant, so different, the Roman architecture, contemporary buildings–it's a melting pot of different things. I still don't think he's fully discovered Istanbul. It was exciting to see you discover the city and see where everything started for me.
TM: I went in with no expectations, which is really good, and it just surpassed everything I ever could have imagined.
BM: What really interested me a lot were the carpets and how they're so universally loved. You could have a Turkish carpet in a chateau in Paris, in India, in England–carpets are something all of us have. Especially Turkish carpets. They're accepted and appreciated by everyone. That's a positive message, which I love, because growing up in Istanbul and spending time in the Grand Bazaar I loved seeing artisan handmade carpets. There's this rectangular line that goes all around the carpet; that actually draws the wall of the carpet and in the middle of that carpet is a story. It's a canvas of a bigger story and it just opens up your mind. It's not just something we step on. That's what inspired me to use the carpet design on the first collab.
TM: I mean, the whole PUMA project came while I was discovering my very own Turkish lineage. It was a homecoming in a way.
What should PUMA fans expect?
TM: Oh man, the bordeaux color.
BM: Yeah, that bordeaux! When PUMA approached me and asked if I wanted to do a collab, I already knew, I was like… "I'll only do it if I can design the disc." The disc is iconic. Being a sneaker enthusiast, I loved the iconic Alt silhouettes. I appreciate the new ones, but we grew up with the old ones and I think it has a deeper heritage.
So, combining the Thunder sole with the disc is actually something that's never been done before at PUMA. It will create something more modern, and show the world that there is a youth generation in all these cities: Istanbul, Seoul, Saigon–all these new cities that have a culture, but there's no platform. You'll always have the cool kids of the town: the bloggers, the photographers, the artists. These kids realize that they can be part of the culture all the way in Istanbul. Most of these special drops are in London, Paris, New York, why? Why not Seoul or Istanbul? That's what we're doing now.
What didn't you expect on this journey?
BM: It was like… National Geographic, but right now. We came up with a Journey of Discovery. Tim discovered Turkey and we just followed him. It was pretty freestyle. If he saw something, we followed him.
TM: We had a lot of cool moments and a lot of "holy shit that's beautiful" moments. And I really think people everywhere are starting to open up to the idea of discovering new things. New food, new places to travel, people are starting to step outside of their comfort zone. As a photographer, the best I can do is show you photos. If I can inspire one person to go to Turkey, you know, that's not bad.
The PUMA Thunder Disc x Les Benjamins pre-releases at the SoleDXB street culture expo in Dubai on December 6th and drops globally on December 15th.