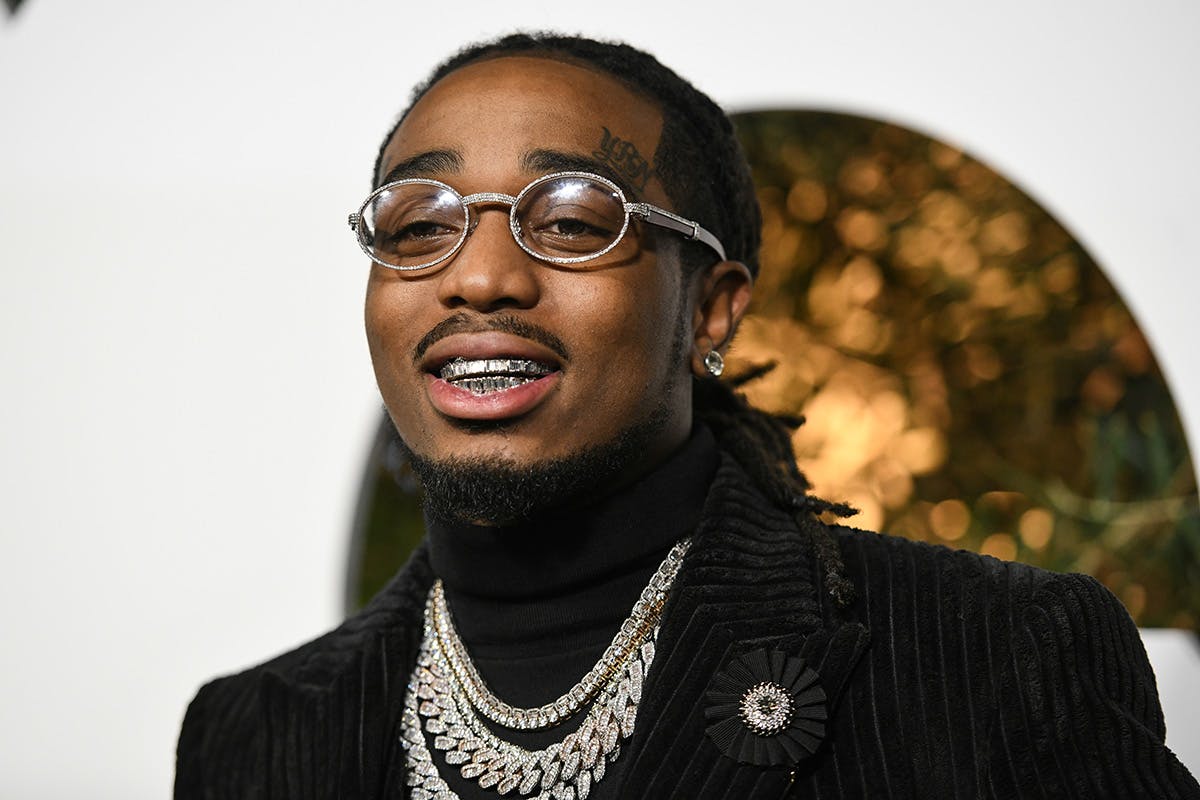 It looks like JAY-Z and Kanye West weren't the only ones to squash their beef at Diddy's birthday party last weekend, Quavo and Joe Budden might have patched things up, too.
Taking to Instagram yesterday, Budden shared a picture of himself and Quavo in matching purple suits, but it was the accompanying caption that really grabbed our attention. His wording is a reference to the 2017 Migos track, "Ice Tray," in which Quavo dubbed Budden a "pussy" and dropped the line, "If a nigga hatin', call him Joe Budden."
Take a look at the post below.
If you've forgotten what brought on the beef in the first place, though, allow us to give you a brief recap.
The issues can be traced back to June 2017, when all three Migos were interviewed by Complex's Everyday Struggle hosts Budden, DJ Akademiks, and Nadeska Alexis on the BET Awards red carpet. The conversation was awkward to say the least, with questions landing flat and revolving around topics the rappers clearly did not want to discuss.
In the clip below, Budden can be heard saying, "We gotta wrap this up, though," before throwing his mic on the ground, storming off the carpet, and then being confronted by Migos and their associates. Watch below.
To this day, it's not exactly clear why Joe Budden acted that way. However, it may be worth noting that he has always been vocal about his dislike for "mumble rap," a category in which Migos would fall under.
In December that year, Migos and their label mates dropped Quality Control: Control the Streets Volume 1, an EP that included "Ice Tray," featuring Quavo's jabs against Budden.
Naturally, Budden responded, "I have never heard Quavious more audible and clear than that line. He gonna mumble every damn thing and then want to sound like fucking 'Mr. College Harvard Lil Pump Professor Man' when it gets to the diss?"
In January of 2018, however, Quavo admitted that he didn't have a real problem with Budden. Sitting down with Ebro Darden during an interview for Apple's Beats One, he said, "Can't nobody ever be Joe. He's good. He knows we coming with that flame. No hard feeling with Joe. We just can't be no Joe Budden."
Things have been quiet since that. Until Budden's recent Instagram pic from Diddy's birthday bash, of course, which is a safe indicator that the beef has been squashed once and for all.