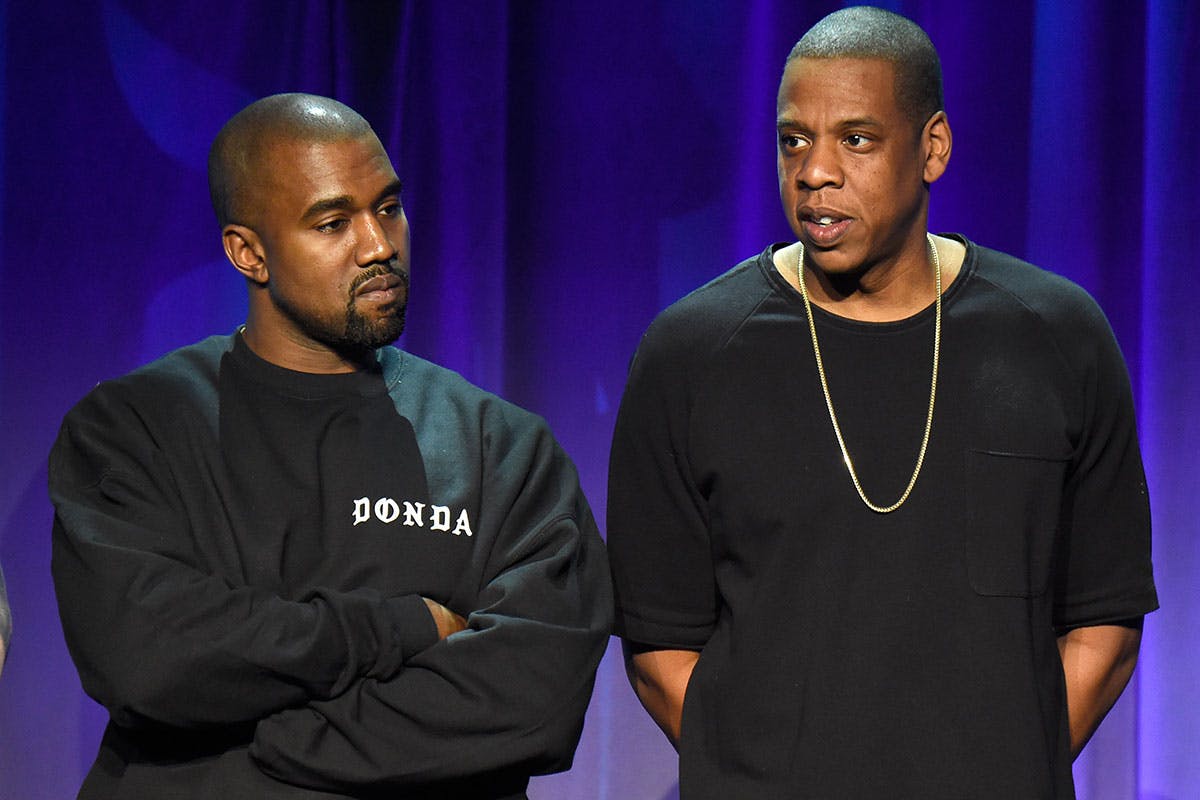 After years of tension, Kanye West and JAY-Z had a surprise reunion at Sean "Diddy" Combs' birthday party in Los Angeles this weekend, suggesting they might have finally put their beefing days behind them.
The two had been working together since the '90s, when West was recruited to produce tracks for JAY-Z's Roc-A-Fella Records. Over the years that followed, the two rappers were candid about their working relationship as it evolved into a hugely successful collaborative project, Watch the Throne.
In recent years, however, those friendly days seemed but a distant memory, until now. Check out their reunion as captured on camera below.
While the reunion has given fans cause for celebration, their beef has been running for so long now that it's hard to remember where it all began. Browse through the timeline below to refresh your memory.
September 2007: Kanye releases "Big Brother" detailing his relationship with JAY-Z
In 2007 West released his third studio album Graduation, which featured the illuminating track, "Big Brother." The song begins by praising JAY-Z as a mentor, colleague, and idol, before changing tack. He makes reference to their "sibling rivalry" and airs his grievances about JAY-Z doing a song with Coldplay after him (essentially copying him).
JAY-Z was reportedly pleased with "Big Brother." He described the track as a "fair portrayal from a little brother's perspective" and admitted that "Roc-A-Fella is tough love."
September 2009: Kanye West interrupts Taylor Swift's VMA acceptance speech to declare that Beyoncé had "one of the best music videos of all time."
The words "Imma let you finish" have attained almost legendary status after West interrupted Taylor Swift's Best Female Video win at the 2009 VMAs. According to new details revealed by Billboard, Beyoncé was found crying after the incident. She said, "I didn't know this was going to happen" and that she felt "so bad" for Swift.
Beyoncé's reaction to West's disruption remains a go-to GIF for those moments when you're feeling particularly mortified. Watch it unfold below.
August 2011: Kanye West and JAY-Z release their collaborative album
In 2011 JAY-Z and West released their collaborative album, Watch the Throne and their friendship appeared especially strong. As soon as the album made its way online, it was basically like a global listening party via social media.
October 2011: Kanye West and JAY-Z embark on their co-headlining 'Watch the Throne' tour
The Watch The Throne Tour began in Atlanta in October 2011 and ran through until June the following year. Due to its huge success, the 23-stop tour was expanded to 34 performances in North America. In February 2012 they announced the European leg of the tour, bringing the total number of shows to 57.
July 2013: JAY-Z speaks to Zane Lowe about the challenges and advantages of working with West
JAY sat down with the BBC's Zane Lowe to talk about the prospect of a second Watch the Throne tour. He described his relationship with West as a "big brother thing and a respect thing" and that "it's always a good experience."
He clarified that their interactions weren't always easy, "He's going to challenge everything because he's really trying to test it and poke holes to make sure that it stands up. I admire that. It kind of works for me."
May 2014: JAY-Z and Beyoncé do not attend Kanye's wedding to Kim Kardashian
Although Beyoncé and Kim Kardashian were reported to have bonded during the Watch the Throne tour, neither JAY-Z nor Beyoncé attended West's wedding in Fort di Belvedere in Florence, Italy. Their absence fueled rumors that there was tension between West and JAY-Z. Beyoncé did, however, post her congratulations to the couple on Instagram.
October 2016: Kanye West slams JAY-Z after Kim Kardashian was robbed at gunpoint
West criticized JAY-Z for not reaching out after Kim Kardashian was robbed at gunpoint in Paris. According to NME, while on his Saint Pablo tour in Seattle West told the crowd, "Don't call me after the robbery and say 'how you feelin?' You wanna know how I'm feelin? Come by the house. Bring the kids by the house. Like we're brothers. Let's sit down." He added, "I can't take this shit bro. Our kids have never even played together."
During West's Sacramento show, he went after JAY-Z again. "Call me, bruh! You still ain't calling me! JAY-Z, call me! Aye, bruh, I know you got killers, please don't send them at my head! Just call me! Talk to me like a man!" Shortly after his performance West was hospitalized for exhaustion and forced to cancel the rest of his tour.
Meanwhile, a source had told Page Six that JAY-Z was only able to handle West in small doses. "Jay can't stand him," they said, "He looks at him as this crazy, eccentric motherfucker."
June 2017: JAY-Z releases 4:44 album
JAY-Z releases his 4:44 album. Lyrics on the track "Kill JAY-Z" included the lines "But you got hurt because you did cool by 'Ye / You gave him 20 million without blinkin' / He gave you 20 minutes on stage, f*ck was he thinkin'?/ 'F*ckin' wrong with everybody?' is what you sayin' / But if everybody's crazy, you're the one that's insane."
July 2017: Kanye West splits with TIDAL
West was one of the key players in TIDAL, originally acting as one of the co-owners of the service when JAY-Z took over. In July, West was believed to have left the streaming service following reports he was owed over $3 million.
July 2017: 'Public Enemies: Jay-Z vs. Kanye' documentary airs
The 51-minute documentary airs on Channel 4 and follows the "meteoric rise and colossal falling out of two of the world's most iconic popstars: Jay-Z and Kanye." Watch the trailer below.
April 2018: JAY-Z calls West his "little brother"
Appearing on David Letterman's Netflix series My Next Guest Needs No Introduction, JAY-Z insisted, "That's my brother." He continued, "We're beyond friends. Like literally, my little brother is Kanye. And like your little brother, things happen sometimes." Watch the full interview here.
May 2018: West says beef began when JAY-Z didn't come to his wedding
In an almost two-hour-long interview with Charlamagne Tha God West revealed that tension between he and JAY-Z worsened when the Carters didn't attend his wedding. He said, "I was hurt about them not coming to the wedding. I understand they were going through some things, but if it's family, you're not going to miss a wedding." Read all the key quotes from that conversation here.
Notably, at the time of the interview, West had apparently never spoken directly to JAY-Z about his absence. "I don't think I ever asked him that question, directly."
September 2018: West refers to the Carters as family and Beyoncé wears YEEZY mules on Instagram
In September 2018 West returned to Instagram. One post featured JAY-Z and Beyoncé, captioned "famleeeeee." A few hours earlier Beyoncé posted pictures to Instagram of herself in what appeared to be YEEZY season five mules. The related posts appeared to indicate that the beef has been squashed though they had not been pictured together publicly.
November 2018: JAY-Z clarified reports that he dissed Kanye West on Meek Mill's album
Following reports suggesting he dissed Kanye West on Meek Mill's new album, Championships, JAY-Z took to Twitter to clear the air. "The line clearly meant don't pit me against my brothers no matter what our differences are (red hat)," he says.
On Meek's "What's Free," JAY rapped, "No red hat, don't Michael and Prince me and Ye/They separate you when you got Michael and Prince's DNA/I ain't one of these house n***as you bought/My house like a resort, my house bigger than yours/My spo—c'mon, man—my route better of course," leading people to believe he was firing shots at Kanye regarding his MAGA hat and support of Trump.
December 2019: Kanye West and JAY-Z reunite at Diddy's 50th birthday
The two were seen greeting each other and taking pictures together, putting an end to the feuding rumors that have been circulating for the past few years. In fact, according to TMZ, rumors are already circulating that the two reached an agreement on their Tidal lawsuit earlier this year, and are leaving all the drama behind.
Find out what else went down at Diddy's birthday here.