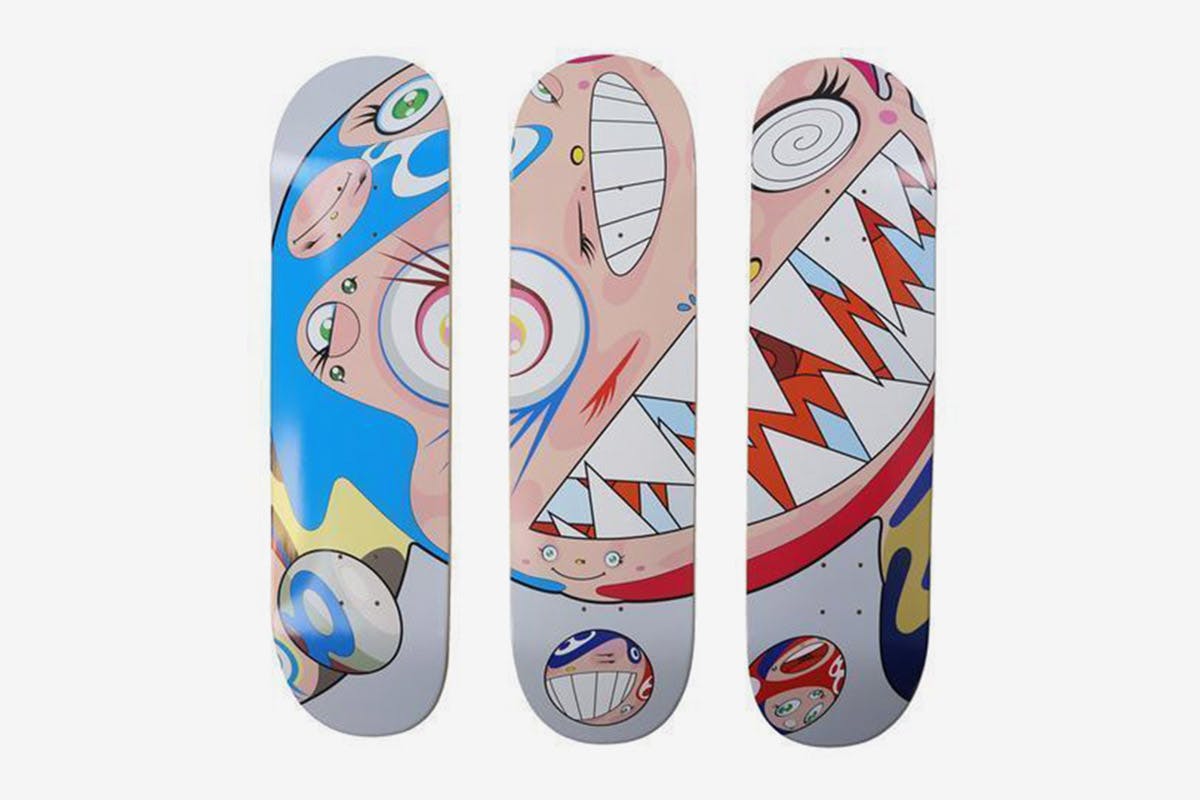 The Highsnobiety x Paddle8 joint auction launched last week and is live for bids until June 24. Amongst its rare collectables, toys, and artworks, here we're shining a light on some particularly special lots from the consignment: a selection of extremely coveted skate decks featuring designs from some of the biggest names in street art.
When we teamed up with Paddle8, we called on each of our respective networks to send their most prized possessions to auction. Being a platform that regularly champions the world's most accomplished street artists, it was no surprise that some of the biggest grails from the skate deck archives were among the consignments we received.
See all of the most exciting skate decks below, and don't miss your chance to bid before it's too late.
This deck came about in conjunction with RETNA's "Beyond the Streets" exhibition in Los Angeles last year, featuring his signature geometric script. RETNA is an integral part of the LA art scene for his mural work, and this deck is a perfect example of how street art and skate culture continue to collide.
Among the Supreme collaborations in our joint auction is this Damien Hirst deck, which came about as part of the NYC skate brands series of artist collaborations. In this edition, Damien Hirst puts his iconic spin on things for a visually iconic piece of skate ephemera that's also high art.
Part of Miller Davison and Ink and Movement's signature series, Felipe Pantone's addition to the collection combines oversaturated colors and computer-influenced graphics for a wavy, mesmerizing display. The deck comes complete with corresponding tote bag and sticker pack.
Keith Haring's distinct style is immortalized in this set of 10 beautiful decks for a real showstopping piece. Through Haring's murals and subway drawings, he created images internationally recognized and used throughout the creative industries. The unique narratives on each of these 10 boards reflects a dialogue of playful rebellion and individualism.
This 2007 skate deck in collaboration with Supreme is based on the original camouflage suite of works produced by the great Andy Warhol prior to his death in 1987. The iteration of traditional cammo design done out in bright and bold colors recontextualizes a classic motif in a way only Warhol could.
Another dope Supreme deck available in our auction merges the label's signature red and white color scheme with a striking design by conceptual artist Barbara Kruger. Kruger is known for her post-modern feminist works, usually depicting black and white photographs overlaid with text.
Skulls & Flower and Kaikai & Kiki Flower Skate Decks (Two Works), 2017
Buy at Paddle8
This set of two skate decks come done out in the instantly recognizable maximalist floral motif of Takashi Murakami. The Japanese artist is known to combine Nihonga – a 19th-century Japanese painting style – with modern manga and pop culture, often with a sharp wit about it.
Flying DOB Skate Decks (Set of Three) and Flaming Skulls Skate Decks (Set of Three) (Six Works), 2018
Buy at Paddle8
Why stop with two Murakami decks when our auction is home to six more? Featuring the cute-meets-scary characters of his "Superflat" body of work, these decks are must-owns for any growing deck collection.
Streetwear and skate giants HUF created this deck with artist Cleon Peterson in a 2016 capsule called "In Killing We Live". It features a signature motif of the Los Angeles artist that's reminiscent of Grecco-Roman pottery – a chaotic image of two men engaged in a fight to the death. Let the bidding war commence...
Check below for more from Paddle8.