With the current vogue for all things chunky, footwear brands with a track record of producing heftier models are enjoying renewed relevance. To meet the demand for dad shoes, sneaker companies are taking influence from the oversized skate shoes of the late '90s and early '00s. This makes sense because even the bestselling skate shoes of that era are relatively "obscure" compared with the cultural legacy of an Air Jordan, Stan Smith, or Chuck Taylor.
Within skateboarding itself, however, the trend has mostly been met with a shrug and is largely seen as a nostalgia play. Many think back to their hulking pair of éS Schemes (the 1999 silhouette was recently re-released by éS) and wonder, "What the fuck were we thinking?" A bit like a baby boomer looking at a photo of themselves wearing bell bottoms.
Much of what's happening in the skate world today is trying to balance what consumers want while still moving things forward. Vans footwear design director Neal Shoemaker describes the chunky shoe trend as "almost like an artificial nostalgia for an era most kids were not around for."
He continues, "It also seems like a natural reaction to people seeing slim, simple, suede shoes for so long. Shoes and clothing seem to be growing with how skateboarding itself is growing and changing because of Instagram. It's hard enough to stand out by just being good at skateboarding, but if you can stand out in other ways, I suppose that helps your personal brand."
Vans recently released the Varix WC, a lifestyle shoe with a little more heft than the brand's classic skate models. Skate shoe or not, Neal says the silhouette has been well received by the skate community: "I've been seeing lots of amateurs riding them already. It has nice details that call back to those early '00s signature models, so its purpose is more about nostalgia and the feeling of that era."
Fashion houses have also identified that gap in the market and are now meeting demand for thicker sneakers. As a consequence, the skate brands that birthed these styles are under pressure to retro legacy models while still being progressive with their new models. This is a tricky balancing act from a branding perspective.
Osiris co-founder Brian Reid, for one, is tired of nostalgia. "How many times can you try to make a Vans shoe not a Vans shoe or a Converse not a Converse?" he says. "When you were a kid, what did you think shoes would look like in the future? The future is now and quite frankly lots of people are wearing shoes that were designed 40 years ago. Nothing wrong with the classics, but there is something wrong about being stagnant and a lack of creativity."
Still, it's impossible not to want to play in that space when shoes such as A$AP Rocky's Under Armour SRLo draw from your legacy and generate massive hype. Or Louis Vuitton releases the Zig Zag sneaker (described by the brand as an "on-trend chunky style"), which bears distinct similarities to several Osiris models but costs a cool $1,175.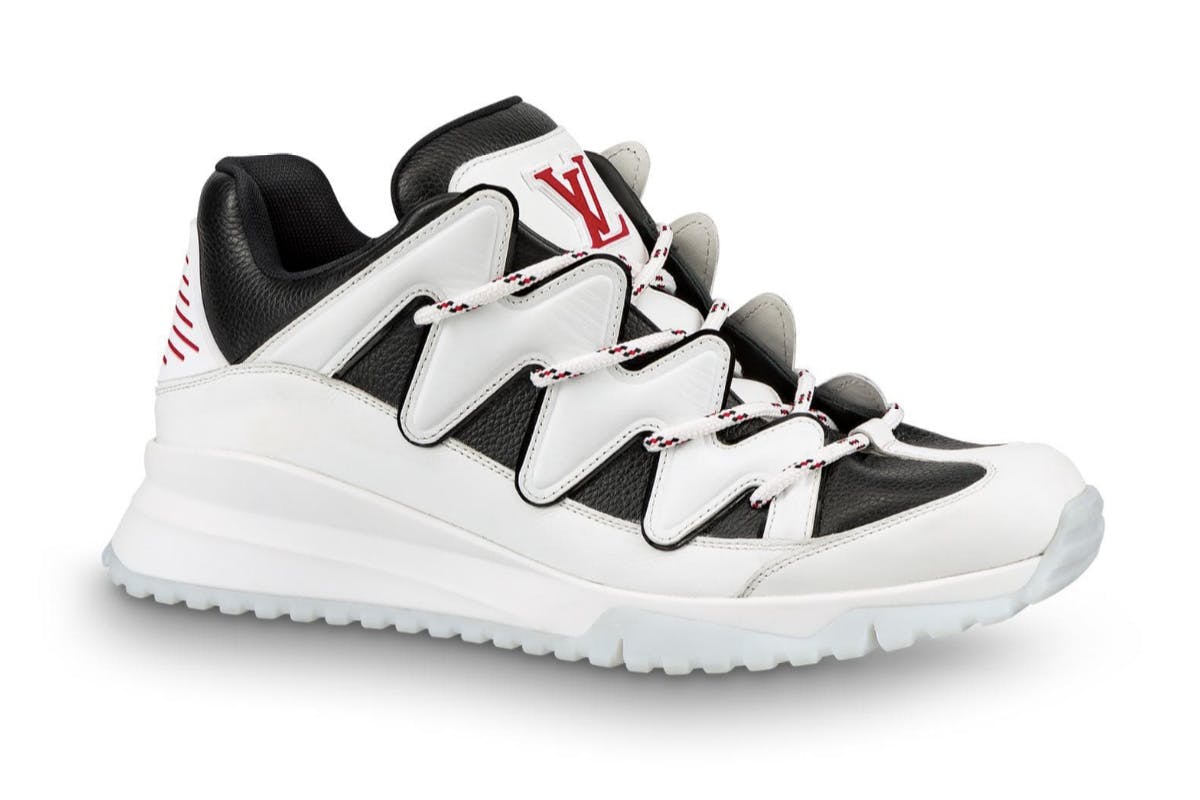 DC Shoes has addressed these examples through an aggressive marketing campaign pushing both retro and current models using riders of different eras. Like Sole Technology brands etnies, Emerica, and éS, DC leads with skateboarding rather than cultural collaborations, in the understanding that authenticity is central to its standing in the market.
Rocky's Under Armour collab was presented as part-reboot/part-homage to the uber-chunky Osiris D3. The A$AP Mob frontman told GQ that his shoe is "almost like if you get a vintage television or game console or arcade game and you just refurbish it."
The rapper worked on the sneaker with skater Dave Mayhew, who was involved with the launch of the D3, although not — as miscredited elsewhere — the shoe's designer. In fact, Reid, now of FORWIN and NISHUKO, created the original D3 in 1999 after a shopping trip with Mayhew, taking various hiking and running shoes as inspiration.
Launched in Harlem at a "skate rave" hosted by Rocky and Under Armour, the SRLo resembles the 2001 D3 more than the original. What Reid did with Osiris nearly two decades ago was seen as maverick at the time, and in that era of nu-metal, wallet chains, and baggy pants, fueled a battle of the bulk in the skate shoe industry.
"Fashion brands and hip-hop artists are bringing what was done 15 to 20 years ago back to popularity, adding their own little twist — or if you're A$AP Rocky, very little twist at all," Reid says. "There are dudes in hip-hop and fashion that were fans of the look and culture or just plain knew their history of fashion: Kanye, Gab3, 2 Chainz, Virgil Abloh, and yes, dare I say it, Rocky."
And where cultural icons lead, everyone else follows. "They have pull in fashion and pop culture and are making waves — the skate shoe companies are getting to surf a couple," Reid adds.
The origins of the oversized skate shoe might be rooted in Airwalk's use of rubber and sheer height, but the company wasn't informed purely by the riders. Skateboarding was shifting from plywood ramps, on which ankle mobility was less important than protecting your laces as you slid to the bottom of the ramp. Airwalk eventually deviated from high-tops as street skating became popular and demand rose for low, lean models that allowed foot skills to develop.
The '90s was a new "year zero" for skate shoe design, as etnies, éS, DuFFS, and stalwart Vans started to react to the sport's changing needs.
"etnies was the first skate shoe brand to take inspiration from fashion brands and integrate it into a functional skate shoe," says Don Brown of Sole Technology, which owns etnies, Emerica, and éS. "The '80s were the first time skateboarders started making shoes with the intention for skateboarding. Before that, it was just large corporate brands that accidentally had skateboarders wearing the shoes because there was no other choice."
The change in skate shoe design was in part down to the rising popularity of old-school sneakers. Not only were the adidas Campus and PUMA Clyde aesthetically appealing and affordable, they were perfect for street skating. They made many of the skate shoes produced at the time seem antiquated, tied to skating's backyard pool past rather than the streets where it was now thriving.
Prior to the early '90s, the concept of a retro sneaker didn't really exist. The Converse Chuck Taylor and Vans Era were still being produced, but it was rare for a brand to reach back into its archive and re-release something. Skateboarding's shift was pivotal in igniting the retro game.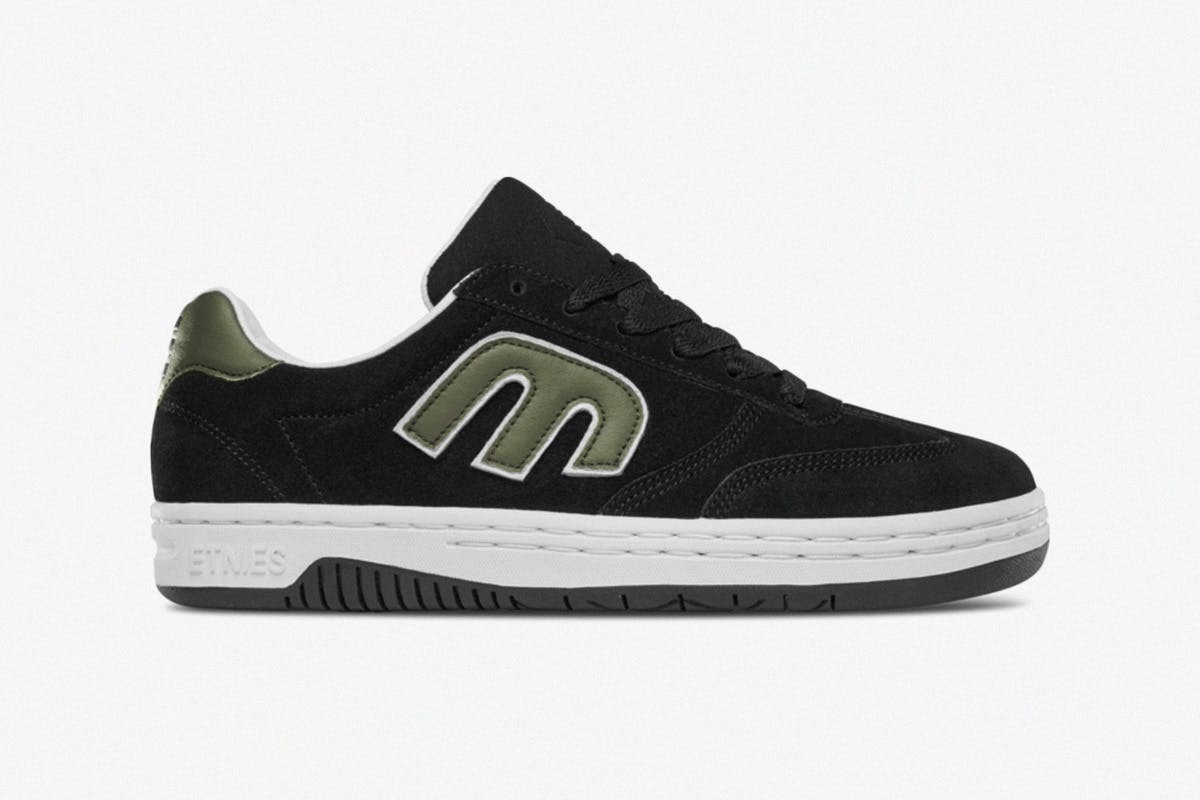 etnies was one of the first companies to react, even producing shoes with an "E" logo turned on its side to mimic adidas' Three Stripes. Airwalk released the PUMA Clyde-indebted One and later the Stan Smith-influenced Jim. While purists stuck with the OGs, the shoes produced by the skate industry were more aligned than ever with what the average skater wanted from a shoe.
"As skaters, we focused on improved board feel, impact resistance, triple-stitching, higher-quality suedes, producing the first technical low-top shoes, providing extra shoelaces, and creating extra tongues to increase the 'fat' look that was big in street culture in the early '90s," Brown says. "In 1994, skateboarding was defining itself more in style and fashion. Hip-hop culture was big and a more progressive athletic urban fashion was kicking in, so we decided to create éS around our top etnies riders at the time. With Eric Koston, Chad Muska, Tom Penny, and Ronnie Creager, we created a new progressive and sophisticated athletic footwear brand that was completely different from any other."
By the mid '90s, shoe design started taking cues from riders who wanted their models to mimic the aesthetics of popular Air Jordans, the Nike Air Max, and even hiking boots, as well as employing the actual tech they offered. Simultaneously, skateboarding itself was entering a new era in which everything was grander — handrails, stairs, gaps, ledges. With the effect of heavy impacts a larger issue than ever, addressing that as a design enhancement led to larger silhouettes.
Many look back on this "bigger" boom as embarrassing while others fetishize it. Despite his own love of the Osiris D3, A$AP Rocky told GQ that "there were no people really rocking that shit in the hood whatsoever." While that's his retelling, the D3 was one of the bestselling skate shoes of all time. The shoe's success and recognizability surely played a part in using it as the basis for the SRLo.
"I have one last theory on why puffier skate shoe looks are popular now," says Reid. "Not everyone can pull off that look. When we were rocking oversized shirts, big-ass pants, and larger than life shoes, it's because we could — it was rebellion, it was youth culture. Even though the look was inspired by hip-hop, there was some punk rock attitude that was like, 'This look is different and fuck you, it's not for you!' Then you know what happens — it's the age-old story: first they look, then they laugh, and at the end they copy."
For Brown, the return of '90s- and early '00s-style skate shoes is just indicative of cyclical trends. "I feel people are bored of the slim, vulcanized trend that has been popular for a while now and are looking for something new."
Rather than being cynical about it, Brown is enjoying his brands' growing influence. "High-fashion brands have been really pushing the bulkier styles, with strong inspiration from technical skate pioneers éS and etnies," he says. "I'm loving the creativity I'm seeing with Balenciaga, Gucci, Louis Vuitton, and Dior; éS specifically gets tagged when someone posts their shoes, as they see similarities to what we created 20-plus years ago — pretty amazing that people associate our design with such prestigious brands."
For more about skate shoes, watch below.