Combining fashion and activism is murky water. The trillion-dollar industry's lectures on politics often fall short of the mark and it's something that Katharine Hamnett and Souvenir Official know only too well. The two share a different approach to most, at the core of everything they create is a protest for a cause.
Founded in 2013, the latter does not even consider itself a fashion label. "Instead of fashion, we are making opinion-wear souvenirs," creative director David Mallon told us back in 2019.
In the aftermath of Brexit, Souvenir launched its EUnify campaign in 2017 with a broken Europan flag printed onto hoodies and t-shirts. A call to action for its followers, the message spread beyond Europe's borders with Dev Hynes and the late Virgil Abloh championing the brand.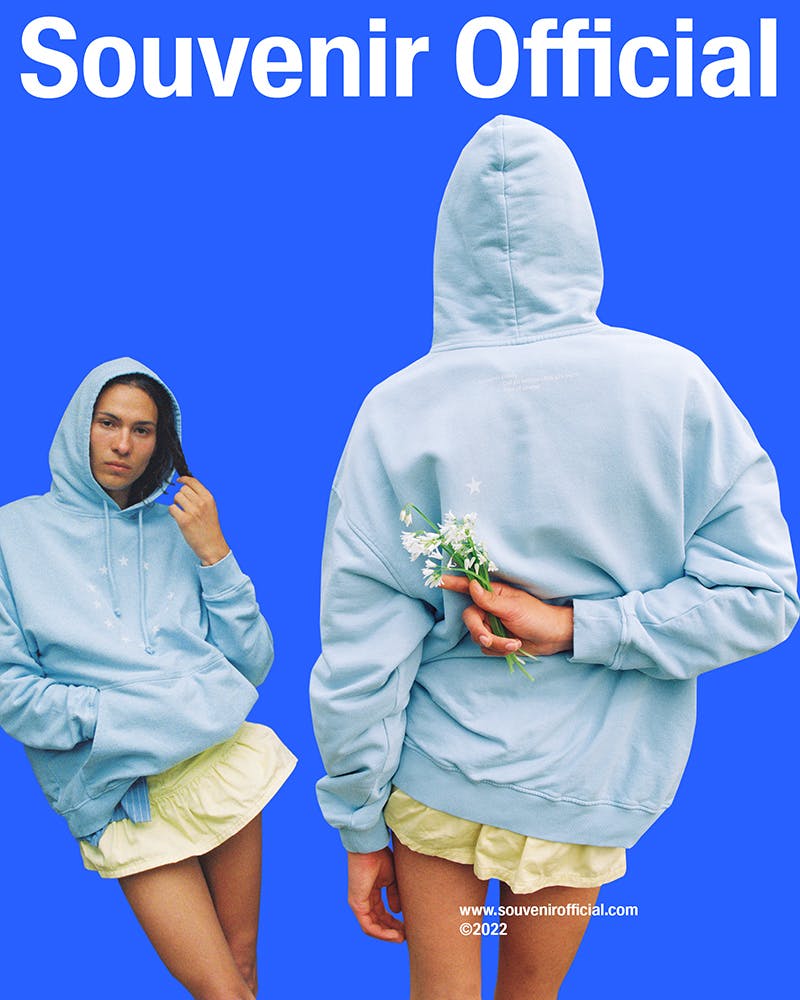 Its EU flag branded clothing has since become one of its signature designs, unfortunately retaining the same relevance as it did when it first came out. Titled "United in Diversity," after a motto the European Union adopted in 2000, the brand has launched a new collection featuring the motive.
Including tonal dyed variations of its EU flag hoodies, it commemorates one of fashion's greatest activists: Katharine Hamnett.
A leader in sustainable fashion, the British designer's political slogan t-shirts have made her one of the most outspoken voices in fashion. Since the '80s, phrases such as "choose life," "climate action now," and "no more fashion victims" have populated her own brand of what Souvenir dubs "opinion-wear."
Most famously, she wore a t-shirt with the phrase "58% don't want perishing" printed on the front when meeting with the then British Prime Minister Margaret Thatcher. An anti-nuclear-arms message referencing an opinion poll from the time, she has since said that Thatcher squawked like a chicken when she read the t-shirt's message.
Speaking with Ninette Murk, Souvenir asked Hamnett what it means to be a European, her opinions on Brexit, and how she envisions Europe in the future. Check out the conversation below.
What does Europe mean to you? Do you feel you're a European?
Geographically speaking, Europe is a continent of which the UK is a part regardless of whether it is part of the European Union. As a child, I spent half of my childhood living in Europe, in France, Romania, Sweden — as a family we traveled all over. I speak several European languages and have also spent a huge part of my professional career working in France, Italy, and Spain. I have traveled all over the world and one thing I discovered while meeting many people is that we have much more in common than things that divide us. I am a hybrid — I feel that I'm a European first, British second. I care about Britain hugely, but I feel more at home in Europe.
How do you see Europe evolve in the future and what should be its most important goals?
The European Union with its Free Trade and Freedom of Movement is a wonderful thing. It's hugely enriching culturally, economically, educationally, and environmentally and is of benefit to everyone, so we should stick together. It's a force for good — for prosperity, democracy, education, culture, peace, and civilization. Any problems it may have are best resolved from within.
What are your feelings about Brexit and what were the biggest changes, personally and professionally?
I see Brexit as an unmitigated tragic disaster for the UK. What's wrong with having a free trade agreement with the richest, largest trading block in the world less than 50 kilometers away, compared to having one instead with the US or New Zealand and Australia? It makes no sense at all.
Is your work influenced by politics and if so, how?
Everything is politics. As a fashion designer and manufacturer, national and international trade rules and agreements govern the cost and type of raw materials and the processes we can use, how the people who make them are treated, and the cost including sales taxes and logistics. Laws regarding freedom of speech and freedom of expression govern what you can and can't say or wear on a T-shirt, even what parts of your body you can expose or not. The enormous media coverage that fashion gets worldwide is a platform to disseminate political messages and to effect political change that maybe could not be said or heard otherwise.
What can we all do ourselves to create more unity?
Democracy is government by the people for the people and we've got to keep it that way. 99% of us want the same things, but many politicians are often just a vested interest group in politics to get re-elected and work for the opposite. We need to take back control. We've been rotted by the comfort of a long period of peace. We have become apathetic, complacent, and lazy. We don't realize that it can all be taken away.
Voter turnout for Brexit was pathetic. A tiny proportion of the population voted for it and look what happened. We have to get more politically involved. We need to remember that hundreds of millions of people died in two World Wars as well as other wars and protestors and journalists are still dying on a daily basis so that we can have and keep the vote. Use it or lose it. Voter suppression is everywhere because politicians know that our vote is our most powerful tool to get the world we want.
They are terrified that we — 'The Sleeping Giant' as we are referred to — wake up and get politically involved. Watch how they behave, turn out to vote in force, and take back control. Vote for the good guys. Young people, even under the voting age, also need to realize they can use the power of their vote before they have got it because they will be voting soon. Writing to their politicians and elected officials telling them about the world they want and warning them that they will be watching them… and if they don't see them fighting for these causes when they get their vote, they will vote for someone else who will.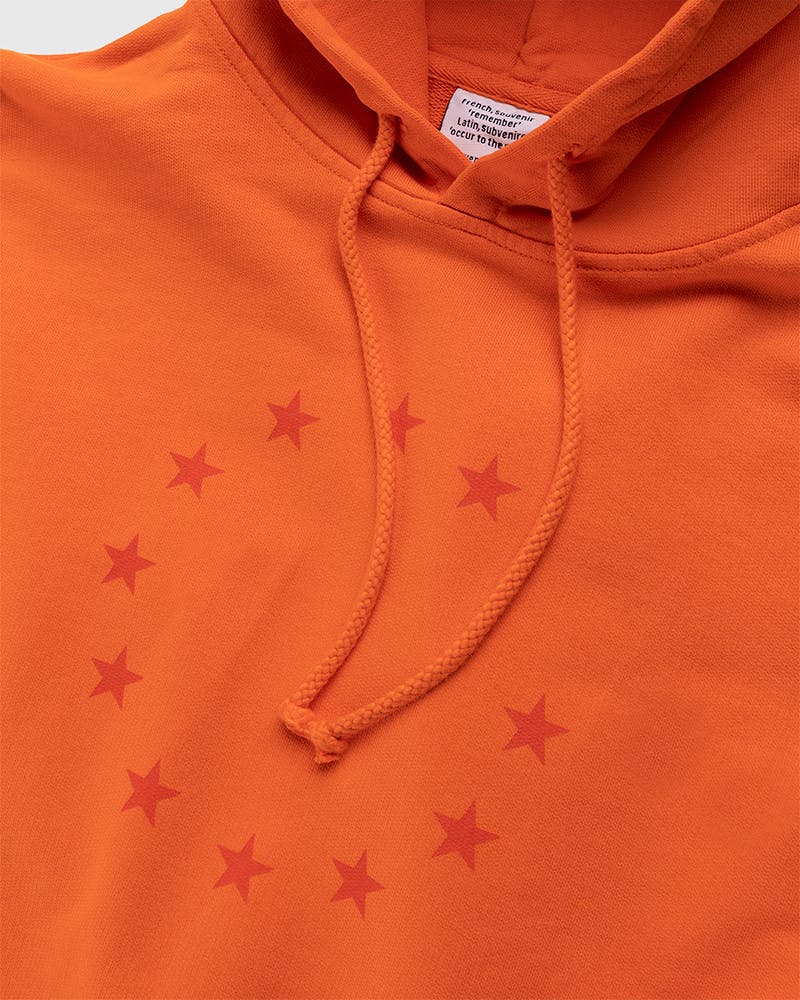 Is there anything you'd like to add?
I'll think about it. Yes, probably lots — but bye for now...
Souvenir's United in Diversity collection will be available at the Highsnobiety Shop from June 2.