Brand: New Balance x Stone Island
Buy: Online at the Highsnobiety Shop
Release Date: November 25
Price: The boots retail at $275 and the full kit will retail at $350.
Editor's Notes: The rumors are true. After having spotted the rapper Dave wearing a full New Balance kit bearing a Stone Island badge on the chest for his Santan Cup tournament in Brazil last month, we immediately started questioning whether this could be a real collaboration.
Now, Sone Island x New Balance has been confirmed through a lookbook featuring England and Chelsea striker Raheem Sterling wearing the full ensemble along with some surprising footwear.
The two labels are releasing the full kit seen on Dave, complete with a camouflage design inspired by the Stone Island archives, silicon Stoney badge, and made from 100% recycled polyester. But along with the three-piece kit, there will also be a matching pair of boots.
Using the same original Stone Island camouflage print, the New Balance Furon v7 boot also has the brand's signature compass logo, normally found on a removable badge on the sleeve of a top, at the heel of the shoe.
By no means just a fashion collaboration, the boots come with all the highest specs including a Hypoknit upper and a cored-out canopy to increase the strike zone.
Proving that this is a top-of-the-range boot, Raheem Sterling, the face of the campaign for the collection, wore a pair on the pitch for England's first World Cup game.
Managing to get himself on the scoresheet in a 6-2 win against Iran, England fans will be hoping that the striker continues scoring in the new collaborative boot.
The rest of us, well, we're just waiting for Stone Island's New Balance 574 sneaker to drop
Having most recently collaborated together with Tokyo Design Studio to create an opinion-splitting version of New Balance's signature FuelCell running shoe, the two labels have moved onto football — a sport where Stone Island already has a large following.
The innovative Italian sportswear brand has been a pretty constant fixture on the terraces at football games since the 80s. Thanks to the British casuals fan culture, the label has always been exclusively a fan favorite, so making it possible to get the badge in on the pitch feels like a natural progression.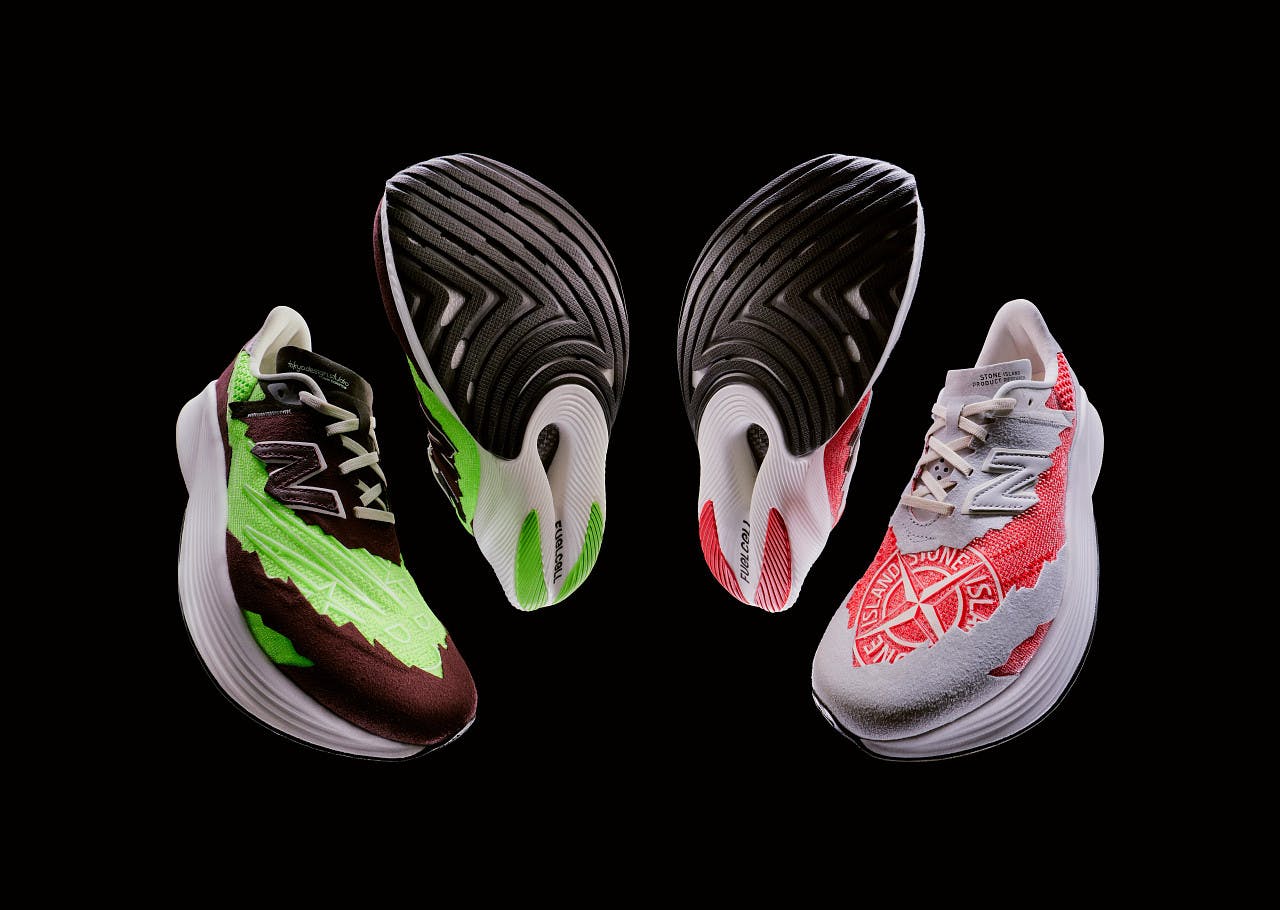 It comes at a time when football collaborations are rife, with Lucazade even recently getting in on the action with its own spin on the England 1990 kit. But, in true Stone Island fashion, this collaboration doesn't just see it experiment with the aesthetics of football gear but also use the latest technology available to create a functional piece of sportswear — all the way down to the collaborative socks.
Shop more Stone Island x New Balance