Supreme's collaborations are the stuff of legend. The brand's regular projects with imprints like The North Face, Nike, Levi's, Vans, COMME des GARCONS, Timberland and Champion are as much of a part of Supreme's identity as its T-shirts, hoodies and caps. But what of Supreme's more obscure partnerships?
On the back of the latest Stone Island collab, we enlisted the help of Box Logo connoisseur Ross Wilson to break down some of Supreme's more unheard-of projects. Ross is a freelance writer living in Bath, England who has been a friend of the OG Supreme NYC crew since the mid '90s and has subsequently amassed one of the largest collections of vintage Supreme pieces in the world.
"James Jebbia's label has always pushed the envelope and teamed up with esoteric, left-field creatives whose work sometimes leaves the brand's average customer scratching their head." Ross told us. "It's these projects which may initially be a harder sell, but nevertheless go on to gain cult status, broadening the horizons and tastes of the brand's younger clientele in the process."
"If a simple photo on a T-shirt can open up listening to Neil Young's After The Gold Rush, or a skate deck graphic can encourage a visit to an art gallery, then long may Supreme continue to inspire and educate the youth."
Supreme x 360 Toy Group (2002)
At the turn of the millennium, New York's downtown retail scene had become huge. From Soho through to the L.E.S, independent boutiques were opening everywhere, selling limited edition sneakers, streetwear and accessories. Integral to this movement were Japanese vinyl figures from brands like Medicom Toy.
With its tiny store on Eldridge Street next to Stash's Recon and Nort, Jakuan Melendez's 360 Toy Group was the go-to spot in New York for toys from brands like BAPE, Bounty Hunter, Futura and Medicom.
For Supreme's first foray into the toy market (the second coming in 2008 with the Medicom-produced Kermit figure), James Jebbia personally chose to work with 360 Toy Group on the Camacho figure. The fluffy monster was actually inspired by an ex-Supreme teammate who used to regularly flip people the middle finger!
The six-inch vinyl figure was produced in pink, green and orange for retail, with an all-black version for Supreme friends and family only.
Supreme x DC Shoes (1999)
It may seem pretty obvious for a skate store to collaborate with a skate shoe brand, but looking back on this collaboration from way back in '99, it almost seems a little out-of-place with Supreme's current aesthetic.
DC Shoes and Supreme were both founded in 1994 as a reaction to a slump in the skateboard industry, but their journeys seemed to rapidly take opposite paths - DC quickly blowing up into every mall and mail-order catalogue worldwide, with Supreme slowly building a cult following from its small New York roots.
Alongside a few other brands - like DVS and Etnies - DC shoes defined the big, bulky skate style of the '90s and were a hardwearing, durable sneaker for the tough New York streets. The DC Supreme Torsion came in subtle tan and grey suede uppers with a sticky gum sole and a special Supreme-branded red shoebox.
Supreme x Alpinestars (2007)
There are items in Supreme's archives that never made it to the shelves, many of which have never even been seen by the public. One such piece has become infamous in Supreme lore - 2007's Alpinestars motorcycle jacket.
Alpinestars designer Zech Renteria was hanging out and riding street bikes with Berto from Supreme LA when the pair came up with the idea of producing a small run of jackets for their bike crew. The logos of Supreme's LA neighbors Undefeated and Stussy were brought in, alongside Vans Syndicate, to create the overly-branded sponsorship vibe commonly seen on motorbike jackets.
Only 11 pieces were produced in Italy, making this one of the rarest Supreme collaborations to date.
Supreme x FILA (2007)
In 2007, Supreme hooked up with retro Italian sportswear brand FILA to produce a small, vintage-flavored capsule collection. A set of headbands and wristbands accompanied a short sleeve polo and a Gucci-inspired track jacket, bearing the brand's classic "World Famous Supreme Team" branding.
The collab could be seen as a subtle tribute to Jersey's favorite family - The Sopranos, who regularly wore FILA tracksuits - or perhaps a nod to the fashion choices of late '80s MCs like Schoolly D and the Beastie Boys' Mike D.
In an interesting twist, Supreme actually made their own version of the FILA Fitness sneaker back in 2002, which was sampled but never released.
Supreme x SSUR-Plus (1999)
Supreme and SSUR go way back - Ukrainian-born Russ Karablin was one of Supreme's original product designers and responsible for many of the brand's classic graphics and concepts.
When his sideline project SSUR ("Russ" backwards) eventually became his main focus, with a standalone store around the corner on Mulberry Street, Karablin and Supreme parted ways.
The small Supreme x SSUR collection consisted of three graphic tees - two "Top of the World" designs (one short sleeve and one long sleeve) plus the "Kid's Ain't Playing Over Here" tee.
Supreme x Brooklyn Machine Works (1998)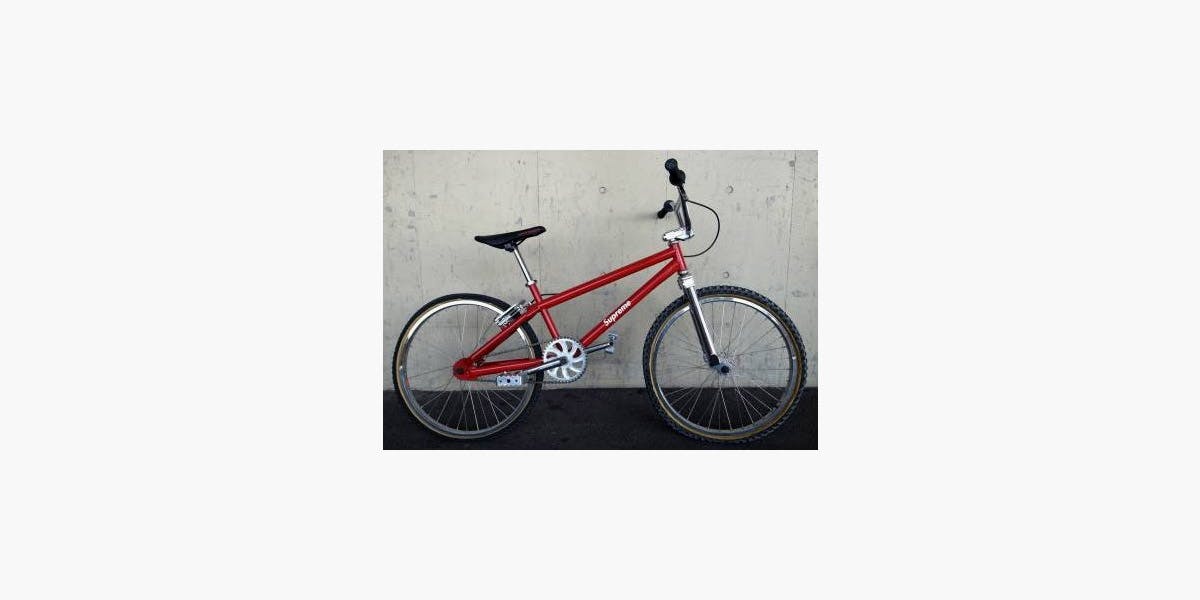 Probably one of the most highly prized friends-and-family items Supreme has ever produced, this 24" BMX cruiser really was something special.
The bikes were given out as gifts to the senior members of the Supreme team in 1998, in a variety of colors - white, black, yellow, blue and, of course, Supreme red. The custom-made bikes featured Supreme's typically subtle branding on the fork clamp and brake brace, perfect for repping the brand while cruising the streets of downtown Manhattan.
Supreme x The Hideout (2008)
In the mid to late '90s - before online stores were really a thing - there were only a few places for people to get their hands on Supreme gear outside of New York or Tokyo. London had a few spots such as Bond International, Fly and Slam City Skates, but they slowly fazed out and for a good few years, the only place to buy Supreme was at a little store in Soho called The Hideout.
This tiny unit on Upper James Street (originally called Hit & Run) was owned by OG Stussy Tribe member Michael Kopelman and run by sneaker legend Fraser Cooke. It was a mecca for exclusive imported brands like NEIGHBORHOOD, visvim, BAPE, Rolling Stock and, of course, Supreme.
In 2008, The Hideout celebrated its 10th anniversary by collaborating on an exclusive T-shirt with Supreme, featuring the store's mantra "My Karma Drives Over My Dogma" across the chest in collegiate style font, with the ubiquitous Supreme box logo on the back.
Supreme x 'Tokion' (2001)
When it comes to Box Logo T-shirts, Supreme's collaboration with now-defunct Japanese magazine Tokion is definitely one of the rarest and most sought-after.
Released back in 2000, the box depicts a photo of a skyscraper (possibly a tribute to Tokion's NY office, which opened in 2000) and does away with the traditional Futura Bold font in favor of a simple "Supreme vs. Tokion" line. Both brand's logos also appeared on one of the sleeves. This particular tee hardly ever comes up on the resale market and has become a legend in its own right with Supreme collectors.
Supreme x Padmore & Barnes (2001)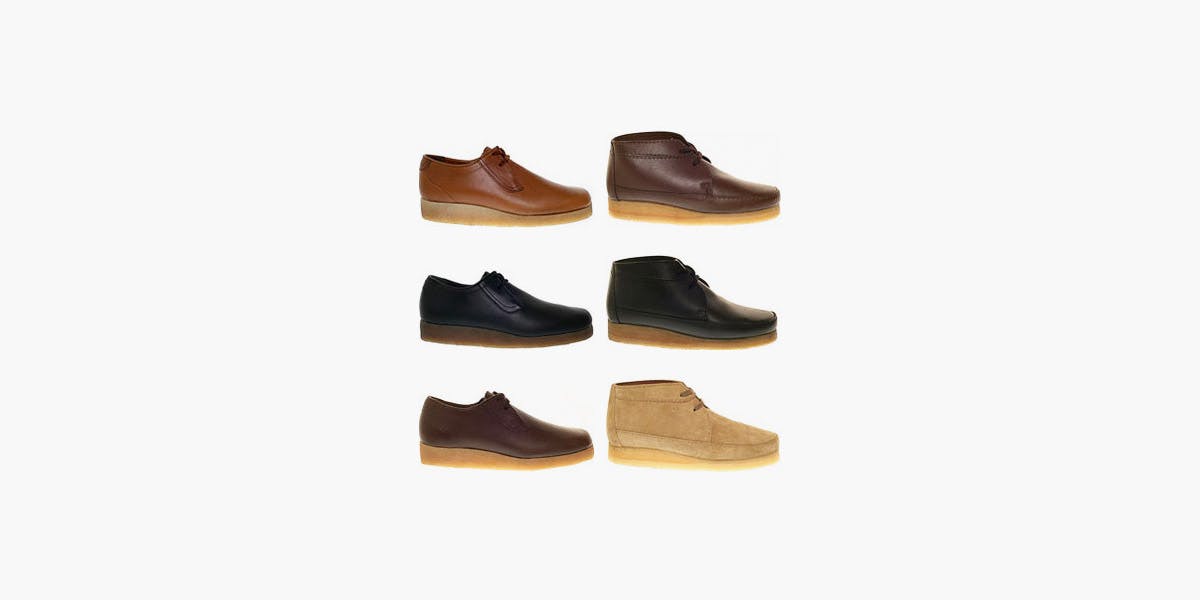 We all know Supreme's regular hook-ups with Somerset shoemaker Clarks. Prior to that partnership, however, came a set of desert boots with Irish shoemaker Padmore & Barnes, who from 1967-2003 manufactured footwear for the likes of Clarks, Paul Smith and United Arrows.
Desert Boots and Wallabees had developed a cult following in New York thanks to Wu-Tang Clan, so James Jebbia personally approached P&B to create the low-cut P500 Plaintoe Saville and M345 Sahara boot, exclusively for Supreme.
Produced in high-quality leather and suede, the shoes commanded a $150 price tag which, back in 2001, didn't cut it with a large amount of the brand's customers so leftover stock was stored until the first Supreme warehouse sale six years later.
Supreme x Rammellzee (1994-2004)
Supreme's artist series has undeniably elevated the brand above your average skate company, and the original store on Lafayette Street has always had somewhat of a gallery feel to it, thanks to those bare walls and occasional splash of art.
Nate Lowman and Mark Gonzales have both adorned the hallowed interior, but the first artist to work with Supreme was New York's Rammellzee back in 1994. This collaboration continued for over 10 years with some of Rammellzee's alter egos such as "Ripcord Rex" and "Chaser The Eraser" making their way onto skate decks and graphic tees.
The jewel in the crown of the esoteric artist's projects has to be his collection of hand-painted backpacks in 2004, that retailed at almost $800 - a work of art indeed!
Supreme x Gravis (2000)
Alongside DC Shoes, another (short-lived) crossover success from the '90s skate shoe boom was Burton Snowboards-owned Gravis Footwear.
Many years before Supreme team rider Dylan Rieder had Gravis producing skateable dress shoes, the number one silhouette in the Gravis armory was the "Tarmac" - an exceptionally comfortable, fairly plain skate sneaker. As far as Supreme collaborations go, this one's pretty basic - white with green accents or white with navy accents and minimal branding on the innersole.
I'm guessing that longtime Supreme friend Paul Mittleman may well have brought this partnership to the table considering he was working with Gravis during the time. Why it doesn't feature on Supreme's online shoe archive is anyone's guess, though!
Supreme x Robert Crumb (2007)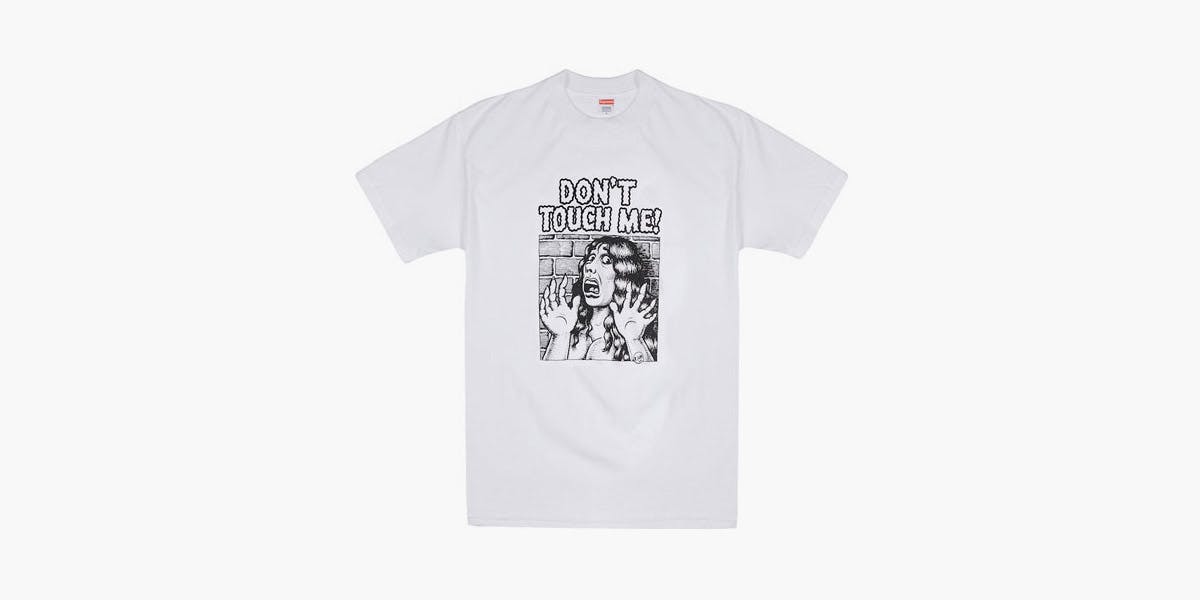 Underground comic book artist Robert Crumb has more in common with Supreme than you'd think - both parties are subversive, controversial and anti-establishment.
An initial small collection of two graphic tees and one zip hood was released in 2007 to equal parts bemusement and enthusiasm. Three years later, the artist was commissioned to provide his "Fuck" logo as a monogram across a selection of caps and Supreme x Head Porter accessories, which remain just as collectible as the comic books themselves.
Supreme x Malcolm McLaren (2009)
It's no secret that British-born James Jebbia is a huge fan of his country's '70s punk scene - both its music and fashion, which was spearheaded by Vivienne Westwood and her then-partner Malcolm McLaren.
Not only did McLaren run his seminal shops Let It Rock and SEX on London's Kings Road and mastermind the explosion of the Sex Pistols, he also became a well-respected figure in the early days of hip-hop and embraced New York's fledgling downtown art scene. His long career even included working on artwork and record sleeves with Keith Haring, Dondi White and Shawn Stussy.
With so many shared influences it was only right that Malcolm and Supreme got together - shortly before his untimely death in 2009 - for a collection that spread his most iconic images across a series of clothing, headwear and Vans sneakers.
Supreme x John Smedley (2005)
A 200-year-old British knitwear company who provide sweaters to the Queen of England may not seem an obvious choice for Supreme collabs, but the brand has always been fiercely devoted to providing its clientele with premium quality goods - and John Smedley's luxurious knits fit the bill perfectly.
In 2005, Supreme and John Smedley got together for a small run of lightweight Sea Island Cotton long- and short-sleeved polo shirts. A decade later this understated classic remains popular among real Supreme connoisseurs.
Supreme x Gabriel Urist (2007)
Sneakers are big business in New York, and Brooklyn jewelry designer Gabriel Urist reflected this in his collections - his "shoe-elry" pieces included miniature gold Air Force 1s, Air Jordans and Air Maxes. Urist's pieces quickly became highly sought after and soon his commissions included the likes of New Era, Wu-Tang, Jay Z and Kanye West.
When Supreme wanted some subtle skateboard-themed jewelry for FW07, Urist was the obvious choice. His diamond-tipped skate wheel pendant was an instant success and was followed up with an equally slick skate truck pendant in 2008.
For more Supreme content, take a look at the brand's 15 most obscure Box Logo tees.