Highsnobiety aims to provide our readers with the latest updates in the sneaker world. However, we cannot verify the reliability of any unauthorized leaks or rumors unless this information is provided directly by the brands themselves.
We already knew Supreme and Nike were bringing back their divisive Air Force 1s for Fall/Winter 2021 alongside a new "Wheat" colorway. What we didn't know is when the shoes were returning. Well, we still don't know, kinda, except for the fact that Japan is reportedly getting another chance at the shoes by week's end.
Supreme's relationship with Japan is an interesting one. The New York institution has been operating within Japan since it debuted its Daikanyama store in 1998 and has functioned independently within the country since then, which is pretty unusual. See, partnerships with management companies are normal for domestic and international companies seeking to, say open physical stores or wholesale in Japan.
Remember Jil Sander's recent sale, transferring ownership from Japanese conglomerate Onward — which still oversees properties like Joseph and Mulberry — to OTB.
For a long while, Supreme maintained more stores in Japan than anywhere else — still, six of its 13 flagships are Japanese. It also always blesses Japanese magazines with exclusive seasonal editorials, so there's clearly much love for the island nation.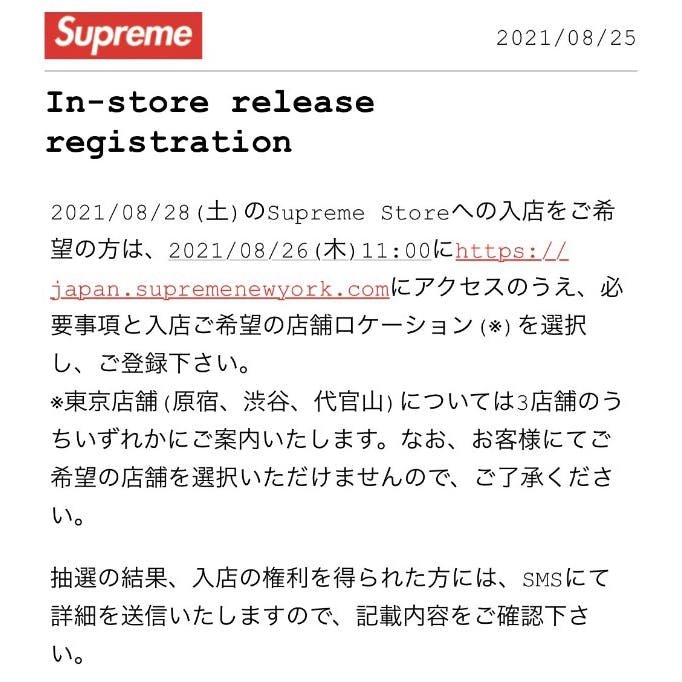 Not that Supreme doesn't celebrate its New York-ness, of course, but it's not often that we discuss Supreme's big love for Japan. Case in point: this Air Force 1 reissue.
The two monochrome AF1s that dropped this past March are set to hit Japanese Supreme stores on August 28, according to local Sup fans. Above, witness the in-store release page for Supreme's Japanese site, which changed on August 26 (Japan time) to reflect that registration has ended.
To confirm the rumors, Dover Street Market Ginza has updated its front page to include the two returning Supreme AF1s.
All that means is that, unless you're in Japan, you aren't getting your hands on this limited restock this week. There's always a possibility that Western Supreme stores will include the returning colorways — and maybe that new "Wheat" version — in this week's drop, but it's no less likely that Sup's latest Nike collab will come later in the season.