The story of James Jebbia's fashion label, Supreme, has been written and rewritten hundreds of times despite the founder being notoriously press adverse. Words and phrases like "five-panel" "Lafayette Street," and "box logo" have all been been repurposed in different sequences and with greater emphasis to reflect the desire to keep on telling an origin story that hasn't changed all that much.
You could make the argument that Supreme's link to skateboarding - and specifically its OG skate team - had more impact on the brand's early popularity than any of the original designs in the '90s like their Travis Bickle T-shirt and Vans Old Skool.
Skateboard magazines at the time like Thrasher proved vital in giving Supreme its counterculture cosign and encouraged people to buy apparel worn by pros who had earned their stripes across at notable NYC skate institutions like the Brooklyn Banks, Time Life Building and Astor Place.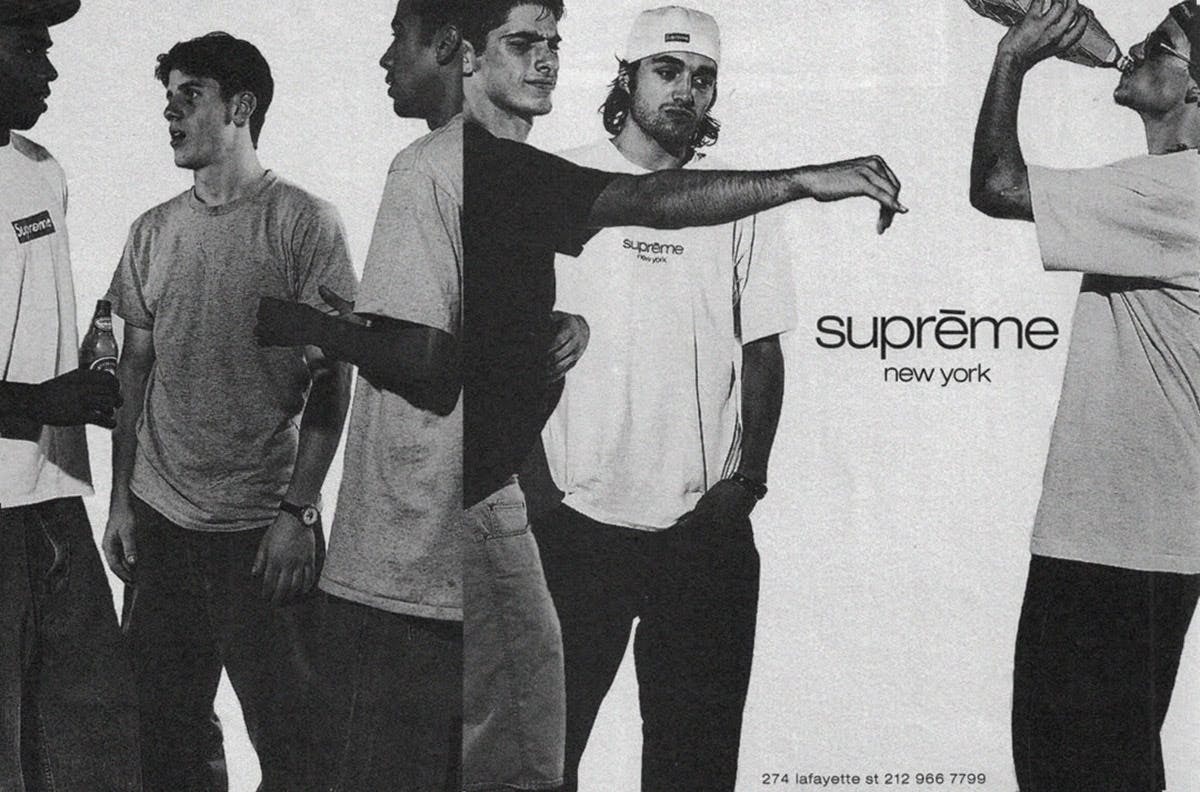 While some kids aimed to 'Be Like Mike" at the time, others wanted to emulate the skateboard antics of Supreme riders like Ryan Hickey, Justin Pierce, Gio Estevez, Paul Leung, Loki, Chris & Jones Keeffe, Peter Bici and Mike Hernandez who all bonded over their shared love of the Wu-Tang Clan, A Tribe Called Quest, De La Soul, Diamond D, Nas, Fat Joe, Biggie Smalls and Gang Starr.
"The city made us," said Bici. "Our style and, being in New York in the '90s, hip-hop ... We had such an eclectic group of friends. We listened to every type of music. We didn't look at people – how they looked, how they talked – as if they were different. We were like the United Nations of skateboarding."
"They were out there and representing it (Supreme) every day. We had a big slew of close friends, and it's all them who promoted it," said longtime Supreme NYC manager, Alex Corporan.
At first glance/listen, the rhythms of skateboarding and jazz music are nothing alike. But the improvisational spirit of both mediums actually makes them a likely pair.
Specifically, John Coltrane's music has been showcased in a skate contact on two notable occasions.
The first - Spike Jonze's 1991 debut short film effort for Blind Skateboards entitled Video Days - used a section set to the sax icon's 1957 track "Traneing In."
The second was used by filmmaker, Thomas Campbell, for Supreme's 1995 skate video, A Love Supreme, which is set to the first two tracks from John Coltrane's album of the same name and captured a similar spirit as Jonze's film which combined skate footage with more artistic elements like a silhouette of a kissing couple or the out-of-focus headlights of New York City traffic.
"Once I moved to New York, I really felt that jazz was the sound of the place and began exploring it a lot deeper than I had before," Campbell remembers. "Obviously Coltrane is one of my all-time favorites and A Love Supreme his best records ever. I wanted to start shooting 16mm, too… maybe I could make a movie with all of this stuff I have going on in my head? Maybe I could do it with the Supreme guys? So I skated over to Supreme and talked to Giovanni Estevez like, 'Hey, could I make a movie for you guys?' He was into it and we figured out a way to get a small budget. The first time I ever shot a 16mm camera was on the day I started filming that movie. I think I shot it over the course of 4 or 5 months.I think it captured the vibe of the place and the scene. The feeling of what it's like to be there."
Most of the original Supreme skate team was made up of teenagers from the city who already considered themselves friends before they ever became teammates.
Over the last two decades, some skaters have managed to stay on the periphery of the world in which Supreme exists, while others have gone on to professions decidedly different.
"Getting sponsored was not on my radar," Hernandez remembers. "Once skating became a job, it was unattractive to me."
Here's what most of original members of the Supreme team are up to these days.
Ryan Hickey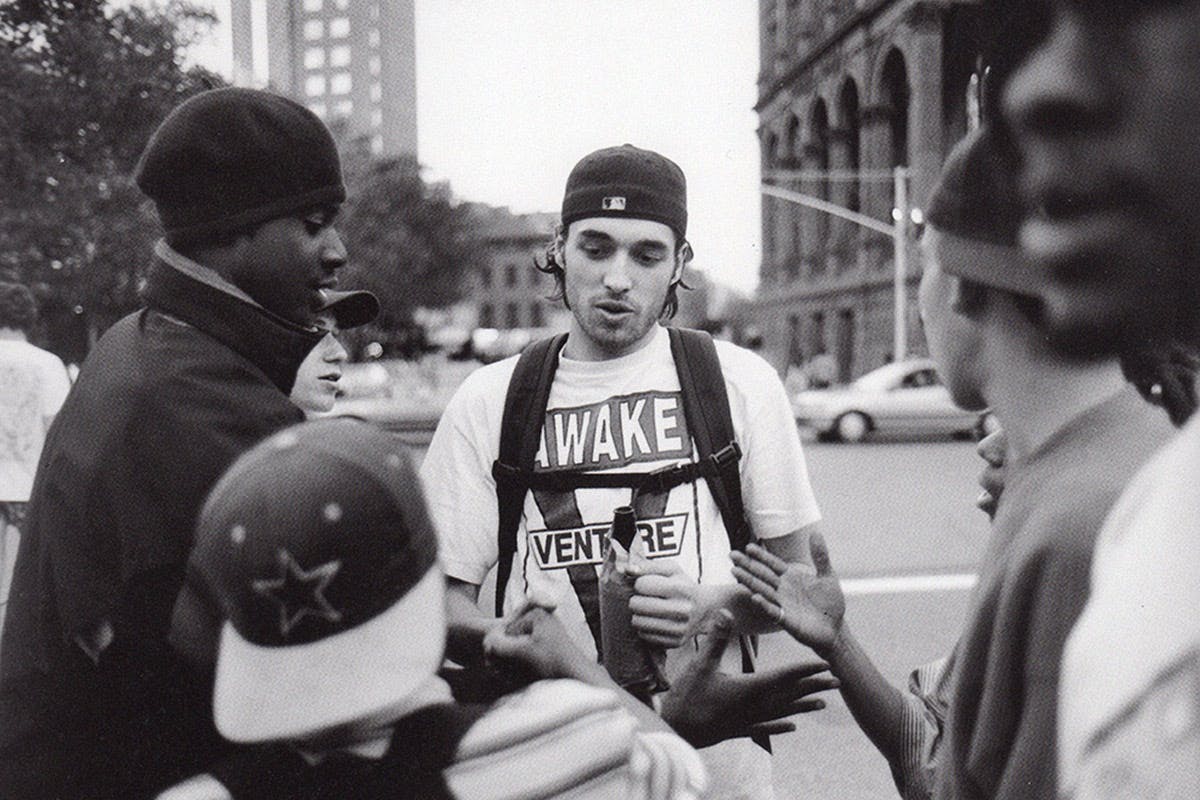 At a time in skateboarding where most if not all eyes were on the exploits of skaters on the West Coast, New York native, Ryan Hickey, ensured that the Empire State was properly represented.
In his early years, Hickey was a part of the original Zoo York skate team which also included Robbie Gangemi, Jeff Pang, Harold Hunter, Chris Keeffe, Loki and Hamilton Harris.
"I actually rode for another company, 777, while I rode for Zoo back then just so I could have boards," he said. That's how bad it was… and those boards were horrible. I remember having to make Rodney [Smith, Zoo York Founder] recut those 777 boards with his jigsaw into better street shapes."
After a falling out with Zoo York, Hickey eventually found himself recruited to ride for what at the time was an upstart clothing brand: Supreme.
"Apparently, the guy who started it used to sit in that old diner at Astor Place and watch us skate at night," Hickey recalled.
"We didn't have 'skate fashion' in New York back then either," he said. "We just dressed how we did in the neighborhood. You might've worn a Powell shirt or something but that was it. You couldn't really get that stuff because there were hardly any skate shops."
In an interview with Muckmouth, Hickey described his transition out of skateboarding, saying, "I quit being pro when I was around 24 or 25. The skate industry kind of killed my love for skating, so many fake people in that industry. I was also dealing with back and ankle problems. I definitely miss it, it was a special time in my life. The original NYC crew was tight, we all looked out for each other like family."
Today, Hickey resides in Hell's Kitchen with his two sons and makes a living as a commercial fisherman.
"I try and skate when I have time," he says. "I need to start skating more with my son, he's always trying to get me on the board. I don't see a comeback in my future, I like to skate without pressure."
Justin Pierce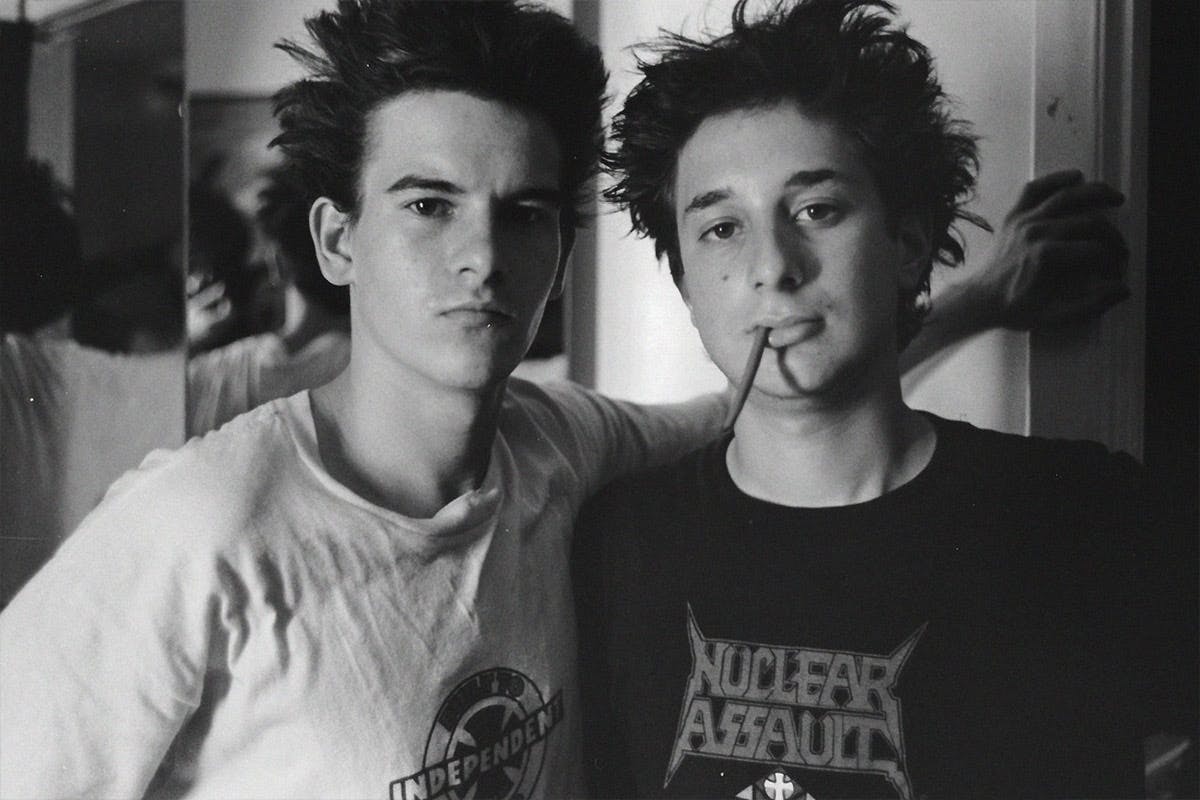 Justin Pierce is arguably the most recognizable member of the original Supreme skate team thanks to his turn as Casper in Larry Clark's gritty, New York coming-of-age film, Kids, where he proved to be the breakout star.
Credited with a raw and uncut viewpoint of city life - with Roger Ebert calling the unskilled but overwhelmingly convincing new thespians "educated only to the base instincts" - Clark found Pierce while he was skating in Washington Square Park during a period in his life where he was living in various rooms in the basement of a building on 176th Street referred to as "the dungeon" that was teeming with fellow skaters.
"His style, his swagger, his whole thing was kind of unprecedented," said Kids writer, Harmony Korine. "He was supermagnetic, and there was something really beautiful about him. At the same time, he was completely uncontrollable. He went for it all of the time, and that's part of what got him into trouble."
After the success of Kids, Pierce moved to Los Angeles where he starred in in the HBO prison movie, First Time Felon, as well as took a comedic turn opposite of Ice Cube in Next Friday.
"I'm becoming more and more bored in La La Land every day," he told Paper Magazine. "People in LA don't seem real to me. All they care about is fucking movie stars."
On July 10, 2000, Pierce was found dead in his hotel room at the Bellagio in Las Vegas. He was 25.
Gio Estevez
Gio Estevez holds the distinction of being "employee number one" after James Jebbia opened up the first Supreme store on Lafayette Street in downtown Manhattan in 1994.
In his post skateboard life, Estevez has remained on the periphery - using his knack for illustration and graphic design to create graphics for Real, Stereo and Cliché Skateboards - in addition to freelance work with the likes of Supreme, Burton Snowboards, Analog and Number (N)ine.
He also owns his own brand, ANX Originals, which has select stockists in the United States, Europe, and Japan and notably collaborated with Converse for a reworking of the Chuck Taylor Hi for their PRODUCT(RED) range alongside Parra and Cody Hudson.
Peter Bici
For Peter Bici, his love for skateboarding began organically after witnessing a group of kids skating in his neighborhood in New York City.
"I was 14 years old and had just graduated from junior high school that was the summer of 1987," Bici recalled. "I was hanging out with my old friend at his house when all of a sudden I see these five skateboarders skating in the middle of the street, all wild and crazy doing power slides. My first reaction was like 'wow' they looked like they were having so much fun. I took a closer look and one of the skaters was my friend Orland Delgado from junior high in Queens, N.Y. I screamed out his name and he came over with this big smile on his face. I was like 'Where you guys headed?' he said 'Just skating around' I then asked 'Can I go with you guys'" he said 'Yeah' So I ran with them the whole day as they skated. It was incredible, that was the day where I fell in love with skateboarding."
After honing his craft on a daily basis, Bici found sponsorship opportunities with Nimbus. Television, Think and Venture before joining Zoo York's inaugural team.
Bici was not only being recognized for his skate prowess, but he also added "model" to his growing list of accomplishments after booking notable campaigns with the likes of Calvin Klein.
"Modeling, that's funny," he said. "I was playing 'SKATE' in front of Supreme and Jeff Pang was talking to this lady and then he called me over. She asked me if I wanted to try out for a Calvin Klein Jeans ad. I said 'sure,' and she gave me the information. The address was down the block, literally five minutes later they took some photos of me and about a month later my sister beeped me. I called her back and she said Calvin Klein had called and I got the job. I didn't know what scale it was on at all, but when I finished it ended up being a global ad campaign, pretty random."
Bici ultimately traded his passion for skating for the high-stress profession of New York City firefighting despite lacking a high school diploma at the time.
In an interview with Transworld, Bici said of his transition, "When I started skateboarding, I was involved. I just fell in love with it, and in my mind and heart, I wanted to become professional. And I worked really hard at it. I sacrificed a lot and fortunately for me, everything went well. I went to that place I wanted to go. Once you become pro, you can always become better, but you pretty much already met that challenge. When I was skateboarding, I saw this ad on the train for the (firefighter) written exam, and I had this really strong feeling - I was so drawn to it - I wanted to become a firefighter. There were really long years of hard work-going to school and then making that transition from being a professional skateboarding to 'the real world.' It was really tough. One day you're skating with all the boys, and then one day you're in the real world and you're like, 'Wait a minute, it's not the same.' Fortunately for me, I jumped from one incredible profession of skateboarding to one thrilling profession of firefighting, which is incredible. Plus the whole bond of the FDNY - I felt so drawn to. It's such a strong, strong, strong bond that we all have on the job."
Despite moving on from skateboarding, Bici insists that the skills he honed on the streets have helped him with his second career.
"It's great, my skateboarding skills definitely help me on the job," he added. "I use my balance to climb the aerial ladder up a 7-story building with about 130 pounds of gear on. The civilians watch you and the pressure is on, but there's no bank to ledge to skate, there's only fire!"
In 2016, Bici dusted off his modeling chops and appeared in a video and cookbook for HUF alongside fellow Supreme teammate, Mike Hernandez, and Pretty Sick band member, Sabrina Fuentes.
Chris Keeffe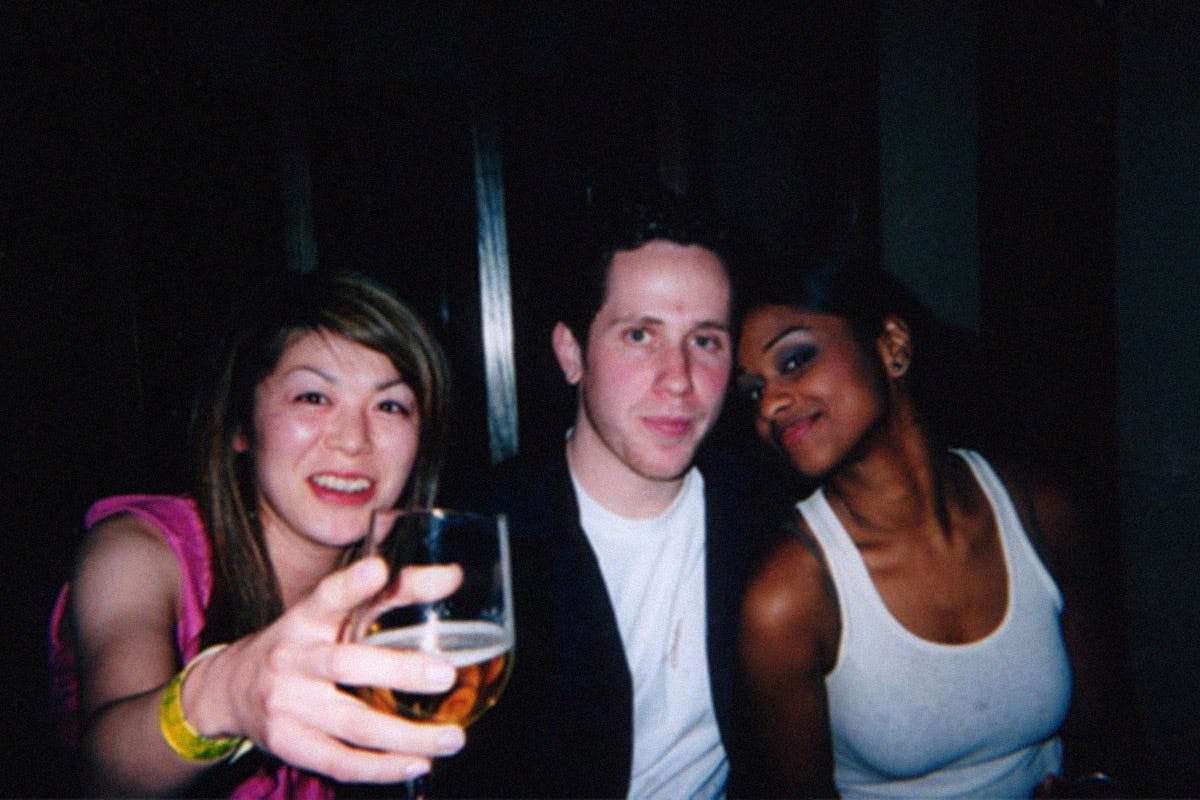 Chris Keeffe cut his teeth as a pro at 22 riding in New York City alongside the likes of Wade Speyer, Phil Shao, and Rob Gangemi and notably counted both Supreme and Vans as early sponsors.
"Supreme was the place we used to meet up before we went skating in NY," he said. "My friends worked there, everyone used to come and hangout for hours, drink beers, play games of skate outside. A lot of times we didn't leave the block we just hung out and people watched."
When Keeffe retired from skateboarding, he opened his own skate and shoe store, DQM, in New York City's Bowery district in 2003 which featured a smattering of skateboard and sneaker styles. Today, it remains as one of the oldest independently owned skate shops in the U.S.
"I guess the heavy influences at the time were friends of mine who who had opened sneaker shops a year before like Kicks Hawaii and HUF," Keeffe said. "Those guys kinda gave us the wherewithall where 'if they can do it, we can do it' kind of thing. We just felt like we had a different point of view being being in New York and growing up in New York. And skateboarding actually just gave me a lot of contacts - as far as people we still dealt with in the industry."
In 2011, The Vans DQM General opened in a landmark building in New York's historic SoHo district,
In July 2013, The Vans DQM General concept expanded to Boston.
"I'm still working with people that I've known through skateboarding from 15, 18 and 20 years ago," he says.
Mike Hernandez
In the early to mid '90s, Mike Hernandez made a name for himself both on the streets and in print thanks to exploits alongside Peter Bici and Jefferson Pang and in a notable advertisement for Venture Trucks that showed him doing a frontside 50-50 in San Francisco.
As one of the earliest Supreme riders, he remembers the shop's intrinsic value to their crew's daily operation.
"We'd skate the banks, financial district [and] make our way back to Supreme. Supreme would close up. We'd get high in the back of Supreme, then make our way to Astor Place," Hernandez recalled.
Like his fellow Washington Square Park alum, Peter Bici, Mike Hernandez segued from skateboarding to firefighting when he became a member the FDNY as part of Ladder 118 out of Brooklyn.
Bike/apparel brand, Chari & Co. offered a tribute to Hernandez's station in 2012 with a commemorative T-shirt which paid tribute to those who also lost their lives fighting and saving lives on 9/11 - including six men who lost their lives from Ladder 118 - Lt. Robert Regan and firefighters Leon Smith, Vernon Cherry, Scott Davidson, Peter Vega and Joey Agnello.
Hernandez can also also be seen at the 37 second mark of State Farm's tribute to the heroes of September 11 as a children's choir serenades Ladder 118 with a rendition of "Empire State of Mind."