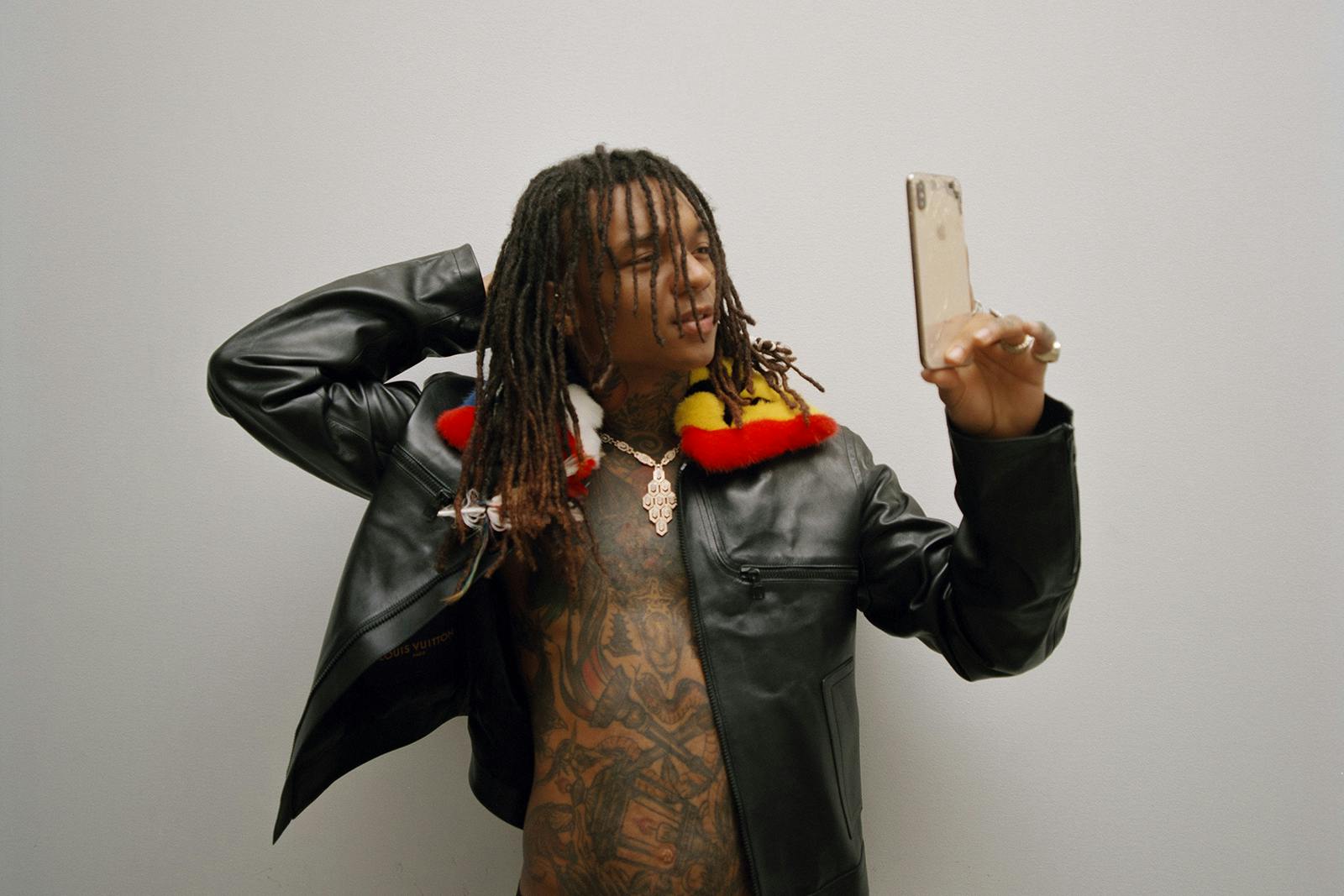 Highsnobiety / Daniel Regan
Swae Lee shows up to a Venice Beach gallery, emptied of its art, almost three hours late with a huge smile on his face and six people in tow. From the outside, their roles appear happily undefined but this is clearly a hive, activity emanating from the reverberations of the queen. In this case, a prince with an unmistakable buzz.
You'd be smiling if you were Swae Lee too though. Because none of this was ever really supposed to happen.
The details are already legendary – he and his brother, Slim Jxmmi, moved with their military mom from Inglewood, California to Tupelo, Missippippi, ended up in a squat, and then worked at a mattress factory. Through the serendipity of a mutual friend, they met Mike WiLL Made-It, still one of Swae's most trusted collaborators, who christened the duo Rae Sremmurd and set them off toward stardom.
Sitting less than a foot from him, an enormous diamond studded rose gold bracelet dangling confidently from his dainty wrist, it was impossible to not be caught by the infectious nature of his ascendance. And by the earnestness with which he reveals, "I thought it was going to be 300 people in a park, singing for them on a stage and they know the words to the song. Now it's people screaming and mosh pits and so much more than I could imagine." Those mosh pits made him millions and are perhaps a clue to the reliably upbeat tenor of his music.
"I'm living a pretty good life. I wouldn't want to make songs that bring people down," he says, stopping to look up from his phone. "My music makes people happy because I'm transferring my happy energy into it. A lot of my songs are meant to focus on the happy things in life because everyday people go through something negative, and so in my music I don't need to remind people of that." His songs are filled with such things – a catalogue of the various happinesses that he has experienced.
The braggadocio mega-hit "Black Beatles" is about the spoils of fame and success synonymous with the ubiquity of the world's most famous band. Happiness here is obvious, "New day, new money to be made / There is nothin' to explain." That the song went on to spawn the Mannequin Challenge – dance memes are about as pure a sign of joy as the internet age can muster – is no surprise.
Being a global symbol of happiness is sticky though. It takes a blind bravura that's hard for any one individual to muster. We outsource this emotional labor to celebrities, looking to them for examples we can mine for answers. We ask our stars to hold space for us.
Given the end-times pallor of today, you have to wonder about the timing of Swae's success. In the hazy clouds of his hypnotizing falsetto, we forget about the weight of our problems and relish instead these few moments of reprieve. The thing he innately understands is that we're looking for an escape. This is sonic Xanax.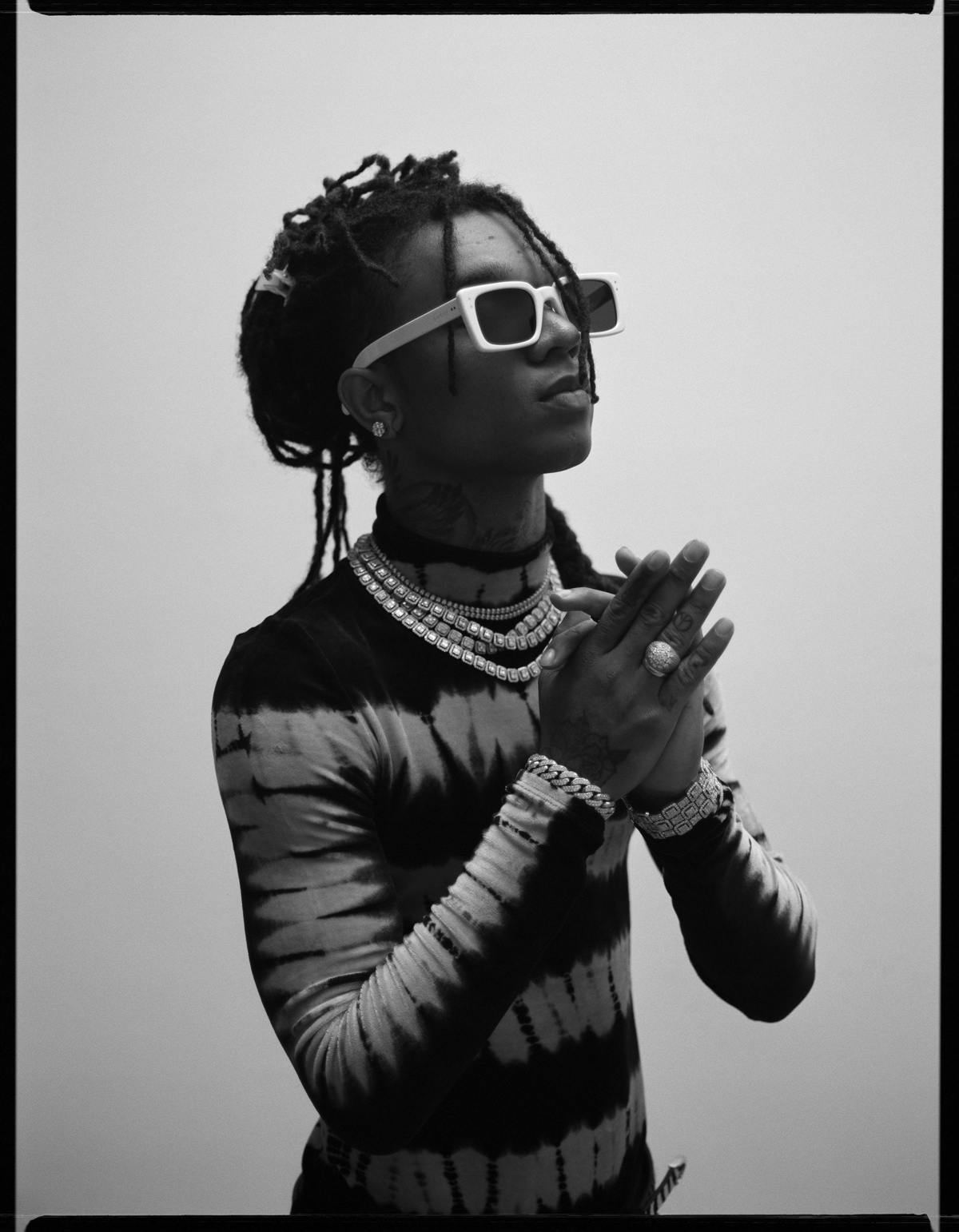 There still hasn't been an official Rae Sremmurd separation, but it's been clear for some time now. You can tell as much from Swae's songwriting habits, "I don't necessarily think about writing for other people because I just start loving the songs myself," he explains. "It starts sounding like something I have to keep." The alchemy the brothers wrought as a duo hasn't lost its shine, but it has become obvious that going solo was simply a natural progression of events that couldn't be stopped.
Swae is in motion, and like the first law of physics assures us, he will remain in motion. The reception his music receives assures him of this. "It gives me energy to see [the audience] excited about the songs. It gives me energy to keep going. It's like, "Dang, my music reached all these people?" It's a wake up call too. It shows you that you gotta keep doing more."
His ascension has been built in part by "doing more" with one of modern music's canniest strategies: make yourself inevitable via a web of well-placed guest spots across genres. Just this year he had some of the summer's best features, on Madonna's Madame X and Miley Cyrus' She Is Coming. Four of his top five most popular songs on Spotify are ones in which he plays support. Much like Nicki Minaj, who took her "Monster" feature to the bank and cashed it in for a career, he doesn't pinch hit so much as eclipse.
On "Crave" he whispers "I can give you a sensation" with an ambiguity that leaves room for interpretation. How, Swae? For him, the melancholiness of Millennial malaise and the sadness that shapes the music of contemporaries like Lil Uzi Vert isn't mutually exclusive of happiness. If, like he said, our times are hard, then we must contend with the fact that happiness and sadness, good and bad, come to exist on the same plane, in the same note, lilting behind the mechanical magic of Auto-Tune towards oneness. To think of the auto-toned perfection of predecessors like T-Pain and Kanye, you are reminded of the instrument's true power. Auto-tune meant not to mask but metamorphize.
With the shadows increasingly long and Venice drifting into warmer shades, I ask him if there's anything else that makes him happy. He struggles to find an answer. I try again – were they the same things everyone else likes? "Nah," he says. "'Cause they be lovin the hype stuff."
The two guys in the corner – the ones whose roles I understood when they collected strands of diamonds off his neck – were checking their watches. Easy smile steadfast, Swae takes a breath between photos and snaps a selfie.