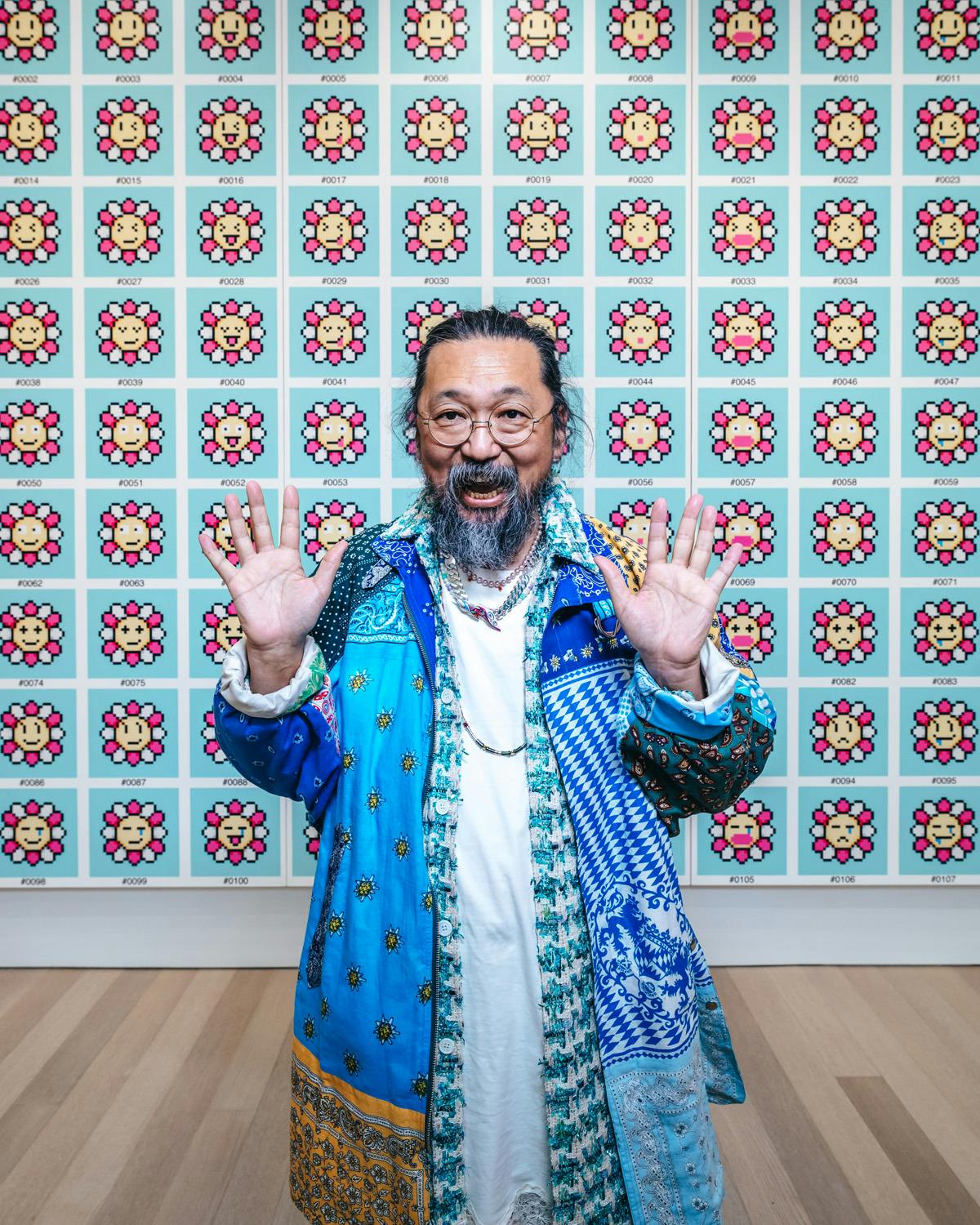 This week's FRONTPAGE interview, legendary artist Takashi Murakami discusses the radical heights of his new exhibition 'An Arrow through History.'
Takashi Murakami is undoubtedly one of today's best known artists – working across traditional media like painting and sculpture, as well as fashion collaborations with Louis Vuitton and Hublot, album covers and videos for musicians like Ye and Billie Eilish, and, now, NFTs. With his latest multi-story, multi-platform exhibition, An Arrow through History – at the Upper East Side of the Gagosian, Murakami presents three new series of paintings, alongside virtual experiences both at the gallery and from headsets anywhere in the world.
In some sense, Murakami's practice predicted today's NFT boom. His serialized images, such as his self-referential smiling flowers, have become ubiquitous, in scales from small plushies to sculptures at Versailles. As with the copy+paste logic of the web, his motifs mutate and can be reproduced, taking on new lives all the time. And indeed, the flowers were the basis of his first 2021 NFT offering, the 8-bit-style emoticons Murakami.Flower, which he pulled from the marketplace saying he wanted to find a way to make them more secure and affordable after bidding rose to 144 ETH.
This sort of Warholian fluidity and seriality is the native status of digital media, where anything might be repeated, referenced, or memed infinitely — and where value is slippery and hard to pin down. Murakami has long not only blended high and pop culture, but been unabashed about the links between art and commerce. To that end, in the mid '90s he set up an atelier system inspired by anime and manga studios (as well as historic printmaking and art workshops) called Kaikai KiKi, which has studios in Japan as well as New York and LA.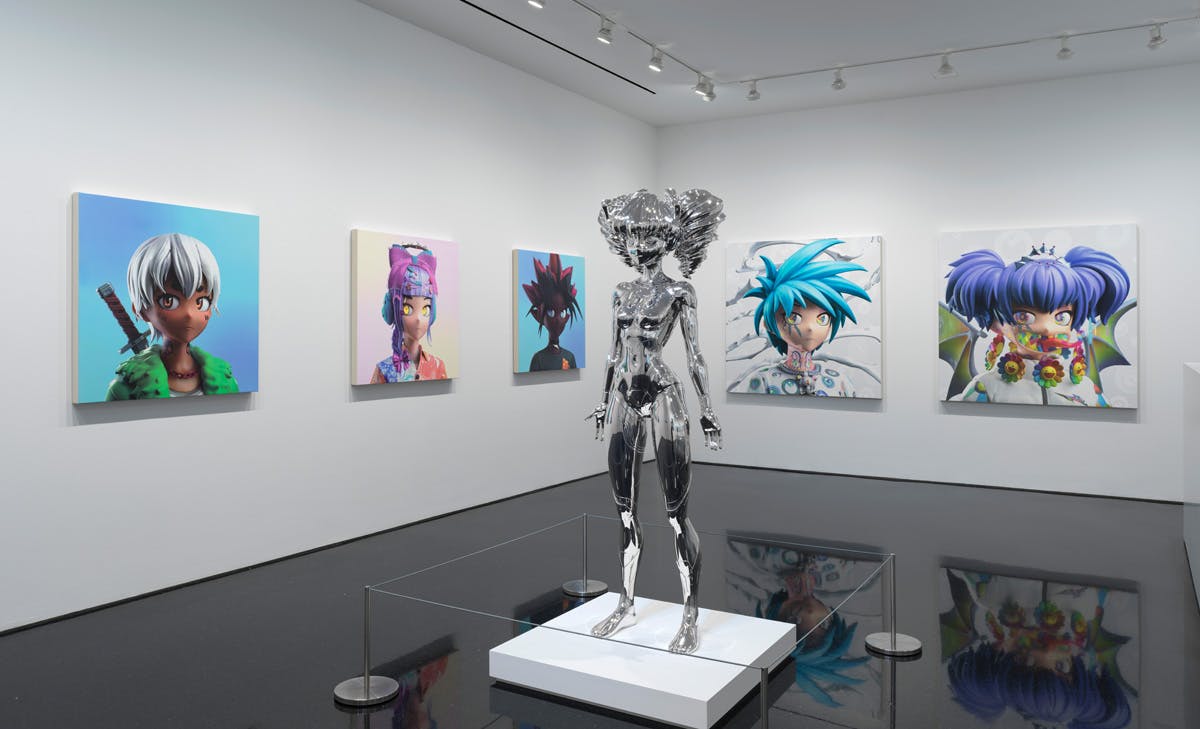 His breakthrough sculptures Hiropon (1997) and My Lonesome Cowboy (1998) called upon the visual language of anime and toyed with otaku fetishization and consumer culture, and might be seen as a visual precursor to his CloneX project, which features 20,000 computer-generated avatars, portraits of which are on display at Gagosian. The project is a collaboration with Nike-owned RTFKT Studios, who also commissioned Murakami-accented custom chains for the core team from The Crown Collection designer Ryan Rehbock to commemorate the project.
An Arrow through History also anticipates a major retrospective at LA's Broad museum. And, as the exhibition's title might suggest, Murakami is looking not only to the present and digital future, but also to the artistic past. Amidst the computer generated models (realized here in acrylic paint) and Snapchat augmented reality features are eleven paintings inspired by a 13th century vase.
We spoke to Murakami ahead of the exhibition openings to learn more about his delve into the metaverse and beyond.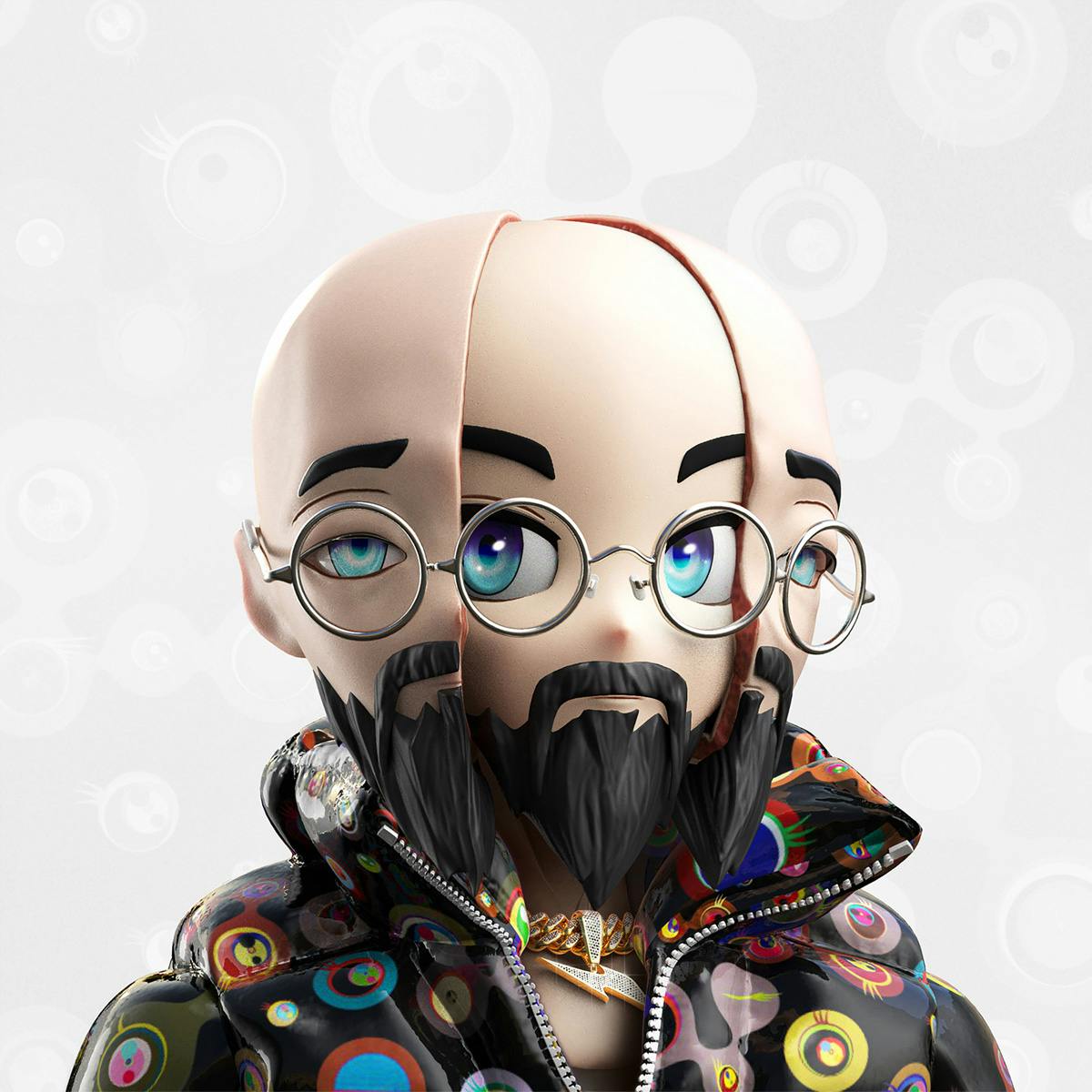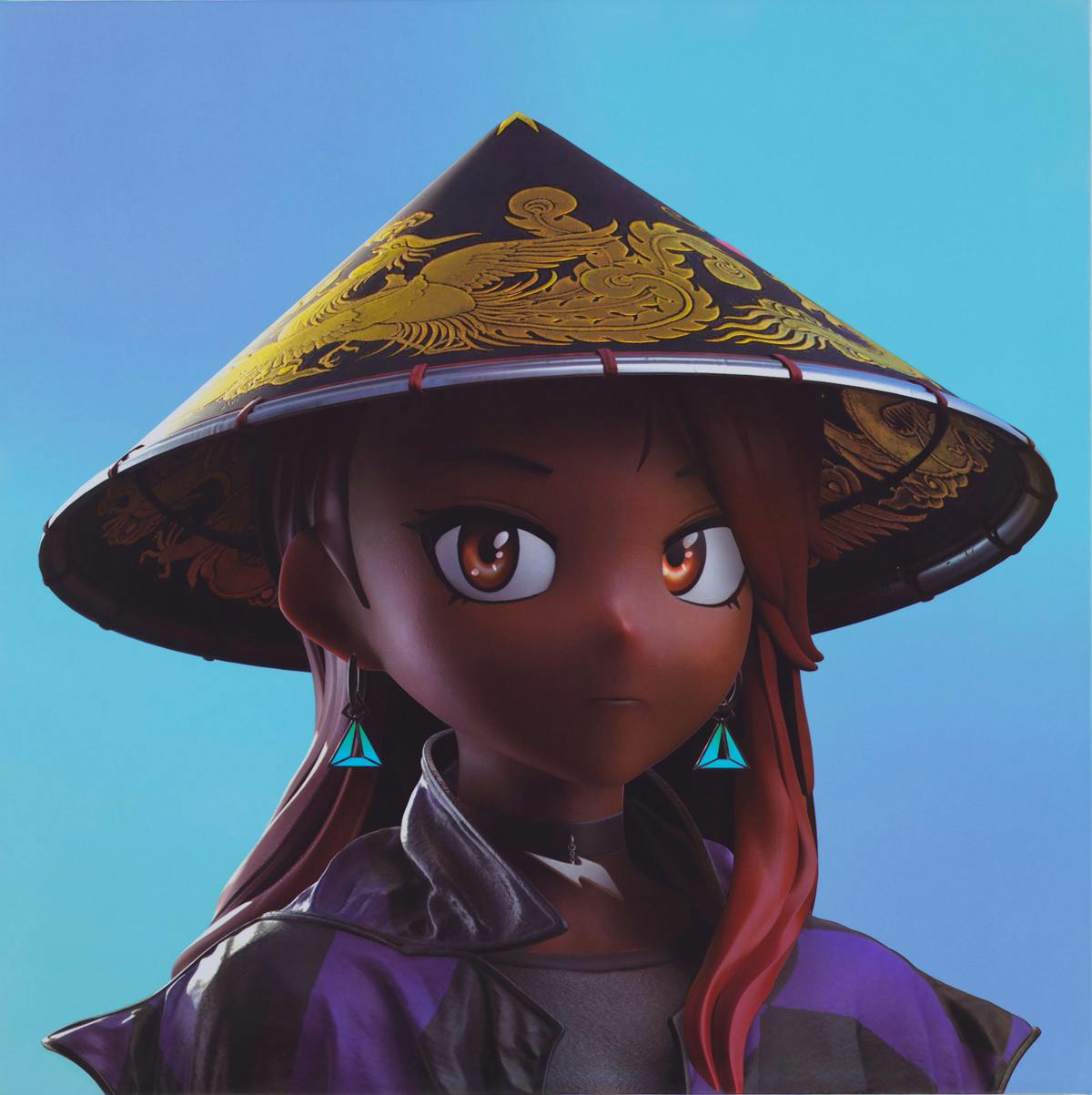 When you first began showcasing NFTs in 2021, you said on Instagram, "I'm groping in the dark, so I'm sure I'll make a lot of mistakes, but please bear with me." What mistakes have you made and what have you learned since then?
First, I was so surprised that Beeple's NFT art fetched the price of $69.35 million at auction, because up to then, the highest auction prices for living artists were set by the works of such artists as Jeff Koons, who'd had a long career and well-kneaded market strategies. I couldn't wrap my head around the mechanism that would attach $69 million to an illustrator's daily Instagram posts, even if thousands of images had been amassed.
Intrigued by this, I started to look into CryptoPunks, tried to understand terminologies such as on-chain smart contract, Web 3.0, DAO [decentralized autonomous organization, a blockchain-based contracting structure], among others, and delved into trading cryptocurrency, spending about a year to finally manage to understand the birth of new values in the world of cryptocurrency. I think this slowness of my process was a huge issue and you can call it my mistake.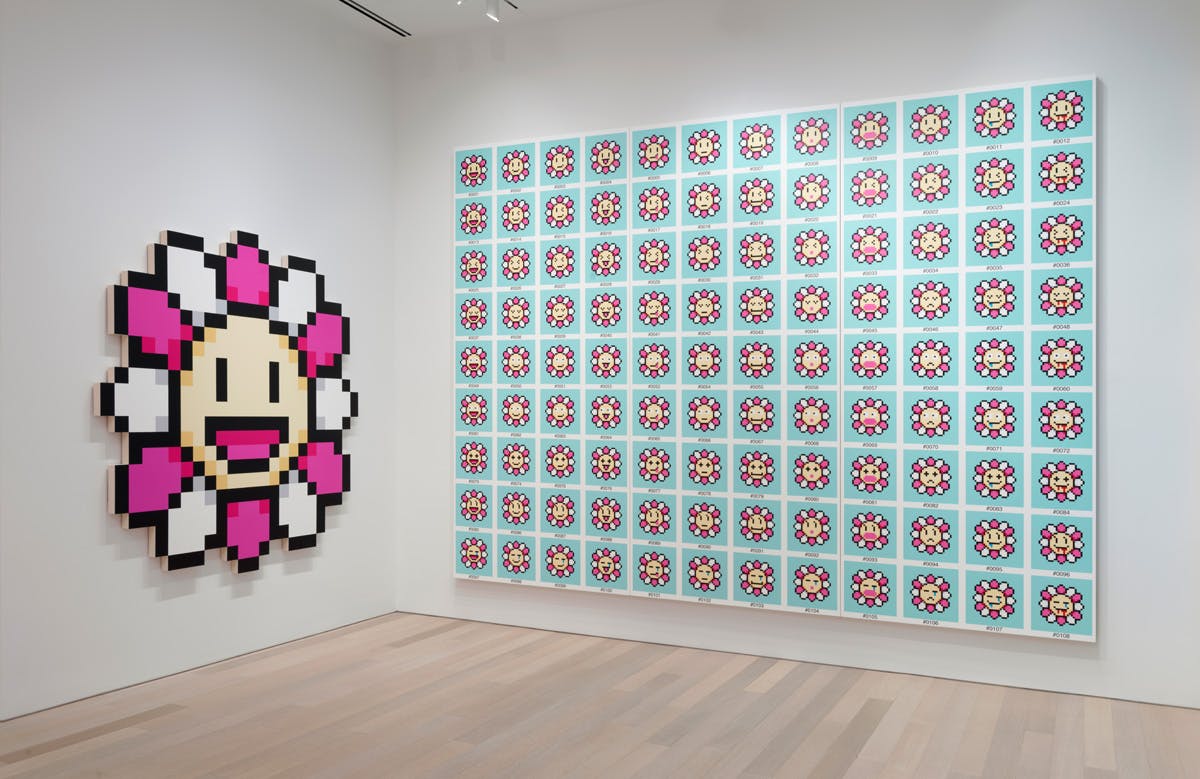 Many of the works in An Arrow through History make your NFTs physical again. Why did you want to take these digital works and turn them into IRL objects?
When I saw the actual works by Beeple, they looked very futuristic and radiant, but his taste seemed quite [distant] from those of conventional art collectors. I was surprised by the overwhelming new rules of the NFT art community and thought that if I were to participate in NFT art, perhaps I could build a bridge between the grammar of the old-era art and that of the new era.
Has working directly in digital modes shifted how you approach your practice? What has stayed the same?
Back in June of 2020, the first year of the pandemic, my two elementary-school-age children were playing the game Animal Crossing: New Horizons online with their friends from school who they no longer got to see. They also had Zoom open, communicating over multiple media platforms. I was astonished when I saw this, realizing that the future of art was in gaming.
Since that day, I started to think that unless I can mobilize my remaining life on the dual wheels of game creation and art, I wouldn't be able to make a touchdown on the creative that would survive into the future. And so, I decided to produce games. As a starter, I have been working on a hand-held game console, and it's slated to be complete in December 2022.
However, my real interest is in the question of what constitutes the renewal of humanity's concept of art. I am trying to bridge some of the gaps between cultures by creating new network games, generating NFTs to explore DAO-type project procedures, as well as producing conventional painting and sculptures. So, I don't think anything has changed in the way I try to generate the latest or futuristic art at all.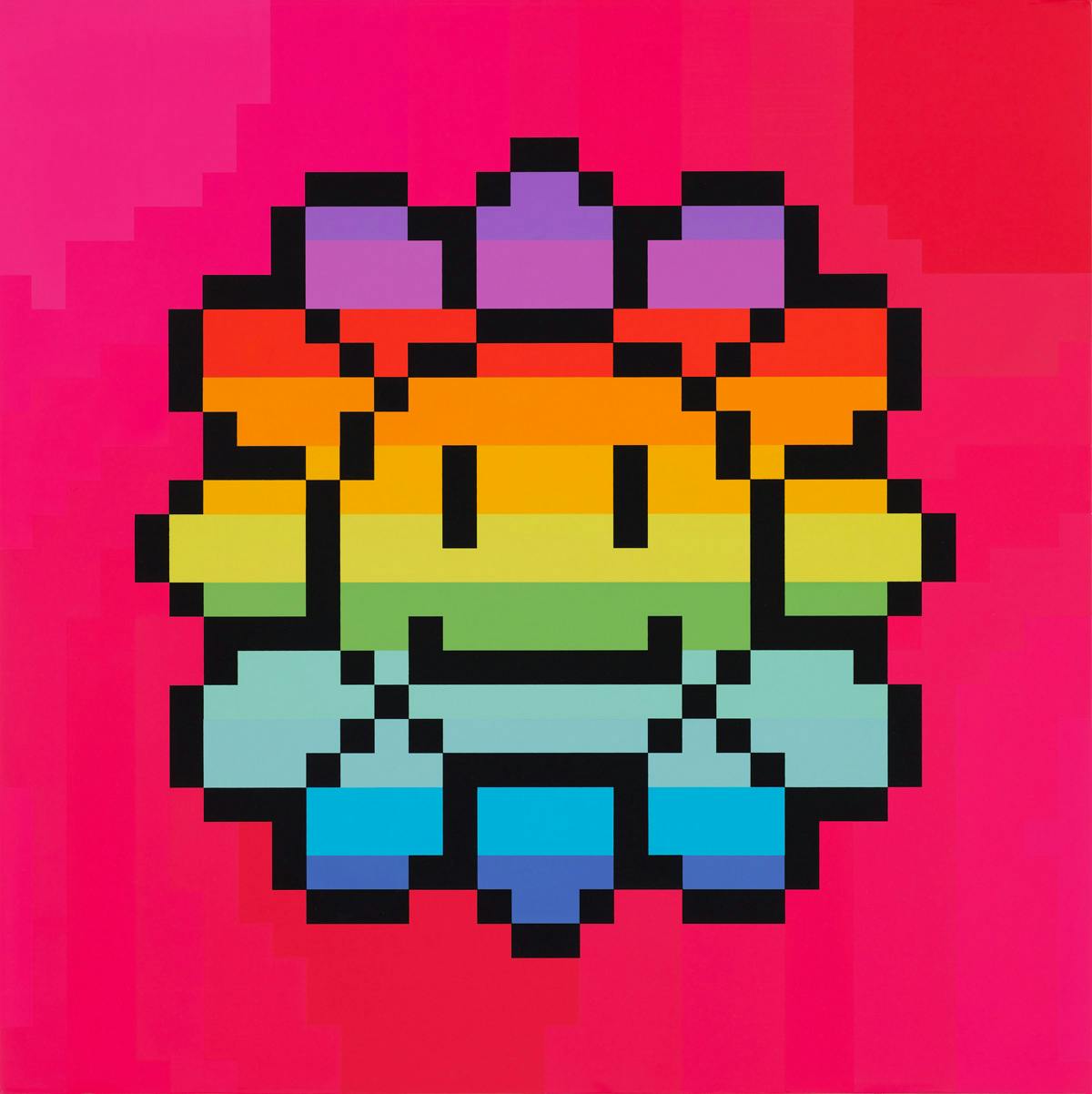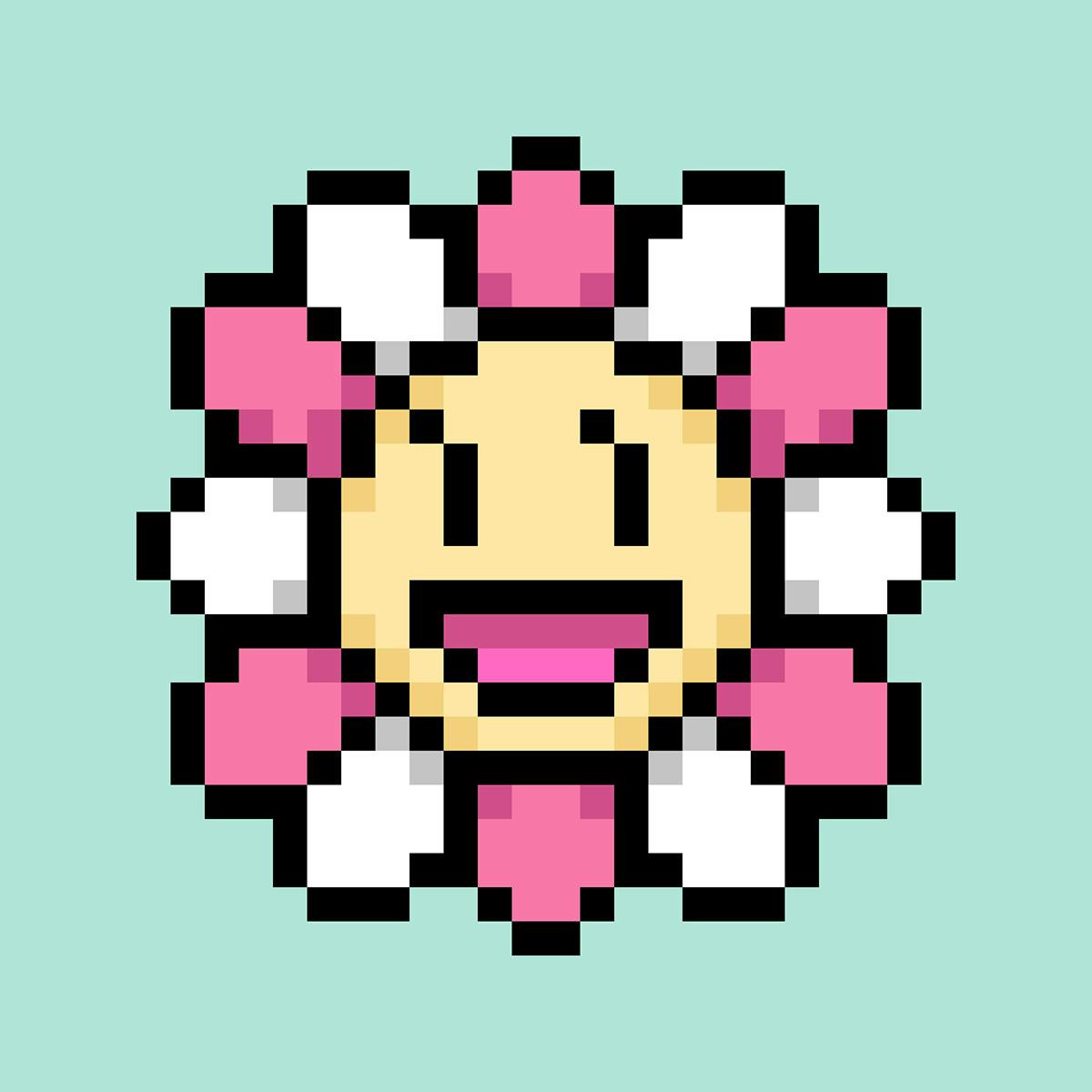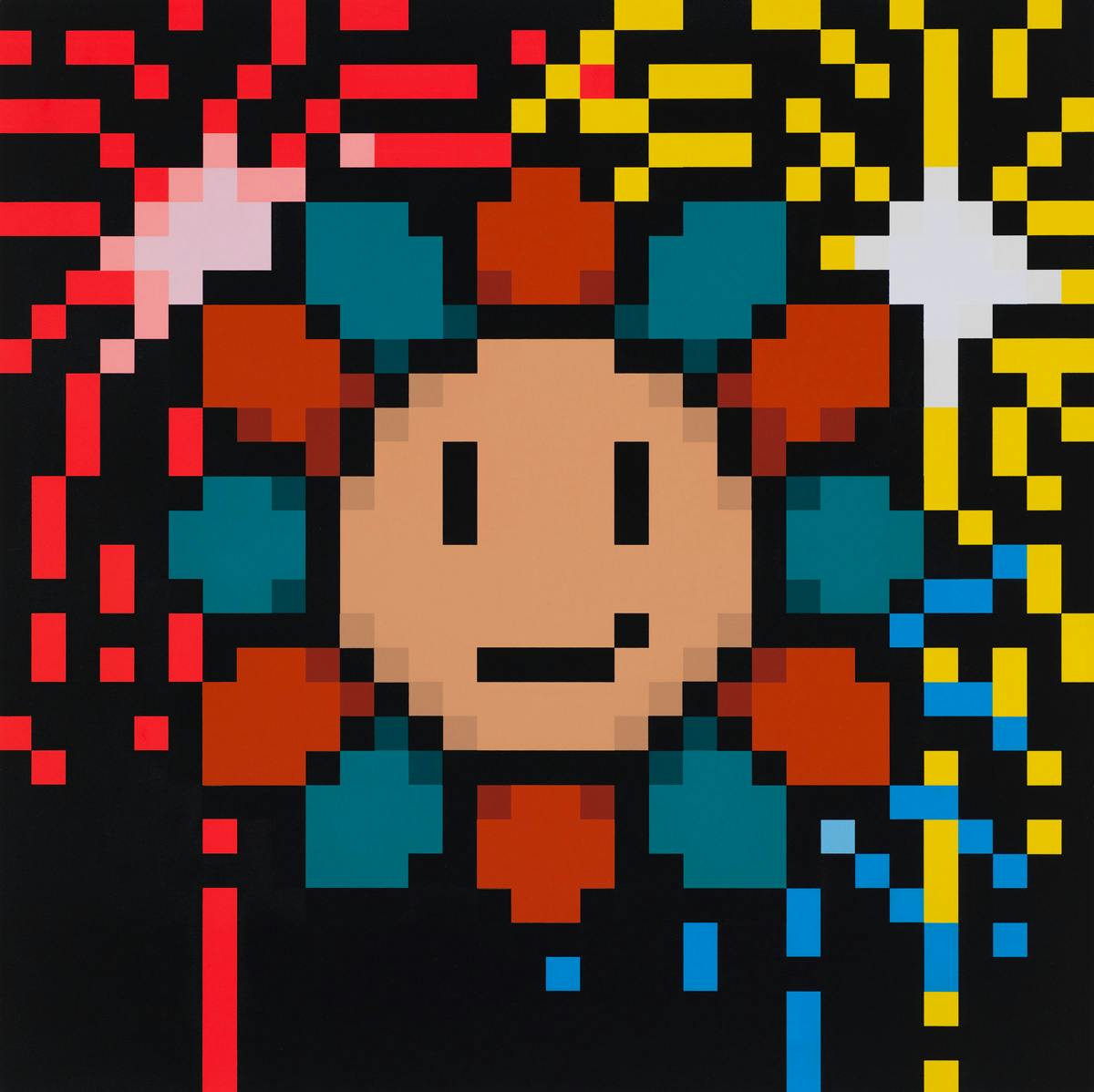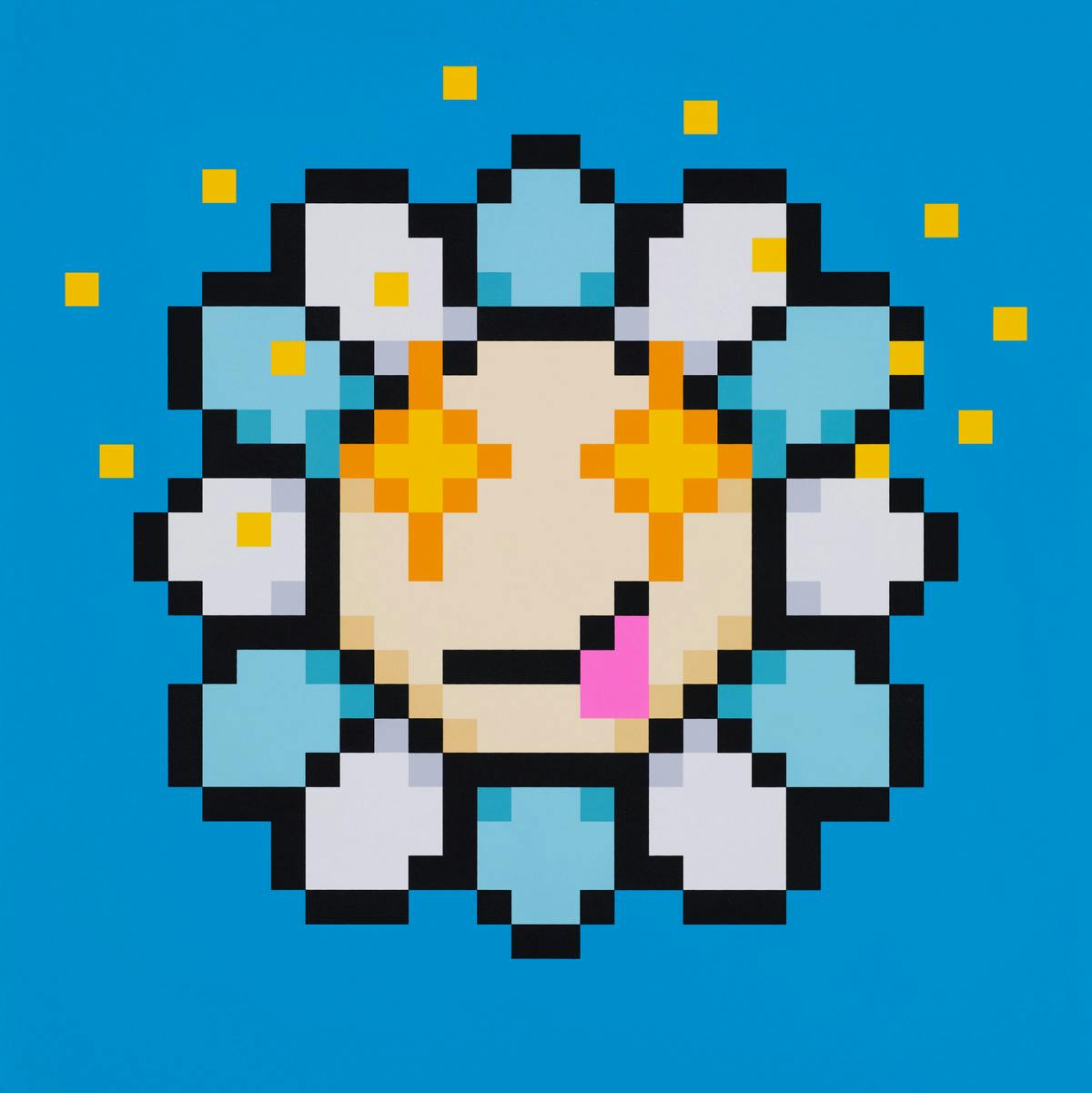 You're known for coining the term Superflat and developing its aesthetic of visual and high-low cultural flattening. In an era of digital art, has the meaning of that term changed?
Compared to 3D, 2D expressions are of course flat, but the theory I had propounded had to do with a Superflat structure, so in my mind, it encompassed the twist that warps flatness into the fourth dimension. In that sense, the Superflat philosophy within the metaverse could become a more comprehensible concept than when it was shared only in the real world.
In light of this new project and the NFT explosion, what are your views on the below concepts? How have these changed with the rise of digital art?
Collector - I believe they will increase at least five-fold.
Collaboration – With the DAO-like shared consciousness, everything will efficiently be conducted through communications online, and profitability will increase.
Commerce (specifically regarding RTFKT) – By bridging digital and real sneakers, a completely new commercial trading can be established. Manufacturers no longer need to depend on the internal, closed-loop process to explore ambitious designs; without even waiting for the IRL release of their products, they can raise money digitally and complete the real designs without any compromise.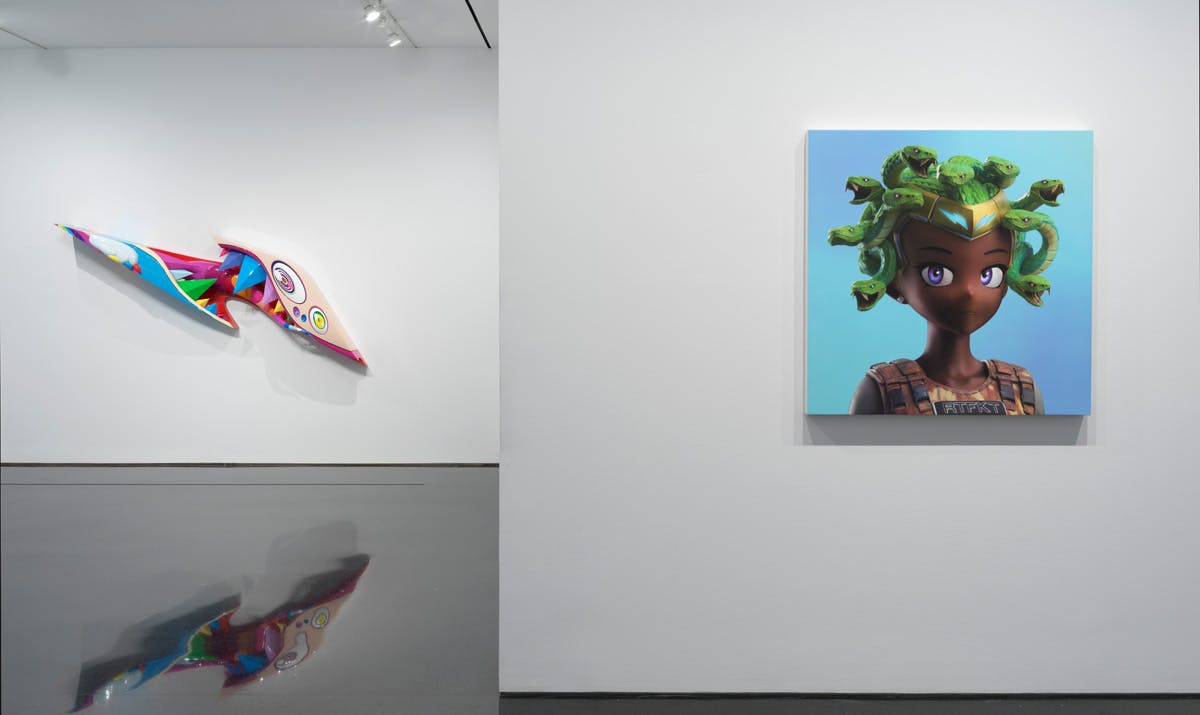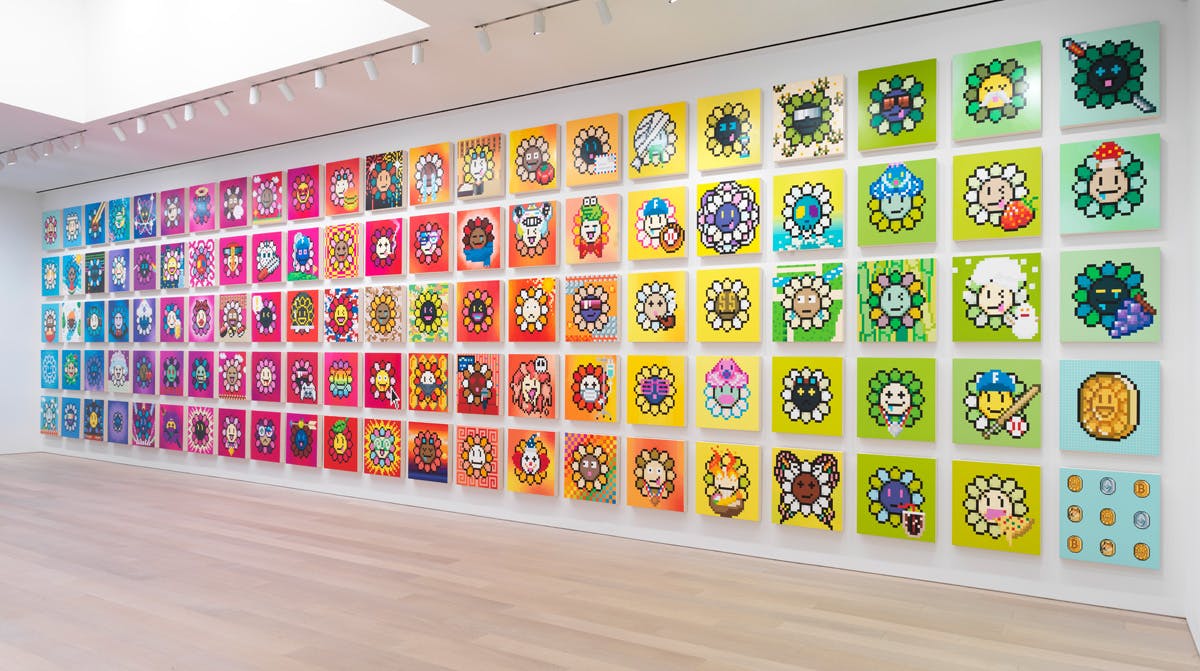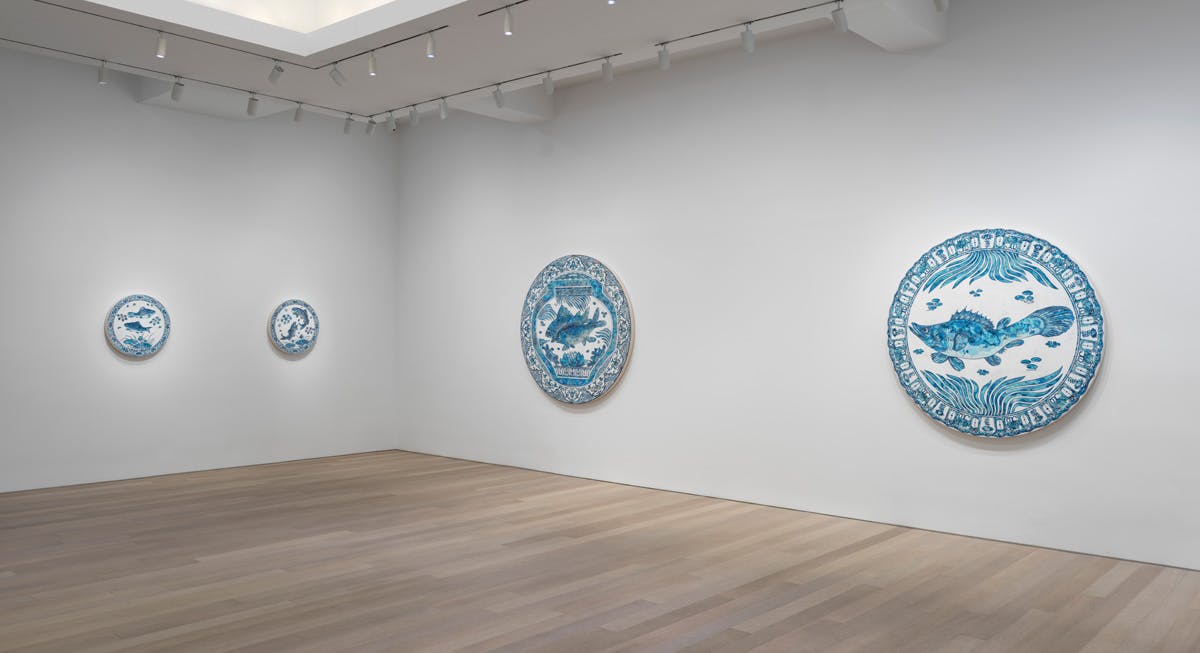 Can you tell me about your porcelain-inspired project that will be on display on Gagosian's sixth floor?
To begin with, the concept of my fish paintings came from the Seika Renchigyo Soumon Tsubo (Blue-and-white Lotus Pond Fish and Water Plants Jar) of Yuan Dynasty China, the finest of such jars in the country's history. Even before I encountered this work, however, I had constantly been painting the fish motif during my university years.
[That] jar is in the collection of Eiichi Ataka, an entrepreneur and collector who went bankrupt from pouring his entire fortune into purchasing ceramics. The Ataka Collection is housed in the Museum of Oriental Ceramics, Osaka, and I got to see the jar in person for the first time the day after my debut exhibition opened at the Aoi Gallery in Osaka. Akira Aoi, the owner of the gallery, took me there, saying he was going to show me the true essence of art. There was a catalog that included a flattened image of the entire design on the jar, and I purchased it even though it was quite expensive.
When I first met with Larry [Gagosian], I somehow had a color reproduction of this image, and I told him that I was hoping to make it into a painting. He liked the idea and said, "That's great, I'm looking forward to it." I got enthusiastic, excited to recreate the work, which had a role in launching my career, in the context of contemporary art, but for a long time I was stalled; I couldn't visualize the completed work, nor could I decide how best to achieve it technically.
Larry asked me how the fish painting was going many times, and each time, I was apologetic, asking him to wait a while longer. My way of painting is not how it's done in ceramics—I cannot quickly paint in a single stroke, and instead must explore each line by erasing and drawing over and over. Ceramicists who paint their work use a brush to paint in a single stroke. Their style is to memorize the lines and paint them all in one go. As I wanted to examine such brush strokes, I asked my ceramicist friend Shin Murata to copy the design of the aforementioned blue-and-white jar on porcelain panels and fire them. I studied them carefully, as well as further inquired Murata about the active movement of the brush before I could finally paint this motif.
After more than a decade, in 2019, I was finally able to present the fish painting at an enormous scale of 2.4m x 17.85m in my show at Gagosian Beverly Hills. I completed the painting in a leap of faith, as I felt I had to keep my promise with Larry no matter what.
The Murakami.Flowers series comes in 108 flowers, a number linked with the principle of bonnō, or temptations. Where does temptation play in your work?
I have worked with themes such as tragedy, reimagining history, mutations, and unreasonableness, so this is my first attempt at tackling bonnō.
With this show's title, and with the exhibition opening at the Broad, how have you been thinking about your own history?
I entered the contemporary art world fascinated by the New York art scene of the '80s. Today, I continue to work in that world, but I still can't believe that my dream has come true and that I am being allowed to work in that dream. So, I have never for a moment forgotten my gratitude toward all those who are involved in my practices. I'm especially bewildered by my own good luck that now, at the age of 60, I got to get involved in something so new like NFT art.
Revisit our FRONTPAGE interview with RTFKT here.