Tiffany & Co's Nike Air Force 1 is dropping in mere days but it's not gonna be alone. The divisive black AF1 will apparently be accompanied by Tiffany Blue version of the Nike low-top, according to Tiffany exec Alexandre Arnault.
Alexandre, son of LVMH CEO Bernard Arnault, revealed the new shoes on his Instagram page, appropos of nothing on March 2.
The two images that he uploaded showcase a Nike AF1 identical to Tiffany's original black design, but with a Tiffany Blue-toned leather upper and outsole.
It's a suitably sudden reveal for an already surprising sneaker team-up: the original Tiffany x Nike AF1 surfaced suddenly in early February and since became a matter of much sneakerhead debate online.
Some commenters were satisfied by the Tiffany AF1's stealth-wealth angle but plenty of others loathed the sneaker's apparent simplicity, indifferent to the subtlety of the silver Swoosh or chunky silver applique on its heel.
Well, a Tiffany Blue shoe ought to please those critics.
Note that early images of the Tiffany Blue Nike AF1 leaked online in February, but onlookers assumed that the sneakers seen in those photos were a mere sample.
Not so, it turns out.
Alexandre Arnault did not reveal any further details of the Tiffany Blue AF1.
However, he did upload an additional image of the sneaker in a shoebox using an angle suspiciously similar to one recently seen on Tiffany's Instagram page.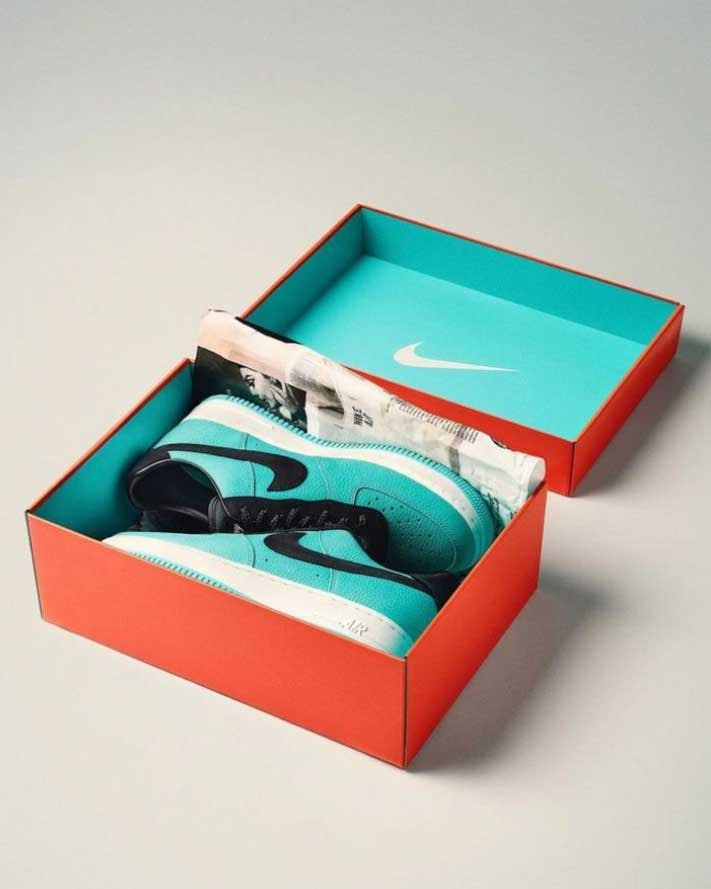 These may very well be a friends-and-family-only sneaker, destined to only ever grace the feet of Beyoncé and JAY-Z.
On the other hand, what if we get a second round of Tiffany AF1s following the black pair's March 7 drop date (for $400 a pair, mind you)? Certainly, you'd think that even more folks would be willing to pay up for the Tiffany Blue pair.
This is the first shoe to officially wear the exact shade that is Tiffany Blue, but Diamond Supply Co was the first to devise its own Tiffany-toned Nike, way back in 2005.
Since then, Diamond Supply has mined the Tiffany Dunk motif more than a few times (most recently with 2018's Black Diamond Dunk) but nothing will ever outpace the influence (or resale value) of that first Diamond Supply Nike collab, cleverly called "Aqua Blue" to avoid copyright concerns.
Tiffany & Co. hasn't uploaded any images of the new colorway itself.
Instead, the jeweler has continued to promote the original black colorway of its Nike AF1, still set to debut on March 7, alongside photos of new brand ambassador Jimin, a member of K-pop supergroup BTS.