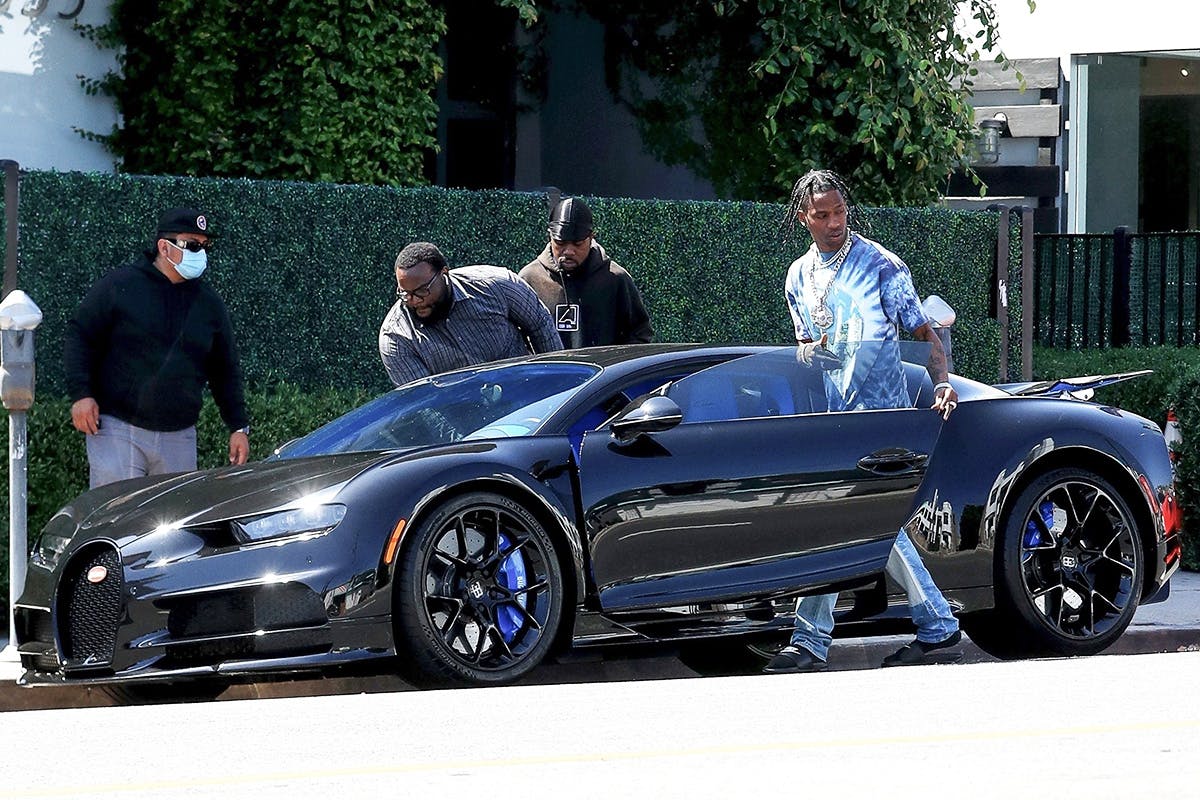 In a new interview with L'Officiel, Travis Scott chats at length about his love of vehicles — he talks of the first car he owned (probably a Mercedes-Benz G-Wagon), his love to customize in order to live like a GTA character, and why car design and colorways are like an extension of yourself.
"I'm into design and colors and the vibes that a car can give you," Scott said. "They are like an extension of yourself ... I guess you could say cars are like a pair of sneakers in the way that they relate to you and your current sense of style. The cool thing is that certain cars give off certain auras, but you can create those auras for the car, too."
He also said he couldn't name all of the cars he owns, so we had a go for him. We probably missed quite a few (and did not include Kylie Jenner's or Stormi's because yes, she has her own collection, too) — but find our selection of Scott's top whips below.
Bugatti Chiron
The successor to Bugatti's Veyron can climb 0 to 100km/h in less than 2.5 seconds, a formidable max speed of 420km/h, and a total power output of 1,500hp.
Lamborghini Huracan
Scott's super subtle BAPE camo-covered Lambo Huracan boasts a 5.2-liter V10 engine, 602 horsepower, and a 240mph top speed. It can hit 0-60mph in 3.4 seconds. Watch him take it for a spin on the wrong side of traffic via the video above.
Lamborghini Aventador
Scott's Lambo Aventador was finished in a stunning matte brown paint, which makes the entire whip look chocolate-dipped. The paintwork is contrasted with white rims, all work courtesy of West Coast Customs. Take a detailed look at their work in the video above.
Range Rover
He also has a Range Rover in the same sweet shade.
Ferrari 488 & LaFerrari
Scott's Ferrari 488 looks like literal fire — the entire thing is finished in burnt orange. This beast has a 3.9-liter twin-turbocharged V8 engine that can pump out 661 horsepower.
He also once bought a rare Ferrari LaFerrari, which is rumored to cost $1.4 million, as a gift for Kylie Jenner. Check it out below.
He also copped a $400,000 Rolls Royce for Jenner, too.
Mercedes Maybach G650
His ultra-rare $1.4 million Maybach G-Wagon is another favorite — it apparently features a massage system and silver champagne flutes. That car is one of 99 ever made and originally arrived in white. Here's what it used to look like.