A timeless shoe evoking effortless style with layered cultural significance - and no need to adhere to trends or hype tactics to impress - it's unsurprising that the PUMA Suede has weathered decades as the trademark shoe of the global underground breaking community.
Between its ties to Tommie Smith's iconic black power salute at the 1968 Olympic Games in Mexico, and New York Knicks legend Walt "Clyde" Frazier who would effortlessly rock the Suede on and off the court, the shoe was naturally embraced by the hip-hop movement that emerged from DJ Kool Herc's rec room parties at 1520 Sedgwick Avenue in 1973.
When hip-hop culture began spilling out of the Bronx and making its way across the continents so did the popularity of the Suede: but for international fans, they were initially difficult to find. British b-boys and b-girls would have to find a hook-up in the US to ship them over the Atlantic, which led to them initially being re-named PUMA States when they were finally released in the UK in the '80s.
As breakers all over the world have continued to innovate and push the boundaries of their dance form - to this day Suedes remain a staple footwear choice. Echoing Walt Frazier himself, contemporary b-boys and b-girls are as likely to wear the shoe in the heat of battle or during a gruelling training session, as they are an everyday sneaker.
We spoke to some of the UK's top breakers about travel, mentorship, style, and their first pair of Suedes.
"You wasn't a real b-boy or b-girl if you didn't have a pair of Suedes," says Karam Singh, a world champion b-boy from Derby who represents the SMAC 19 crew. Known as Kid Karam, the 22-year-old first started breaking after he saw the Trinity Warriors crew performing at a local funfair when he was just seven years old. Due to his age, he had to wait a year before he'd be allowed to take classes, and by 10 he was already dancing at a competitive level.
"The atmosphere was amazing, but being so young I stayed to myself," he remembers. "I was always really quiet. But on the dance floor, I used to blow it up."
Karam's first time out of the UK would be aged 12, when he flew to France and won the kids battle at Chelles Battle Pro. "Some people would never have got outside of their country," he says. "But it opens the doors for opportunity." Karam has since won titles at a number of globally recognised competitions, including World Bboy Classic in Eindhoven, KOD in Changsha and the UK B-Boy Championships in London.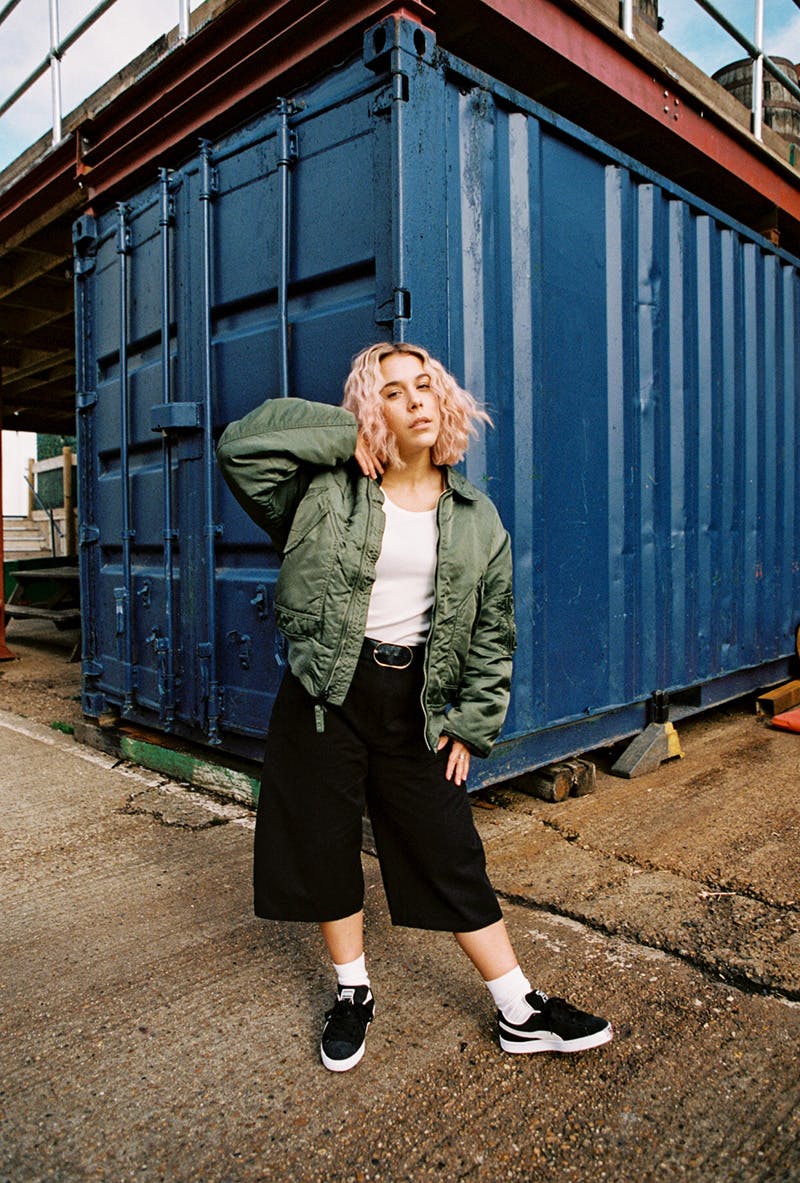 Vanessa Marina started breaking in her native Portugal and studied dance in Lisbon before relocating to London in search of new opportunities. She'd met Spin and Manny of the London crew Soul Mavericks at Eurobattle in Porto, and they introduced her to the local practice spots. "Breaking is kind of small, worldwide, everybody knows everybody," she explains. "If you are active and you can go to every jam to represent yourself, it attracts you to events in other countries."
During COVID, Vanessa has been using Zoom to help develop b-girls around the globe with her Tiny Room Workouts attracting participants from as far as Columbia and India. For her, this is even more rewarding than winning competitions like the world-famous Red Bull BC One, where she won their first-ever B-Girl Cypher last year.
"It was not so much about winning battles," she explains. "But helping other girls achieve the best version of themselves. I always say that shining is more important than winning. If you enter a battle and don't win, you still shine for someone: they will connect with you in some way, and you don't necessarily need to win to do that. There are other kinds of winning."
Jackson Watson, who represents Newcastle's Battalions Cru, spent the majority of 2019 developing his craft overseas, hitting 11 different countries across the year. His travels would take him to Mumbai, India where he was the first UK b-boy to reach the top 16 of the Red Bull BC One Last Chance Cypher, Nanjing, China where he'd win the Champion Jam and Los Angeles where he'd win the Styles No Jokin 2-on-2 with LA native b-boy Panda. But it wasn't the wins that made his year so memorable.
"The best times I had last year were not necessarily going to the competitions, but being able to cypher and dance with people like Stripes from Florida, and the guys I met in LA and India," he says. "That's what really helped me, being able to exchange and chat to these guys that I look up to."
Arran Green, also of Battalions Cru, is focussed on exploring how far he can push himself creatively, with breaking at the core of his practice. Now a teacher at the London Contemporary Dance school, he's also the director of photography at Breakin' Nest - a cultural exchange between b-boys in the UK and Korea, which he says questions, "How do we explore more artistic ideas using our home vocabulary of breaking?"
During a six week tour of Korea, they'd develop their first zine, and continue to expand into other mediums including podcasts, film, live events and parties - one of which was attended by Game Of Thrones' Maisie Williams.
"Being a b-boy gave me the self-confidence to explore other movements, without feeling shy or connected to what other people might think," he says. "If you're engaged with hip-hop culture from a young age, you can build a very strong sense of self."
With talk of breaking being introduced to the Olympic Games at the 2024 Summer Games in Paris, the dance could soon receive unrivalled attention from the world of sports. Having recently completed his degree in sports coaching and development at the University of Derby, Karam is hopeful about the opportunities that this could present. "I want to be the best," he says. "And I want the best for breaking. So no matter where breaking goes because I love it, I'll follow. If it goes all the way to the Olympics, I'll follow it all the way to the Olympics and hopefully get a shot to represent."
Jackson agrees and hopes that the emphasis on competition doesn't overshadow the rest of the culture: "It's going to bring a lot of exposure to the breaking community," he says. "I just hope it's done in the right way so that it's not in the public eye without showing the true art form of it. I don't think it's ever going to be just a sport."
While breaking makes space for individuals to seek out their own goals and represent themselves, the PUMA Suede has played a part in each of the dancer's journeys: Karam remembers that his first pair was a size too big, but that he had to have them regardless; Jackson recalls wanting to mimic the colour co-ordination of his avatar on the 2006's B-Boy for PlayStation 2 when he bought his first pair in red; Vanessa remembers seeking out a purple and blue pair to match the bright colours she'd wear to enter competitions; Arran recalls seeking out a fresh pair to attend Bad Taste Cru's annual Just Jam International. Through various aspects of breaking culture - from travel and community, to mentorship and style - the dancers have all gained a sense of identity that they can all be proud of.
PUMA is now re-releasing a new iteration of the Suede, The Suede Classic XXI, hoping to inspire another generation of cultural game-changers to make an impact on the world in the same way as the many legends who have worn the sneaker have before them.
Check out PUMA's latest Suede Classic XXI collection here.