The year is slowly coming to a close. It is time to wrap your presents, pack your bags, and head home for the holiday season. Not very excited? You're not alone. After the seventh game of Scrabble and countless unwanted lectures from family members, going home for the holidays can be a bit boring.
We're here to shake things up this season, and if you're traveling home to or near the New York City area, then this one is for you. With the help of Vans MTE, a collection fit for every type of winter adventure, we've created a Home For The Holidays NYC Guide.
Inspired by Vans MTE and its inherently dynamic nature, we hit the streets of NYC with Jess Tran, Michelle Li, and Shahd Batal to compile a list of unlikely spots and activities in New York that you (most likely) haven't done before. From Meatpacking to East Williamsburg, read up on our current favorite spots and winter activities in New York City – it's definitely better than staying inside for the entire week.
We kicked off our day by meeting up on NYC's West Side outside of the Vans store where we were met with 10-foot MTE replicas – yes, you read that correctly. The Vans-on-wheels celebrated the latest collection in the most "New York City" way possible with hosts New York Nico and Lil Mo Mozzarella handing out free MTEs to lucky passersby. The stunt was fit with a cozy cabin-style interior, TV fireplace, and all, and attracted a range of Vans fanatics including the city's tallest resident, Bobby.
While getting the perfect shots, we checked in with stylist and writer, Michelle Li, who was sporting the Glitter Sk8-Hi MTE-2 Shoe. Made as much for flattery as for function, the Glitter Sk8-Hi MTE-2 Shoe utilizes Vans' classic silhouette with a sparkly sole. But with this shoe, there's more than meets the eye. "I like how durable the MTE shoes are," says Li. " They have good traction and support, making them the perfect shoe to wear while running around all day in NYC."
Once our photo-op was complete, we went off to grab lunch at a spot worth crossing the East River for, Anthony and Son Panini Shoppe. The self-proclaimed "Sandwich Kings" can truly back their own title, offering the freshest homemade Italian-style paninis Brooklyn has to offer. Whether you are back home from college or decided to move away from home entirely, these are the types of feel-good foods that will have you second-guessing moving away from the city.
When choosing beverages, we caught up with Jess Tran, photographer, and founder of Scallion Pancake, to talk about her shoes of the day, the Ultrarange Exo Hi MTE-2. Known for its day-to-day versatility, the Ultrarange Exo Hi MTE-2 boasts impressive features such as 360-degree waterproof technology, leather detailing, and synthetic uppers – the part that Tran liked best? The comfort. "The MTE shoes were comfy off the bat," says Tran. " From the moment I put them to when I took them off, my feet were warm and cozy, even through hours of traipsing through the city in cold weather."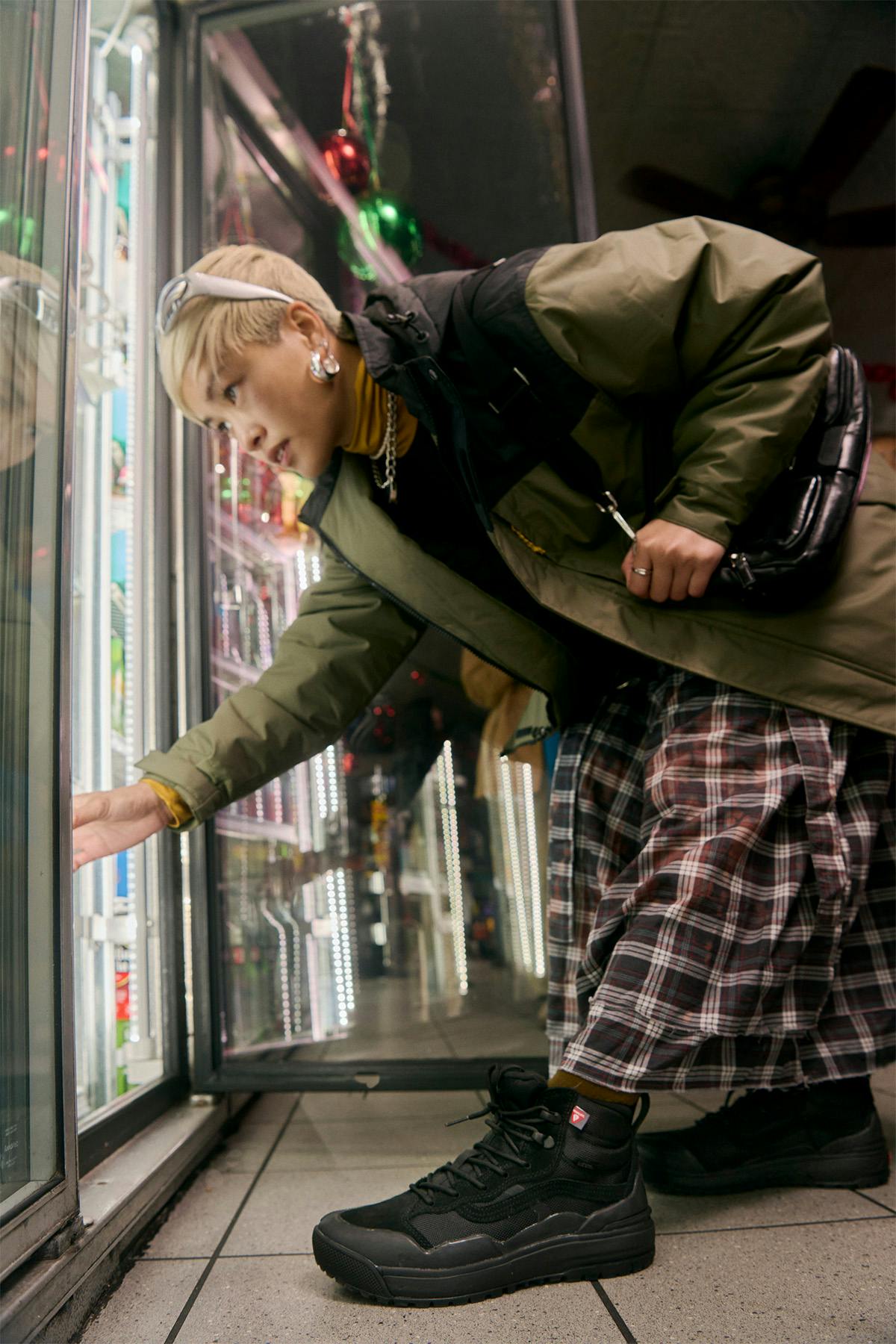 After a quick subway ride – because who doesn't miss the subway when they're away from NYC? – we looked to settle inside and warm up. Finding ourselves in East Williamsburg, we stopped by Scattered Kind, NYC's first tufting workshop. Here, you can put forth any design you'd like to recreate, from your favorite album cover to the cutest Pokémon characters, and create your own custom rug. Fun, simple, and guaranteed to get you out of the house for at least a few hours, this rug-making class will take your holiday season lulls and flip them upside down.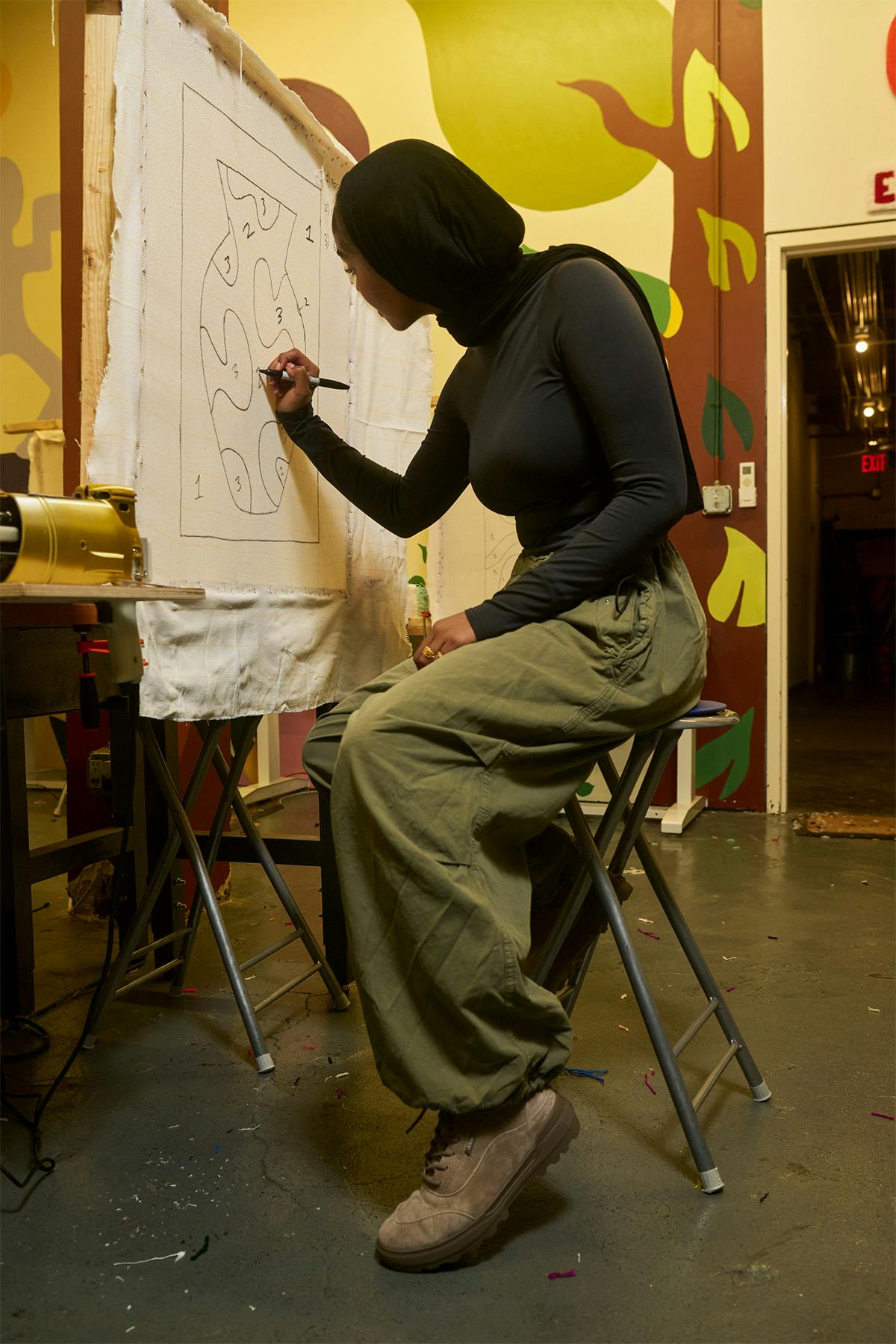 While constructing a masterpiece of her own, we checked in with beauty expert Shahd Batal, who kicked it in the Coastal Colfax Boot MTE-1 Shoe. Made for the elements, the Coastal Colfax Boot MTE-1 Shoe offers a utilitarian design featuring insulation for cold environments and multi-directional treds. While built for performance, Batal couldn't help but notice the shoe's effortless style. Batal adds, "I love this MTE's simple and monochrome design, it makes adapting performance footwear to any outfit very simple."
We rounded out our day at the up-and-coming Manhattan hangout spot that's sure to be jam-packed by 2023, The River. Located in Manhattan's Chinatown, The River's wood-dominant interior with outdoorsy accents such as cow-printed chairs and a wrap-around mural of the Hudson made us feel right at home to conclude our day of on-the-go adventure.
Want to visit more low-key spots to check out over the holidays? Give one of our honorary mentions a try: Gotham Archery Chelsea Piers Golf Club Bocce at Union Hall Socrates Sculpture Garden Chinatown Fair
If you're looking for something to do while home, consider stopping by one of the spots listed on our Home For The Holidays NYC Guide, and if you're looking for some reliable footwear to compliment your next big outing, shop Vans All-Weather MTE collection at vans.com.