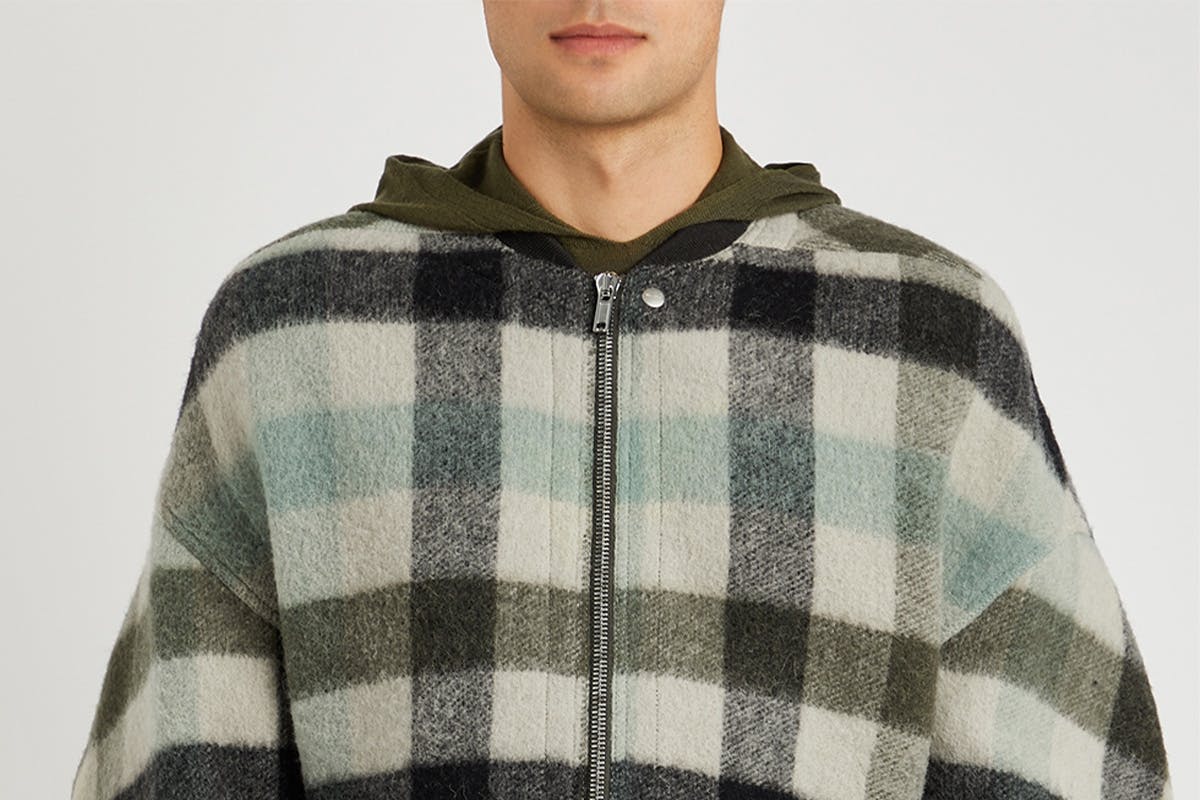 In 2022, you're more likely to cop a technical down jacket with a lightweight, insulating lining than a wool coat for winter. We get it, they're lighter and more effective, but do they really look as good? For centuries, wool was the go-to material when the cold hit, and while down padding has replaced it for the depths of winter, it's still a contender for fall.
Wool coats retain a sense of formality. Even in the form of varsity jackets and bombers — as you'll see below — wool coats feel like a return to all-too-rare classic forms in menswear. Whether you're styling tailored trousers or loungewear, wool jackets will fall in line where a down jacket risks visually downgrading your fit.
Below, we hit the pages of Harvey Nichols to put together some of the best men's wool coats and jackets for fall and winter. Names like Rick Owens and Givenchy accompany Moncler Grenoble, Reese Cooper, and more to prove that all sides of menswear still believe in wool coats.
Shop the best wool coats for fall 2022 below.
OAMC Era Coat
Often, wool coats are at their best when they drop below the knee. OAMC gives us some seriously good, oversized energy here, complete with big lapels and an incongruous zip fastening.
Rick Owens Peter Flight Jacket
Rick Owens takes a break from gothic black for a minute to bring us the Peter Flight Jacket. Built in a bomber jacket silhouette, this piece is cut from soft wool and features a pastel check finish.
Reese Cooper Varsity Jacket
Offering some of the best wool varsity jackets on the market, Reese Cooper's latest season of varsity jackets is one of the best yet. Given its character by a range of chenille patches and the signature Reese Cooper strap across the chest, it really stands out from the crowd.
Givenchy Pea Coat
The pea coat finds its roots in military style, but this Givenchy version is much sleeker than the designs of old. Fitted with minimal silver-tone buttons to fasten the double-breasted build, it's a signature piece of Matthew Williams outerwear.
Oliver Spencer Fowey Bomber Jacket
Oliver Spencer is one of the UK's more reliable designers. You know you're never going to get a bold, head-turning piece; instead, get used to classic, understated staples made to perfection.
NN07 Wilas Overshirt
More patchwork, please. We're still not done with patchwork, especially when it's rendered in subtle greys like this. The Wilas Overshirt from NN07 is super versatile and easy to style as well as being an ideal partner for the transitional weather.
Lanvin Pea Coat
Lanvin's Pea Coat is a little more true to its roots than the earlier Givenchy style. Featuring six buttons to the front and a large, button-shut collar, it's a formal piece of outerwear that can see you through some hairy weather, too.
Nudie Jeans Checked Overshirt
Overshirts are made for fall and we all know that wool overshirts are the best of the lot. This checked version from Nudie Jeans is a layering MVP which makes it a central part of any fall wardrobe.
Moncler Grenoble Gelt Overshirt
Slightly more heavy-duty, but retaining the versatility of an overshirt is the Moncler Grenoble Gelt Overshirt. Fitted with down padding as well as a faux-shearling lining, it's a lot warmer than you think.
Want to keep browsing? Head to the Highsnobiety Shop for more products that we love. Highsnobiety has affiliate marketing partnerships, which means we may receive a commission from your purchase.