London's Oxford Street is always a hive of activity with shoppers from all over the world weaving their way in and out of the biggest brands' stores. But on Tuesday night, the crowd streaming through the doors of the LED-screen clad building across the road from the prestigious Selfridges department store was more stylish than the street's typical visitor and here for a slightly different affair: to celebrate the future of sport and streetwear at adidas' newest and most digitally advanced flagship ever.
Unlike the standard brand event that tries to be a party but doesn't quite manage, the Future of Sport evening was about celebrating ideas and innovation through a well-curated series of informal panel talks, presentations, and demos with the brand's ambassadors and internal experts. The LDN flagship is the brand's most digitally enhanced store yet, and a well-suited backdrop for the conversation.
The evening brought together a roster of adidas' finest including gaming prodigy and adidas' newest collaborator, Tyler Blevins aka Ninja, who played a round of Fortnite with a brave aspiring gamer. Touching on culture, Blondey, Spezial curator Gary Aspden, and adidas collector Robert Brooks assembled on a sofa to discuss the future of streetwear, while rock climber Shauna Coxsey and track and field athlete Jessica Ennis-Hill were among those invited to talk about the future of women's sport. No adidas night would be complete without mention of sneakers, and the brand's creative director of running Sam Handy delivered with a presentation of the second generation Futurecraft Loop sneaker and the innovative Alphaedge 4D.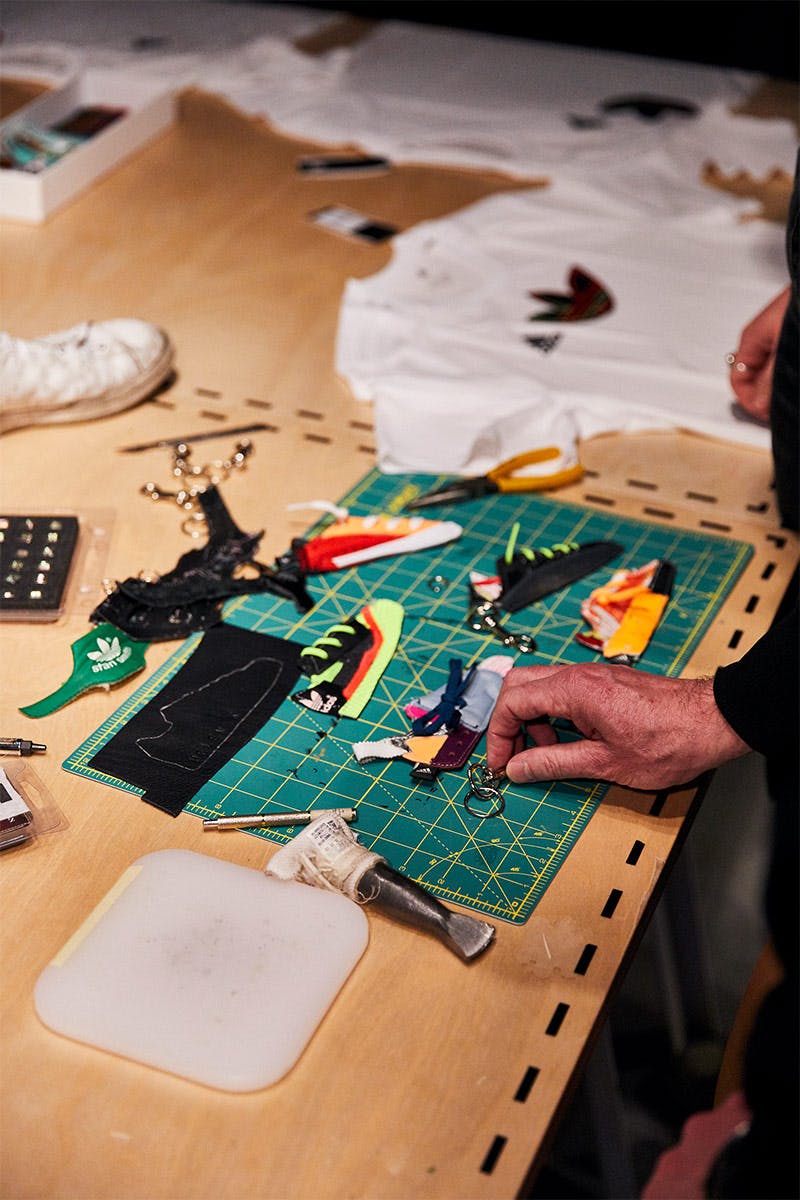 Opening its doors for the first time late last month, adidas LDN sets a new standard in retail for the German brand and for the industry as a whole. Far more than the sum of its products, the store has over 100 digital touchpoints – which are powered entirely by green energy – and feels somewhere between a digital funhouse and museum. There are one-off artworks from local artists, a Crep Protect sneaker cleaning service, and a "Makerlab" zone where you can create bespoke products. In fact, walking around it you hardly feel as though you're shopping. There are few checkout points since products can be ordered, bought, and delivered as you shop via the Bring it To Me app. Earlier that day, David Beckham had used the app to delight unsuspecting shoppers by personally bringing their product to them.
Learn more about the new LDN flagship via the link below.