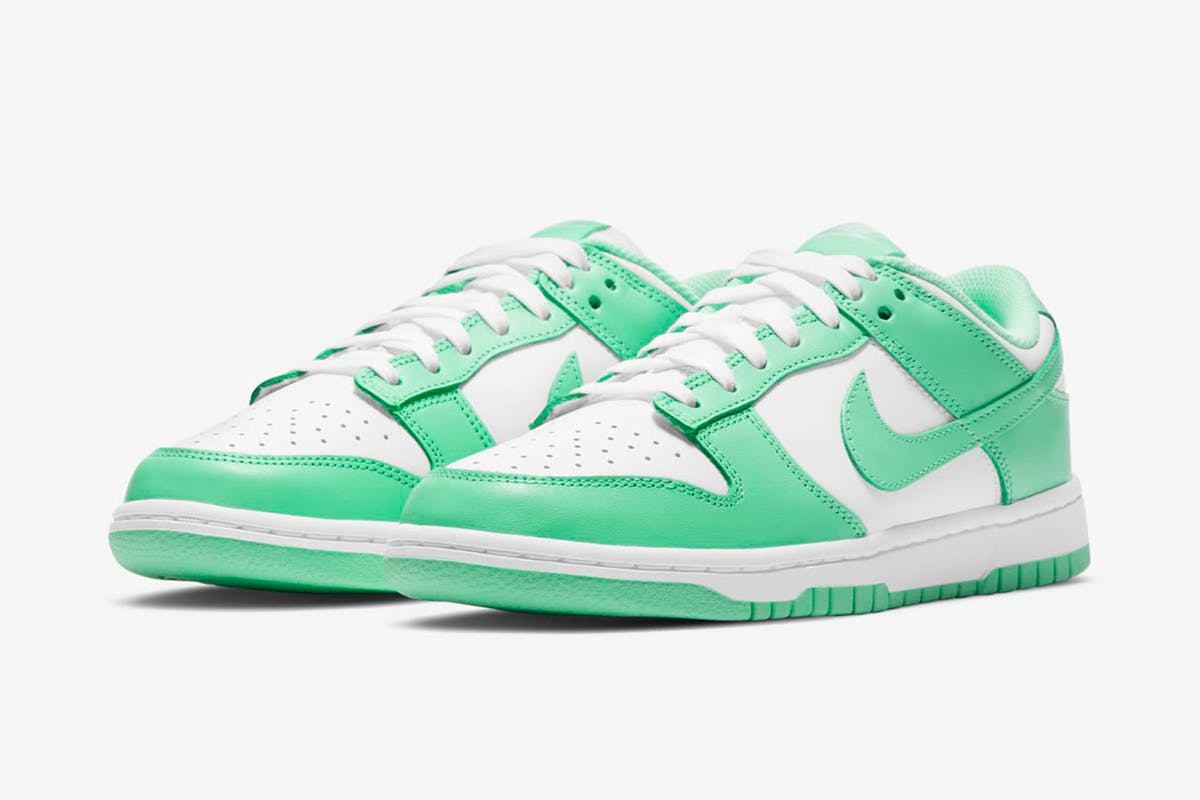 Although first released in 1985 as a basketball sneaker, the Nike Dunk marked the moment that Nike was taken seriously by the skate world. Introduced in 2002, the SB Dunk was not only one of the first successful Nike forays into skating but has remained their most popular for almost two decades. In recent years, though, the Nike Dunk has become one of the more collectible silhouettes of the Nike franchise, with high-profile collaborations fetching upwards of $1,500.
With a slew of wildly popular, leftfield collabs under its belt — The Grateful Dead and Ben & Jerry's sitting front and center — the Dunk can start to seem unattainably pricey. We're here to prove that wrong. If you missed out on retail and don't fancy dropping $1500 on a pair of Dunks, keep scrolling to see our favorite Nike Dunks for under $300.
Scroll down to shop the best Nike Dunks under $300.
Best Dunk Lows Under $300
Nike Dunk Low "Michigan"
The OG Nike Dunk originally made its debut in the 1980s, appearing in the brand's "Be True to Your School" campaign. It was revolutionary at the time, allowing both college athletes and passionate fans to rep their universities with school-matching color-blocked sneakers. The UMich-inspired "Michigan" was part of the original five Dunk sneakers launched in 1985 — first as the Dunk High and eventually as a Dunk Low in 1999. The maize and blue sneaker is historic and elusive, highly coveted by casual fans and Dunk purists. It is a Dunk that does not need a Virgil Zip-tie.
Nike SB x COMME des GARÇONS Dunk Low "Monogram"

COMME des GARÇONS Dunk Low Monogram
(Available at 2 Merchants)
(Available at 2 Merchants)
Nike SB linked up with legendary fashion house COMME des GARÇONS back in 2019 for the house's Spring/Summer 2020 show in Paris. This pair walked the runway, becoming an instant hit with its transparent overlays which give way to the label's text logo underneath. Despite overt branding, this pair remains oddly understated thanks to its greyscale palette.
Nike Dunk Low "Green Glow"

(Available at 2 Merchants)
(Available at 2 Merchants)
We love new colorways that feel familiar. The Dunk Low Green Glow released in Spring 2021 but feels like an old-timer with its classic Dunk color-blocking. Green Glow overlays complement the white backdrop for a sneaker made for the sunshine.
Nike Dunk Low Retro "Hyper Cobalt"

Dunk Low Retro "Hyper Cobalt"
(Available at 2 Merchants)
(Available at 2 Merchants)
Sometimes you can't beat a classic colorway, though. If you've got a head for the classics, then this Hyper Cobalt iteration of the Dunk Low should be right up your street. The Cobalt overlays jump from the black base leather. It's a timeless colorway that we know we'll see again, and we know we'll always love it.
Nike Dunk Low "Midas Gold"
The Dunk was one of the first shoes to color-block. To this day, Nike continues to dress the iconic silhouette in some of the best colorways in the game, year after year. Here, the shoes' signature two-tone looks fantastic with bold red overlays and rich gold leather. It's a super versatile sneaker, perfect for any timeless rotation.
Nike Dunk Low Retro
All of the hallmarks of a great Nike Dunk are here, its retro-styling, a contrasting timeless colorway, and traction-friendly outsole. If the former orange sneaker is perfect for the summer, this colorway will easily carry you into the fall and winter.
Nike Dunk Low "Photon Dust"
We're always here for a quasi-tonal take. The Nike Dunk Low Photon Dust dropped in 2021 but mirrors the two-tone palette of an OG 1985 Dunk from the "Be True To Your School" series. While it may not be associated with a school anymore, this grey & white pair makes for easy styling all year round.
Nike Dunk Low Retro "Animal Pack - Zebra"
The Nike Dunk "Animal Pack" takes what we love about the Dunk and ups the ante introducing rugged contrasting overlays to its black leather body. The subtle Zebra pattern on the sneaker is a nice touch.
Nike Dunk Low Retro "UNLV"
The "UNLV" colorway also made its debut during Nike's 1985 "Be True To Your School" campaign. Today, the heritage-inspired color blocking returns with its varsity red and medium grey upper. It's a welcomed departure from the commonly worn white and red Dunk Lows.
Nike Dunk Low Retro "Champ Colors"

(Available at 2 Merchants)
(Available at 2 Merchants)
Orange and navy isn't a colorway that you see often in the Nike universe, and this pair of Champ Colors Dunks has got us questioning why. Released in June 2020, this pair is dedicated to the 2019 Men's NCAA Basketball Champion Virginia Cavaliers. Call us sentimental, but a Dunk with a story always means more.
Best Dunk Highs Under $300
Nike Dunk High "Spartan Green"
Beginning life as a college basketball sneaker, it's no surprise that the Dunk High often looks its best when outfitted in a pared-back varsity-syle color palette. Released in September 2020, Spartan Green contrasts with immaculate white to give this style a punchy, retro upper.
Nike Dunk High "Game Royal"
The Dunk has a selection of the best general-release colorways in Nike history. Sure, we can argue until the cows come home, but with iterations like this Game Royal colorway, there's only one true winner.
Nike Dunk High fragment design "Beijing"
Whenever Nike and fragment design come together, there are always fireworks. The most recent brainchild of the two labels is this Beijing Dunk High. Deep purple leather forms the basis of the style which is rounded out with black overlays, small print to the sole unit, and a standout fragment design logo in white to the heel. 2021 has been a really good year for the Dunk.
Nike Dunk High SP "Pure Platinum"
Loved the Dunk Low Photon Dust that we focused on earlier? The Pure Platinum follows the same, understated path but finds its own space with a High collar. This time, it really is a tonal white finish and it proves the power of less. Try finding anything that this colorway doesn't look good with.
Want to keep browsing? Head to the Highsnobiety Shop for more products that we love. Highsnobiety has affiliate marketing partnerships, which means we may receive a commission from your purchase.