Cast your mind back to the early 2010s. Remember the Nike Air Max 90 Hyperfuse "Independence Day" Pack? The Yeezy Red Octobers? Toro Bravo Air Jordan 4s? It's fair to say that red sneakers were having a moment – a moment that managed to outstay its welcome.
Fast forward to now, and thanks to a helping hand from Jacquemus and Stüssy, pink sneakers are having a little moment of their own. While pretty pastels and electric pinks haven't had an era quite like what red experienced last decade, there's been plenty of releases worthy of attention.
As it bubbles to the surface, enjoying to well-deserved time in the spotlight, let's look back at some of the best pink sneakers that the industry has had to offer in recent years.
Jacquemus x Nike Air Humara
No list of pink sneakers would be complete without showing some love to Jacquemes' effort on the Nike Air Humara. A recent release, touching down a mere five weeks ago, the sneaker proved a great success. Perhaps its greatest strength is how effectively various rich hues are paired across several fabrications, creating a palette with real depth despite its all-over finish.
As bright as it may be, this pair is a great way to shake off those feelings of uncertainty and finally feel pretty in pink. Go on, dare ya.
Gucci x adidas Gazelle
I'll be the first to admit that I was unsure of the Gucci x adidas sneaker collection on first glance. Honestly, it didn't feel like anything particularly special. Once seeing a few pairs in person, I was hooked.
When you think of pink or any other boldly toned sneaker, it's unlikely that your mind would go straight to a Gazelle, and that's what makes this pair so perfect. Over 500 quid for an otherwise reasonably priced shoe, though? Big oof.
ASCICS FB1-S GEL-PRELEUS
Kiko Kostadinov and ASICS is the best thing since bread and butter. Since the designer and his studio tapped into ASICS Sportstyle, it's delivered class act after class act with very few misfires (if any at all).
One such success story was the FB1-S GEL-PRELEUS in "Pink Rave/Olive Canvas." Pairing bright pink hues with a deep olive green was certainly a risk, but on this occasion, it paid off in a big way.
Nike Air Jordan 1 "Rust Pink"
Honestly, this might be one of the best Air Jordan 1s of all time – for me, these snatch the lead on even the Breds. A bold, controversial statement, I know, but the Art Basel-exclusive hue is truly something special. Clearly, there are a lot of people that would agree, because these continue to fetch a pretty penny on the secondary market.
Balenciaga Track 2
As far as its sneaker designers are concerned, Balenciaga knocked it out of the park with the Track 2. Taking clear pointers from ASICS' archive of runners, the Track 2 capitalized on the success of its first iteration and perfected it.
The resulting canvas served as the perfect foundation for palette creation, yet its block-colored schemes served it best – case in point, a bubblegum pink finish.
ASICS GEL-Kayano 14
When spring rolls around, nothing hits quite like a pair of pastel sneakers. Once again the works of Kiko Kostadinov's design studio, the GEL-Kayano 14's Pastel Pack ticked every box.
For those looking for a sneaker that can ease them into wearing pink, you need look no further – some might even call these purple. They're pink, by the way.
Stüssy x Nike Air Max 2013
When the Air Max 2013 first touched down, it's fair to say its reception was a little lackluster. Following its debut, several colorways reached the market, many of which put the focus on recoloring the 360-degree Air bubble that made the sneaker so unique.
After fading into obscurity, spending the majority of its lifespan sitting on outlet shelves, it was revived by Stüssy. Ensuring it made a big splash for its unexpected return, Stüssy decided one of its three colorways would garner a wink or two. Surely enough, we winked. Some say we're collectively winking to this day.
Joe Freshgoods x New Balance 993 "Performance Art"
Mentioning pink sneakers without throwing some love Joe Freshgoods' way would be out of line. With several pairs of pink kicks under his belt, the man clearly knows a thing or two about executing successfully. The best of them all? Easily the New Balance 993 – just look at the thing!
Kiko Kostadinov x Hysteric Glamour x ASICS GEL-Quantum Lylia 
A recent addition to the pink arsenal, Kiko Kostadinov's link-up with Japanese label Hysteric Glamour went all out on flair to deliver one of the boldest ASICS in recent history. Built with a retro-futurist aesthetic and a touch of tartan, this is a look that'll do well in a sneaker time capsule – space age, baby!
ASICS FN3-S GEL-Kayano 28
Truly, an underrated silhouette, the GEL-Kayano 28 joined Kiko's line-up of ASICS remixes, and despite not being as well received as other pairs within the duo's joint arsenal, they were still a great addition.
A bold statement piece, to say the least, it's always great to see sneaker designers take risks with their palettes, and a pattern-heavy green-on-pink fixture is certainly a bold move.
Nike Dunk Low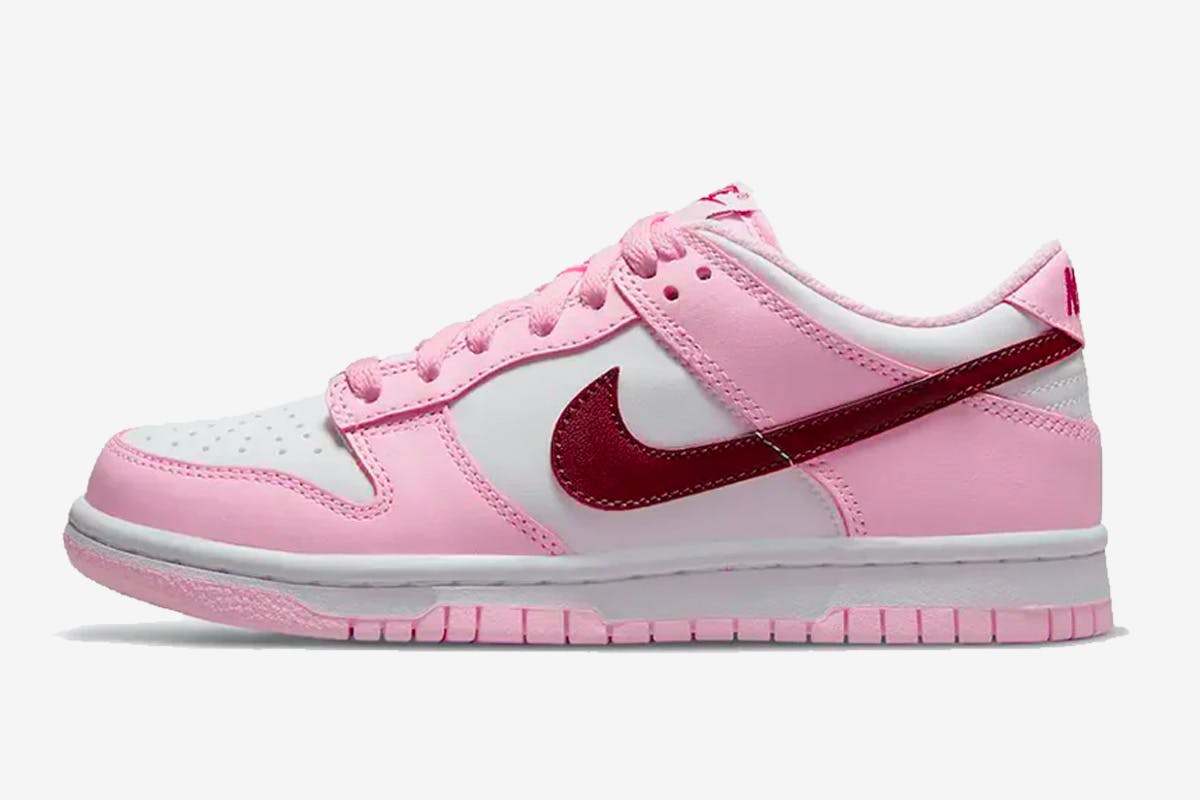 Love them or hate them, pink is a staple of the Dunk Low's extensive offering. Each year, Nike treats its fans to a new version of its "Valentines" Dunk, serving up various hues and fabrications.
Sometimes, simple is best, and even though this one's for the kids, a touch of red against a base of white and baby pink just looks oh-so-perfect.
Shop our favorite products