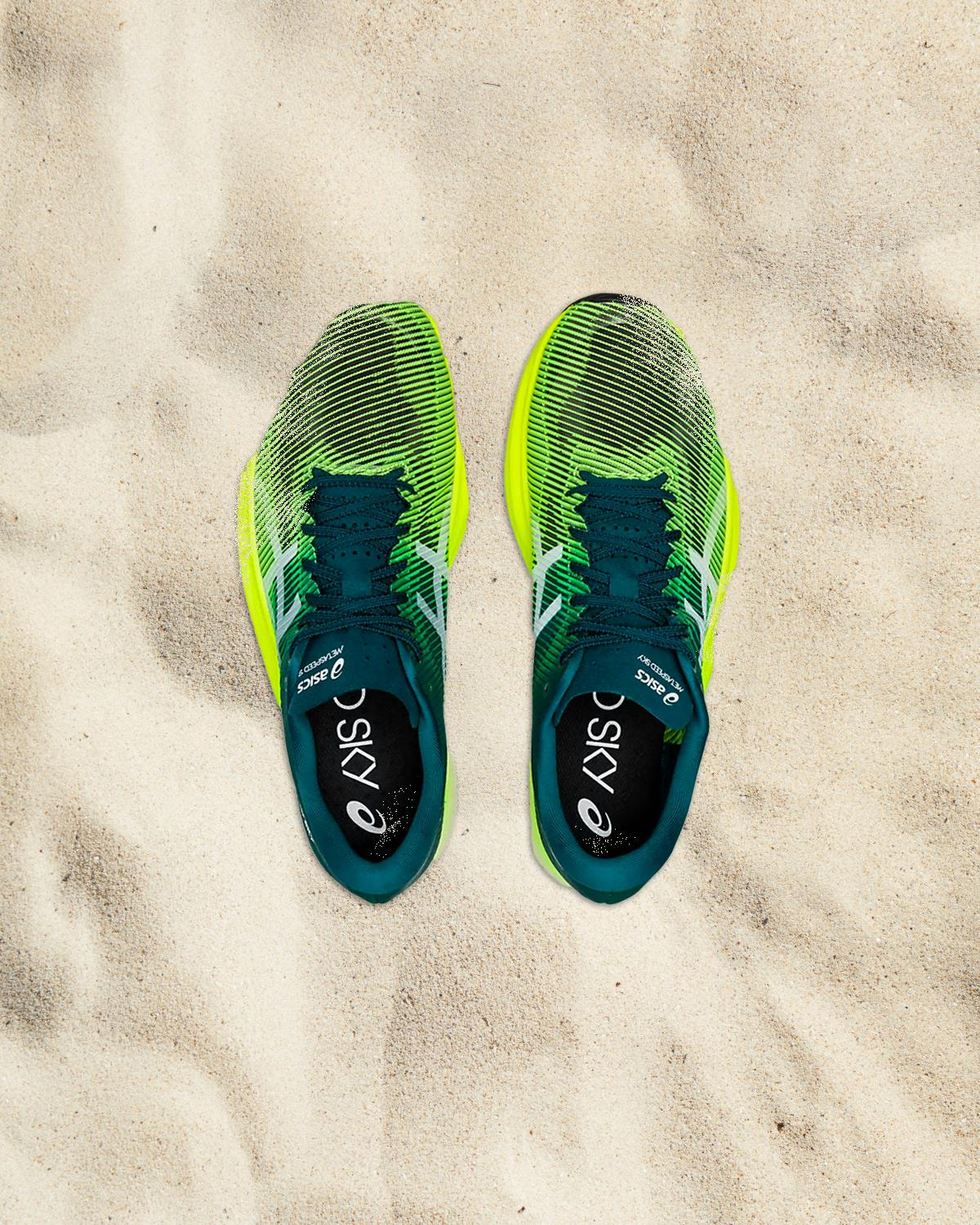 If you ever wanted to run away from it all, the past few years were a perfect time — and the spike in popularity for running has continued to 2023.
Quarantined gyms and work-from-home introduced many to the world's oldest sport. Go outside and you'll see more people running than ever before — whether old, young, fit, or not-so-fit. With coronavirus forcing people to find new ways to stay in shape, we were thrust into what we playfully dubbed a runnaissance.
Part anxiety-reducer, part equipment-free workout, running is as natural as the breath it takes away. From the balls of our feet to the curves of our backs, our bodies are quite literally designed for it. And if the "runner's high" is any indication, they're designed to reward it, too. What our bodies aren't designed for, however, is the modern impact of foot to asphalt.
Whether you're going for an early-morning social distance jog or running a marathon from your balcony, "pounding the pavement" goes both ways. Runners obsess over running shoes because they're the gear that matters. The best shoes don't just soften the impact — they can make running a pleasure. Deciding to lace-up is one thing, but how to choose the best running shoes? That's a whole other question.
Finding the running shoes that work best for you can be an involved — and intimidating — process. But the payoff is worth it. As we approach the warmer months, we put together a guide to the best running shoes for men you can currently buy.
What are the best running shoes?
The best running shoes are those that fit the way you naturally run. That's the big secret.
Some running shoes may be lighter and stiffer and made for racing. These shoes will use "energy-return" technology, like ASICS' Flytefoam or Nike's Zoom Air, to redirect energy from impact into each new step. Others may be bigger and cushier and built for slow miles. These shoes will use "cushioning" technology, like New Balance's FreshFoam or Saucony's PWRRUN+, to lessen felt impact and ease wear on joints.
Some even use hybrid technologies that promise cushioning and energy return, like adidas' BOOST or Nike's ZoomX. These shoes can fit a variety of purposes, depending on how everything north of the sole is kitted out.
But all of that doesn't matter unless the shoe works for you, and for how you run.
A visit to your local running specialty store (if possible) will be the best way to find the right fit. Speaking broadly, running specialty stores (such as JackRabbit in the US or Run and Become in the UK) hire experienced runners as employees and train them to a degree that bigger chains can't. These running shoe experts can then analyze the way you run based on a short jog, and help you find your perfect pair. Specialty stores will likely have an in-store treadmill to facilitate said jog, as well as a wide and impartial selection of brands that a monobrand store does not.
If you're just getting into running, bring questions (and a change of run clothes) to your local specialty store. And if you can't physically make it out to a store, record a video of you running a few steps and send that instead. Shops like New York's Brooklyn Running Company are there to help runners get started right, no matter the times.
How should running shoes fit?
Running shoes are described using two characteristics: cushioning and stability. Every running shoe has these qualities present in some degree, but they're dialed up and down depending on the job of the shoe.
Cushioning is intuitive. A running shoe with more cushion will feel plush and pillowy on every stride. That's generally nicer on joints over long distances, but it does remove the ground feedback that leads to 1) quicker steps and 2) form corrections. The opposite is true of one with less cushion, or what the running world typically calls "responsive" cushioning.
Stability is a little more heady.
Every step of your run is part of what's called your "gait cycle." As your foot hits the ground, your body redistributes the impact of that strike by rolling your foot inwards (like how an action hero rolls after jumping off a roof). That rolling foot motion is called "pronation," and the degree to which your foot pronates determines how much stability you'd need. If you have flat feet (or low arches), you're prone to underpronating. The opposite is true for those with high arches.
So what does that all mean?
It means that those with normal-sized arches should seek shoes that don't load up on stabilizing features such as heel counters, medial posts, or Torsion systems. They'll "overcorrect" a good thing into something not so much. This is different to a shoe being built for durability or feeling "stable" in lateral movement because of features like heavier uppers. Throughout this guide, stability shoes will be referred to as such and have their correcting features called out. These shoes are intended for those with flat feet or high arches.
Generally, running shoes should fit bigger in the toe and tighter in the midfoot than casual shoes. Running as a motion slams your feet forward, so a tight toebox is a quick route to missing toenails.
How to choose running shoes for men?
After you know your stability and cushioning needs (ideally after a visit or chat with your local running shop), picking out one of the best running shoes for men is a matter of personal taste and lifestyle.
Will you be using this shoe exclusively for running, with another pair in your rotation for gym workouts? Double down on a lightweight beast like the HOKA Clifton 6 or Nike's Pegasus Turbo 2.
Will you be looking for one "workout" shoe to do it all, from pickup football to weekend 5K's? Look for a heavier, more versatile shoe like the Brooks Ghost 12 or Asics GEL-KAYANO 26.
Regardless, the worst thing you can do is fall in love with a shoe's looks before knowing your running style and taking it for a spin. Style is nice, but fit is the be-all and end-all. So much of finding the best running shoe for you is trial and error. This is partly why you see runners wearing a wider variety of shoe brands than, say, basketball players. If Nike and adidas don't work for you, find new shoes! It's hard to look cool with a preventable injury. And with runner-friendly return policies like Running Warehouse's 90 day exchange out there, I'd even encourage new runners to pick a selection and see what works (ideally from somewhere local, since, ya know, shipping fumes).
Experienced runners will have tried dozens of shoes before finding the ones that work best for them — the only shoes I regretted were ones I tried to make into something they weren't because of their aesthetics. The good news is: regardless of your running style or your needs, there's a great-looking runner out there. Here are my picks.
Read on to find out the best running shoes for men in 2023
New Balance FuelCell SuperComp Elite v3
The big names in sportswear are always battling it out for top spot. Whether that's in terms of the newest lifestyle push, or the latest, lightest, most technical runner on the market. For New Balance, the FuelCell SuperComp Elite v3 is their bid for top spot in the latter category. When raceday comes around, the training shoes can go back into storage because we're reaching for this pair and this pair only. There are few smoother running experiences thanks to a double-layer FuelCell midsole and new Energy Arc technology. The energy return is seriously noticeable here, and when you hit the last 10 miles of your marathon, you'll be thanking your lucky stars that you're in a pair of New Balance FuelCell SuperComp Elite v3s.
On Cloudultra
The Cloudultra was created in the same vein as On's other models and is essentially a trail running shoes that can do it all. The upper is crafted from a two-part mesh upper that's joined together by a durable filament, while the outsole is made from Helion™ that offers a great amount of return on various surfaces .The Cloudultra has an 8mm heel-toe drop that works best for runners that tend to land on their heel first or for folks that often wear shoes with elevated heels. Even if you aren't planning to participate in any marathons this winter, this shoe is a great choice for short distances as well.
adidas Ultraboost 22
With adidas being one of the best sportswear brands in the world, it's no surprise the Ultraboost family has been by our side for several years now. Sometimes we experiment with other designs, and while some do outperform them in certain arenas, we always end up coming back to the adidas Ultraboost. The Ultraboost 22 is the most performance-eaning Ultraboost yet, exemplified by the raised heel and increased Boost midsole. You'll be hard-pressed to find a more comfortable everyday runner.
Saucony Endorphin Trail
The Endorphin Trail is Saucony's debut sneaker geared towards the trails making use of the original Endorphin's accolades. Like its predecessor, the sneaker comes with the brand's signature SPEEDROLL technology which provides a snappy release that works well for runners primarily using their forefoot. The Trail is also the first silhouette to use Saucony's PWRRUN PB foam which utilizes a 36.5 mm to 32.5 stack that equips runners with plenty of underfoot support. To top it all off, Saucony outfits the upper with a durable FORMFIT mesh to ensure comfortable lock down as you hit the trails.
New Balance Fresh Foam X 1080v12
Probably one of the most popular running silhouettes of the year, the New Balance Fresh Foam X 1080v12 has seen its fair share of 2022 marathons. On that subject, its seen its fair share of 5ks, 10ks, and half marathons, too. All that to say that the midsole mapping, Fresh Foam material, and v12 upper make for the most versatile New Balance running shoe ever made. Don't take that from us, even New Balance says: "If we only made one running shoe, that shoe would be the 1080."
Salomon XT-6 Sneakers
Aside from becoming a mainstay amongst lifestyle sneaker enthusiasts, the XT-6 is one of Salomon's most renowned running sneakers. Originally revamped to tackle the trails and other tricky surfaces, it boasts all of Salomon's top-tier specs from the Contagrip outsole to the EnergyCell midsole that assists with smooth landings while running or walking. This is not only a great choice for casual runners but the sneaker is also a coveted lifestyle silhouette.
Reebok Floatride Energy X
Designed for marathon racing, the Floatride Energy X is one of the latest sneakers to join Reebok's roster. Its upper is made from Flexweave®, a durable woven material that provides both breathability and support in the key areas. Weighing at roughly 9oz, the sneaker comes equipped with Reebok's Floatride Energy Foam that assists during long distances. The 6mm midsole drop is best suited for runners that strike the ground with their forefoot or midsole first and features a carbon plate to increase overall efficiency.
Nike ZoomX Vaporfly Next% 2
As far as premier marathon sneakers go, it's hard to top the latest installment in Nike's Vaporfly series. What makes the Next% 2 special is the consolidated efforts of the full-length carbon plate, and the 8mm drop distance from the heel to the metatarsals made from a polyether block amide (PEBA) foam sole or, as Nike likes to call it, ZoomX. When all of this combines it creates a comfortable, yet propelling force geared towards midfoot striking that makes running seem like you're sprinting on air. The densely woven mesh upper fits securely around your heel for added stability and keeps your feet locked in — Nike even added some more depth to the toe box for folks with a bit more feet. Overall, the Vaporfly Next% 2 is a great investment for serious runners. Its lightweight material and advanced technology are sure to get you through your next race and more with ease.
adidas Ultra 4DFWD
Running shoes are fertile ground for new technology. Everywhere you look, there's confusing jargon and wild visuals. The adidas Ultra 4DFWD certainly has the wild visuals with its 3D-printed trellis sole unit, but there's nothing confusing here. The 4DFWD sole unit is designed to compress forwards so that downward impact transforms into forward momentum. You can really feel it, too. Combine a classic Primeknit upper and Continental outsole, and you're in the sweet spot for a best-in-class all-rounder.
norda RZ 001' Sneakers
Still a relatively young brand, Norda is quickly changing the narrative around trail-running sneakers. Described as the Lamborghini of running shoes by co-founder Willa Martire, the RZ 001 is truly one of a kind. For starters, the entire upper along with the shoe laces are constructed from Dyneema®, the world's strongest and most lightweight fabric. Known for being waterproof, breathable, and stronger than steel, the material is all tightly knit from 100% recycled and bio-based materials. The RZ 001 also boasts VIBRAM® technology utilizing its SLE midsole for extra cushioning as well as its Megagrip® sticky outsole made primarily to perform on wet or dry surfaces.
New Balance x Stone Island FuelCell RC Elite v2
After a year full of releases, New Balance has well and truly established itself as a frontrunner in the sneaker game and no other marathon-ready shoe blends luxury and performance as effortlessly as this FuelCell RC Elite v2. Deconstructed logos from Stone Island and New Balance decorate the breathable and durable upper, while a full-length carbon plate assists with propulsion. If you're looking to cross the finish line in style these are your best bet.
HOKA Clifton 8
It seems just about everywhere you look these days HOKA is becoming more of a go-to sneaker, and for good reason. The young brand founded in 2009 by former Salomon employees has truly redefined the sneaker game. HOKAs are widely known for their chunky outsoles that provide over-the-top comfort. Unlike other sneakers geared towards serious racing that provide an additional snap when running, the Clifton 8's carbon plate is a bit more restrained, which in turn improves your overall efficiency when walking or jogging. The best part about HOKAs is that they combine cushioning and functionality with its early stage Meta-Rocker for easier acceleration, in other words, the Clifton 8 feels like it's saving you energy. The molded EVA sock liner as well as the perforated tongue are the final touches that optimize comfort.
On Cloudswift
Although geared towards runners, the Cloudswift works equally as well for casual wear thanks to its CloudTec® cushioning system that compresses horizontally and vertically for easy landings. The partially recycled upper fits like a pair of socks and provide necessary breathability, while On's signature Helion™ outsole adds the finishing touches to provide you with the full walking-on-clouds experience.
ASICS Gel-1130
The Gel-1130 can be considered one of ASICS' legacy runners. First released in 2008, the sneaker draws inspiration from other sneakers in the GEL-1000 series and, like the Salomon's above, it has been remade to suit lifestyle wear. Key features on this model include the GEL® technology in the heel which provides all-day cushioning whether you're running or simply walking around the office. The Gel-1130 also offers ASICS' reliable TRUSSTIC™ support system that prevents the shoe from twisting while the mesh underlays leave room for maximum breathability.
Soulland x Li Ning Furious Rider 6 
Li-Ning's ascendance in the sneaker game is just as glorious as it aesthetics and technology it applies to its footwear. The new iteration of the Furious Rider comes courtesy of three-time collaborator Soulland and provides more than meets the eye. Released as part of its PRE-INTER-POST collection, along with an updated version of the Shadow, the new drop celebrates the art of movement. Designed specifically for runners, the sturdy Furious Rider 6 uses Li-Ning's Boom Tech midsole to give runners an extra lightweight bounce. Like previous versions of the model, the Furious Rider is housed in a breathable mesh upper but uses Heel Loc Tech to provide the highest level of heel stabilization while sprinting. When combined with Probar Loc technology and Dual Loc technology the sneaker offers maximum stability to ensure your feet won't get injured. All of this is sublimely packaged in a stealth-coloured silhouette that maintains a low-key vibe so you can remain focused on your run.
Mizuno Wave Creation 20
While Mizuno is now mostly known for its eye-catching sneakers the company originally started as a shop in 1906 that sold athletic equipment. Though Mizuno began experimenting with footwear not long after its inception, the Wave technology we know today first arrived in 1998 with the brand's Wave Rider 1.
There's a reason why the Osaka-based company continues to build on the heritage of its iconic silhouette, and it's simply because the technology works. The Wave Creation 20 is geared towards runners that have average to high arches in their feet, and offers a lot of support where it counts. The exterior of the shoe crafted from several layers of breathable mesh and stitched overlays, while the interior houses the brand's Infinity Wave Plate along with a Pebax® plate that maintains heel support as well as assisting with shock absorption.
Like other brands on this list, Mizuno's lifestyle sneakers offer loads of comfort as well, but if you're planning on taking your running to the next level, these will do just fine.
La Sportiva Jackal
La Sportiva's Jackal was made to tackle tough terrains. Weighing at just over 10 ounces, the midnight shoe sports an abrasion resistant micro-fiber upper that offers breathability on long distance runs. Under the hood of the Jackal lies an Ortholite insole as well as the brand's Infinitoo™ midsole that absorbs impact and provides energy return. What sets the Jackal apart from other trail runners is its FriXion® XT 2.0 outsole that's made with deep lugs that enhances grip and durability so you can run through the trails or city streets without any hiccups.
Nike Zoom Fly 5
In a similar vein to the Ultraboost, the Nike Zoom Fly family has become a central pillar in the modern-day running shoe scene. Now in its fifth generation, the Nike Zoom Fly is chunkier than ever. The new ZoomX foam midsole is even more lightweight than previous generations, but with wider support to the heel and forefoot, there's no reduction in stability. Perhaps most importantly, the shoe retains the famous carbon-fiber plate within the sole unit that boosts propulsion in every step.
ASICS METASPEED SKY +
ASICS is one of the few legacy brands that have built an empire solely dedicated to the art of running. While the brand has often ventured into other sports and lifestyle wear, running remains its true passion. The updated METASPEED SKY + is one of ASICS' premier running shoes, weighing only 7.2 oz and featuring the brand's MOTION WRAP™ lightweight upper for a more stable foothold. A full carbon plate combined with the updated geometric midsole provides more support along the sidewalls and creates a snappy response that remains stable at fast, or slower speeds. The low 5mm heel-toe drop is designed especially for runners who land on the middle, or front of their feet. You can expect a good amount of energy return when running in these as it's one of those shoes that excel at racing. The green-yellow gradient puts the finishing touches on this outstanding shoe, and if you're a more seasoned runner considering a marathon, these might be your best bet.
La Sportiva Ultra Raptor
La Sportiva's Ultra Raptor is a trail beast: a burly, cushioned-out, rock-breaker with the heft and confidence of a light hiking shoe. Rest assured, you can still run long in it. But at 12.1oz, it's best to think of this as a running shoe for those who plan to stay in the woods. I mention it here since, in a cosmic sense, the Ultra Raptor may just be the most versatile running shoe on this list. A capable trail runner that can pull its own weight as a hiking shoe, pavement jogger, and, if you believe A$AP Nast, a style piece. "All-terrain," indeed.
HOKA Bondi 8 Sneakers
Just when it felt like the HOKA sole unit couldn't get any chunkier, the brand dropped the Bondi 8. This mammoth runner is a serious game-changer with a sole unit ready to convert any HOKA naysayers out there. Give it one chance, and we promise you'll never look back. A reinforced heel, unmatched energy return in each step, and a lighter mesh upper make this one of the MVPs of the running world in 2022.
Athletic Propulsion Labs Techloom Tracer
Of course, this roundup is going to feature many models from the giants of sportswear. Nike, adidas, New Balance, and the like generally dominate the running shoes space. There are, however, still spaces for younger brands doing it right to make a difference, though. This year, one of our standout discoveries has been Athletic Propulsion Labs, whose tech-heavy approach has birthed lightweight runners like the Techloom Tracer. Boasting a proprietary Propelium sole unit for energy return, the ultralight neoprene and mesh upper hugs the foot for a barely-there feel.
New Balance Fresh Foam X
Now that the weather's less than ideal, it's all too easy to give up on your run schedule before you've even left the house. That's why it's really important to have a pair of robust trail runners in the locker. New Balance's Fresh Foam X have been our go-to pair when the weather's bad for a while now, combatting adverse conditions with a Vibram outsole, Fresh Foam cushioning to the midsole, and a lightweight but waterproof GORE-TEX upper.
Want to keep browsing? Head to the Highsnobiety Shop for more products that we love. Highsnobiety has affiliate marketing partnerships, which means we may receive a commission from your purchase.