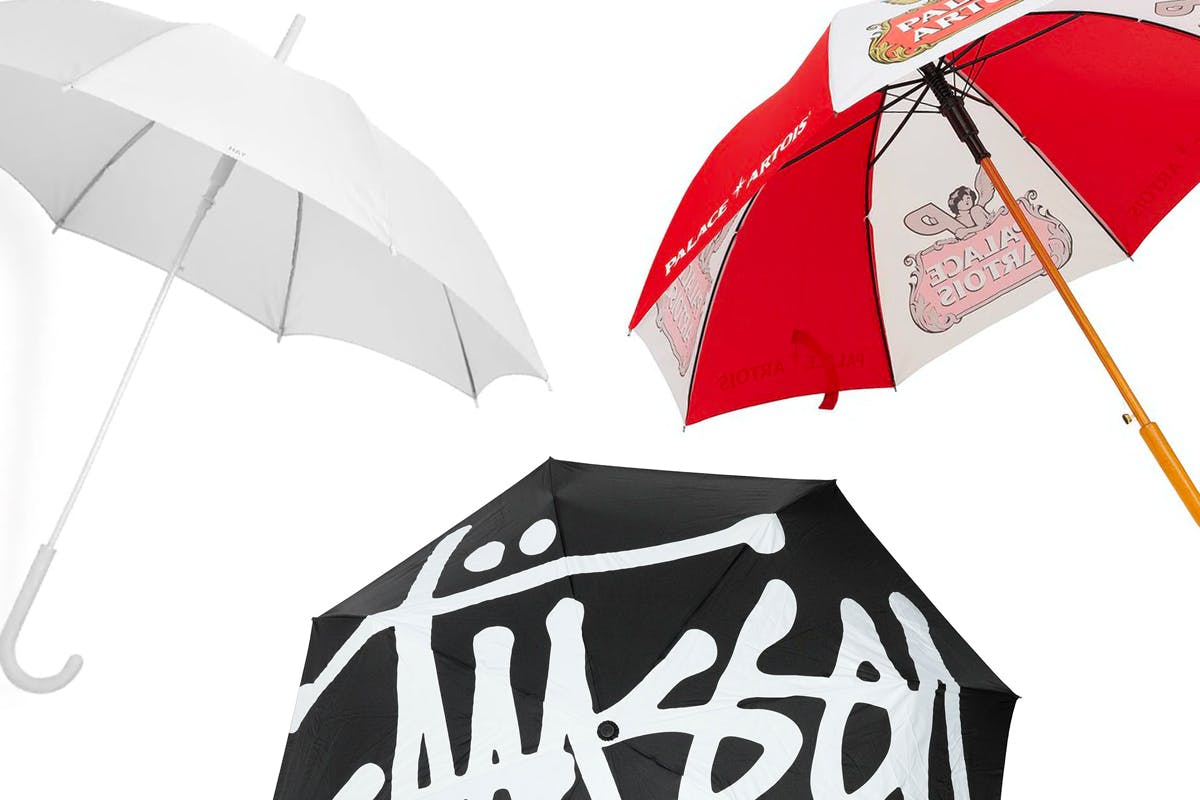 It's long been said that the arrival of fall marks the return of "real dressing." That doesn't mean dressing well comes easy in the colder months, though. The Highsnobiety Fall Fit Toolkit is here to help you through the transition to (literally) bigger and better clothing.
Though the weather is at its most unpredictable right now, the umbrella is still so often shamefully overlooked when it comes to transition essentials. Even brands themselves tend to steer clear of the umbrella while happily plastering a text logo across almost every other possible accessory imaginable.
A well-made umbrella with an effective mechanism is a beautiful object — a simple and satisfyingly efficient piece of equipment that gets the job done. When you manage to find an umbrella that looks good, too, you should hold on tight to it.
Whether you're looking for something understated or another name to add to your wardrobe, the umbrella is an underrated way to rejig your seasonal looks. We've picked out 10 of our current favorites to pop up with pride this fall.
Keep scrolling for umbrellas that are actually cool.
KITH
This year's Olympic Games might be over, but you're 100m sprint for the last bus of the night in torrential rain is not.
Stüssy
Stüssy is no stranger to stamping its world-recognized name on accessories far and wide, from Christmas tree baubles to teapots. Thank god they remembered the umbrella.
Palace x Stella Artois
Palace's second team-up with the UK's favorite Belgian beer has served pint-loads of more logo-heavy apparel and fun accessories. You won't mix up your umbrella with someone elses's at the pub if you're carrying this one.
Snow Peak
People hunting stylish outdoor gear now tend to follow the trail of Snow Peak and Snow Peak only. Its camping gear is wildly good, but it does plenty of stuff for the anti-tenters, too.
Burberry
Designer umbrellas serve as an extension to the brands you stan as well as canvases for logos or bold prints you might wear elsewhere on your body. Case in point: this fall-ready accessory dressed in Burberry's iconic check print.
Neighborhood
There's nothing worse than trying to extend a flimsy umbrella in heavy rain while your fit gets soggier by the second. Luckily, this one from Neighborhood pops up via one easy button.
Supreme
If you're a Supreme stan, you've probably been using this SS21 umbrella by the brand all summer already. Now it's finally time to use it in the conditions it was made for.
Hay
This all-white umbrella is brave. Cool, but brave.
Want to keep browsing? Head to the Highsnobiety Shop for more products that we love. Highsnobiety has affiliate marketing partnerships, which means we may receive a commission from your purchase.