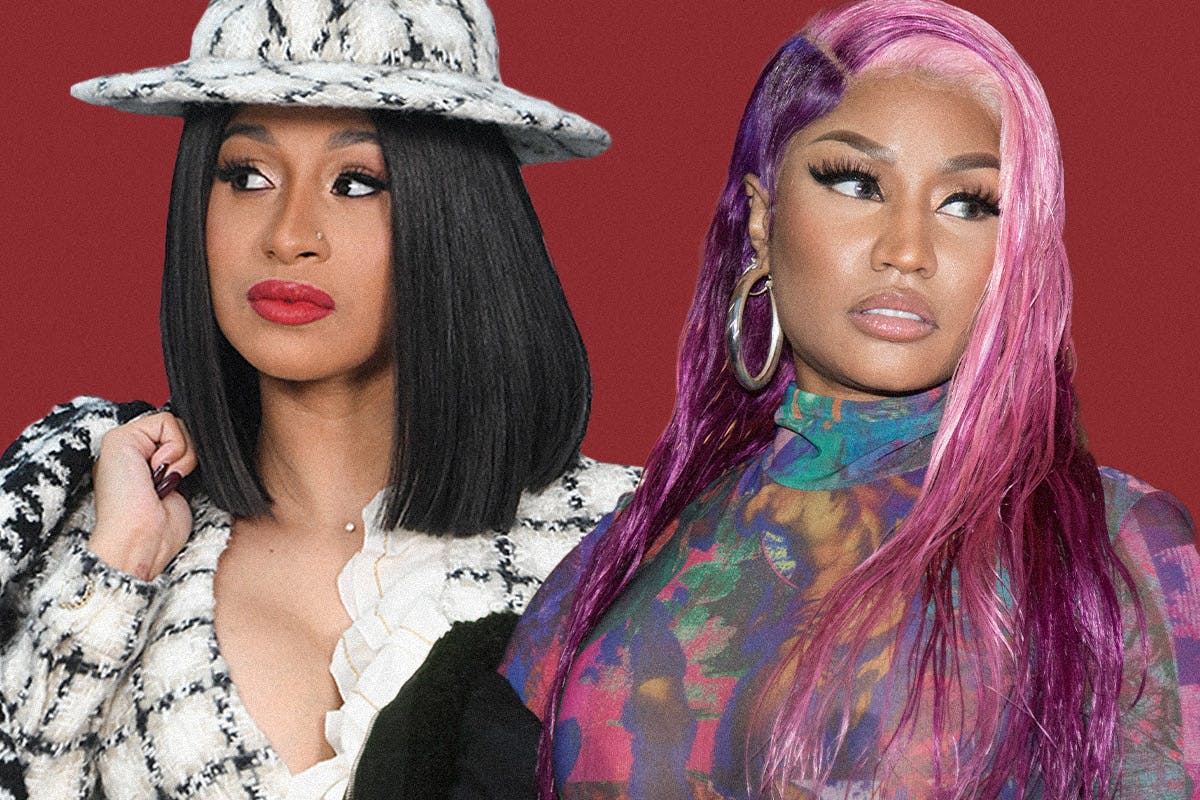 Rumors are running rampant across social media that Cardi B and Nicki Minaj have a collaboration in the works. If true, a joint song could end their long-running feud once and for all, and potentially upset the male-dominated rap game beyond measure.
According to HotNewHipHop, Cardi and Minaj's rumored collab is called "Lavish." A snippet of the song has been circulating on the internet and it even briefly had a page on Genius before being removed.
Whispers began circulating last week when Cardi – in the midst of arguing with Nicki's fan base – hinted that she has something in the works that could upset the Barbz. "Since ya mad ..imma give ya something mad to be about …..This next single and coll- ….Gonna have ya sick….since ya here," she wrote, followed with four winking emojis.
For years, it seemed unlikely that the two would ever work together after being embroiled in a very public feud, which included a famous shoe-throwing incident at the Harper's Bazaar Icons party in 2018. However, the bad blood between Cardi B and Nicki Minaj could be a thing of the past. In fact, a collaboration could be the latest – and biggest – step in putting that tired narrative of women in rap being pitted against each other to bed.
As heated as the beef got, for a long time it had very little to do with Cardi and Nicki. Instead, it was an iteration of an industry phenomenon, which demands women rappers should constantly be in competition with one another. "I feel like people wouldn't even be satisfied if me and [Nicki] was making out on a freaking photo. I feel like people just want that drama because it's entertaining," Cardi told Complex in 2018.
Cardi's most recent collaboration is another middle finger to that aged concept. When Bardi united with Megan Thee Stallion on "WAP," they used the video to highlight – rather than bash – their peers Rubi Rose, Sukihana, and Mulatto. While the world was obsessed with dissecting and criticizing the song's raunchy lyrics, Meg and Cardi had presented a solution to the dilemma: if you don't like what we have to offer, you can listen to someone else.
Cardi spoke to Apple Music about choosing to feature other female rappers in the "WAP" video, saying, "There's a lot of female artists right now and all of them are a little bit different from me [...] People need somebody to relate to or to gravitate to. But people be trying to make it about beef.
"I feel like people be wanting to put female artists against each other," she continued. "It's the people that be trying to do that sh-t. You know what I'm saying? Every single time I feel like there's a female artist that's coming up, coming up, coming up and it's getting they mainstream moment, I always see like little slick comments like, 'Oh, they taking over your spot. They taking over this. They taking over that.' And it just makes me feel like, damn, why it had to be like that?"
While Nicki and Cardi fell into the industry trap laid out for them, Megan Thee Stallion has swerved similar headlines insinuating feuds; instead, she comes through with stellar collabs. "In every industry, women are pitted against one another, but especially in hip-hop, where it seems as if the male-dominated ecosystem can handle only one female rapper at a time," she told the New York Times. "Countless times, people have tried to pit me against Nicki Minaj and Cardi B, two incredible entertainers and strong women. I'm not 'the new' anyone; we are all unique in our own ways."
Collectively, Cardi and Megan challenged the notion that there can only be one dominant woman in rap. And a potential Cardi-Nicki collaboration could finally put that outdated patriarchal concept to rest.