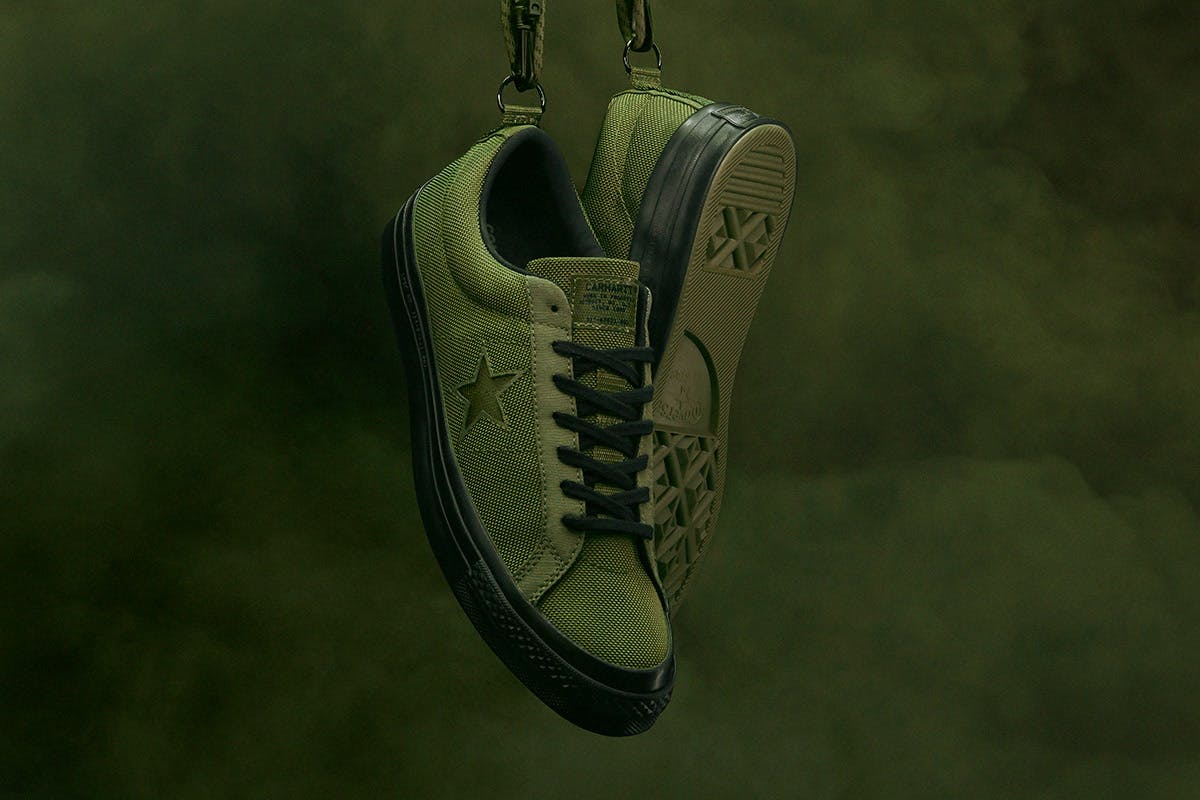 Beyond being much-loved, iconic brands with deep roots in Americana, Carhartt WIP (Work in Progress) and Converse have more in common than first meets the eye. Both ensure their products are designed and made with functionality in mind. Additionally, their consumers come from a wide range of backgrounds, subcultures, and social scenes. You'll see Carhartt WIP and Converse being rocked by everyone from punks to athletes to factory workers.
Today, Highsnobiety exclusively unveils the upcoming Carhartt WIP x Converse One Star pack in full. The pack comprises three colorways (black, white, and olive) and is inspired by the adaptation of military workwear for the street. Details such as extra-tough Cordura fabric, an accompanying hangtag, and military-inspired bandolier heel stay webbing with D-ring hardware play to this theme perfectly.
Ahead of the kicks' official September 20 unveiling at Spazio Maiocchi in Milan, Converse design director Matt Sleep and Carhartt WIP brand director Wilfried Atzert answered our questions about the project's inspiration, where both brands stand with regard to streetwear, and what the future holds.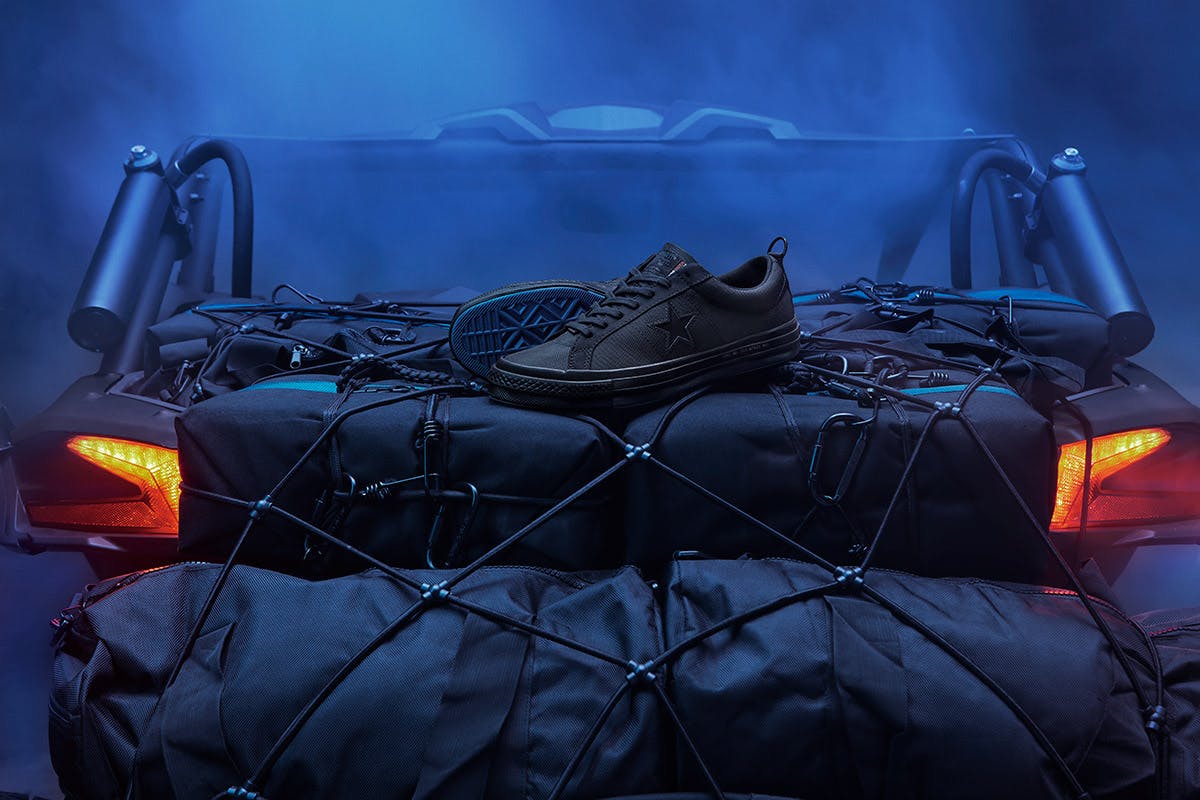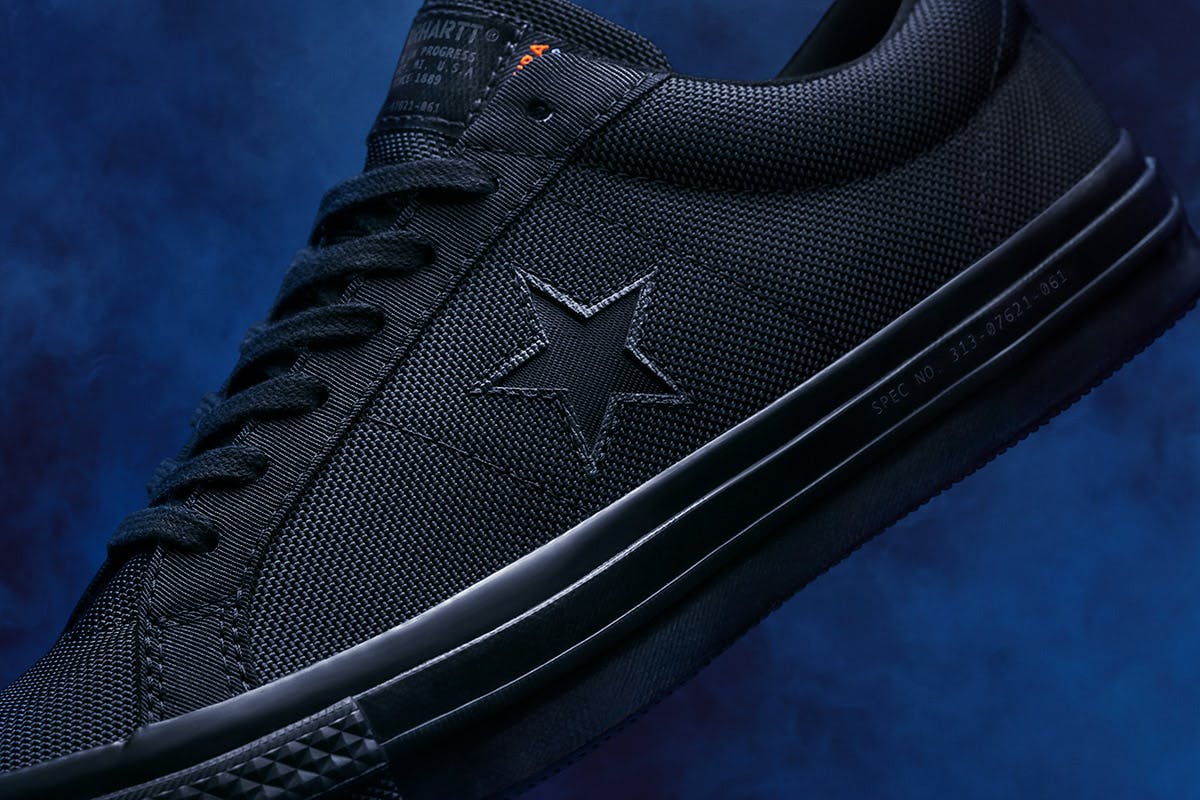 What is the primary inspiration behind the collection?
Wilfried Atzert, Carhartt WIP: We took inspiration from military bags and, in general, the way military clothing has been repurposed by people wearing it on the street. Since very early on, we've incorporated military fabrics and details into our clothes, but with the One Star we wanted to do this with a clean, modern approach. The sleek contrast outsole and robust Cordura fabric are how we've translated this element of Carhartt WIP's DNA into a contemporary, utilitarian sneaker. There are also lots of subtle details, like D-ring hardware and labelling that references the coordinates of our headquarters.
Can you share insights into the relationship with Converse?
Atzert: We first collaborated with Converse in 2017, merging the classic aesthetics of both brands to create three variations of the Chuck 70. The result was a celebration of renowned Carhartt WIP pieces, taking details and fabrics — such as triple stitching, duck canvas, and ripstop camouflage — and applying them to the most iconic sneaker ever made.
While the first collaboration was about bringing the brands together in their purest, most logical form, the second is about looking at how those iconic pieces have evolved and remain relevant today.
The One Star sneaker was originally launched in the '70s as a basketball sneaker, but it crossed over into skateboarding and subculture, and today still looks fresh. Similarly, at Carhartt WIP, we have always incorporated military and street-level references into our clothes, which have then been reappropriated by subcultures and scenes both in Europe and the US.
So, with this One Star, we wanted to reflect those cultural reference points, and people's interpretations of both Carhartt WIP and Converse, but from a standpoint that's reflective of 2018.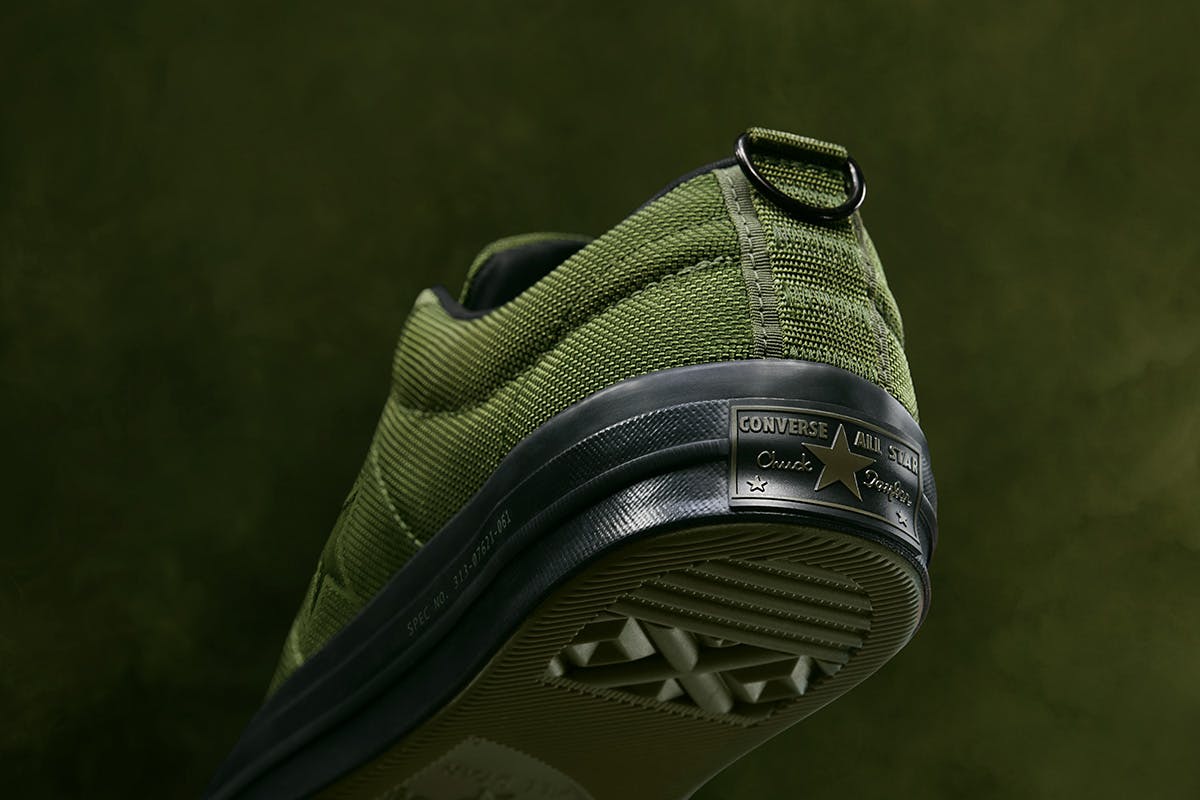 What did Carhartt WIP bring to the collaboration?
Matt Sleep, Converse: Quite honestly, the same thing they always do: strong ideas that are grounded in both functionality and timeless style! They understand both brand identities very well and are able to convey these seamlessly in their ideation and design. As a result, we get a set of three interesting, durable One Stars which we are both proud of.
How have you seen streetwear and workwear evolve?
Atzert: Streetwear and workwear have always been connected, because various scenes — from skateboarding to graffiti, rap to techno — have looked for clothes that are no-nonsense, durable, and affordable. Workwear provides that — it has been designed to function. Any detail on a piece of workwear has a reason for its existence. It's not "fashion."
But the overlap between workwear, streetwear, and high fashion has been really noticeable in recent years, with a lot of really talented young designers blending all these references together to create something new but still rooted in timeless design. It's an interesting shift.
How do you see the intersection between streetwear and workwear?
Sleep: From a product perspective, I think both have gone hand-in-hand for a very long time. A lot of streetwear aesthetics are born from traditional products and designs that have been celebrated because of both aesthetics and functionality. Workwear by definition has given you both — a product that is resilient, comfortable, protective, and looks like it serves a purpose.
The nuance of streetwear is then to put that clever twist on what has gone before, to give it more individuality in the context of style. It is this juxtaposition that I believe births new design languages and takes products to new, interesting places.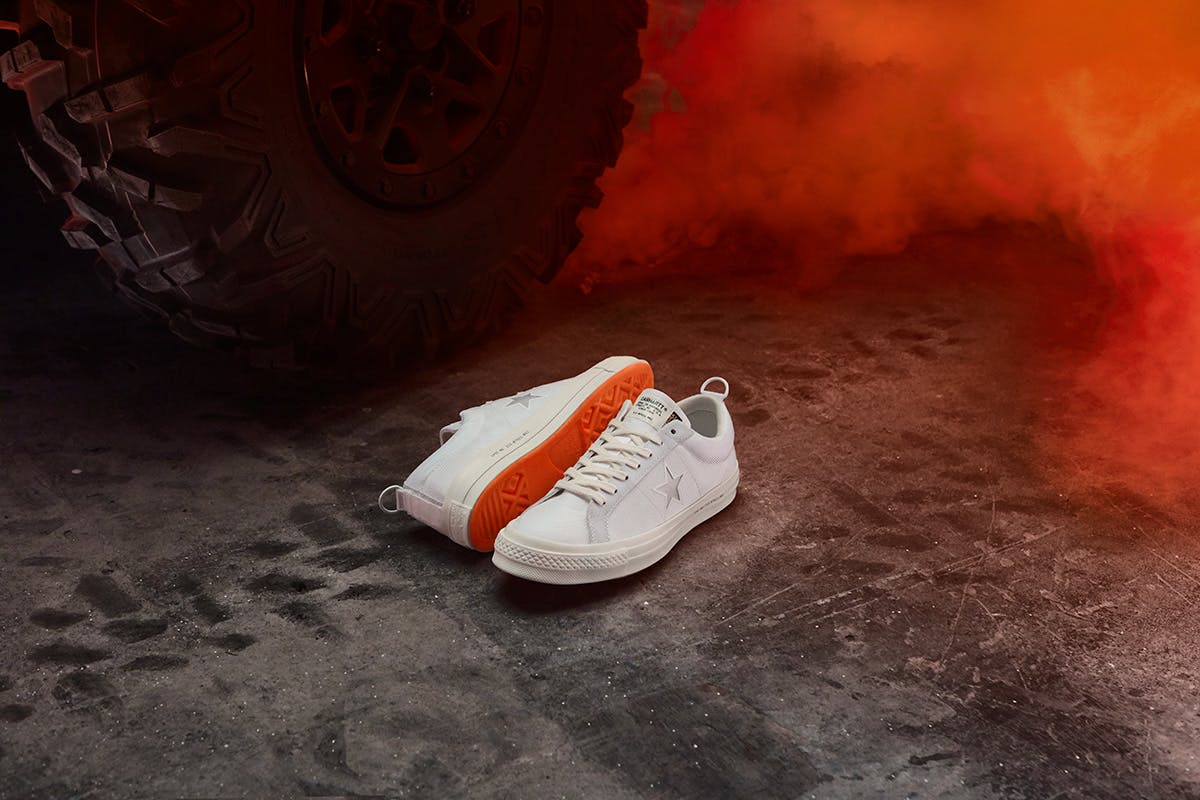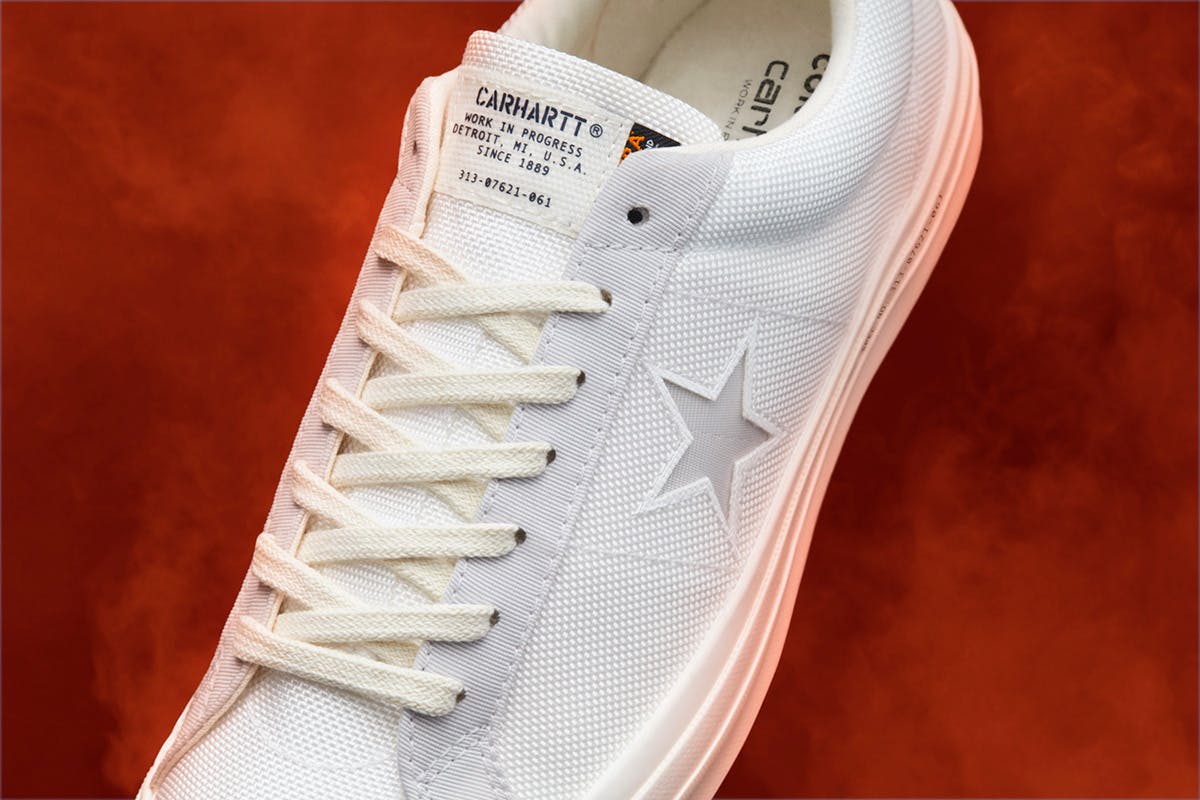 How do you view Carhartt WIP's place in streetwear?
Atzert: Carhartt WIP emerged around the same time people were beginning to patch together an idea of what "street culture" was. But I wouldn't categorise the brand as simply streetwear because there's a much bigger audience we also speak to in a diverse array of scenes who have naturally gravitated towards the brand.
In turn, Carhartt WIP has always been attracted to and involved in supporting creative scenes, young artists, skaters, and musicians as best we can. Thirty years on from launching Carhartt WIP, the ethos is still the same. The clothes we make take inspiration from the workwear roots of Carhartt, but we're constantly trying to reinterpret these iconic items in a new way while also creating timeless staples.
With trends and subcultures evolving so quickly, how important is it for brands like Carhartt WIP and Converse to keep up?
Sleep: While I agree that it's important for iconic brands to be the very best at what they have become iconic for, I think it's unrealistic for anyone to assume that it's enough in today's world. So many people have a relationship with Converse, but all for very different reasons.
We love and continue to celebrate the fans of our brand, but at the same time, we have a responsibility to continue to evolve — just as our friends, fans, and new consumers will develop and change their personal style. We believe this is possible while maintaining a strong commitment to our core values.
For more information on how to cop a pair of these sneakers on September 20, check out our release-specific article here.
For those of you in Milan, you can head to the launch event at Spazio Maiocchi from 6 to 11 pm to check out the sneakers in person.
To stay updated on everything happening in the sneaker world, follow @Highsnobietysneakers on Instagram, check our sneaker release date calendar and subscribe to our sneaker chatbot on Facebook to receive lightning quick updates to your inbox.