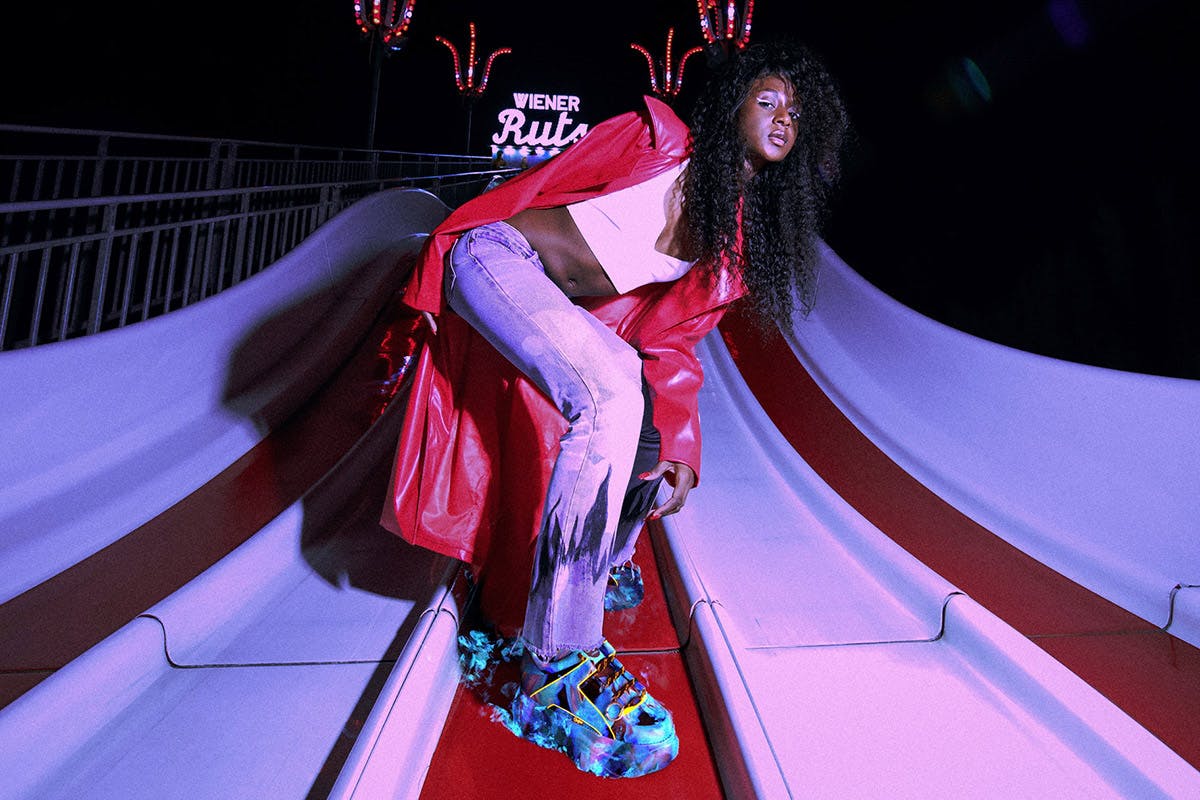 Sneakerheads have fallen victim to some questionable trends over the years: joggers and pin rolls, chunky dad sneakers, and distressed (read: destroyed) sneakers are but a few. One of the latest trends sees the sneaker industry shift towards a digitalized future, where sneakers you can't actually wear are becoming weirdly popular.
Innovation is not new to the sneaker industry. Brands are constantly engaged in an arms race to make actual, wearable sneakers lighter, faster, or more comfortable. Retailers and resellers are in a never-ending tug-of-war to fix and game the system. Recently, other players have entered the market with digital innovations of their own: sneakers you can't actually wear IRL.
Most recently, Buffalo London teamed up with The Fabricant to offer its consumers a virtual version of its popular Classic Low platform shoe, which can be worn on digital fashion platform DressX. The shoe, which also happens to be engulfed in flames (because, if you're making a digital shoe, why the fuck not light it on fire), is only available online and can be "worn" in images on social media.
Similarly, Aglet aims to gamify the sneaker experience by bringing the hunt for new kicks online in a PokémonGO-style app. Users can earn digital currency by walking around in the real world and completing tasks in-app, with which they can then "buy" hyped sneakers they might not be able to afford or obtain otherwise.
It seems sneakers that you can't actually wear might be the future, though exactly how that will shake out remains to be seen, as innovation manifests itself in different ways, as evidenced above. The digital gamification of sneaker culture is one route, as Aglet and its partnership with Gucci has shown. What Buffalo London has done is tap into sneakerheads' almost perverse need to show off their sneakers on Instagram (don't worry, I'm guilty of that too).
Though the online flex is certainly a reason for some people to digitalize their sneaker collections, DressX founder Natalia Modenova explains that there may be ulterior motives: "Digital clothing fits all sizes and shapes, which is an issue in physical fashion even more often than the size itself," she says. "Digital clothing is more inclusive and a truly sustainable option. That's another motivation for a lot of customers, who really care about the future of our planet and reducing pollution."
In May 2019, Nike unveiled Nike Fit, an augmented reality-powered app that allows users to perfectly measure their feet. That same year, GOAT launched an AR try-on function so that its users could check out hyped and rare sneakers before purchasing them. Neither has really caught on yet, but both instances show that it's not just independent upstarts trying to get a slice of the digital sneaker pie — big brands and platforms are taking notice, too.
But the digitalization of sneakers is not just fun and (AR) games. Rally, a platform that allows users to buy a share in rare collectibles, has shown that sneakers you won't ever be able to wear can also be a great investment. Last year, Rally bought Nike's iconic Moon Shoe and sold shares of the shoe to its users.
"We're trying to bring all of these collectors together," explains Rally co-founder and CPO Rob Petrozzo. "Whether it's someone who wants to put a couple of hundred bucks in or somebody who wants to own the whole piece."
Thanks to the platform, you don't need to be a millionaire to own a $400,000 shoe — though you'd never have it in your home, either. It just exists as a digital share in your Rally portfolio.
Whether augmented reality, gamification, or investment-focused innovation, sneakers we can't actually wear play a larger-than-expected role in sneaker culture and will likely continue to do so as the digital sneaker arms race heats up