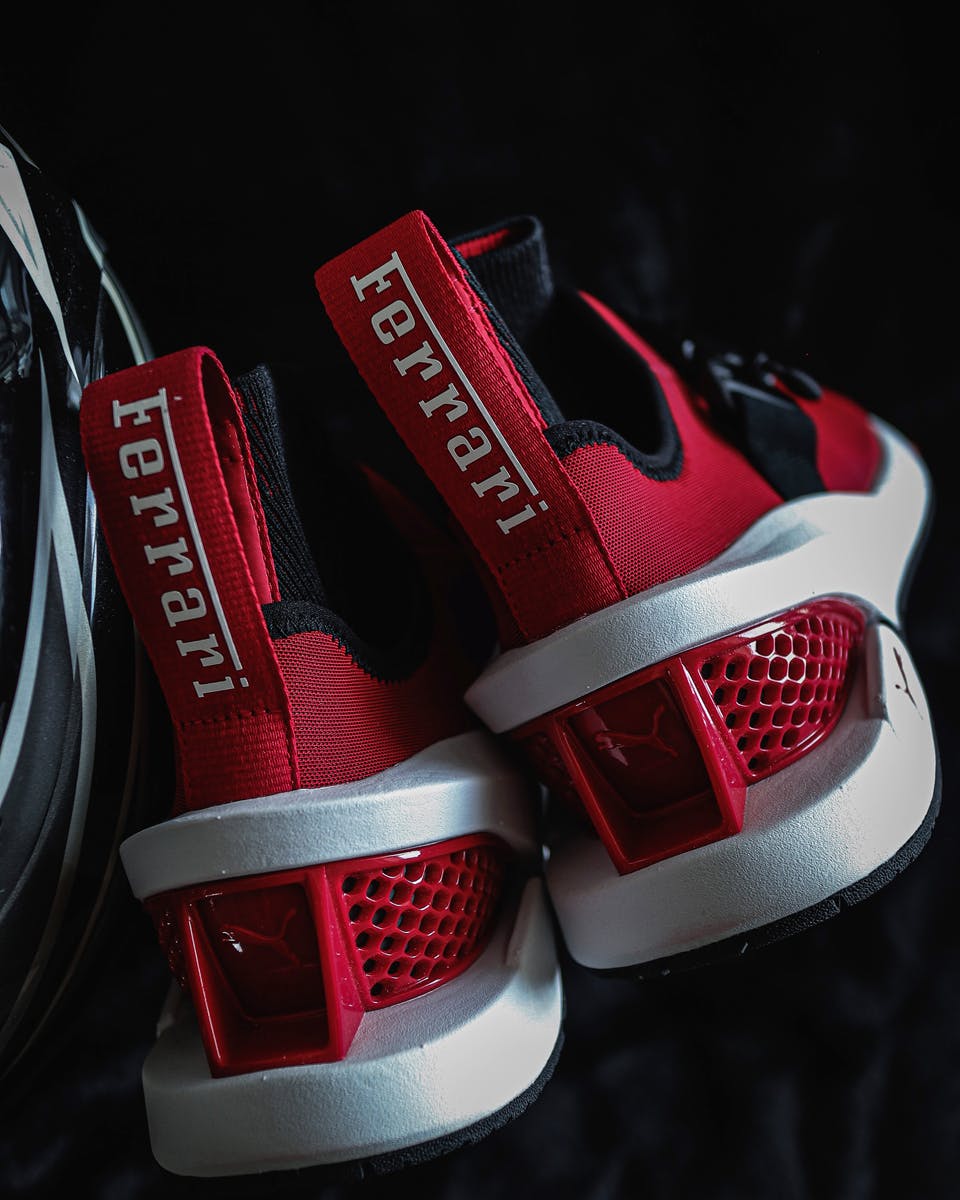 Ferrari's SF90 Stradale is a landmark car in many ways, not least because it boasts Ferrari's first hybrid powertrain in a sublimely aerodynamic package. Its price tag is equally remarkable: a production model SF90 weighs in at over $507,000. It's unlikely that any of us are going to be driving one anytime soon — if you are, wanna be friends? — so thankfully Ferrari's pals at PUMA have created a slightly more budgetary option, drawing from the hypercar's streamlined shape for a motorsport-inspired sneaker.
PUMA knows its way around high-speed inspiration, and its new ION F sneaker, designed in partnership with Ferrari, translates the SF90 directly into footwear form. For instance, the hypercar's sculpted hood informs the ION F's laceless upper down to the anatomical ankle opening. Likewise, the car's front spoiler inspired the reflective TPU panel that wraps the ION F's heel, which leads up to a Ferrari-branded pull tab in case the stitched Prancing Horse at the forefoot didn't make the partnership clear.
Unlike the duo's previous collaborations, which included a set of retro CELL Venom sneakers, the ION F was designed by PUMA to take to the driver's seat of Ferrari's hybrid speedster as naturally as it takes to the sidewalk. A magnetic buckle locks the foot in place while the grippy outsole keeps the pedal to the metal. Furthermore, the height of the knitted sock aids in anchoring the wearer while they take in meaty G-force drifts or just drive to the market.
Both colorways of the Ferrari ION F sneakers are on sale at PUMA's website and Ferrari's web store for $630.
To stay updated on everything happening in the sneaker world, follow @highsnobietysneakers on Instagram, check out the best sneakers to add to your rotation this week, and sign up to our newsletter for the latest sneaker news sent straight to your inbox.