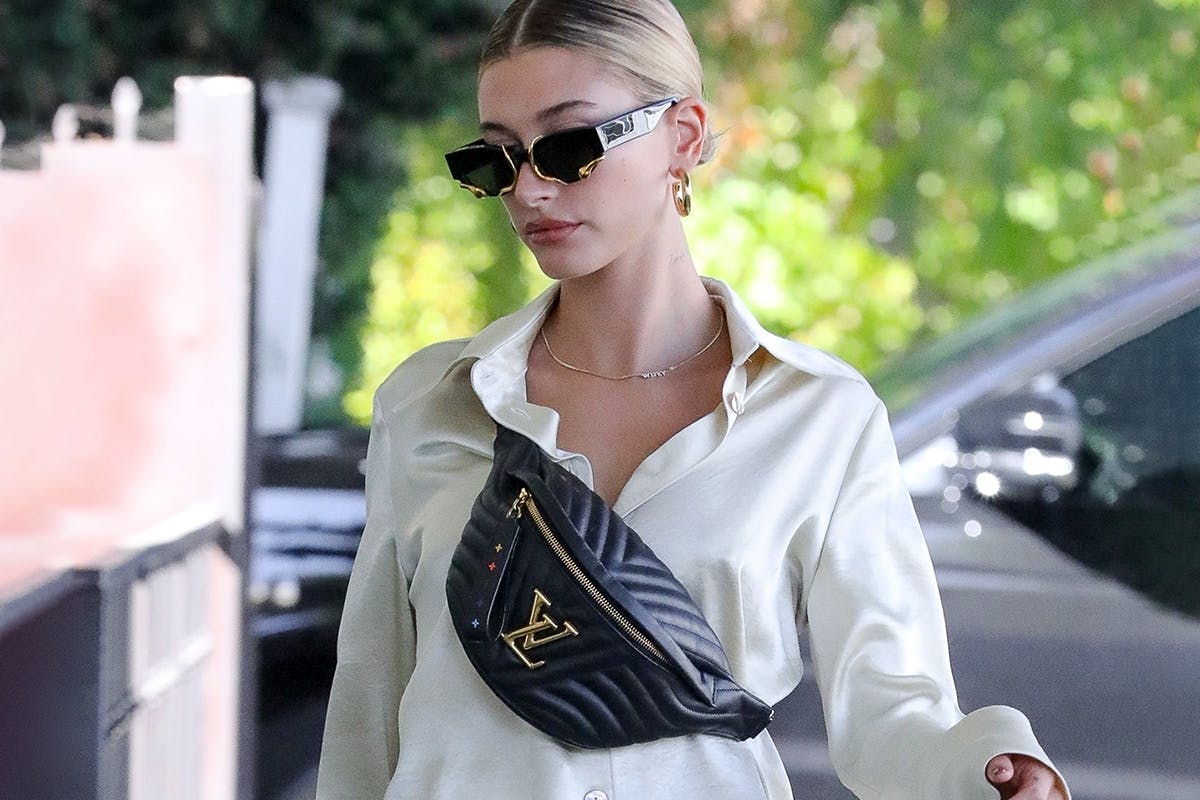 Who: Hailey Bieber
The outfit she's wearing: Nanushka satin pajamas, Gentle Monster x Alexander Wang M.Priss sunglasses, adidas Continental sneakers, Louis Vuitton New Wave Bumbag.
Location: Los Angeles, California
Why it works: Has anyone claimed the term "bedcore" yet? If not, it's mine.
Editor's Notes: Cast your mind back to 2016, when people actually wore adidas NMDs (LOL!), Kanye West was inexplicably shifting Gildan-printed The Life of Pablo T-shirts for $90 a pop (I still can't believe I believe I bought one), and Vetements was, like, actually amazing.
It was also around this point when the sidebag (or the roadman bag *eye-roll*), began to gather traction as a hype accessory. Not only did it look stylish, but it was highly functional, perfect for storing festival drugs and other mysterious flotsam away in. Obviously, the fact Skepta wore one had no bearing at all on its popularity. Sure...
Three years on, and accessories have evolved. Men now wear purses and microscopic coin holders, making the sidebag feel conservative by comparison. The humble sidebag is no longer a trend item, but a wardrobe staple that has even been co-opted by suburban moms. Just about every brand, from Palm Angels to Prada, have their own versions, but none are quite as opulent as Hailey Bieber's Louis Vuitton New Wave Bumbag, which can be yours for a princely $1,820.
Composed of quilted calf leather, the adjustable holster features gold LV hardware so that people will know that yes, you are indeed wearing a bag that is literally twice as expensive as than their monthly rent. Regardless, even if Bieber's bag is unattainable, her styling is a reminder of the sidebag's potency and the way it can bring a street smart to any outfit — even chic satin pajamas. Proof, if ever it was needed, that while its star might not be as bright as before, the sidebag is here to stay. Shop some of our favorites below.


(Available at 2 Merchants)
(Available at 2 Merchants)


(Available at 2 Merchants)
(Available at 2 Merchants)


(Available at 2 Merchants)
(Available at 2 Merchants)


GG Marmont Matelassé Belt Bag
(Available at 2 Merchants)
(Available at 2 Merchants)

Technical Fabric Belt Bag
(Available at 2 Merchants)
(Available at 2 Merchants)