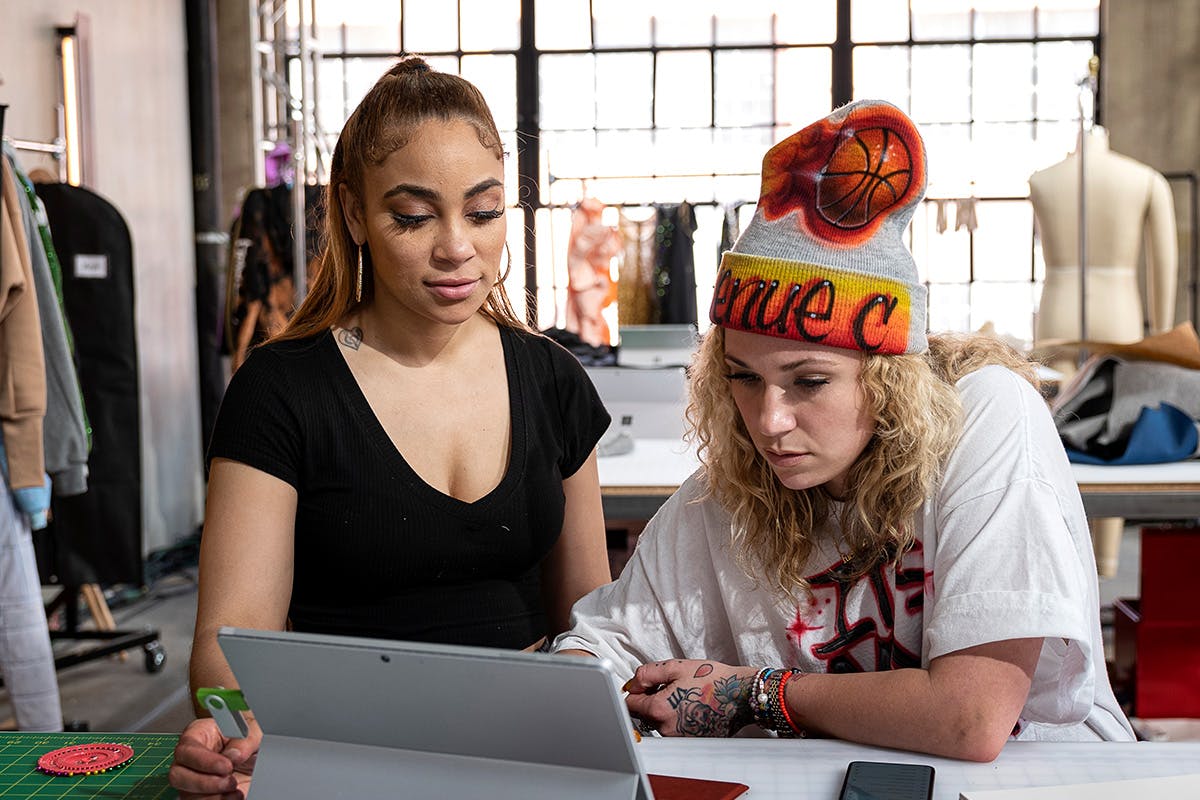 Now in its third week, HBO Max's The Hype has quickly become one of our favorite new television series. In it, 10 young streetwear designers compete in weekly challenges who are mentored by three judges: Offset, Bephie Birkett, and Marni Senofonte (check out our interviews with them here).
Last week, we caught up with designers Justin Mensinger, Kai Nguyen, and Blu. This week, we're turning our attention to Camila Romero, Caroline Bentley Noble, and Paije Speights. We spoke to them about their experience as women in streetwear, if they think the industry is becoming more inclusive of gender diversity, and what their advice is for aspiring designers.
What has your experience been like as a female designer in streetwear?
Camila Romero (CR): I think we all know that streetwear has been a male-dominant industry for many years, but as a designer I'm definitely striving to break those barriers. My brand DeadBlud is focused on bringing the androgynous culture to light and taking away gender norms by making unisex pieces.
Caroline Bentley Noble (CBN): My experience has been really exciting! I find so much joy in creating for men, women, and people from all walks of life. The support I've received along the way has really meant so much to me. That's honestly what keeps me going most days. Learning how to truly run a business has its ups and downs but I wouldn't trade it for anything. There's a lot more that goes into being a "woman in streetwear culture" than meets the eye. You have to do what feels true to you, and keep doing it at all costs.
Paije Speights (PS): My experience had been pretty positive so far. I feel like I've been doing this long enough and consistently enough that people really respect what I do. Even as a consumer, I shop with a lot of women's brands in streetwear. The women are taking over.
Is streetwear becoming more inclusive of women and diverse gender expressions? If so, how?
CR: Streetwear is definitely becoming more inclusive to women as you see more women having a voice in this community like Aleali May who is a huge inspiration to me as someone who is breaking the barriers in this community.
CBN: Absolutely. It just is. There are so many women that have been in the game that have taken the time to send words of encouragement, or even the smallest acknowledgment of what I've accomplished and that alone feels like I made it. You're seeing more women wear all the hats and it's really lovely to be a part. I'm in good company.
PS: I believe it is. It's not just a man's game anymore. Back in the day we really only had baby [phat] by Kimora Lee. Now we have tons of streetwear brands built by women for women. It's really dope to see.
What made you want to participate in The Hype?
CR: It seemed like a great opportunity for me to showcase my ability in design and have a voice. The money was a nice offer as well haha.
CBN: I studied acting in NYC at the New York Conservatory for Dramatic Arts. I've always wanted to be on TV. This won't be the last time! When this opportunity came it felt like the right thing to do. Although I've been designing for a few years now, I've always been super quiet and rarely spoke about what I've accomplished or even created. I wanted to allow myself to let people in and being on a competition-based show intrigued me as it's not how I usually work.
PS: I wanted to participate in The Hype because I knew it would be a great way to bring more awareness to my brand and more awareness to other issues and things I'm passionate about.
What has the show taught you about your craft and the business of streetwear?
CR: The show has taught me that I'm definitely on the right path. To believe in myself more than ever and my ability to execute my vision. It was amazing to be able to surprise myself during every challenge and learn something new every day.
CBN: Being on the show taught me a lot in terms of how your work can be received. I definitely learned to have a thicker skin when it comes to what people say. I'm a bold person and I believe my clothes reflect that. I'm never afraid to take a risk and I'm so grateful I was able to be on such a large platform to showcase my work.
PS: Wow! The show has taught me so much. For one, that there are all different versions of streetwear, not just my own. Also, it taught me the customer is always right. That we have to always design with the customer in mind.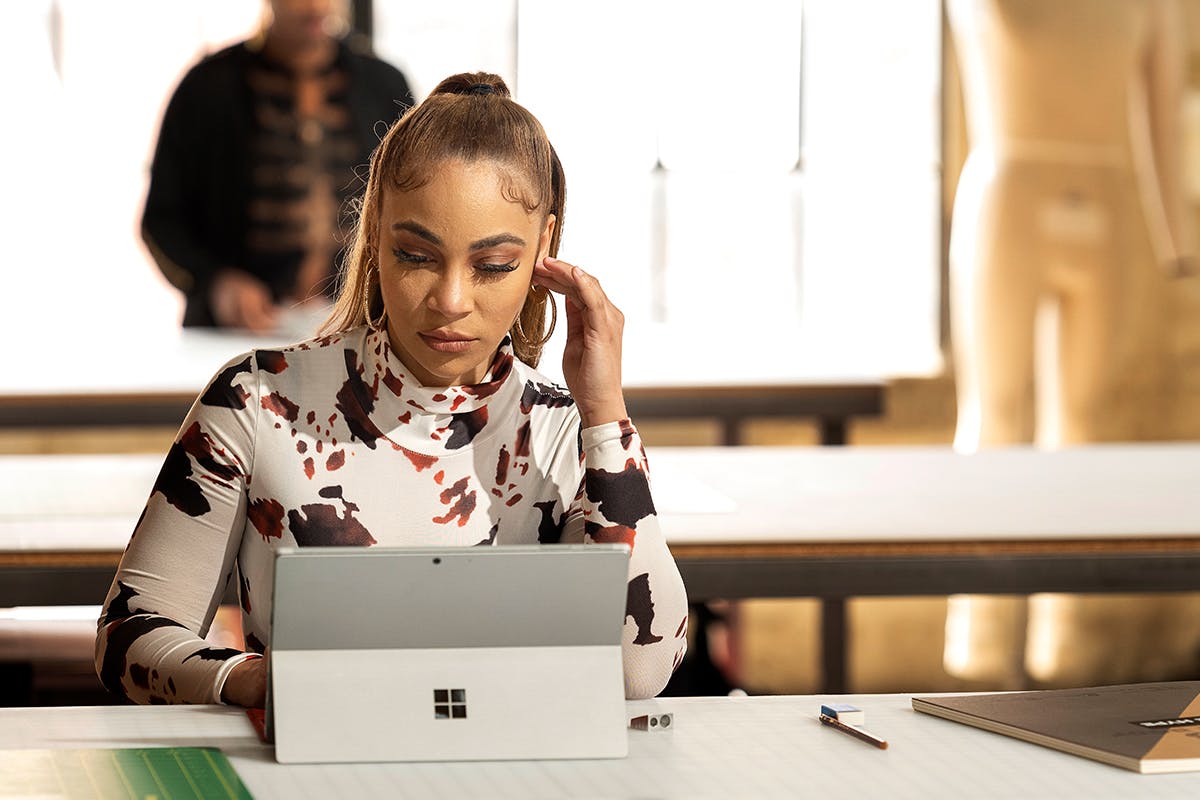 What advice do you have for other aspiring streetwear designers, particularly women and gender nonbinary people?
CR: Be strong and hold your ground in what you believe in and the message you're trying to get across. Don't let fear [stand] in the way of your own abilities. Lastly, don't be afraid to ask questions and ask for help! 
CBN: Anything you dream of is possible. Don't take no for an answer. If you don't see what you want, make it. Hard work is undeniable, and so is the person who never gives up. Be mindful of how you treat people. A large part of where I am today is because of the people who lifted me up to be here. Relationships matter and being kind never goes out of style.
PS: I say consistency is key. You have to stay consistent to give your consumers a fair shot in gettin to know you and your brand. Figure out what your niche or aesthetic is and stick with that. Build your brand around that lifestyle.
To learn more about The Hype, visit hbomax.com.