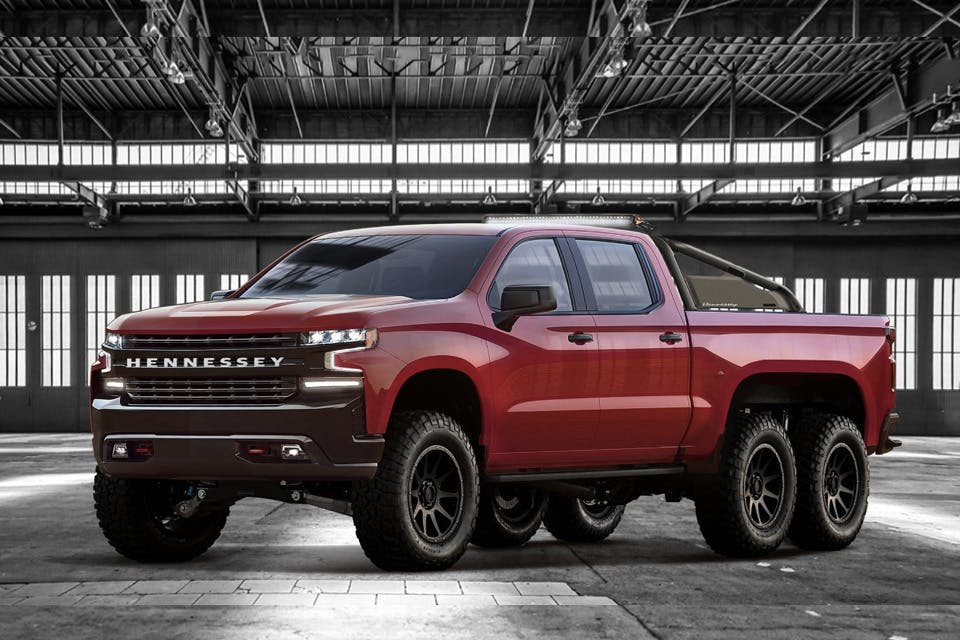 After upgrading the monstrous Ford VelociRaptor in 2017, Texas-based tuning house Hennessey Performance has turned its attentions to another beastly off-roader. Meet the Goliath.
The six-wheel drive is inspired by the 2019 Chevrolet Silverado Trail Boss, and hosts a supercharged 6.2-liter V8 engine under the hood that's capable of churning out 705 horsepower and 675 lb-ft of torque.
Despite its 20-inch-wheels and 37-inch BF Goodrich tires, this thing can shift, and is reportedly capable of travelling 0-60 mph in the mid-four-second range. Additional features include an all-new rear suspension system, a custom 6x6 truck bed with front and rear bumpers, LED lights, and Hennessey branding.
"We are very excited to offer our new Goliath 6X6 alongside our VelociRaptor 6X6 truck," said company founder and CEO, John Hennessey in a press release. "These are very exclusive and unique vehicles that make a huge statement anywhere our clients go – whether its Rodeo drive or the sand dunes of the Sahara Desert."
The Goliath 6x6 comes with a three-year warranty of 36,000 miles and will cost $375,000. Only 24 units will be produced. The vehicle is available for export to international markets.
Next, check out Porsche's new "electric pit stop" which gives cars 250 miles of power in just 15 minutes.