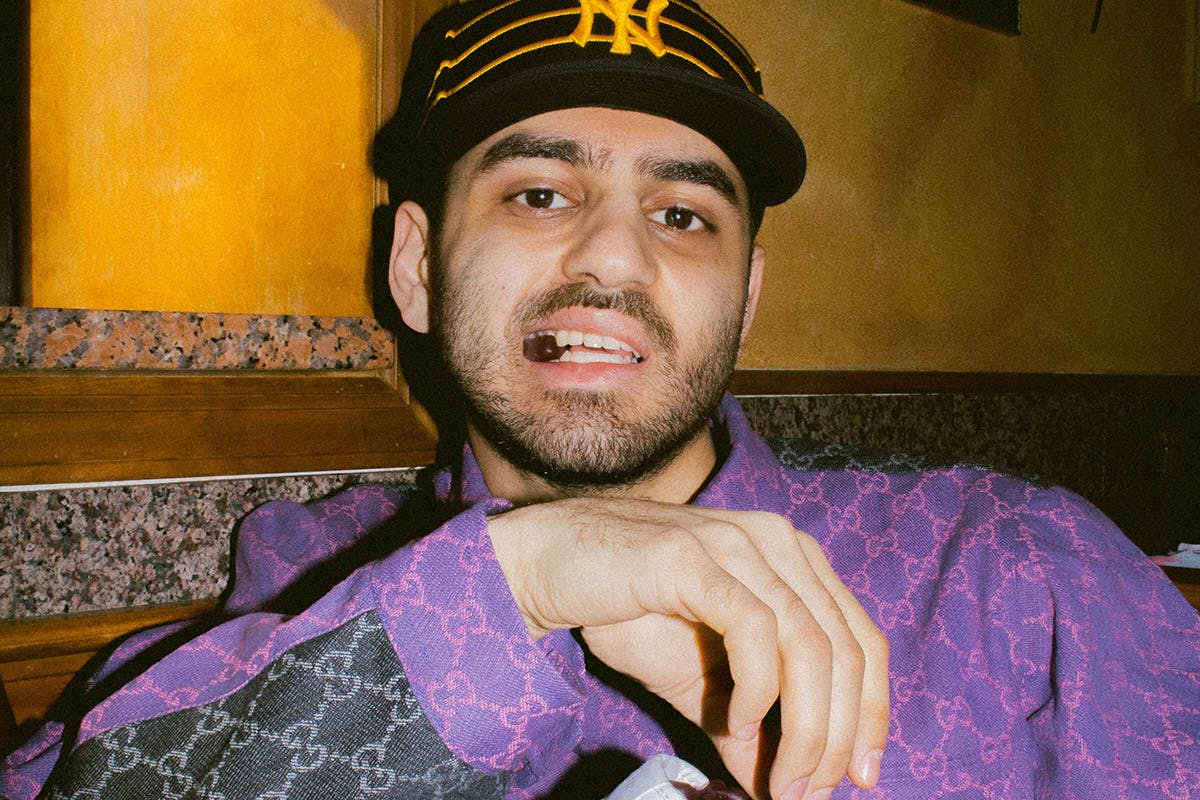 Yung Creatives is a series profiling talents of tomorrow across various fields, disciplines and mediums. Skilled in commerce and creativity, find out why these guys are generating significant buzz in the industry. 
Meet Imran Moosvi, aka @imran_potato, the quirky bootlegger who's become a hit among fashion and sneaker communities of late. Known for his custom-made bootleg clothing, Moosvi has reworked designer pieces of everything from denim, shoes and even baby dolls. Not to mention, his now-iconic Louis Vuitton/Gucci-spun Air Force 1s have been splashed all over Instagram for a minute and even landed on the feet of a few notable rappers (YG, Tyga and counting).
We sat down with Moosvi to talk a little bit about how he started designing fake jawns and what he thinks about the fashion industry.
So first tell me a little about yourself. How old are you? Are you in school? Where are you currently living?
I'm 22 years old, I just finished college at the University of Michigan last year with a film degree. I grew up in New Jersey but currently live in New York.
Has living in New York had a great impact on your work?
Yeah, definitely. When you compare it to New Jersey, where I was raised, and Michigan, where I went to school, it's not even close. New York accepts you for who you are, no matter how weird or crazy. I've made so many close friends since moving here.
How would you describe the clothing you make?
It's always been stuff I personally want to wear myself. And there's almost always some element of humor in it. I don't take myself all that seriously and that translates in my clothes. I just think for anything you wanna do, you gotta enjoy it or there's no point in doing it.
When did you start making custom clothing?
A couple years ago in my junior year of college, I started by making these pink BMW trucker hats just for fun. I hate those hats now but that's really how I began with all of this. From there I went on to start bootlegging.
So did you start with clothes then transition into sneakers, or how did it start?
I started with clothes. After I realized those hats I was doing were stupid, I wanted to make my own Supreme just because I thought it'd be funny. The first bootleg I did was this Fred Perry x Supreme polo, and then I started making Gucci x Supreme slides right after that.
What inspired you to start bootlegging and make clothes with logos such as Louis Vuitton and Gucci?
It was always kind of random; there's not one thing specifically that inspired me to start bootlegging. And plus, there's been people doing this forever, with Dapper Dan obviously being the OG. But I personally just always liked how the Gucci and Louis monograms looked visually – that's why I use them the most.
I also hate Goyard. I just wanted to put that out there because people always ask me why I don't use it.
Did you get a lot of hate in the beginning or was it mostly positive feedback?
The hate actually increases day by day which is amazing because hate tweets and comments are so funny and clearly take way more effort than just generic compliments.
I did this pair of Jordans that had baby heads and arms sticking out of them and some girl on Twitter was so mad about these shoes, like she was telling me to stop taking drugs (which I don't do) and to see a psychiatrist...it was the greatest shit ever.
What's your favorite piece that you've ever made?
Probably those Jordans with the baby heads and arms, for that exact reason I mentioned before. And people always tell me how much they laugh when they see them which makes me happy, too. And I did some LV snowboarding goggles more recently, which I also liked a lot.
I see you also make custom Nikes, Vans, etc. Would you ever consider customizing a pair of YEEZYs or is that just not your style?
I don't think so just because that might be overkill. I think that shoe is too overplayed and I don't really like them anyways.
Another popular shoe that has been making recent news is the Revenge Storm – what are you opinions on them?
I saw. I think they're fire. People hate them but it's literally the same thing Nigo did with the Bapesta if you compare.
How did the iconic Gucci baby come about?
I was just walking in a toy store one day and saw this baby doll and knew I had to buy it as soon as I saw it. I didn't have plans to make it a Gucci baby or anything like that, I just wanted the baby as the toy itself. And then it just evolved from there.
Are these Gucci babies for sale to the public? Or are they special request only?
No, I don't sell my children. Some of my friends have adopted a few just because I had like 12 of them in my apartment at one point and felt bad because I couldn't give them all the same attention. So a few are living with their uncles and aunts at the moment.
I saw a picture of George Lopez and Constance Marie holding the baby. Did you make one especially for them?
That baby is actually currently under the care of Lil Yachty – he's the one that let George Lopez hold the baby for that picture.
A lot of kids nowadays are trying to do bootleg Vans with LV and Gucci prints. What makes your shoes stand out from the rest?
Not much to be honest. The shoes aren't that elaborate and anyone can honestly do them. It's with all the other stuff that I try give my own flavor too, stuff that's just funny and weird that no one's done before.
How did the Tyga and Kylie cosign come about? Did they reach out to you or did you reach out to them?
Tyga followed me randomly on Instagram a couple of months ago and then I DM'd him to see what's up. He liked my shoes and ordered a couple pairs from me. Since then he's been continuously buying shoes and even lets me pick colors and styles for him. Then I guess Kylie must have liked them because he started asking me to make ones in her sizes as well. So far he has probably purchased at least 30 pairs of my shoes. I see him on Instagram every other day, with a different pair of my shoes on.
I recently saw that you were part of a creatives' meet-up in New York. What was that all about?
My friend Ray and his manager Kevin Amato set it all up. Kevin has his own creative label called Mother and the event was basically a casting call for it. It was so cool to see hundreds of kids turn out and show love. It was like a pop-up too, so I was selling tees and baby bottles. So many people showed up and the line was down the block and it ended up getting shut down by police not too long after opening up.
Are your shoes and clothing sold in any stores currently? How do you sell them?
Nah, not in any stores or anything like that and definitely never will be. But I have a certain client base who place orders on certain shoes or clothes or whatever. I don't really sell things to just any random person, it has to be someone I have some sort of relationship with.
Since you're still so young, what plans do you envision for yourself in the future? Do you want to continue making clothing or do you want to move onto something else?
I think I'll always be doing clothes, but I've already started branching out a little bit. I want to design stage sets, car interiors, furniture – just about anything really. My mind changes a lot everyday so I can't really say what it is I want to do tomorrow.
What do you think the fashion industry is currently lacking?
I don't know to be honest. I don't really like thinking of the stuff I make as part of the "fashion industry". But I guess I'd say people in this world should stop taking themselves so seriously. Like you can smile and not act so depressed all the time.
What are some trends that you personally think are going to be relevant in the next year or so?
Hopefully people stop wearing bright orange and shoes with roses on them. I think it'd be sick if kids started flexing Old Navy and Aeropostale and shit like that.
For more youngsters making waves in the scene, read about why Kendrick, Kobe and Migos love this guy's clothes.