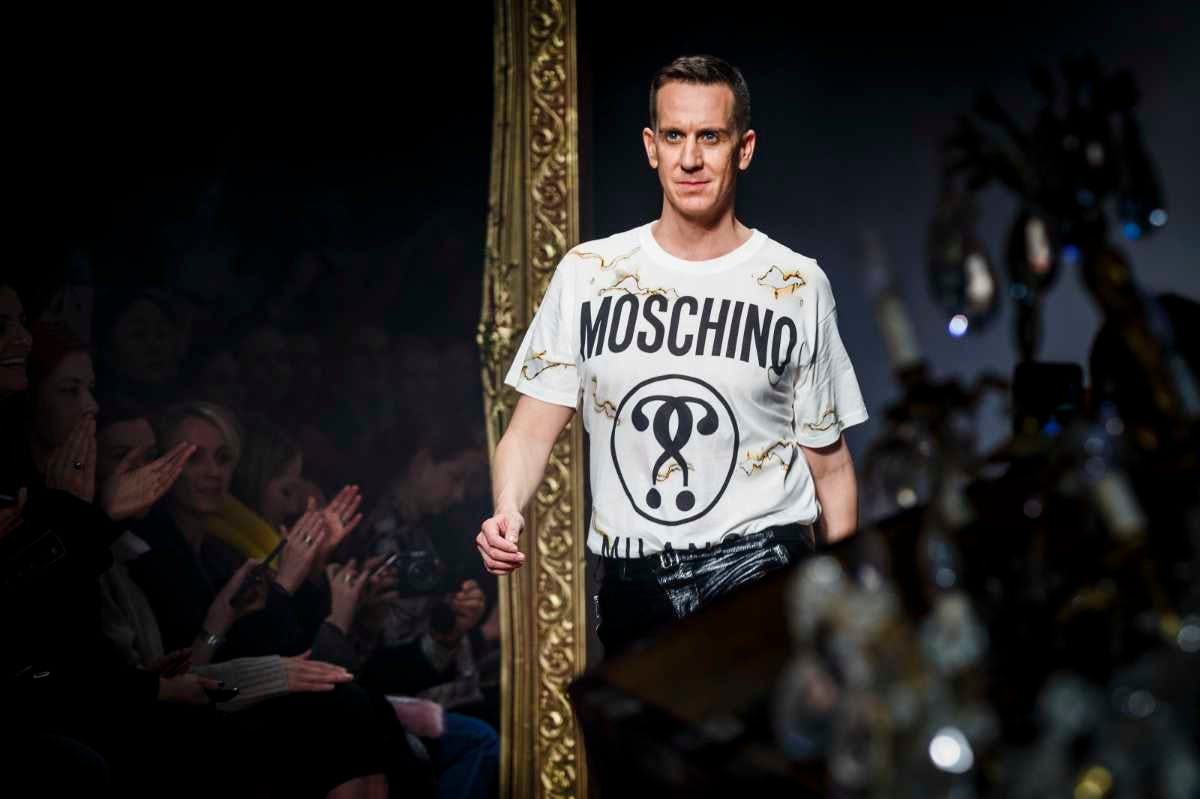 Jeremy Scott's decade-long tenure as creative director of Moschino has come to a close. On Monday, the American designer announced that he will exit the Italian label, marking the end of a design era defined by unabashed humor, camp, and cheekiness.
"These past 10 years at Moschino have been a wonderful celebration of creativity and imagination," Scott said in a press release. "I am so proud of the legacy I am leaving behind. I would like to thank Massimo Ferretti [chariman of Moschino owner Aeffe S.p.A.] for the honor of leading this iconic house. I would also like to thank all my fans around the world who celebrated me, my collections, and my vision for without you none of this would be possible."
Moschino did not immediately reveal who will succeed Scott as creative director.
Scott founded his eponymous brand in the late '90s after struggling to find a job in Paris as a recent college graduate. He made his Paris Fashion Week debut in 1997 with a collection featuring dresses that resembled garbage bags, a motif that Scott would revisit throughout his career. His rebellious designs eventually caught the eye of several major fashion players including Carlyne Cerf de Dudzeele, stylist and former Vogue US fashion director, and Björk, who wore a dress from Scott's third collection on her Homogenic tour.
In the mid-2000s, Scott and adidas forged a longstanding partnership that catapulted the designer to the mainstream, thanks to a pair of particularly ubiquitous winged sneakers. Then came Moschino: In October 2013, Scott succeeded Rossella Jardini as the house's creative director, a fitting marriage considering both parties' penchant for irreverent fashion.
Celebrities including Madonna, Katy Perry, Lady Gaga, and Nicki Minaj have embraced Scott's work at Moschino, donning his designs on the red carpet and in music videos. At last year's Met Gala, he dressed a posse of A-listers including Megan Thee Stallion, MJ Rodriguez, Simone Ashley, Ariana De Bose, Iris Law, and Vanessa Hudgens. Most recently, Scott dressed Angela Bassett for the 2023 Oscars.
As for Scott's next move? On Instagram, the designer wrote that he "can't wait to share with you all what I have in store for you next" — not a definitive answer, but confirmation that he's hasn't exactly retired from fashion.
In February, Vogue Business reported that Scott's eponymous label is on pause. With 10 years at Moschino under his belt, the designer may be looking to reboot his own brand.