HARDCOVER is a digital content series exploring the people, places and things that define and continue to shape the Highsnobiety universe. In this chapter of The Brands You Used to Love, Alec Banks takes a comprehensive look back at JNCO, the denim company that dominated the '90s with its unmistakable wide leg openings and in-your-face ads.
Certain styles will always be ubiquitous with certain eras. When people think of the '60s, they're reminded of bell bottoms and vests adorned with tassels. In the '70s, it was the stiletto-sharp collars. In the '80s, it was Zubaz for men, and neon spandex for women. And then the '90s rolled around — ushering in a denim fad which is still among the most unlikely fashion successes in recent memory.
Wide-leg JNCO jeans came out of nowhere, announcing itself as the unorthodox and distinctive step cousin to a Levi's silhouette rooted in timeless cool, with 20"-36" leg openings. At first glance, this "reinvention of the wheel" seemed as drastic as slapping concrete blocks on a car and seeing if it rolled. And yet, JNCO was actually no different than the period-specific pieces that rightfully stirred the pot when they first entered the public consciousness.
JNCO was founded in 1985 by Moroccan-born, French-raised brothers Haim Milo and Jacques Yaakov Revah. The duo had already dipped their feet in the world of fashion as owners of Revatex, a private label fast-fashion business, who could turn around designs in as little as eight weeks. They soon found success with mall chain, Merry-Go-Round, who would subsequently take a Revatex-made design and use their own Merry-Go-Round branding.
Like painters who had only ever sold paint-by-number kits, the brothers wanted to make an actual mark on the space. JNCO was their chance.
The Rise of JNCO Jeans
The wide-leg pant was inspired by Latinos they saw walking around East LA. To solidify the brand's connection to the streets, they commissioned local graffiti artist Joseph Montalvo, aka Nuke, who earned respect as part of crews Societies Dare Devils and UTI (Using The Imagination), to design the now-famous JNCO crown logo. It was a $200,000 gamble the brothers thought was going to work.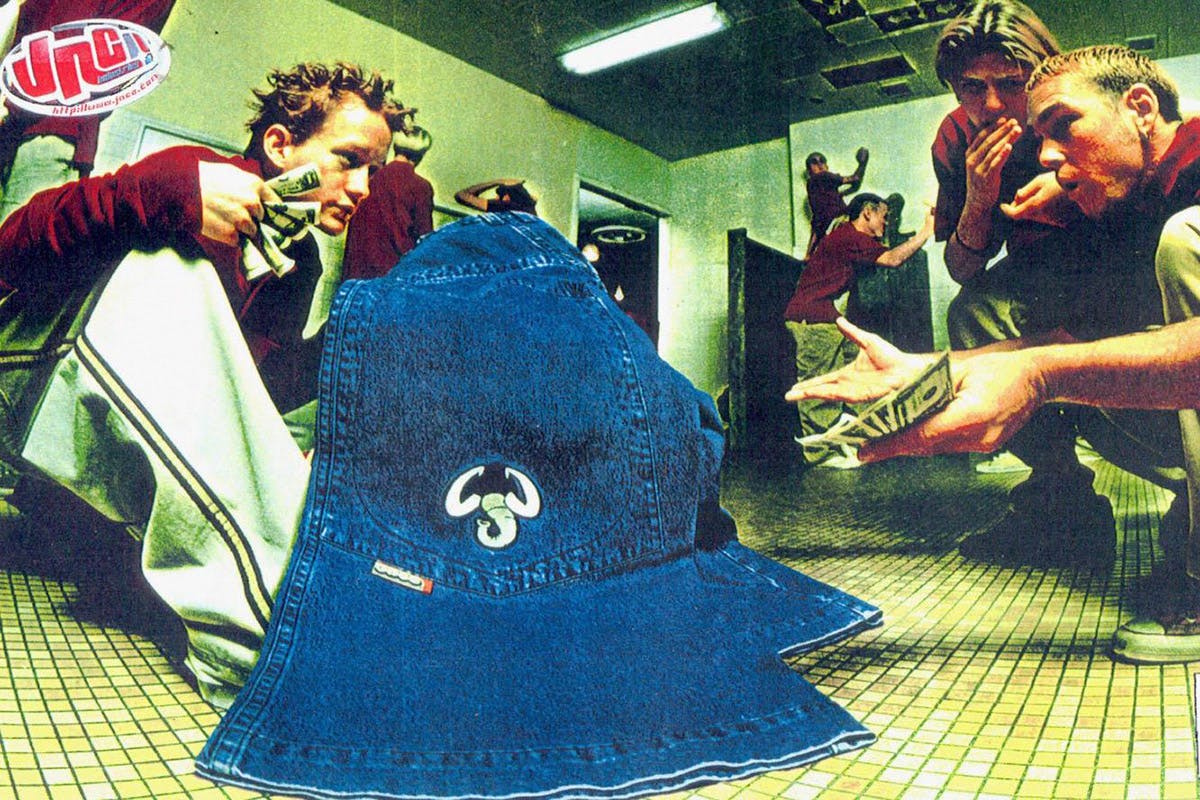 The Revah's connection to Merry-Go-Round proved to be invaluable. With 1,500 nationwide stores at the time, the brand had slowly transitioned from a mom and pop-like denim store, to something more akin to Hot Topic. Teenagers were not only going to Merry-Go-Round to shop, but to also hangout and see what other people were buying. Like a moth to a flame, kids flocked to the exotic 23-inch leg on JNCO's most popular silhouette.
In a decade, the Revahs turned their initial $200,000 investment into $36 million in yearly sales. That number would jump to $186.9 million in 1998. Ironically, the success of the brand coincided with the downfall of Merry-Go-Round. In January 1994, the company filed for bankruptcy. Months later, it closed all 1,500 of those locations, making it one of the largest retail bankruptcies in history.
During this period, the Revahs brought on Steven Sternberg, an industry veteran who had made B.U.M. Equipment a mall favorite throughout the country. Although JNCO had been inspired by the residents of Los Angeles, Sternberg convinced the Revahs to prioritize the suburban kids who turned Billabong and Quiksilver into middle-America favorites.
"We retooled JNCO from being an urban line to being strictly a suburban line," Sternberg told Racked.
Teenagers not only responded to the dramatic effect the jeans had on people, but also enjoyed how they became a status of counterculture. Many schools throughout the country made JNCO taboo by attempting to ban them. Kids rebelled by doubling down on the jeans that had openings as wide as 69".
The stalemate between school authorities and teens ultimately had a winner, although it had more to do with the fickle tastes of young people than a case of superintendents and principals taking on a brand and winning.
JNCO's Spectacular Decline
By 1999, JNCO's sales fell to $100 million. A year later, they were forced to shut down their Los Angeles manufacturing facility which resulted in 100 layoffs.
Yet JNCO held out hope as they reassessed their commitment to the styles that put them on the map. According to a survey from Teenage Research Unlimited conducted in 2000, JNCO was still amongst the 20 most popular brands favored by young men at the time. Furthermore, a survey by Orange County's Ponzi Group reported that the brand took the top spot amongst skateboarders between 12-16 (Levi's came in third).
Cindy Levitt, then merchandise manager for Hot Topic, wasn't convinced by these studies. She believed the brand was in imminent danger.
"You still see JNCO at raves," Levitt told The Los Angeles Times. "But it's a little uncool for our customer. It's at too many doors in the mall."
In 2000, JNCO opened a retail store in Paris. The Revahs were convinced that if Americans had tired of their products, Europeans would be overjoyed by the "newness" of the phenomenon.
"You cannot believe the marketing impact we have over there because we are an American company," Milo Revah told The Los Angeles Times. "It is our claim to fame."
Don't Count 'Em Out Yet
Despite his optimism, the brand's allure was fading Stateside. In 2001, their 10,000 square foot showroom was closed down. Two years later, the Revahs had purposefully put the brand on the back burner. Although several different entities have tried to revive the brand throughout the new millennium — doubling down on the wide-leg pants and also offering more modern silhouettes — it never gained traction. In 2018, the final nail was put in the coffin when the brand announced, "While this is an end of an era for JNCO, what JNCO stands for will continue to live on in all of our customers and fans who will carry on the spirit of our brand and all it represents," the brand wrote in a farewell post on its website. The final sign-off: 'Stay true JNCO lovers!'"
Yet, the brand still functions today — offering up new product that honors the original wide-leg JNCO jeans.
"It was destiny," Milo Revah told The Los Angeles Times. "It is not something you can program. It is not a strategy that you can create."