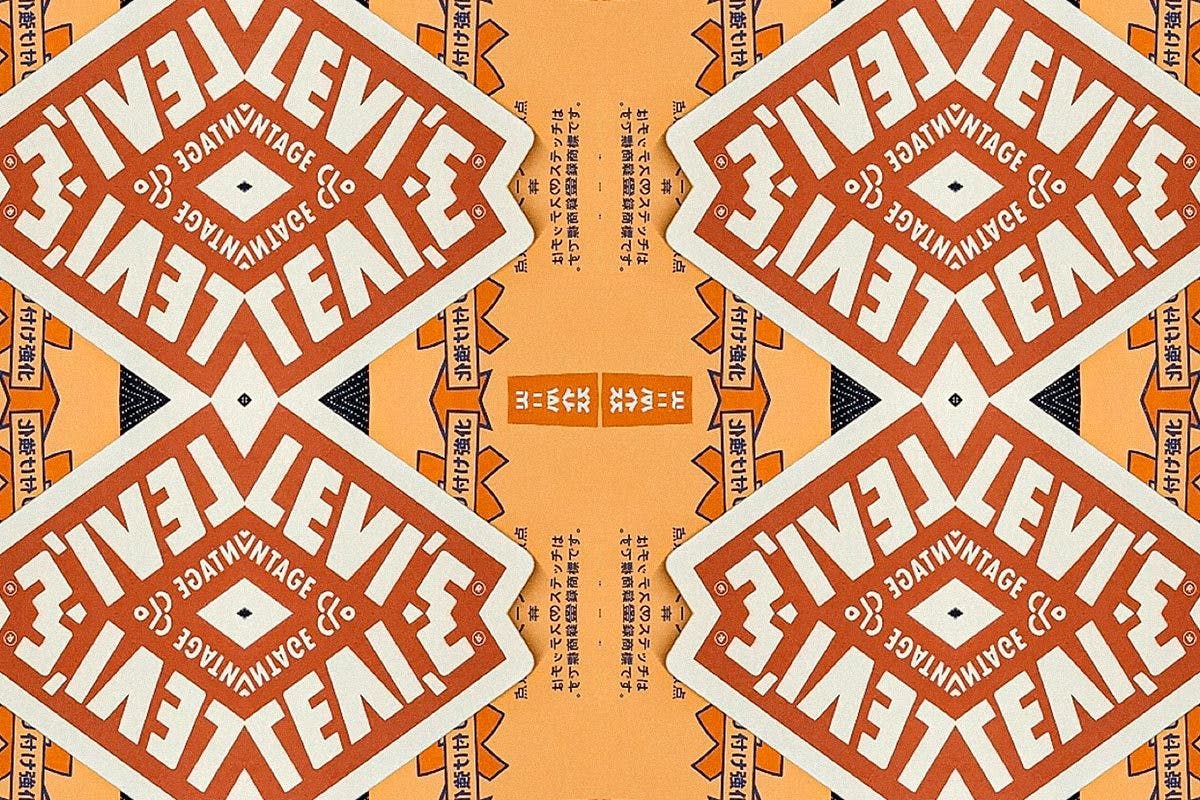 In his 2003 novel Pattern Recognition, William Gibson creates the coolest character ever to grace the pages of a book. Cayce Pollard is the world's best coolhunter, and her highly astute ability to judge brands is largely due to the fact that she's literally allergic to corporate logos and mascots.
She wears a series of uniforms referred to as "Cayce Pollard Units," or CPUs. Gibson describes these as "things that could have been worn, to a general lack of comment, during any year between 1945 and 2000." Her go-to items include shrunken Fruit of the Loom T-shirts, a Buzz Rickson MA-1 bomber jacket, and black Levi's 501s with the arcuates on the back picked out and the branding on the buttons filed off.
It's just one of many testaments to the humble jean's ability to transcend trends. Its straight leg, regular waist, and enduring appeal will truly never go out of style. Of course, the main leg up Levi's has on its competitors is a big differentiation point: They literally invented the modern jean.
During the Gold Rush of the 1800s, numerous people flocked to the wild west in hopes of striking it rich through digging through the dirt. Among them was Levi Strauss, who worked at his family's dry goods business in New York, called J. Strauss Brother & Co.
Seeing opportunity in California, he packed his bags for San Francisco, selling items like clothes, tents, handkerchiefs, combs, bedding, and bags. One of his customers, a guy named Jacob Davis, co-invented a pair of rugged work pants made from a tough denim fabric, adding rivets to reinforce the construction. That's the Levi's story in a nutshell. But according to Jonathan Cheung, SVP of Levi's® Design, the 501 actually didn't become "jeans" as we know them today until the 1960s.
"The 501, the actual, I guess, lot number, as we refer to the Levi's, is dated from around 1890 and that is a fair bit of time after the 501 as a jean was invented, and that was in the 1870s," says Cheung. "Another interesting anecdote is Levi's didn't call them jeans themselves until the 1960s. That's really when jeans crossed over into popular culture, so moved from purely blue-collar workwear into leisure-wear and casual-wear."
There are stories upon stories about how Levi's became a commonly accepted part of the modern wardrobe. Among the most famous is how singer Bing Crosby once couldn't check into a Vancouver five-star hotel in 1951 because he arrived in head-to-toe denim. He got in when a hotel bellhop recognized him, but Levi's took the opportunity to make him a custom denim tuxedo jacket from the same fabric used in the 501. In 2014, Levi's Vintage Clothing—the label's imprint specializing in archival reproductions—re-released a version of this jacket. As far as Canadian tuxedos go, it's probably the best in its class.
The same could be said for the 501. In addition to its reputation for craftsmanship and a democratic fit, denim expert and trend forecaster Samuel Trotman thinks that it's stories like Bing Crosby's that have made the jeans so much more than just a sturdy pair of pants.
"It is the ultimate original jean, I guess. I guess if you close your eyes and imagine Levis, most people will probably think if the 501," says Trotman. "I think from an industrial point of view, that it's the most user tested piece of human clothing ever worn."
As much as leather biker jackets have been part of the rebel uniform—well-worn 501s are probably what the badasses of yesterday, today, and tomorrow are wearing underneath them. From rockers like Eddie Cochrane and The Ramones to rap stars like Run DMC, N.W.A., and Snoop Dogg, denim has shaped the style of several subcultures throughout the years. Couple that with Levi's provenance as the OG denim brand, and you have a recipe that, according to Seth Weiser, CEO and co-founder of vintage boutique What Comes Around Goes Around, makes for some untouchable staying power.
"It's become the must-have of anyone who cares about fashion and denim, and ultimately I think that consumers always feel a comfort level with the 501 because it's the known commodity. You know what it's going to be like,"  he says.
Levi's is no stranger to collaborating with high-end fashion designers. Its frequent collabs with Japanese designer Junya Watanabe featuring everything from poetic prints to artful patchwork, can fetch over $600 a pair. Meanwhile, its collabs with labels like VETEMENTS can be almost $2,000. But among its most consistent collaborators is streetwear pioneer Supreme.
"I actually think Supreme with Junya Watanabe are our longest-running collaborations," says Cheung. "I think that's also increased with the influence of streetwear into mainstream fashion and popular culture.  We're mutual authenticators each in our own space. The collaborator on the other side gets is this absolute authenticity. Lots of people can do denim and lots of people can make jeans, but there's only one Levi's."
Listen to the full episode above for the full story and stay tuned for a new episode of Why It's Cool next week.