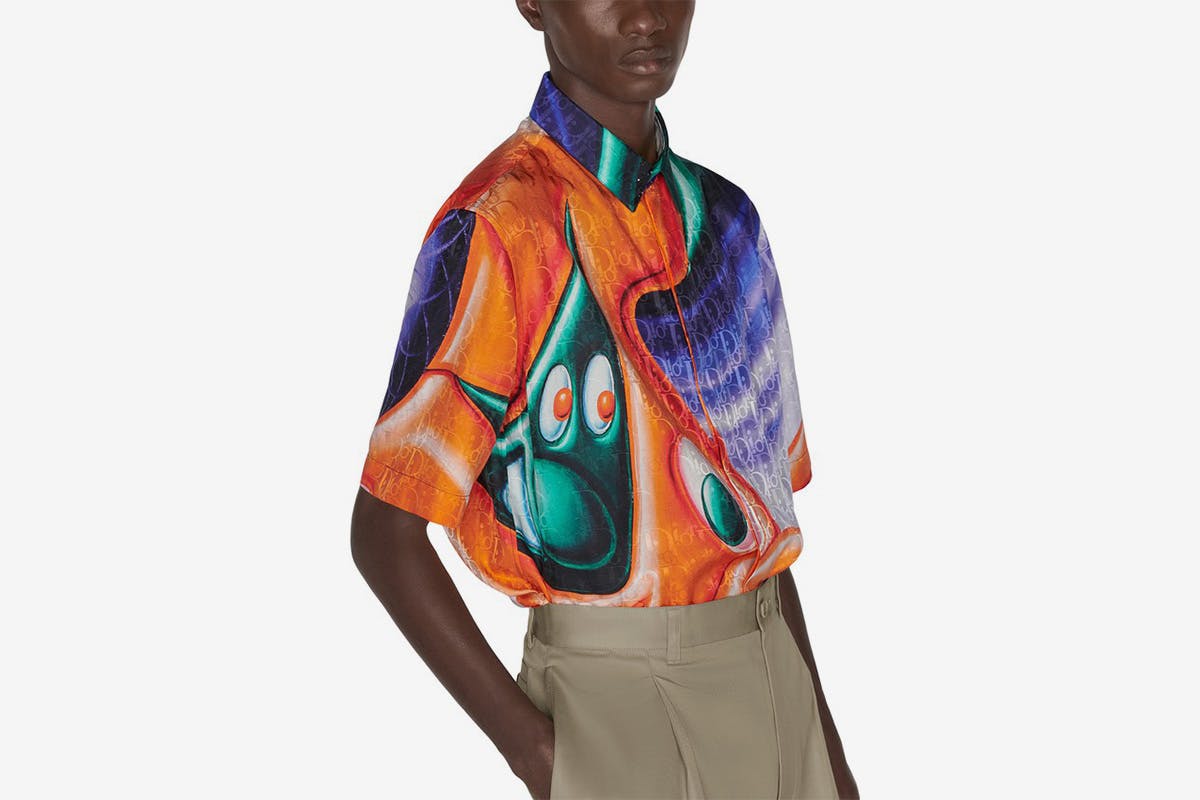 LA-born artist Kenny Scharf cut his teeth in New York during the '80s. That means that his work had to match up with the likes of Jean-Michel Basquiat and Keith Haring. That's pretty distinguished company. Much like Basquait and Haring, Scharf took a refreshing, street-wise view of creativity, making work across genres that was instantly recognizable. Its latest canvas? A Dior collection, of course.
Kenny Scharf x Dior is Dior head honcho Kim Jones' latest shot at giving the storied luxury house a refreshingly accessible new face. With a definitive streetwear edge, Kenny Scharf's graffiti-style drawings grace the luxury materials that we associate with a label like Dior. From silk bandanas through to Dior's fan-favorite B23 Sneakers, a whole host of pieces have been reinvented with Scharf's unmistakable splatter-like characters and they're looking perfect for summer.
Shop our top picks from the Kenny Scharf x Dior collection below.
Bandana
We love a bandana. It's up there with the most versatile accessories, and when it's adorned with trippy marine Kenny Scharf characters it's going to make an impact whether it's around the neck, through a belt loop, or around your wrist.
Short-Sleeved Shirt
Echo your silk scarf with this short-sleeved shirt which continues the whirlpooling design on a summer-ready silk-cotton blend.
B23 High-Top Sneaker
Dior's B23 Sneaker was never not going to be an icon, let's be honest. Taking the classic Chuck Taylor as an inspiration, this all-outfits high-top features a semi-transparent upper backed by purple Dior monogram and Scharf illustrations to boot.
B27 Low-Top Sneaker
Continuing the retro sneaker inspirations, the B27 features a gum outsole and a classic white leather upper in a tennis trainers silhouette.
Pouch
This jacquard side pouch is characterized by the Dior monogram throughout. Four new arrivals come in the form of Scharf's squashy characters.
Short-sleeved shirt
Loud and proud is the only way this summer and that box is certainly ticked by Kenny Scharf x Dior. A closer look will reveal the Dior monogram applied tonally throughout.
Slim-Fit Jeans
Slim-fit white jeans make the perfect wearable canvas for a range of Scharf patches embroidered all over. Again, a close inspection will show that there's more going on that meets the eye with a tonal monogram backing.
Want to keep browsing? Head to the Highsnobiety Shop for more products that we love. Highsnobiety has affiliate marketing partnerships, which means we may receive a commission from your purchase.