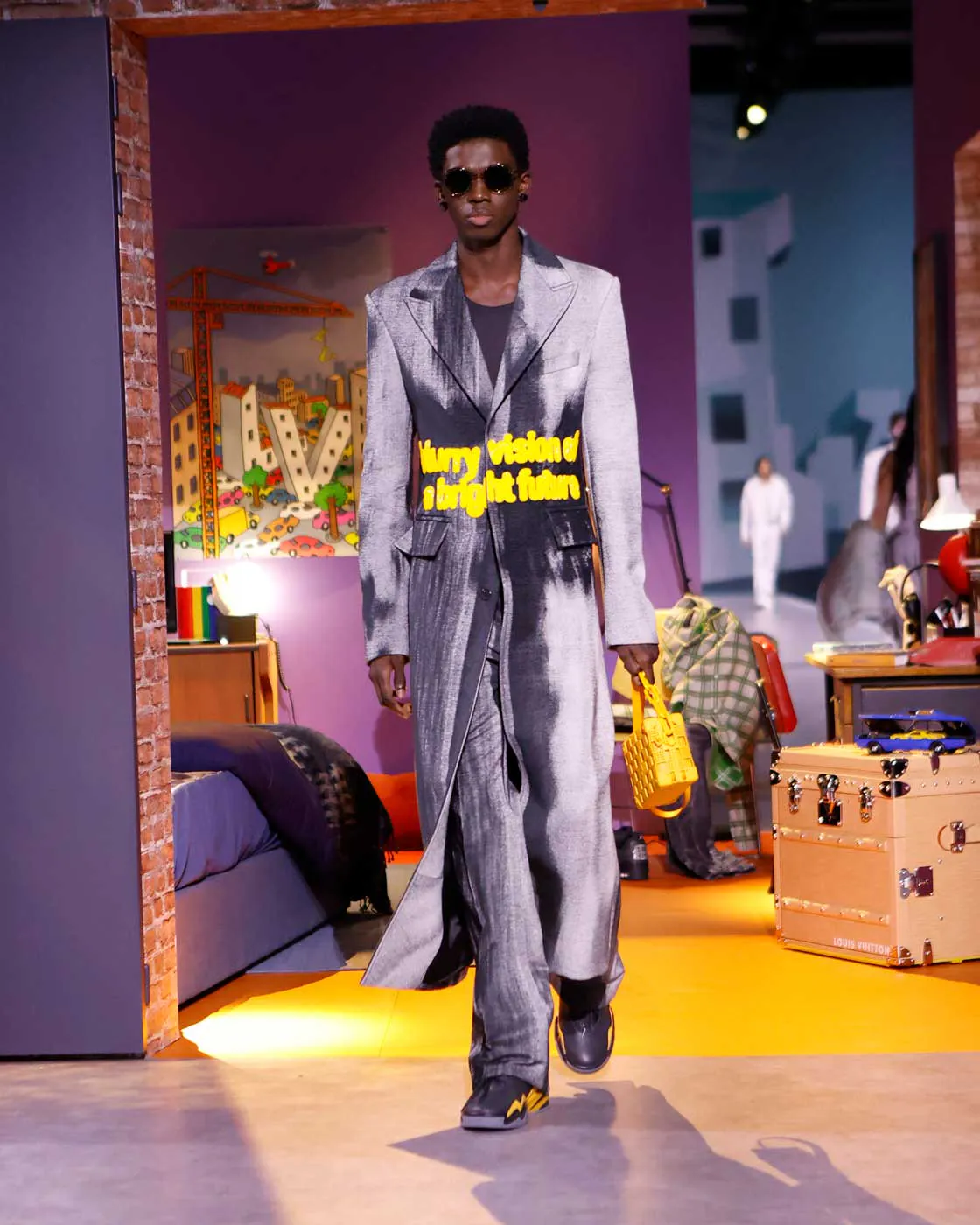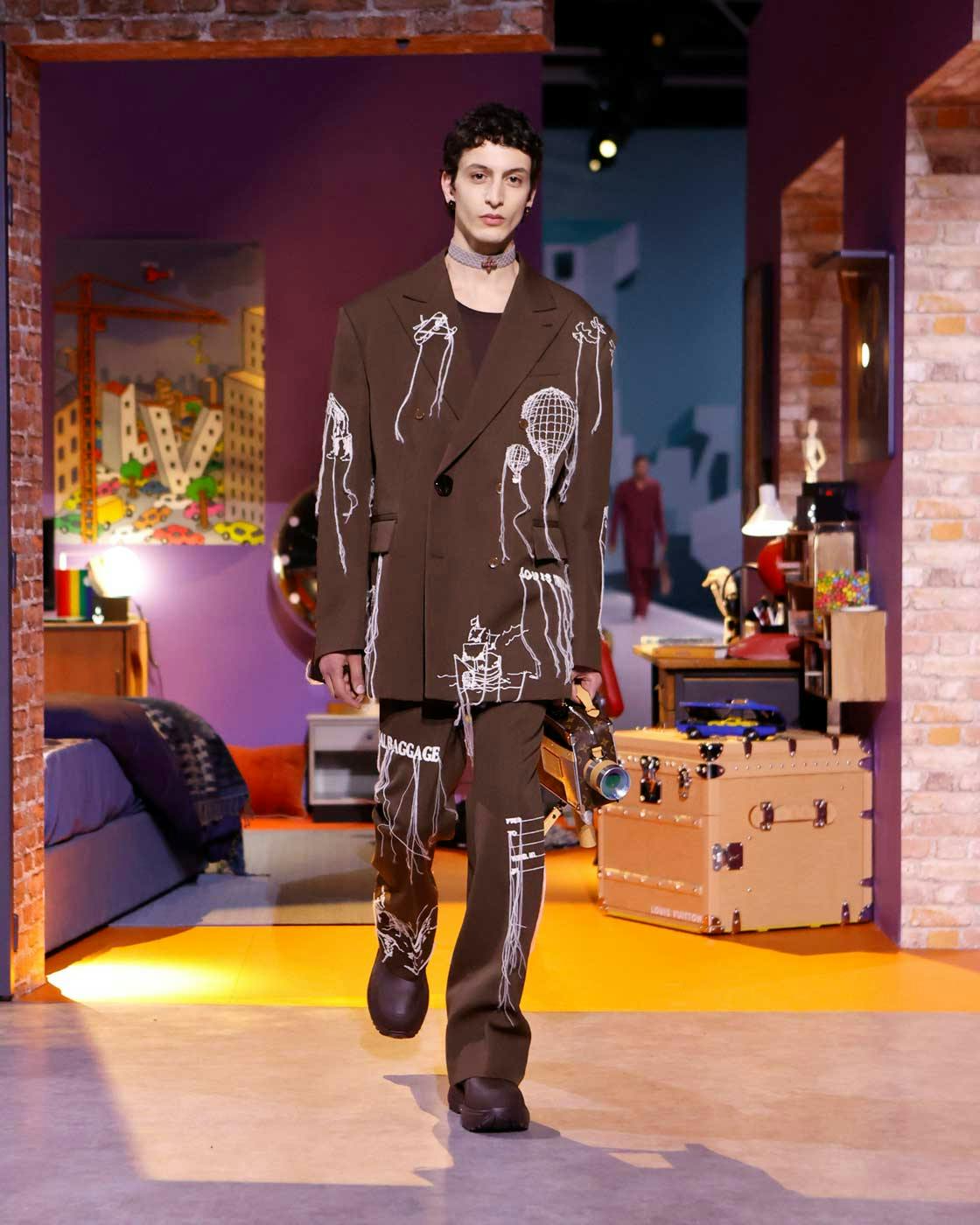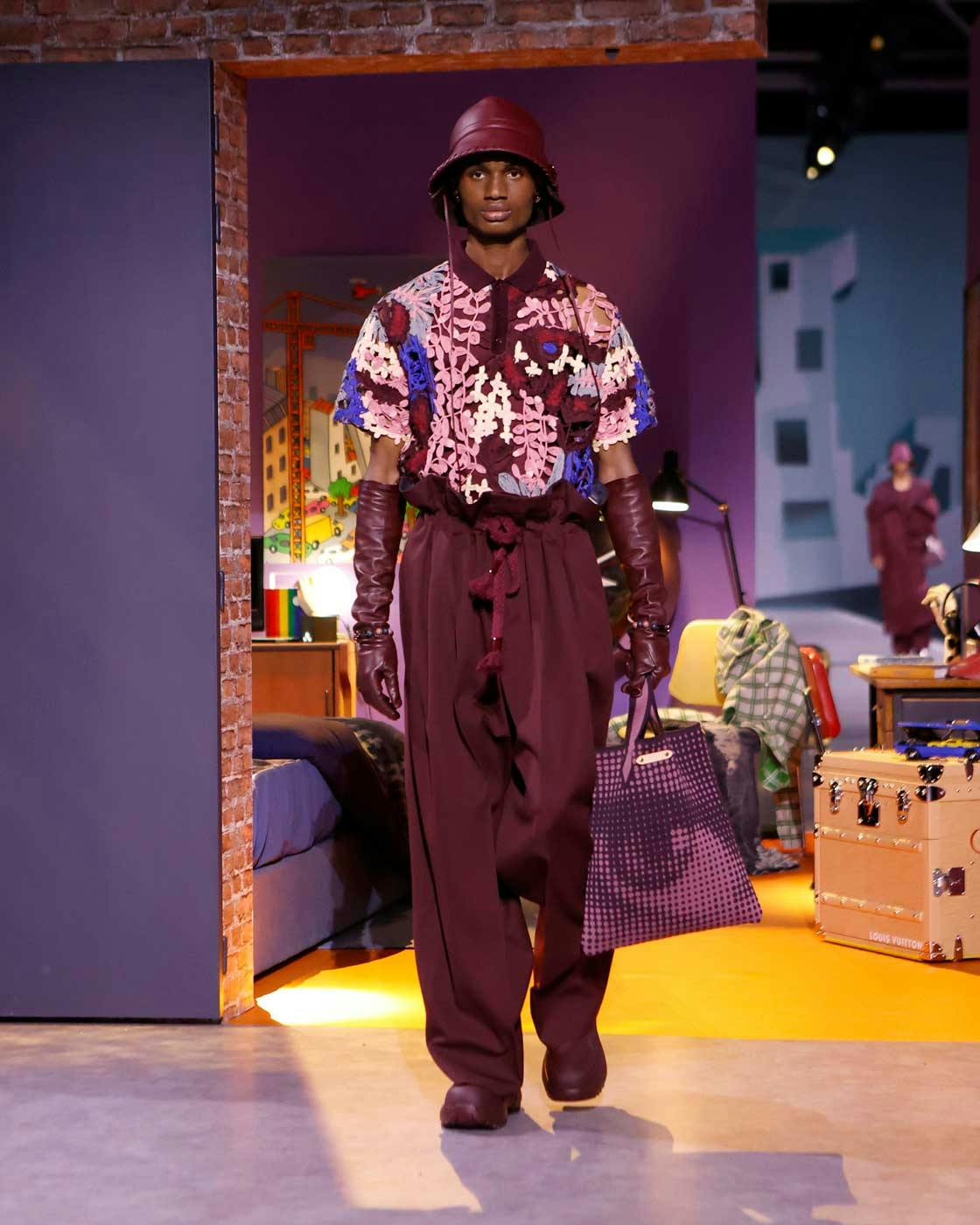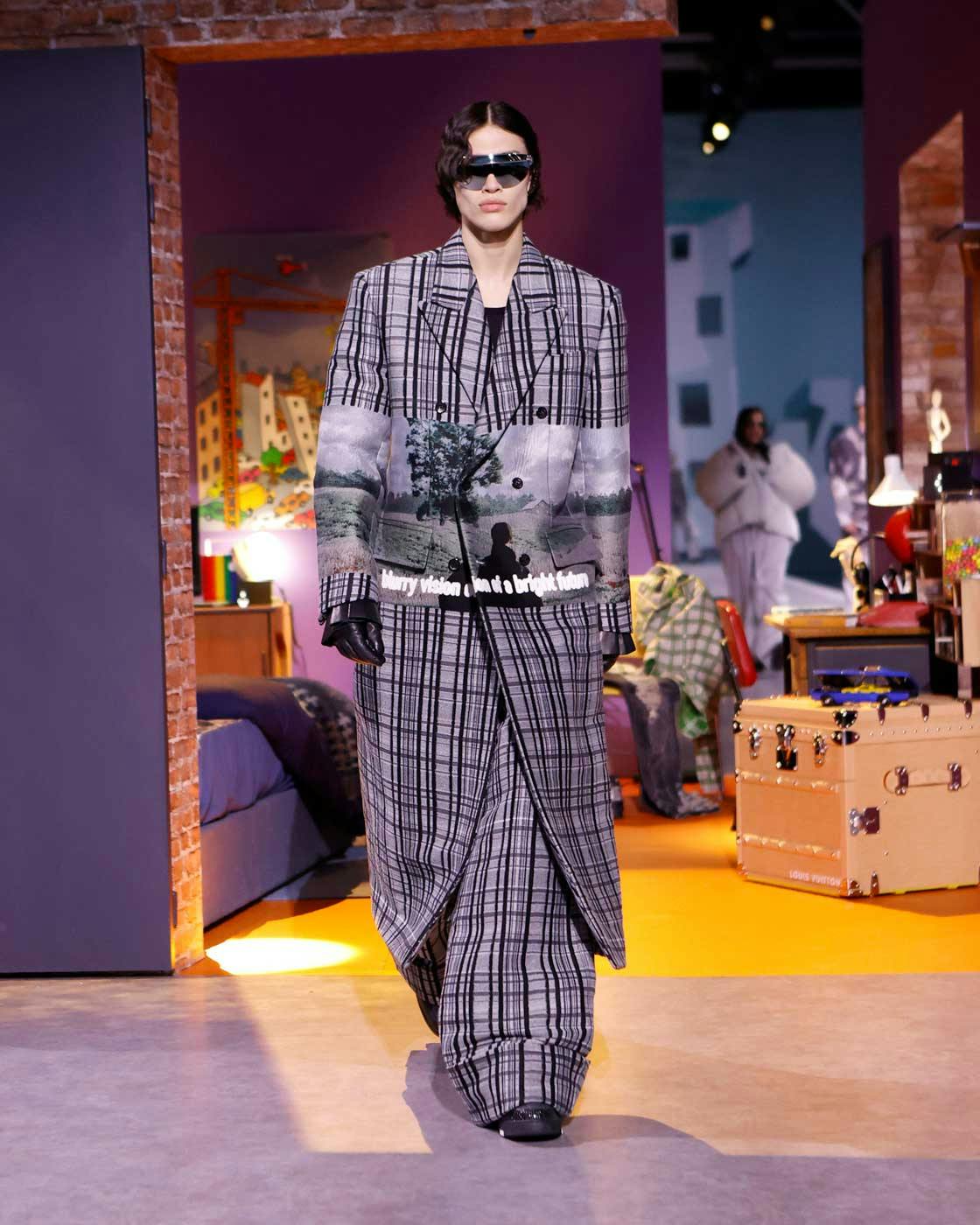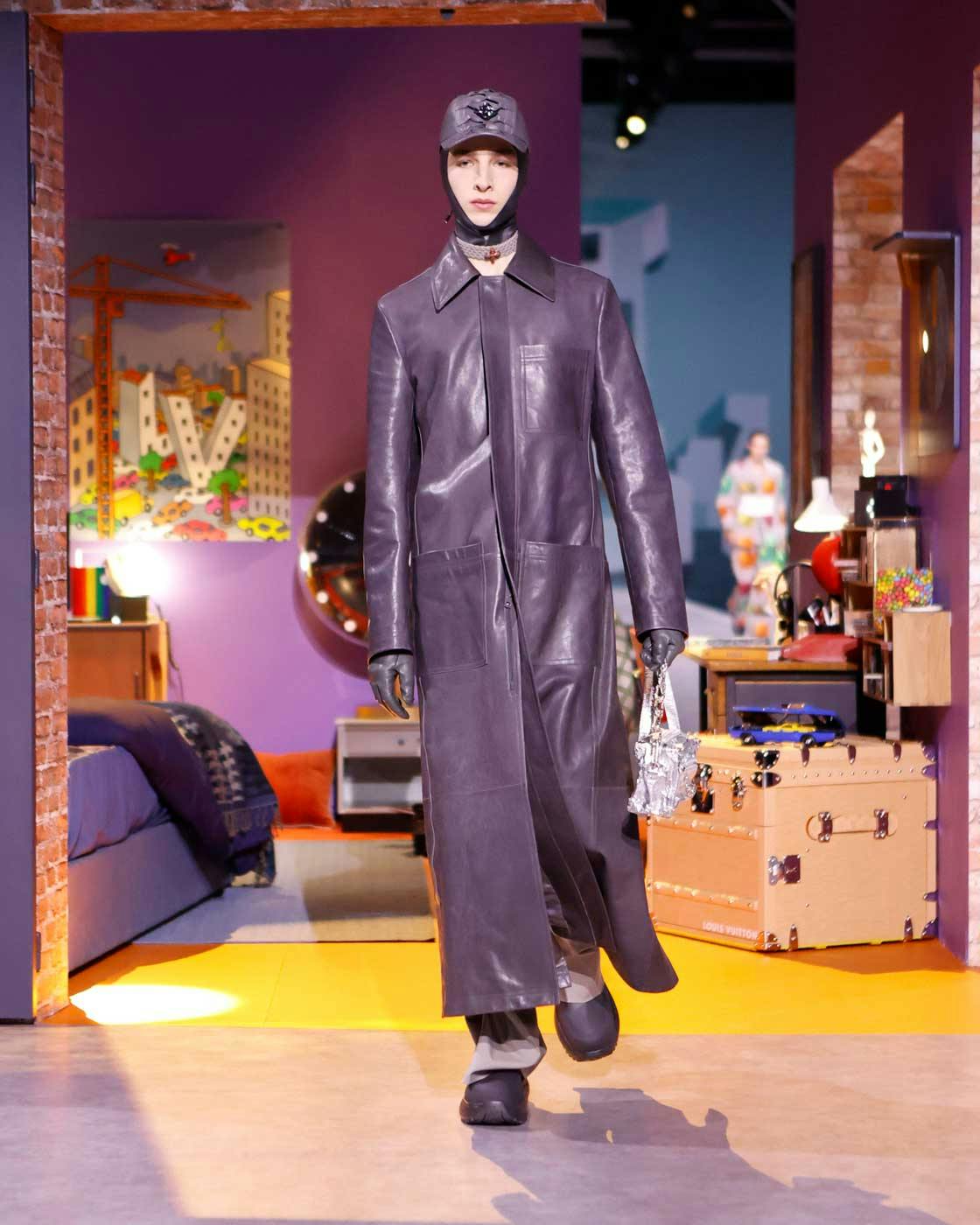 When it was announced that KidSuper founder Colm Dillane was to be the visionary behind Louis Vuitton's Fall/Winter 2023 menswear collection, it came as a bit of surprise but not for the reasons you may think.
The surprise itself wasn't necessarily the fact Dillane had been given the temporary reins of the house (though few saw that coming), it was more that Dillane's appointment wasn't the long-awaited announcement of Virgil Abloh's successor, which has been anticipated since the Off-White™ founder's passing in 2021.
Thus, no permanent creative director was announced at the January 19 runway show that Louis Vuitton held during Paris Fashion Week FW23.
That being said, if Colm Dillane did become a permanent fixture at the French house (rumors suggest that it could be in the cards), Louis Vuitton's FW23 menswear presentation proved he's a logical fit to fill the massive shoes left by Abloh.
To be clear, this collection was designed by the in-house Louis Vuitton Studio Prêt-à-Porter Homme team, most of whom were present during Abloh's tenure at the house and oversaw the 2022 LV shows, with Dillane giving direction and personally overseeing the creation of select pieces.
The results are a natural hybrid of Dillane's design cues — artistic flourishes, flowing suits, and big, splashy color — with the vivacity and genderfluid fun that made Abloh's Louis Vuitton menswear so essential.
Now, observers ought not to compare Dillane and Abloh too closely — it's not fair to either creative, really — but it's inevitable that Louis Vuitton's Fall/Winter 2023 collection would be measured against Abloh's designs, if only because this is the first time that the house has employed a named creative director since Abloh.
Luckily, Dillane and the Louis Vuitton Studio Prêt-à-Porter Homme team were up to the task.
In the typically thoughtful show notes, Louis Vuitton's team outlined inspirations for the collection: young men adopting a vision of "paternal masculinity" through generously oversized garments that undermine tropes in male-designated clothing.
The ensuing designs, dubbed "Louis Lifewear" by the house, run the gamut from technical sportswear to floor-scraping dresses, unrestrained by palette, fabric, or form.
As Rosalía performed atop a childhood bedroom-inspired set designed by the Gondry Brothers, models showed off the new goods, styled by longtime Abloh collaborator and current Off-White™ creative director Ib Kamara: painted camera bags (behind-the-lens perspective played a big role in Dillane's design process), fil-chenille-decorated denim jeans, patchwork camouflage coats, a knit suit drawn directly from Colm Dillane's imagination.
In particular, the outerwear laden with airbrush-style artwork, painted figures, and figurative illustrations that form a complete whole when taken at a distance: that's classic KidSuper. Combined, it has the effect of film costuming imagined with a child's whimsy and an artisan's hand.
Louis Vuitton itself describes the Fall/Winter 2023 designs as "boyish and surreal," a suitable summation of the vision that Dillane brought to the house.
It's nostalgic in more than one way: when Dillane's Louis Vuitton collection channels sepia-toned memories of kids getting dressed in dad's clothes, he hearkens back to the open-eyed wonder of Virgil Abloh's LV menswear.
This is no accident. As Dillane once told Highsnobiety, he considers Abloh a genius and the late LV artistic director's multihyphenate skillset is clearly an inspiration for Dillane's own uncategorizable approach to clothing.
Remember, Abloh's debut collection paid homage to Wizard of Oz, a film all about a young ingenue experiencing a wide, wonderful world for the first time. By tapping that same sense of vibrant awe, Dillane keeps Abloh's vision alive and simultaneously leaves his own mark on the house that Louis built.
This is a new chapter for Louis Vuitton but, reassuringly, it reads similar to the previous one.
Shop our favorite products