Full disclosure, I'm not one to look ahead to the future when it comes to design. As a watch and jewelry enthusiast, my taste has always veered towards the traditional: I am a heritage brand, yellow gold, vintage patina fiend. Nothing gets me more excited than an original Cartier London Crash or (from the deep cuts) a Cartier Tank Obus Savonette. But last year, I had a sudden change of esprit when I started paying closer attention to the watch auction circuit. It was during a Phillips Geneva auction preview that I had my first in-the-metal experience with a few of the most notable independent brands in watchmaking.
The so-called rise of independent watches stems in part from an increasingly limited access to the Patek, Rolex, and Audemars Piguet trifecta. What's a serious collector to do if they can't get their hands on a Nautilus, a Daytona, or a Royal Oak? A different approach becomes necessary, and the discerning customer is forced to seek out something shiny and new.
The popularity of these smaller brands may also be a backlash against the domination of vintage in the marketplace. Vintage trends have led today's big watchmakers to reference older models, with heritage taking precedence over contemporary design. This can be seen in the overwhelming popularity of '70s-style watches with integrated metal bracelets. Even leading contemporary brands like Hublot are going for a vintage aesthetic with their release of the Big Bang and Classic fusion, now including yellow gold versions.
The essence of many of these progressive independent brands flip the idea of what a traditional watch could look like on its head. It's the unorthodox approach to watch design, the subversion of strict Swiss traditions that is most noteworthy. A platform is starting to grow for this market, and collectors naturally gravitate towards the unique and unusual. With these independent brands making such limited quantities (on average up to 200 physical watches/units a year), it's sort of a catch 22, and we are back to where we started: demand far outstripping supply.
This epoch has not yet been officially christened with a pretentious name, but I will attempt to create my own "Neo Generation" category. But to be clear, there is no one unifying design language amongst the brands listed below; their commonality is the futuristic rethinking of age-old aesthetics and mechanical functionality. The following brands are spearheading this movement as modern horological thinkers who are creating a new language to tell time.
If you missed it, see our recap of last month's Watches and Wonders.
MB&F
Max Büsser and Friends are changing the way we think about watches with inspirations originally drawn from Büsser's childhood passions: science fiction, super heroes, planes, and automobiles, later heavily influenced by his daughter's passion for animals. Even events like his wife being stung by a jellyfish brought the HM7 Aquapod to life.
What stands out about the brand, before taking any of the contrarian design into account, is the spotlight given to the individual artisans behind each product. At the end of every press release, they list every person involved in the production of a watch, destroying the myth brands sell of everything being "in-house," and supporting independent artisans who make up the backbone of the industry.
I was curious to see Büsser's brainchild in 3D form, so I headed to Cellini on Madison Avenue where I tried on an HM3 Frog, basically a mini sculpture for the bold and brave. The values behind the outlandish exterior of "horological machine" are very much in keeping with extremely traditional high-end mechanical watchmaking. Büsser's time at Harry Winston, where he created Opus (considered to be the ancestor of MB&F), proves that his intentions have always been to push boundaries while celebrating all the weird and wonderful characters at the epicenter of the watch world.
When asked about his forecasts for the future of horological design, Büsser says, "On one hand, the very big players will concentrate on their icons, and on the other, a very small group of hyper-creative artisans will be writing a chapter in watchmaking history." He stressed the importance of needing more product creators and risk takers at the head of brands. Does he think there is a possibility of a trickle-down effect from independent brands with more modern concepts and futuristic ideas? "As long as marketers and CFOs drive the business, it will not be possible. Even the independent newcomers are mostly creating watches which look more or less like 19th or even 18th century pocket watches. I am weary that this vintage trend will hinder creativity in our industry for at least another five to 10 years."
De Bethune
If I had to confess to having slightly more romantic feelings for one of the independent brands, it would be De Bethune. Looking at my favorite references from the brand in the metal feels like staring into a perfectly shaped lagoon containing an abounding depth of perfectly metallic blue. Much like its peers, the brand evokes ideas of infinite sky and boundless milky way, but De Bethune offers something slightly more spiritual. With the brand naming a watch "Kind of blue," you can't help but feel De Bethune harking back to a well-known artistic trope; it's as if they are tapping into an emotional sensibility for the color via Miles Davis that many other contemporary artists have also claimed an emotional attachment to (Yves Klein, Picasso, Louise Bourgeois). The craftsmanship behind these watches feels alchemistic. Take the 2017 DB28 Kind Of Blue Tourbillon Météorite – a piece of actual meteorite iron that fell from space 4,000 years ago which was oxidized, cut, and decorated to form the image of the cosmos on the dial of the watch.
De Bethune has a futuristic design language, most notable in the DB28 series, but the brand also maintains a more classic aesthetic in many of its other models. Denis Flageollet, master watchmaker and cofounder of the brand, considers the De Bethune client to be an advocate of meticulous craftsmanship; they are looking to wear something on a daily basis. It's still very much about wearer comfort, even if the watches are considered by some as "objets d'arts." It's this contemporary take on traditional design that makes the brand special. The floating lugs, for instance, pivot from the central axis of the watch which make them flexible enough to adjust to all wrist shapes and sizes. Nearly everything is made in-house, from the methodically scattered laser-cut stars to the milky way gold leaf applique, and the delta shaped bridges. Individually oxidized metal components are heat-treated at different temperatures to ensure a level of uniformity amongst each of the different alloys.
URWERK
If you are looking for Stanley Kubrick's version of the future (extraterrestrials, orbiting satellites, space travel, and spaceships aplenty), this is the brand for you. Felix Baumgartner and Martin Frei are making watches that force a conversation about the indication of time, often leading to quite abstract and philosophical ideas. The name Urwerk comes from a compound of Ur, a Mesopotamian civilization that claims the first recorded mention of displayed time, and Werk, which means to work, create, evolve, and arouse emotions, in German.
Urwerk upholds and maintains the traditions of Swiss mechanical watchmaking (Felix Baumgarnter is, afterall, a member of the AHCI), but these techno-industrial case designs most certainly do not make for your entry-level watch. The UR 102, the brand's first model, was boundary-breaking for its time and is still totally bewildering. There is only one wandering hour visible on the entire display which is supposed to be reminiscent of a satellite or planet moving across the sky. The watch displays the hour and the wearer has to decipher the minute by placing where it is on the horizon, which is retrograded. The minimalistic approach of only one hour marker moving is supposed to put you in a unique time quantum, where the other hours are stored away and your focus is placed on the now. It's relatively impractical if you are just trying to get to your next meeting on time, but the beauty lies in the conceptual.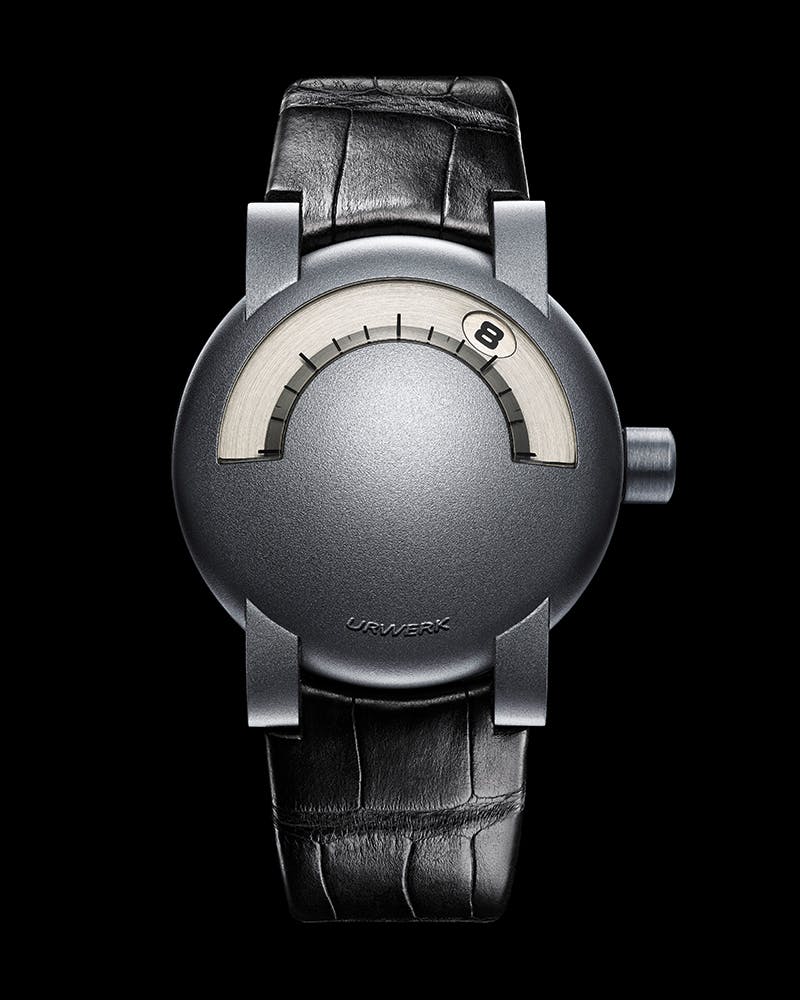 The futurological musings of this duo have led to designs that look like they come from another planetary system altogether. The design element of these timepieces is anything but classical, the watches otherworldly, resembling something out of a '70s sci-fi classic; they could be portal entry devices or mini time machines. Another UR model, the 210, feels closer to a futurological artifact than a watch. The timepiece has orbiting satellite hour indicators on giant rotating cubes that give a quasi-digital effect. Despite the very masculine case architecture, it surprisingly feels light on the wrist.
Laetitia Hirschy, cofounder of Watch Femme, described at Dubai Watch Week, "We had local Emirati women that normally wear beautiful Pateks and APs try on a super masculine Urwerk. The reception was overwhelmingly positive with many of these ladies loving how powerful it made them feel."
Urwerk has a pretty diverse fan base and some notable celebrity supporters: Ralph Lauren owns a UR 210 (a strange but fun pairing), Michael Jordan owns several models including a custom Chicago Bulls red-accented UR 220, and Robert Downey, Jr. selected a UR 110RG for his Iron Man character in Spider-Man: Homecoming, which was actually used as a functional gadget in the movie.
HYT
There's been some controversy surrounding HYT in recent years, but the company is back with a new CEO, Davide Cerrato. HYT (which now stands for Heroes of Your Time) has bounced back with a full rebrand whilst still holding on to its rather outlandish defining characteristic: a liquid time display. Purposefully putting fluid into a watch seems entirely counter-intuitive, but this is the world of avant-garde horology, where it can sometimes feel like timepieces are made by wizards, not civilians. HYT hopes to convey a modern message by aligning its brand ethos with what's happening in the sky, a reflection of today's space travel obsession. With Elon Musk and Jeff Bezos pushing the space tourism agenda, us mere earthlings seem to be experiencing a renewed fascination with space exploration.
The brand is relaunching with the "Hasteroid," which comes in a black-coated titanium and carbon case. It has what looks like a hybrid between slime and alien green fluid held inside a capillary tube that functions to indicate the retrograded hours. HYT draws much of the design inspiration from Star Wars-inspired space colonies, cities, and vessels, but the overriding message is not retro-futuristic. It's very much forward-leaning, with a playful spirit and optimism that only the idealistic future can provide.
There is without doubt a healthy dose of horological mastery behind this brand; the message is meant to be light, but the tradition that comes with mechanical watchmaking is heavily intact. HYT has a way to go before truly defining its new brand DNA, but its progressive outlook is the main takeaway – the brand is pushing the astronomical narrative as the vastness of space continues to beckon mankind.
Despite the wide variation in aesthetic, these independent brands are part of an overarching design movement. There is a strong feeling of community; it's a world full of interesting characters with very progressive ideas, each brand (intentionally or not) presenting its own interpretation of "Watch Futurism.'' This movement isn't to be confused with a Pierre Cardin or André Courrèges-style Retro-Futurism, nor is it to be lumped in as a niche subgenre of Neo Futurism, an architectural movement spearheaded by the late Zaha Hadid. There is a growing interest in these rising stars of engineering and design; they are taking watchmaking into the future by creating a space that seems more free-spirited and liberal within a world that is inherently anachronistic.
Sure, we can't escape the fact that independent watchmaking is an extremely esoteric luxury, but if you strip away all the frills and technical components, you can see the authentic desire to keep a beloved institution moving forwards. We can romanticize a Gerald Genta-inspired design all we want, but somebody has to take a risk in order to scope out the future of an industry that doesn't seem to be disappearing any time soon.