With most aspects of the world seeming surreal these days, seeing a 3D spaceship-looking watch on someone's wrist just may seem normal. After all, you may have spotted Drake's tatted arm sporting a roughly $700,000 futuristic Jacob & Co. watch with a working roulette wheel. Or perhaps you saw Pharrell Williams wearing a wild-looking $1 million Richard Mille watch with a dial that seems to depict a view of Mars as a reflection on an astronaut's helmet.
This appearance of unconventional watches is a fairly recent phenomenon and has caught the eyes of collectors and watch lovers alike, alongside rappers, artists, athletes, and celebrities. These designs are technical masterpieces that defy the physical constraints of classic watchmaking — simply put, these are not your grandfather's watches.
The Definition of "Space-Age"
One of the key characteristics of these wristwatches is their complexity. Generally, they are in research and development for years, and most are so complicated that they are built in very limited editions. The designs typically borrow materials from the automotive or aviation world, and turn to nanotechnology to create wildly shaped cases and movements. They also cost hundreds of thousands of dollars.
Some of these watches are made of high-tech materials that were never used in watchmaking before. They boast sharp edges, generous curves, or pieces that seem to stick up out of nowhere. Many even showcase new ways of displaying time, and some are so ground-breaking that they hold multiple patents, offering world-firsts in watchmaking. It's fair to say this kind of grandiose design polarizes taste.
The Early Days
The earliest versions were the result of trailblazing independent watchmakers who couldn't find timepieces that were unique and daring enough to suit their imaginations. While big brands were busy creating classically safe watches, certain creative minds were rising to new challenges. In fact, some began working with engineers and scientists, onboarding research and design teams that combined out-of-the-box thinking and new technology with the centuries-old art of watchmaking.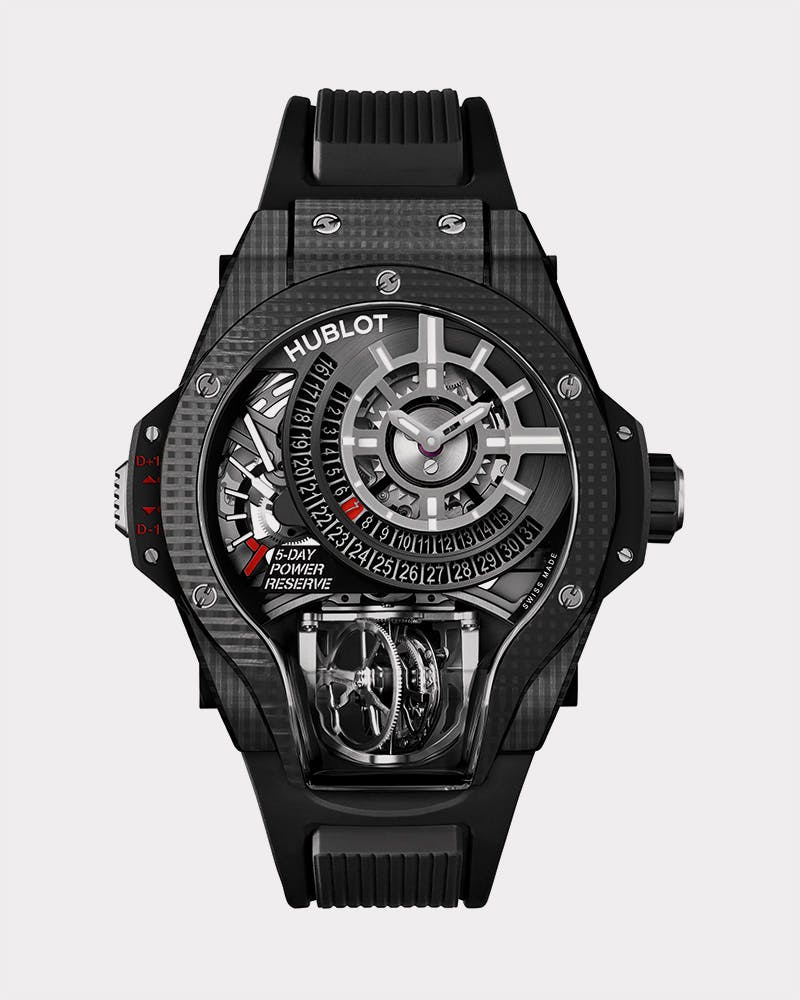 Skeptics, of course, had their doubts. Would these unconventional creations really sell? Hell, would they really work? They did, and better than anyone expected.
The Rise of the 3D Concept
The seed was planted in the late 1990s. Several new brands emerged and embarked on a journey to bring their ideas to fruition. An engineer by education, Maximilian Busser — co-founder of MB&F — was a leader in the idea of creating visionary watches. In his role as then-head of watches for Harry Winston, Busser conceived of the Opus project, wherein the brand would work with different independent watchmakers each year to bring their dreams to reality. When the first Opus became a reality in 2001, some skeptics were pleasantly surprised.
Other daredevil brands began to emerge. They included Urwerk, Richard Mille, and Greubel Forsey. By 2010, brands such as HYT and Ressence, each of which incorporates liquid into their mechanical watches, arrived onto the scene. Even brands that had been predominantly classic watch companies beforehand — such as Girard-Perregaux, Hublot, Jacob & Co., and Jaeger-LeCoultre — began creating architectural masterpieces that bordered on sci-fi.
Today's Finest Space-Age Watches
Today, 20 years into the journey, it's hard not to marvel at the ambition behind some of these timepieces. Jacob & Co. — the brand that produces the Astronomia Casino watch that Drake owns — also partners with Lionel Messi and a host of other globally influential celebrities and professional athletes. The Astronomia line, first unveiled a few years ago, has been a leader thanks to its sapphire crystal cases that allow for viewing from all sides.
In fact, it can take thousands of hours to machine the sapphire crystals for the case, but it is well worth the wait because the 360-degree view inside is spectacular. The movement itself is also impressive; if you're struggling to make small talk at a party (and happen to be extremely wealthy), flash one look at the Astronomia Solar Jewelry Planet watch (with gemstone planets that actually rotate within, and with orbital tourbillons — escapements that compensate for errors in timekeeping due to the effect of gravity on the wrist — constantly in motion) and you'll be sure to command a curious crowd around your wrist.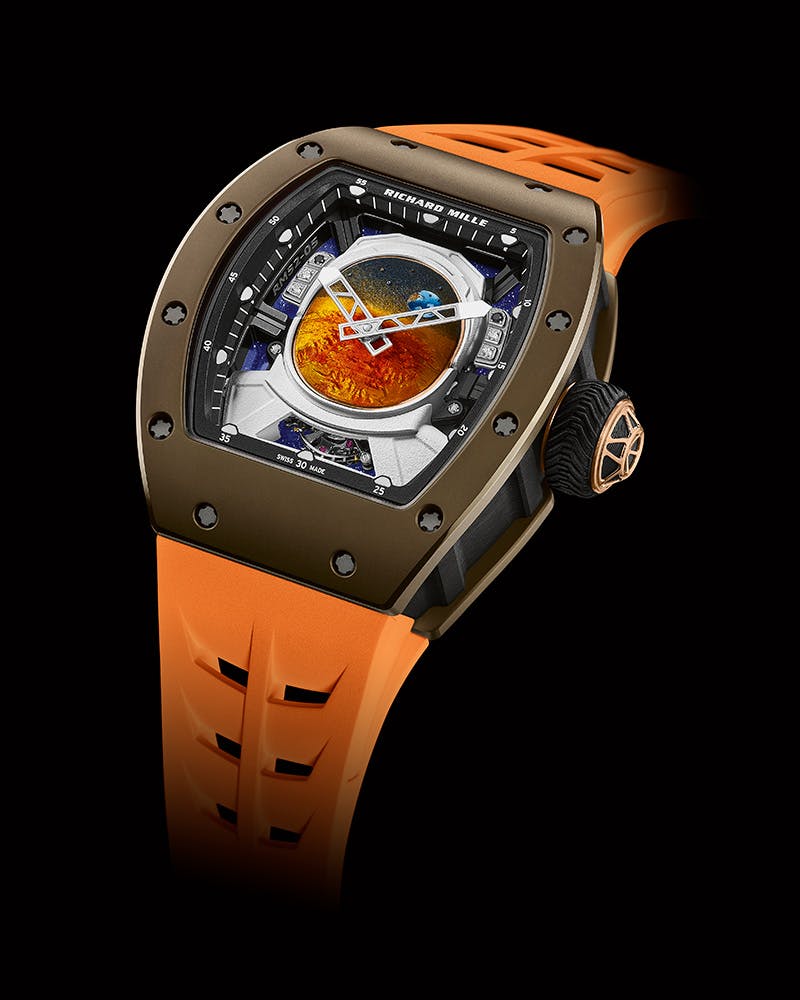 Richard Mille, who recently teamed up with Skateboard P to create the nearly $1 million RM 52-05 Pharrell Williams Tourbillon, was one of the first high-tech/high-mech watch brands. Year after year, it is a leader in new materials and looks. Richard Mille dubs his watches "racing machines on the wrist," and, to some degree, many of them are. For instance, the RM 11-03 Automatic Winding Flyback Chronograph McLaren watch, created in conjunction with the British automotive manufacturer, is made using high-tech Carbon TPT and orange quartz, and features a multi-layered skeletonized movement. From any angle, the watch is dramatic.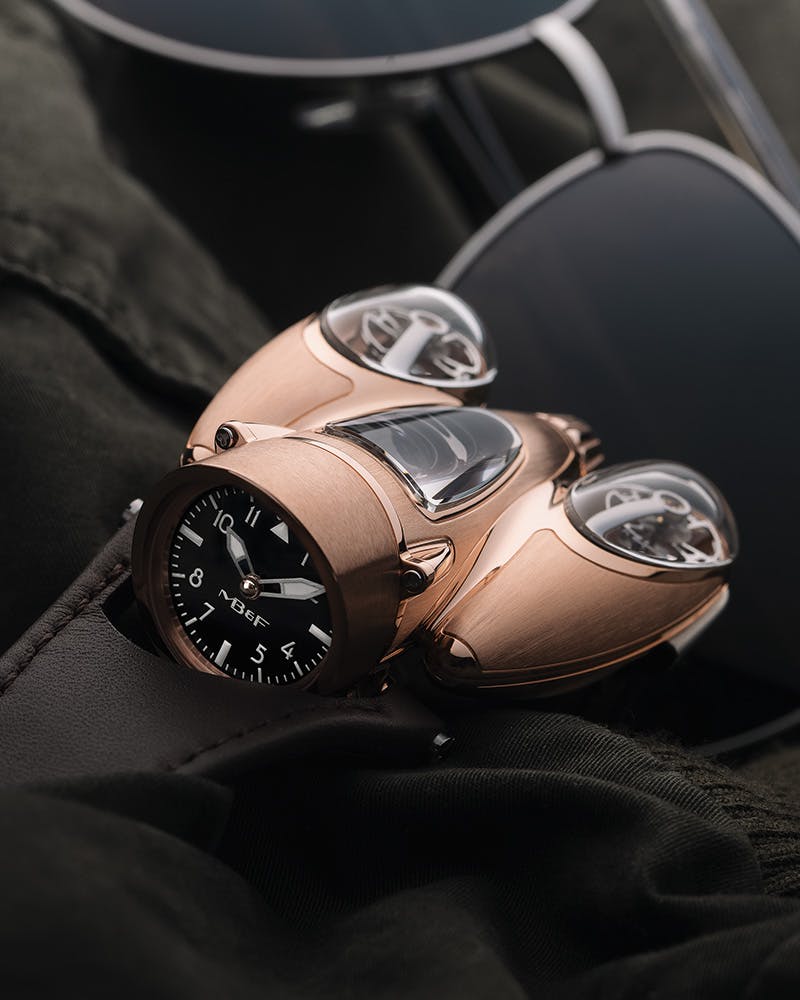 MB&F is a leader in creating 3D shapes. After launching the highly successful Opus series for Harry Winston two decades ago, Busser still ached to build the watches of his dreams and founded his own brand. In 2007, he launched MB&F's first horological machines and fast became one of the most highly regarded creators of unprecedented watches. The watches range from pieces with alien sculptures on the dial and in the movement, to spacecraft wristwatches and frog-like cases. In fact, the recently released Horological Machine No. 9, Flow, is based on aerodynamic principles from automotive and aviation fields. The complex case of the rose gold watch defies all rules and, thanks to milled and curved sapphire crystals, the wearer can view the twin balance wheels of the movement through two cone-shaped domes.
Then there is the new HM 10 Bulldog, with an oddly shaped oval-style case (shaped to look like the animal), sapphire high-domed crystal (that acts as the head), moveable lugs meant to resemble a bulldog's legs, and — beneath the watch but visible from certain perspectives — open mouth with teeth bared.
In its never-ending quest to display time differently, independent brand Urwerk has been a pioneer time and again. This holds true in its recently unveiled UR-111C watch with an unconventional curved case that is tapered slightly thinner at the top than the bottom. Part of the brand's Special Projects line, the watch features three new advances in watchmaking. Perhaps top among them: an adventurous roller that takes the place of a typical crown and is positioned right across the front of the case (where a dial would normally be placed).
It also features a linear retrograde minute display (meaning the indicator that points to the minutes continues from zero to 60 and then jumps back to its original zero position to start the count again). The minutes are displayed on an angle at the bottom of the watch case, much like a vintage driver's watch (so the time is readable to someone with their hands on the steering wheel). The similarities, however, end there. The minutes are painted onto a rolling cylinder that showcases the numerals, and also winds a coiled spring that enables the indicator (a green pointer instead of a traditional hand) to return to zero once it hits 60. It also powers the hour indicator, placed to the left of the minutes cylinder, to jump to the next hour.
Additionally, the seconds display is shown at the top of the watch using two wheels that are graduated in 10-second intervals and that work together to showcase each 10 seconds passed. Like most of these new multi-dimension watches, it was several years in the research and development stages.
To the Moon or Back to Earth?
The list of who's who in this ultra-modern, state-of-the-art watchmaking realm goes on. At most, though, about a dozen independent brands occupy this arena. Because these three-dimensional watches have captured hearts as well as eyes, they are here to stay, with new brands jumping on board from time to time. No matter how many brands ultimately get on board, these spectacular watches will be created in very limited numbers; they won't be cheap, either. So if you're in the market for three-dimensional time, you're advised to move fast — and have a hefty wallet.