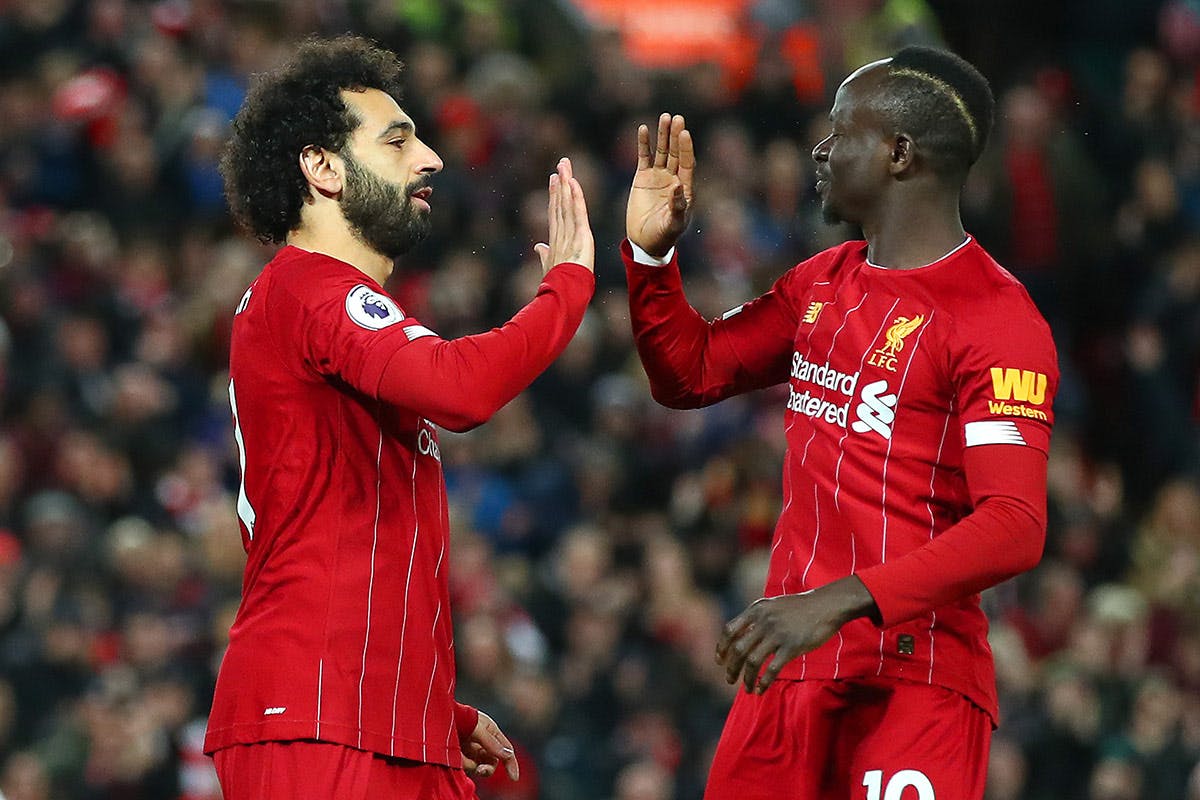 Today, Liverpool and Nike officially announced their long-awaited multi-year partnership that will see the Swoosh become the club's official jersey sponsor and supplier. The deal starts on June 1, 2020, and is reported to last five years.
Nike and Liverpool's partnership is significant in many ways as it represents a big step forward for both parties, on and off the pitch. This sentiment was reflected by Billy Hogan, Liverpool's managing director and chief commercial officer, who said: "As a brand, Nike reflects our ambitions for growth, and we look forward to working with them to bring fans new and exciting products."
How much is the Liverpool and Nike deal worth?
The financial details of the deal are murky, to say the least, with some outlets reporting that it's worth as much as $105 million a year. Other outlets report that the base fee Nike will pay is around $40 million a year — around $20 million less than what New Balance currently pays — but with the added bonus of 20 percent royalties on all jersey sales.
Should the higher end of the estimated valuations prove true, Liverpool would eclipse rivals Manchester United's $98 million per year deal with adidas as the highest-paid English team and only trail Barcelona ($131 million) and Real Madrid ($128.5 million) in world football.
If the reported $40 million-plus royalties are accurate, then Liverpool is betting on themselves to shift enough product globally that the royalties would make up the difference between its base fee and that which other clubs of Liverpool's stature are receiving. Royalties for sports teams are usually lower, with the manufacturer usually pocketing most of the revenue and wholesale and retail.
How did this deal happen?
The deal was first rumored last year when news leaked that Liverpool was unhappy with New Balance's global distribution. After news broke that Nike and Liverpool had agreed on terms, New Balance took the club to court claiming Liverpool had an obligation to renew its contract with the brand due to a matching clause in the current deal. Ultimately, courts ruled that New Balance could not match all terms of Nike's new offer, and thus Liverpool was free to sign with the Swoosh.
What does Nike offer that New Balance can't?
Courts ruled that New Balance would be unable to match Nike's distribution of Liverpool product, as well as Nike's offer to use global superstar athletes such as Serena Williams and LeBron James (who also holds a stake in Liverpool's ownership group). Nike apparently committed to selling licensed products in "not less than 6,000 stores worldwide, 500 of which shall be Nike-owned."
Nike has access to a roster of pop culture icons ranging from Virgil Abloh to Drake, both of which have history with and a close affinity to the sport already. With lines being blurred between sportswear and pop culture, Liverpool will see huge potential in being able to tap the personalities Nike has access to. Nike-affiliated personalities such as  Abloh, Williams, or LeBron could be used to model the jersey, participate in marketing campaigns, or just generally advocate for the club within the scope of Nike's sponsorship. Also, it's not farfetched to see Drake, one of sport's biggest bandwagon fans of all time, wearing a Liverpool Nike jersey in the near future. While it's not explicitly confirmed the rapper is working with Nike again, he wears a lot of Swoosh products and enjoys a close relationship with the brand.
In addition, Nike offers the type of global brand recognition that only few brands can compete with. A Nike Liverpool jersey is instantly recognizable for its Swoosh on the chest and then again for the Liverpool crest, a global sporting icon in its own right. Nike can also help Liverpool break into markets they haven't been able to properly penetrate, such as the lifestyle market. There was an attempt by New Balance to produce co-branded lifestyle product but Nike has already proven it can turn a sports team into a global fashion icon with the Jordan Brand and PSG collections. Rumors are heating up that Nike has a Converse/Jordan Brand collection planned for Liverpool, which would make sense as more football clubs are attempting to reinvent themselves as lifestyle brands. For that reason alone, it makes leaving New Balance for Nike a no-brainer.
What does Liverpool bring to the table?
Liverpool, reigning UEFA Champions League winners and likely to end the season as Premier League champions, has been on the up in recent years after a spell, relative to its past, in the doldrums.
The club, which has always had a loyal global following, is establishing itself as a footballing powerhouse once again, which makes it an attractive team to sponsor right now. But even ignoring the current sporting success Liverpool is seeing, the club is a heavyweight in world football with fans not only all over the United Kingdom but all over the world, especially in Asia, an important market for both Liverpool and Nike.
The history of Liverpool as a European — not just English — footballing powerhouse cannot be underestimated. While times were tough between 2010 and 2015, it looks like Liverpool is back at the summit it once permanently resided on. This brings with it constant exposure in Europe's top footballing competitions, and an ever-growing fanbase all over the world.
The club's manager, Jürgen Klopp, is also one of the most charismatic and likable coaches in the game and often featured on the club's YouTube channel. It's highly likely that Nike will also agree personal terms with Klopp, similar to PUMA with Pep Guardiola.
Additionally, Sadio Mané, arguably Liverpool's best player, is currently signed to New Balance. His contract expires in the summer and it's highly likely that he will sign with Nike so that he can be used in all campaign communications by the Swoosh, who will have both player and club under contract.
What effect could it have on future transfers?
It's an open secret that brands love having their players at clubs they also sponsor. It was claimed adidas helped broker Paul Pogba's transfer from Juventus to Manchester United, with the Three Stripes sponsoring both player and club. This, too, could be the case with Nike and Liverpool, who have continuously been linked to Paris Saint-Germain's Kylian Mbappé, a Nike athlete.
In any case, even if Nike doesn't have a direct influence on the transfer dealings in Liverpool, the cool factor of playing for a Nike club and being outfitted with the best gear the brand has to offer might be enough to sway some players who are on the fence about a transfer to Anfield.