Last week, adidas brought together a star-studded selection of athletes and ambassadors for The Future of Sport event at its newly opened London flagship. The sportswear giant is committed to serving all athletes whatever their game of choice may be and among those in attendance were two of adidas' most popular athletes: English footballer Dele Alli and superstar gamer Tyler "Ninja" Blevins.
While Spurs player Dele signed to the Three Stripes in 2016, Ninja announced his partnership with adidas just a few months ago via social media. He is the first professional gamer to sign an endorsement deal with the brand, although what that deal consists of exactly is still unknown.
Highsnobiety sat down with Ninja and Dele for an exclusive interview at the event. But in the interest of team spirit, rather than interview them ourselves, we asked the two to interview each other. Read on to see what Dele has to say about playing as himself in FIFA and the backstory behind Ninja's record-breaking stream with Drake as well as details on his adidas collab.
Ninja: I'll start first. How do you prepare for a match? I'm talking start to finish bro. You wake up, what's your breakfast routine?
Dele: It depends if it's a morning game or a night game. If it's a weekend, it's usually a three o'clock kickoff. I'll sleep as long as possible and usually miss breakfast. Since I started playing professionally, I've never woken up early and had breakfast before a game. A night before a game, I'll have spaghetti bolognese.
Ninja: Okay, carb up.
Dele: Yeah and then if it's a night game, I'll have Weetabix in the day time. And then after that, just relax, watch videos on my phone, listen to music. I've always just tried to relax as much as I can, not think about the game until we arrive at the stadium and see all the fans. Then we'll get into game mode.
Dele: What about you? How do you prepare for competitive game sessions?
Ninja: Dude, I wake up and that's pretty much it. There's a difference because nowadays all tournaments, for Fortnite especially, are at home. Usually you have to travel a lot across the country for tournaments and then the routine is a little different. But I usually just wake up, get a little coffee, hang out with the wife and the pups. Just chill, mentally reset for the day, make sure I'm in a great mood, because it's hard to reset your mindset if you're just in a terrible mood at the beginning of the day. I don't eat breakfast; always skip it.
Dele: Do you eat whilst you play?
Ninja: Oh always, I'm a big fan of eating while I play. I mean, especially in Fortnite competitive, you just sit in a one-by-one now most of the time. So there's a lot of downtime to eat food. Nothing crazy, dude. I don't run, I don't exercise, I'm out of shape now that I think about it.
Dele: It's all mental, right?
Ninja: Competitive gaming is literally all mental, you don't have to run or do anything crazy, you just prepare yourself. I'll watch a lot of Fortnite, all the VODs of other top players. Actually it's great because whenever there's a tournament, Europe usually is first, and I just watch a lot of the competitive Europe guys first and they just get me completely psyched up and ready to go.
Dele: When you're playing, do you have any strategies to stay focused or that help you stream for a long time?
Ninja: No, I just love gaming so much. I never ever lose concentration. No joke. I can play for 14 hours straight and take every game as competitive and serious as possible without messing around. It's crazy.
Dele: That is crazy.
Ninja: I've been doing that forever now that I think about it, and I get really pissed when my teammates kind of goof off. It's like, dude, take it seriously.
Ninja: We all know you love gaming, what are your top three favorite games besides Fortnite?
Dele: Okay, it has to be FIFA because FIFA was the first game I played. And Call of Duty, but FIFA's definitely at the top. I just started playing NBA 2K too. I'm not good though.
Ninja: How weird is it to play FIFA when you're a professional football player?
Dele: Yeah, it's strange, but a lot of my friends play it so I just play against them.
Ninja: Are you better than all of them?
Dele: I used to be, but the new one is very different and for some reason I'm not very good.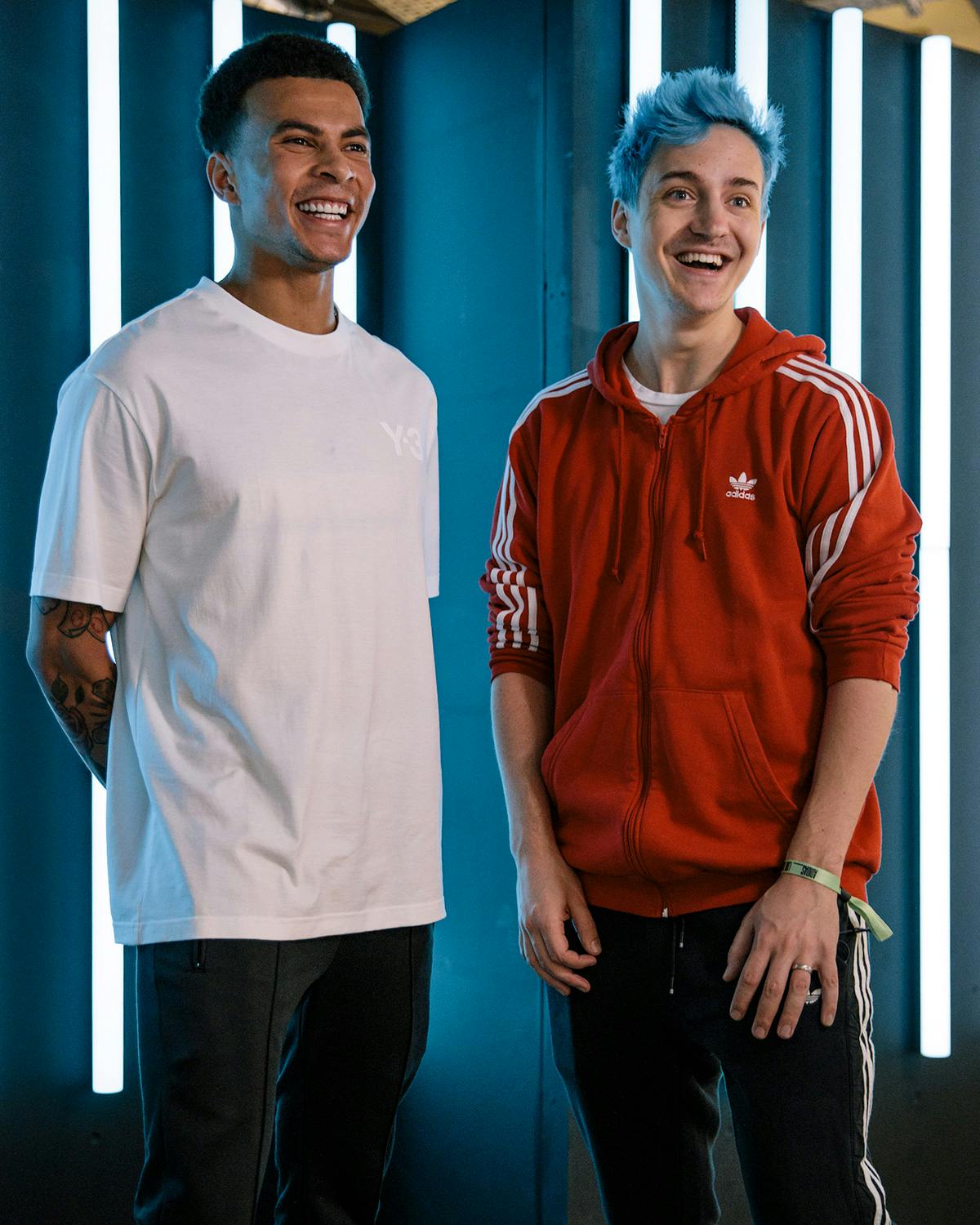 Ninja: When you play FIFA, do you play as Tottenham or England? And do you put yourself in the starting lineup?
Dele: If I'm playing as Tottenham then yes. If I'm playing against my friends that aren't very good, I'll definitely be Tottenham and only try to score as myself.
Ninja: That's amazing.
Dele: But if they're good then I'll play as Juventus. There's always, always a team that's really good on FIFA, and this year for me it's Juventus.
Dele: How do you balance gaming and entertaining or keeping people in tune with your streams? Because I tried it and it's a lot harder than it looks.
Ninja: Yeah, dude. I've played so many games now and I'm just really, really good at reading the chat and being able to kind of do both. It's a lot easier with battle royales because there's a lot of downtime in between each fight. The contest really is just being better than everyone and fighting and eliminating and winning fights. After, you sit back and then you interact with the chat, you play some music. It's just one long grind and it's a lot of fun.
Dele: It's got to be a lot harder than it looks.
Ninja: It definitely is, yeah. I mean especially if you're not a super competitive gamer or you don't game all the time and you have to put 100% of your focus into the game that you're playing. Especially for me when I try to actually play new games that I'm not good at and I want to try to get good at it, my interaction with the chat and my entertainment value definitely goes down because I'm trying to learn the game. I'm putting all my focus into not sucking and absorbing as much information as possible and I can't do that while I'm teaching and entertaining.
Dele: So if it's like that, do you play a lot off stream?
Ninja: I try. I definitely try to get to that point where I can actually be entertaining and not super focused on it.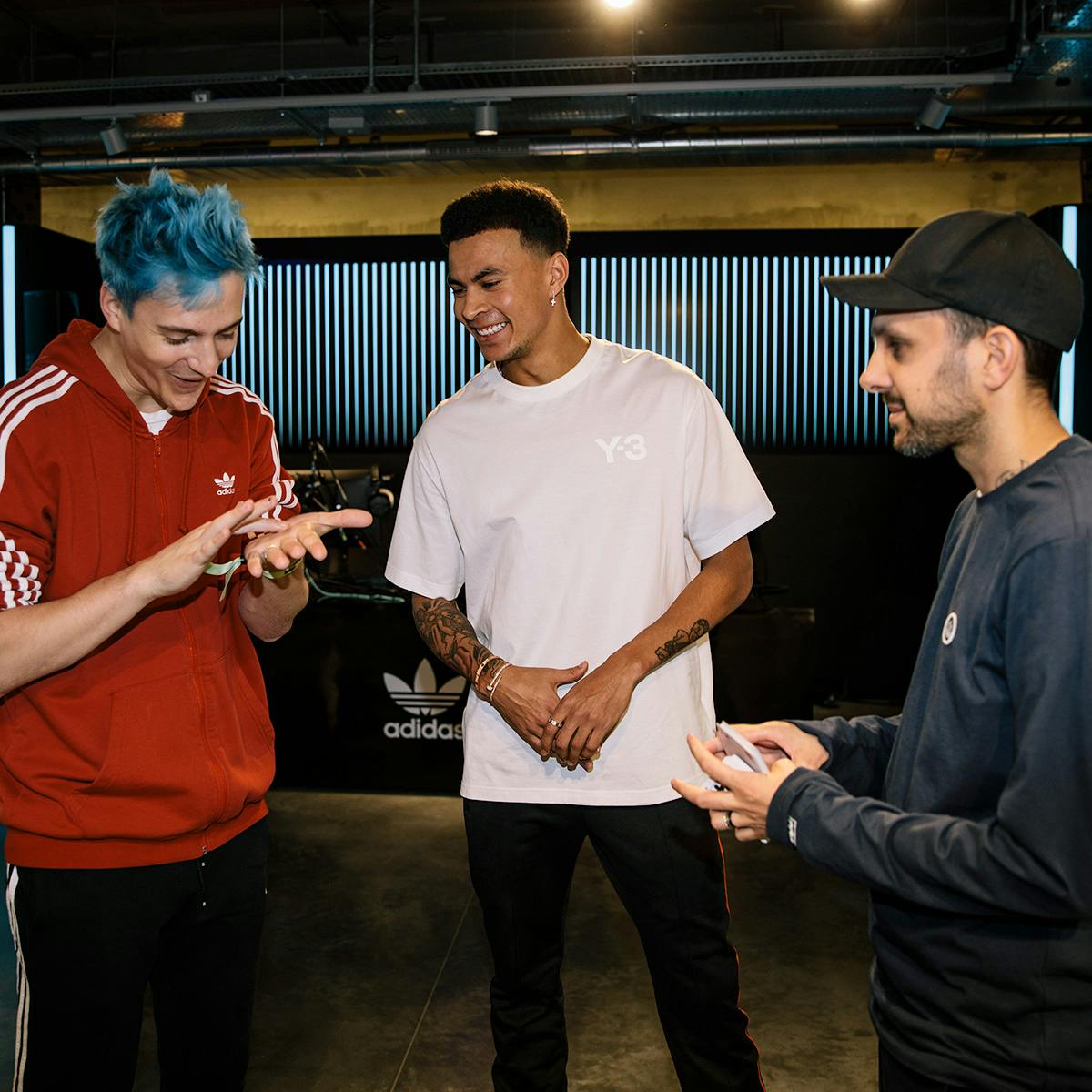 Ninja: How long do you spend on your hair before a match? You've dyed your hair in the past, would you ever consider any colors as wild as mine?
Dele: Maybe highlights, not all over.
Ninja: Highlights? Dude, that's basic bro.
Dele: But when I dyed it, I just had blonde highlights, and sometimes my barber would make it a little bit lighter but nothing crazy. But I get my hair cut the day before every game.
Ninja: Do you have a guy you go to every time?
Dele: Yeah, he comes to me.
Ninja: He comes to you? Of course, he comes to you, man!
Dele: Do certain clothing and sneakers help you perform? If they do, how?
Ninja: I don't wear shoes when I play, but I might start after putting these ones on [pointing to the Alphaedge 4D on his feet]. I definitely wear socks. I'm a huge socks fan. I'm also a huge no-socks fan. I'm a huge no-socks fan, but a blanket over my feet to keep them warm. We got a lot of comfy blankets in our house.
For clothing, I love hoodies because sometimes the basement can get cold. But I can't play when there's something tight around my wrist or my forearm. I don't know when it started but I can't. So I'll always pull it up right over my elbow cause I can't have it dragging across a mouse pad and hitting stuff. So optimally, just a nice little adidas tee, got a plugin there!
Ninja: Who's on your playlist before a match? Give me your number one pump-up artist.
Dele: If I'm trying to pump up it will usually be UK artists.
Ninja: UK, rap, hardcore shit?
Dele: Yeah, grime. But I have a friend called Max Dunham who's a DJ so he made a playlist for us because I'm the DJ in the dressing room. I'll listen to that on the way in just to make sure it's good. We take it quite seriously. If we're not winning, then the DJ usually gets sacked; someone else will have to DJ.
Ninja: That's not your guys' fault if you're losing, it's the DJ. I will tell you that right now man, he's sending out the wrong vibes.
Dele: What do you think the future of eSports looks like?
Ninja: Bigger, better. The future of eSports is just going to be bigger stadiums, more crowds, hype, more prize pools. They're already changing the game. If you've seen some of the League of Legends Worlds stuff, they have 3D animation, there was a 3D dragon that soared into the stadium. It was the coolest thing. It was all holograms. I think the possibilities are literally endless, especially as gaming continues to evolve. I can't wait for VR to take off.
Dele: That makes me feel sick.
Ninja: Well dude, there's an anime I'm watching called Sword Art Online, it actually puts your entire mind into the game so you don't put a little helmet on and then you're like, "ooooh." You sit down and it sucks you in the game, so hopefully, we can create that because it's a lot of fun.
Ninja: I like this question but I also hate it when people ask me it: who do you look up to if anyone?
Dele: So right now, no one really, I think it's important to just focus on yourself. But obviously growing up, Steven Gerrard, he's a legend in England. He was our England captain, the Liverpool captain, and I looked up to him a lot just because, when he was playing, you could see how much he wanted to win, how much every game meant to him. He was a leader for the country and for Liverpool as well. But now, I just sort of try to focus on myself.
Ninja: I'm the exact same way. Love that.
Dele: Do you think professional gamers and professional athletes have any similarities?
Ninja: Their dedication and the time that they put into their craft. As a professional athlete, you're just going to lose to someone who's putting in more time than you. And it's the same thing with gaming. Someone who takes the time to go over films after the games and practice and put in the time for Fortnite or whatever game they're playing. They're going to outshine. They're going to dominate.
So for you and your team, if you guys are practicing and warming up and you're working out harder, you'll stay above everyone else. You'll just be better. Simple. I mean there are so many similarities. The only big difference that everyone focuses on is that we sit in a fucking chair and then people say it's not a sport.
For some reason the boomers, that's their number one way of just saying, "oh, it's not a sport, you sit there and you do nothing." It's such a joke man. You have to respect that these are the best people in the world at what they're doing and that deserves respect no matter what.
Dele: I agree. Do you listen to music when you play?
Ninja: Oh yeah. Always. Lately, it's been a lot of Drake. I've been on a vibe lately so that's been great. But I usually have EDM playing in the background. It's very faint. My stream can't even hear it, but I can hear it and it's just nice. But it definitely can't be too loud, obviously, I need to hear everything and my teammates.
Dele: You said you listen to Drake, you've also done a stream with him. How did that come about and what about the one with Travis Scott?
Ninja: Dude, Travis Scott just kind of came in. I think he was just texting Drake and was like, "I'm on, let's do it." And then he just invited him. I really need to rewatch that whole night because I don't watch it enough. I don't think I've watched it ever really.
How it happened, he hit me up on Instagram and was like, "yo man, let's play some Fortnite" and I was like, "let's go, of course." And it was really difficult to actually make it happen and then one day out of nowhere we planned it. Three different times it fell through. Then one day he was just like, "I'm on." I think I had just got off stream, so I got right back on, and yeah, we just gamed man, it was so much fun. So much fun.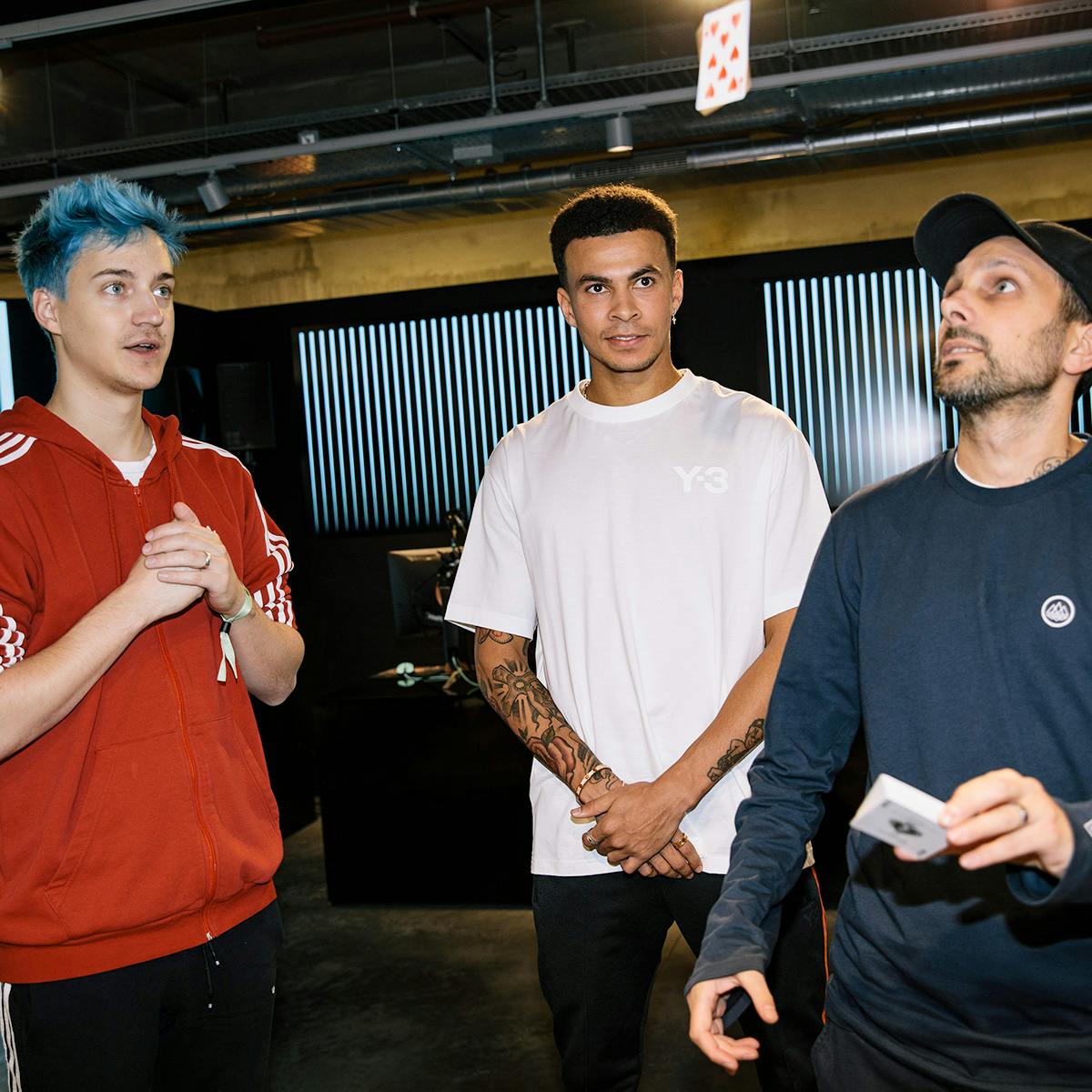 Ninja: If you could play a football match with any celebrity on your team, who would you choose?
Dele: I'm going to have to say you.
Ninja: Let's go, bro, I played soccer for 18 years, man. Just give me three months to get back into shape, I'd dominate.
Dele: What position did you play?
Ninja: I played everything. My favorite was sweeper.
Dele: Sweeper?
Ninja: Listen man, it's not a position anymore but in high school it was for me, okay? And actually, back when I was in my senior year, my best friend Jeremy was sweeper and then I played, I was out at midfield, center mid or right defender. I loved defense. We didn't have that many good people so I would take the ball and literally dribble through the entire team and score all the time. And my coach was just like "err, you're a defender." And I'd be like, "look man, no one else was doing the job, I'll get it done."
Dele: What can you tell us about your collaboration that you haven't told anyone yet?
Ninja: Well, I can't say anything. That was a trick question. No wait, I got this shit. We've got some really cool stuff in the works. I am working with some really amazing people and I've seen some really amazing designs that have gotten me really excited. I'm really pumped to just get it out there and I think people will love it because I know I love it. So yeah, this is about as vague a fucking answer I could possibly give.
Ninja: I got one last question. What is the story behind your Fortnite scoring celebration? When I saw that on Twitter bro, I was like "this is incredible." That went viral, right man? It was nuts.
Dele: Yeah, when I scored a few times I did some Fortnite things. At the time, the game was just getting big here as well. But not many people in my team play, a lot of people around England play but not so much in my team. But I had a few players, Harry Kane and some others, that I played with and my friends. Whenever I do celebrations, they're always aimed at my friends, it's something that we've spoken about or that happened with them. And obviously, we were playing a lot of Fortnite at the time, so I had to do a Fortnite celebration.
Ninja: That's awesome man. That's it.
Dele and Ninja spoke at adidas' new Oxford Street flagship. For more information on the store head here.