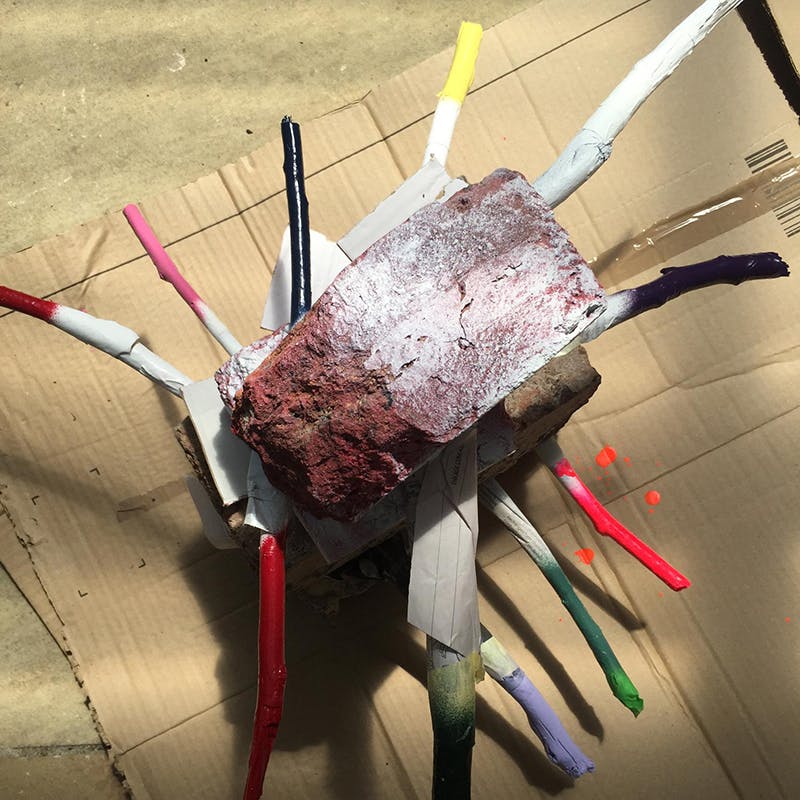 Noah partners with Louis Philo to showcase the Melbourne-based artist's first public exhibition, "Perfectly Imperfect." The artwork is on display at Noah's four store locations in New York, Tokyo, Dover Street Market London, and Dover Street Market LA, through July 25.
For his installation, Philo created a selection of colorful stick pictures. He painted a series of sticks and attached them to a textured linen paper — similar to how museums display found objects — then housing his designs in hand-finished frames which are made from recycled timber. Noah points out that the idea behind the project is that the sticks become more powerful together.
Philo admits that he's not completely certain as to what the sticks are or what they mean. Hey says they do capture his spirit, however, and that he appreciates how the pictures mean something different depending on who views them.
"Both Brendon and I were immediately struck by Philo's stick paintings. Inherently we love colors and stripes, and these works had something special and spontaneous about them, the colors form a rhythm that evoke joy and reminded us of summer," says Estelle Bailey-Babenzien, Noah co-owner and wife of Noah Founder and Creative Director Brendon Babenzien. "We reached out to Philo to buy a piece of his art and were thrilled to discover he was equally appreciative of what we do a Noah. Naturally the conversation evolved to us having the privilege of presenting the first public showing of his premier collection of works in four cities simultaneously."
Again, Louis Philo's "Perfectly Imperfect" exhibition is on display at all Noah locations, as the majority of the pieces can be found in New York and Tokyo. To coincide with the installation, Noah has produced an exclusive T-shirt.