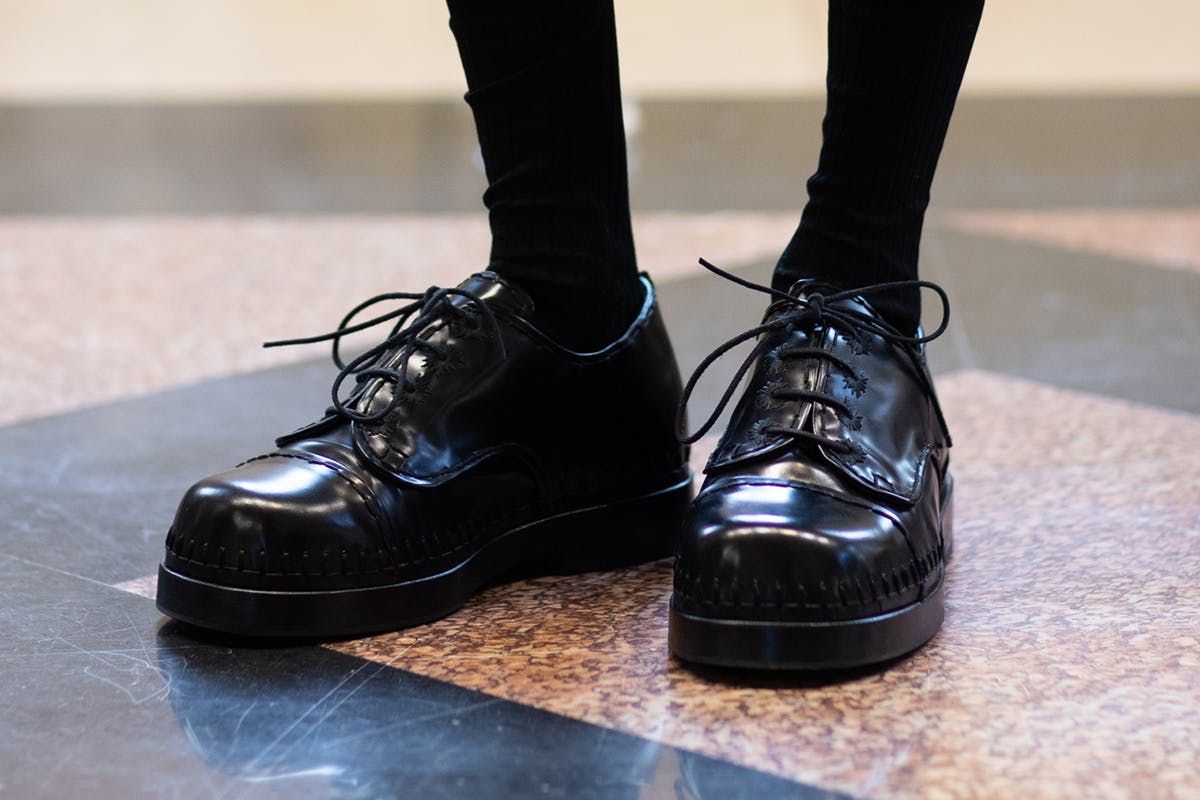 Much has been said about the so-called "post-sneaker world" we've supposedly been living in for the past few years. The term was first coined by the hilarious duo behind the Throwing Fits podcast, James Harris and Lawrence Schlossman, but has failed to materialize in any serious way.
While brown shoe trends, such as the latest (and greatest, if you ask Highsnobiety) #mulement, have come and gone over the last few years, sneakers have still dominated the marketplace and much of the fashion landscape. It's why everyone from luxury to independent brands is either designing their own sneakers or collaborating with sportswear powerhouses.
That's why it was so surprising to see Raf Simons, a sneaker don himself, include exactly zero athletic-leaning footwear in his latest RTW 2022 show in Paris. More than surprising, it was a breath of fresh air.
Simons was famously signed to adidas and had several hit sneakers with the German behemoth (the most iconic being the Ozweego, which kick-started the whole dad-shoe trend). The Belgian designer also released his own range of footwear as part of his eponymous (RUNNER) collection. The range of footwear includes everything from heeled boots to shoes to — you guessed it — sneakers.
So why is Simons completely passing on the chance to showcase some red-hot new sneakers at his latest runway show? Is it a statement? Are sneakers finally over? Probably not, to be honest. More than likely, Simons felt that brown shoes and boots better conveyed the aesthetic his new collection is going for.
But the show serves as a reminder that it doesn't always need to be about the sneakers. Sometimes it's about the clothes, too, which is something sneakerheads, inundated with the hype machine the industry has turned up to overdrive over the past 24 months, will be forgiven for forgetting on occasion.
This show doesn't mean that Simons has given up on sneakers for the foreseeable future. His (RUNNER) collection will still include the Cylon 21, which balances a tightrope between sneaker and shoe. However, it might mean that Simons — completely understandably — is over high fashion's obsession with sneakers.
As we know from the past, Simons is a trendsetter — both in footwear and in clothing — so if he's saying no to sneakers for SS22, who are we to question him? If you're reading this, it's not too late to stock up on brown shoes and boots. Just in case the post-sneaker world does roll around and this show was Simons' way of warning us.
To stay updated on everything happening in the sneaker world, check out the best sneakers to add to your rotation this week, follow @highsnobietysneakers on Instagram, and sign up to our newsletter for early access to the best drops sent straight to your inbox.
Want to keep browsing? Head to the Highsnobiety Shop for more products that we love.